25 Days of Gluten-Free Giveaways™ Annual Holiday Event

When: December 1-31, 2013
Where: www.glutenfreefrenzy.com
What: During this awesome, annual event we feature 25-30 different companies and offer giveaways from them EVERY day!!! This year we have over $3,000 in prizes to giveaway from amazing companies like Udi's, Glutino, Delight Gluten Free Magazine, Go Picnic and MANY more! We know that gluten free living isn't always cheap and especially during the holidays, so we think all of our amazing fans deserve a little extra gluten-free TLC. That is exactly why this event was created 4 years ago, to give back to the gluten-free community.
A new company/giveaway will be featured & introduced EVERY day but all giveaways will be open through the end of December. Entries for these giveaways will be EASY steps through Rafflecopter. Winners will be drawn the 1st week of January.
**Please tell all your friends and copy and paste this button linking it back to glutenfreefrenzy.com on your blog or through e-mail. Thank you so much for sharing this FUN, FREE gluten-free event with others who need it!!! Merry Christmas, Happy Hanukkah, Happy Kwanzaa, Happy anything else you celebrate this time of year and Happy Holidays from our family to yours!!!**
Check out the full press release below or view it HERE as well.
Gluten Free Frenzy Spreads Holiday Cheer With Their Annual, 25 Days Of Gluten-Free Giveaways™ Online Event Featuring Thousands Of Dollars In Prizes
Living gluten-free isn't cheap but Gluten Free Frenzy the #1 gluten-free giveaway site™ wants to make it easier this holiday season with their annual giveaway event that features thousands of dollars worth of great products.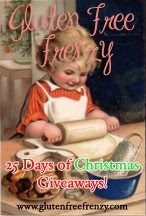 Gluten Free Frenzy, Your #1 Gluten Free Giveaway Site!™
"We feel that especially around this time of year our amazing fans and readers deserve a little extra gluten-free TLC!" says Probst
Phoenix, AZ (PRWEB) September 30, 2013
Those living gluten-free have even more reason to rejoice this holiday season with the return of the 25 Days of Gluten-Free Giveaways™ online community event which is hosted by Gluten Free Frenzy your #1 gluten-free giveaway site.
Beginning December 1st a different company will be featured daily on glutenfreefrenzy.com through December 25th with a multiple gifts for readers to win. Some of the top gluten-free brands like Glutino, Rudi's and KIND Snacks will be featured. Best-selling book authors including Tammy Credicott of The Healthy Gluten Free Life and Elana Amsterdam of Elana's Pantry, who was also voted one of the top 10 food bloggers in the world, will also be featured. Gluten Free Frenzy Founder, Chandice Probst is excited to bring this much anticipated event back for the fourth year in a row. "I can't even begin to describe the joy it brings me to receive the grateful winners e-mails and photos of winners who were feeling so deprived but now feel like they can finally enjoy food again." With celiac disease, non-celiac gluten sensitivity and wheat allergy diagnosis on the rise, these kinds of events and resources make it easier for people to make the full transition to the gluten-free lifestyle.
This year, Gluten Free Frenzy is upping the ante. Nearly every featured company will offer prizes with a minimum value of $100, and many offering double or more than that. Probst says, "We are giving away more this year than we ever have before. We feel that especially around this time of year our amazing fans and readers deserve a little extra gluten-free TLC!" Readers can expect to learn more about 25 of Probst's favorite companies as she features them and how they make living gluten-free easier. All giveaways will be open through December 31st and are free to enter. "We are so thankful for the amazing companies who have accepted our invitation to participate this year. Gluten Free Frenzy is excited to be the platform in which many can learn about great companies, restaurants and authors they may not have otherwise." says Probst.
You can browse recipes, restaurant and book reviews and enter all giveaways by visiting http://www.thisvivaciouslife.com.
About Chandice Probst:
Chandice is the Founder of popular website, http://www.thisvivaciouslife.com which is known as the #1 gluten-free giveaway site and provides individuals with recipes, reviews, giveaways and more. She is Co-Founder and CEO of Gluten Free Calendar, which hosts Celebrate Celiac™ events and celiac awareness nights with professional athletic teams nationwide to promote celiac awareness, raise proceeds for non-profit research facilities and achieve the companies slogan of Unity in the Gluten Free Community™. Gluten Free Calendar has most recently made partnerships with the Center for Celiac Research and with Mark Cuban, Owner of the Dallas Mavericks and "Shark" on ABC's Shark Tank.
Chandice is Founder and acting President of the Celiac Disease Foundation Arizona East Valley Chapter with a Bachelors of Science degree in exercise and health wellness from Arizona State University. She graduated with Magna Cum Laude honors. Chandice has been featured on ABC 15 Sonoran Living, Channel 12 Arizona Midday and in print publications, Women's World, The Arcadian Journal and Total Kid Magazine. You can see her doing her monthly television segment on Channel 3 Your Life A to Z or teaching a monthly gluten-free cooking class at the award-winning Luci's Healthy Marketplace in Arizona where she resides. In addition to her professions, Chandice considers her role as a wife, mother and everyday cook to her family to be of greatest value.