Well first of all, Happy Christmas Eve!! So glad we have this amazing giveaway for you on this special day. Elana Amsterdam of Elana's Pantry is an amazing author. She is a wonderful person that I have had the great opportunity of getting to know and now call my friend. She is extremely knowledgable, passionate about helping others and is one great cook. I had so much fun enjoying time with her in Denver this past year as she took me to a restaurant she recommended, which of course was fabulous. I learned so many amazing things like how Elana has been cooking using clean ingredients for over a decade now. She was one of the first to live a Paleo lifestyle because it made her feel better. She enjoys cooking with and for her family as well as developing exciting new recipes on a regular basis. In addition to being a fantastic author, Elana also maintains a beautiful website with over 700,000 unique monthly visitors all swooning over her delectable creations.
Elana is the most famed almond flour cook out there and has shown millions how to use almond flour to create delicious dishes. I have had the great opportunity to review Elana's first two books, The Gluten-Free Almond Flour Cookbook and Gluten Free Cupcakes which were both fantastic! We use her first cookbook a lot as I enjoy baking with almond flour. I was so excited to hear she had a new cookbook and was anxious to get in and starting cooking from it…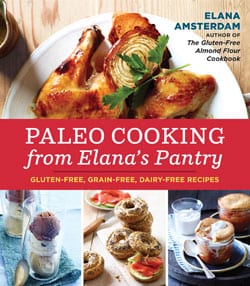 I dove right into the New York Times Bestselling book, Paleo Cooking from Elana's Pantry with her tasty Paleo Crepes recipe. It could not have been easier to make and proved a delicious start to our busy days. We topped and filled them with apple butter and Nikki's Coconut Butter for a little extra sweetness however, you could serve them with any fillings and toppings you personally enjoy. We also enjoyed making the honey lemon chicken since we make whole chickens a lot and I wanted to do something a bit different with it this time. The lemon added nice acidity while the honey gave it that gentle, earthy sweet flavor that is so enjoyable. The presentation was also gorgeous making it easy to pull it right out of the over and serve it to my family. Elana did it again and created an amazing cookbook that would make any foodie excited to try a Paleo cooking.
So are you ready to win ALL THREE of Elana's cookbooks?! Enter below…
*I was provided with books for review. These are my opinions and my opinions alone. I was not required to write a positive feature.