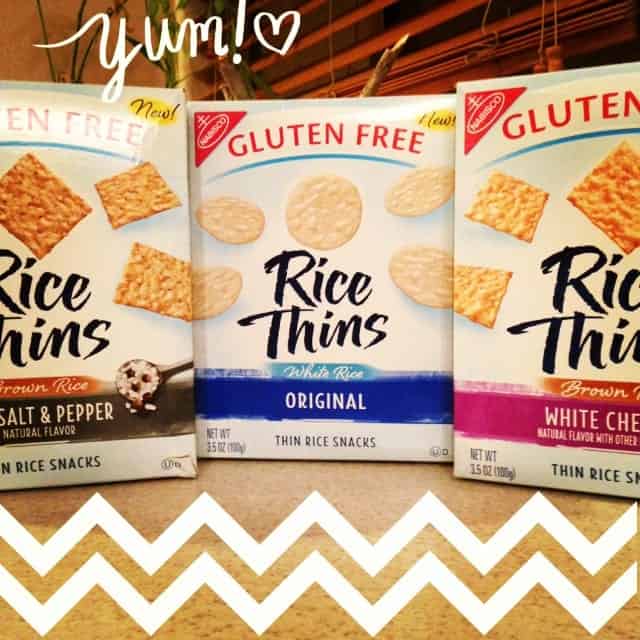 Remember the days of delicious Nabisco crackers? Well for those of you living gluten-free, those days are long gone right? Oh no they aren't! Nabisco has recently released their new Rice Thins and they are absolutely fantastic!
You can find this new snack in the cracker aisle in three different flavors: Original, Sea Salt & Pepper and White Cheddar. I have tried each and was very impressed with the taste and texture.
White Rice Original: These crackers are fantastic for dipping. I love dipping them in cream cheese and jalapeño jelly because they were crunchy enough to hold their own against the cream cheese and didn't have a strong flavor to overpower the jelly. They would also be great with cheese and turkey or even sweet with PB & J.
Brown Rice Sea Salt & Pepper: This flavor was so fantastic on it's own I didn't even want to add anything to it. If I did though, it would be something smooth and creamy like a ranch dip and cut veggies.
Brown Rice White Cheddar: My whole family loved these. In fact, my non-gf hubby kept asking me where they were so he could snack on them. The bold cheddar flavor made them a wonderful on-the-go snack that needs no other accompaniments.
One of the greatest things about these crackers is that they are baked not fried. They are crisp yet light enough to enjoy a bowl without feeling weighed down. They are available almost anywhere now which make for easy shopping. I even saw them at my local WinCo Foods store for $1.99 recently, what a deal!
So are you ready to win a Nabisco Rice Thins gift box all for yourself?! Enter below…
*I was provided with products for review. These are my opinions and my opinions alone.