Glutino goodies are some of my very favorite! Whether it be from their cake, cookie or pie mix or the sandwich cookies or crackers, I love knowing that when I eat Glutino products, I will always be satisfied. There are very few products, especially gluten-free, that you can say this about.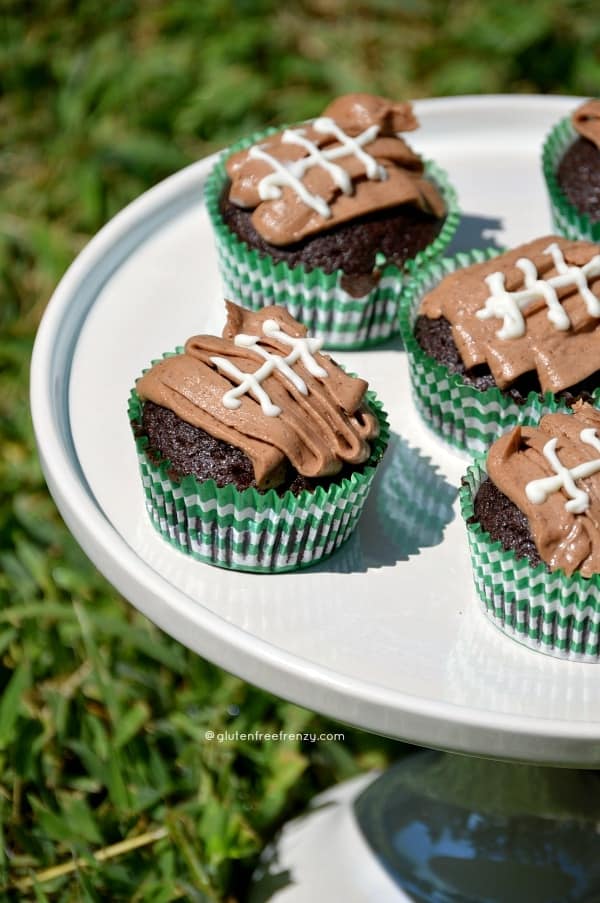 Just check out how cute these little football cupcakes are! Here's how to make them:
Just whip up a batch of your favorite chocolate cake mix (we like Glutino gluten-free brand) as well as some chocolate buttercream frosting (1/2 C butter, 2 C powdered sugar, 1 tsp. gluten-free vanilla extract, 4 T cocoa powder and 1 T milk plus more as needed to reach your desired consistency all whipped together). Reserve a bit of frosting before adding the cocoa powder to make the laces. Pipe the chocolate frosting on prepared cupcakes and draw the laces on with reserved white buttercream frosting or melted white almond bark.
Oh yes we did!! Frosted animal crackers that are gluten-free and DELICIOUS! Thanks to the good folks at Glutino, this childhood favorite of mine has now become a gluten-free reality again. Can you tell how excited I am?! We did a small batch of natural dyed pink ones with natural dyed sprinkles then a batch of pink and white frosted ones with regular sprinkles that are gluten-free of course but not dye free. These were so easy to make. Just be sure to find gluten-free labeled almond bark & sprinkles. I can't wait to put these in my little guys first day of school lunchbox!
What's a childhood favorite snack you would love to see remade?
Gluten-Free Frosted Animal Crackers
2 bags of Glutino gluten-free animal crackers
4 cubes or pieces of vanilla almond bark
3 drops red dye (I know, yuk! Use natural dyes for a better cookie but know that they won't be as pink.)
sprinkles
Take out any broken animals and enjoy them while making these yummy cookies. ? With the non-broken animals, make your frosted cookies. Start by melting two of the almond bark pieces or cubes over boiling water in a glass bowl. Dip half the cookies into melted almond bark and place on a silicone baking mat or wax paper. Top with sprinkles and let cool until hardened. Do the same with the remaining two pieces of almond bark but this time add the dye and stir well first. Enjoy once they are hardened if you can wait that long.
These sugar cookie shortcake bars are amazing too! Get the recipe HERE. So are you ready to win some Glutino products? Enter below and be sure to visit them on social media.
Glutino:
Grand Prize: Sugar Cookie Mix, Twinkle Sprinkle Cupcakes, Yogurt Peppermint Covered Pretzels, Shake and Pour Pancake Mix, Pretzel Twists, Buffalo Pretzels, Chocolate Covered Pretzels, Chocolate Sandwich Cookies, All Purpose Flour, Brownie Mix, Sea Salt Crackers, Multigrain Crackers, Cheddar Cracker, Strawberry Frosted Toaster Pastry, Blueberry Frosted Toaster Pastry and 5 free product coupons (over $100 value)
Runner-Up: 5 free product coupons ($30 value)
a Rafflecopter giveaway

*I have been provided with products for recipe development & review. These are my opinions and my opinions alone. I LOVE Glutino products and highly recommend them.