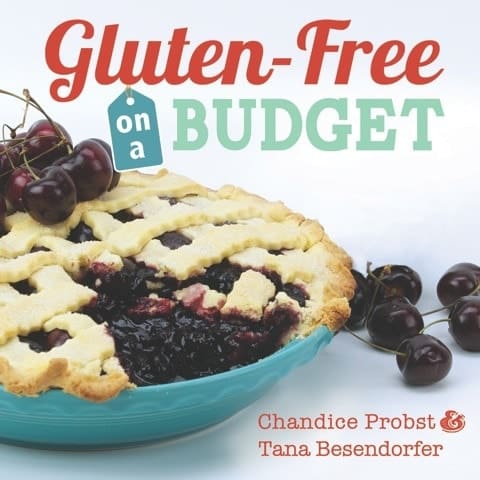 I am filled with a million emotions as I excitedly share with you all that the cookbook my mom and I have been working so hard on, Gluten Free on a Budget, is finally available for pre-order on Amazon!! This is a fantastic Christmas or holiday gift for anyone you know who lives gluten-free or is wanting to learn more about the lifestyle without breaking the bank. You can pre-order then print off your confirmation and wrap it up cute with some gluten-free goodies and present it as the ultimate gift! The official release date is January 13, 2015 and books pre-ordered will ship first then.
In Gluten Free on a Budget, my mom and I really wanted to show that gluten-free can be delicious, divine and pleasing to all palates, whether gluten-free or not, without spending a fortune. We walk you through each and every aspect of living gluten-free from finding the right support, packing lunches and recipes for all occasions to stocking your pantry and everything in between. Mouthwatering recipes like from scratch Poppyseed Cake, Banana Black Bottom Pie and Flaky Pot Pie will have you jumping for joy that you can feed your family gluten-free while saving some "dough"
But don't just take our word for it. Here are some reviews that we have felt so blessed and honored to receive from such highly regarded people in the gluten-free community. While not listed here, we are so excited and overwhelmed with gratitude to include the most beautiful forward in the book from our favorite cookbook author, Tammy Credicott of The Healthy Gluten Free Life. We are also so thankful to team at Cedar Fort Publishing for believing in our vision and helping to make it come to life in this book.
"Gluten-Free on a Budget is filled with simple, sensible and mouth-watering recipes. Use it in good health without breaking the bank!" -Marilyn G. Geller, CEO, Celiac Disease Foundation
"Chandice and Tana's passion for helping those living a gluten-free lifestyle shines through recipe after recipe in Gluten-Free on a Budget. Packed with wholesome, nutrient-rich recipes, this book is one that will not only nourish your family without breaking the bank, but teach you to value your own health in a bigger way." -Vanessa Weisbrod, Executive Editor, Delight Gluten-Free Magazine
"When folks learn they have to eat gluten-free, they often think they must reinvent their eating entirely. But it's just not true! Gluten-Free on a Budget reminds us that habits such as buying in bulk, baking at home and striving to eat more natural, whole foods, are good rules of thumb whether you're gluten-free or not. Chandice and Tana do a great job of demystifying the gluten-free diet with easy tips like these, and also share the home-style recipes you've been craving, made in delicious new gluten-free ways."~Jules Shepard, gfJules.com Author of Free for All Cooking: 150 Easy Gluten-Free, Allergy-Friendly Recipes the Whole Family can Enjoy; The First Year: Celiac Disease and Living Gluten Free; andNearly Normal Cooking for Gluten-Free Eating
"Gluten-free foods are more available and tastier than ever before.  Despite the vast improvements in the options for the celiac disease and gluten sensitive communities, there's still some work to be done in the affordability department.  Gluten-Free on a Budget offers a solution by bringing readers the perfect blend of delicious food that keeps taste buds satisfied without breaking the bank."-Alice Bast, President and CEO of the National Foundation for Celiac Awareness (NFCA)
"Anyone who has visited the gluten-free section of a grocery store knows that these products can be costly. In their new book "Gluten-Free on a Budget," authors Chandice Probst and Tana Besendorfer offer suggestions to help maximize variety of diet, while minimizing the impact on your pocketbook. One of the best? Make your own food. Probst and Besendorfer make it easy with recipes like Peanut Butter Bars with Chocolate Frosting Swirl, Sweet and Sour Chicken, Nut-Encrusted White Fish and All-American Apple Pie. Grab your copy, prop it open to your favorite recipe, and start cooking!"-Kyra Bussanich, The Food Network's Three-Time 'Cupcake Wars' winner and author of Sweet Cravings: 50 seductive desserts for a gluten-free lifestyle (TenSpeed)
Thank you times a million to all of you for supporting my mom and I on this amazing journey of bringing our favorite gluten-free recipes to life in the form of a cookbook. Also, thank you so much for the dedicated love and kindness you have shown me over the years through Gluten Free Frenzy…you guys are truly the best!! <3
So are you ready to win the Gluten Free on a Budget cookbook AND some delicious gluten-free products to help stock your pantry?! Enter below…
*These are my opinions and my opinions alone.