I just love a good dinner party. This al fresco dinner party set up was one I have been wanting to put together for a while. I had the chance to style it for Good Things Utah recently and I couldn't pass up the opportunity. Those GTU girls are just too much fun! Remember when I went on to talk about ways to keep the kiddos entertained and had a blast with Jessie? If not, check it out HERE. While this exact set up wasn't exactly al fresco (or in the open air), I am already planning on recreating it for my friends this fall. So let's get into the details of styling the perfect al fresco dinner party…
TIPS FOR STYLING AN AL FRESCO DINNER PARTY
Start a vision board with ideas you like from Pinterest (this will keep you on track as you plan)
Delegate out those things you can't do on your own (floral, calligraphy, cookie decorating…)
Along with delegating it out, keep it local by featuring indigineous brands and artists
Don't be afraid to combine different elements like wood, metal and soft delicate flower petals
Have a few WOW factors then search for other decorations & dinnerware at places like Homegoods and Target where you can get a lot on a budget
Have some signature drinks styled beautifully on a bar cart (mocktails and specialty waters are perfect)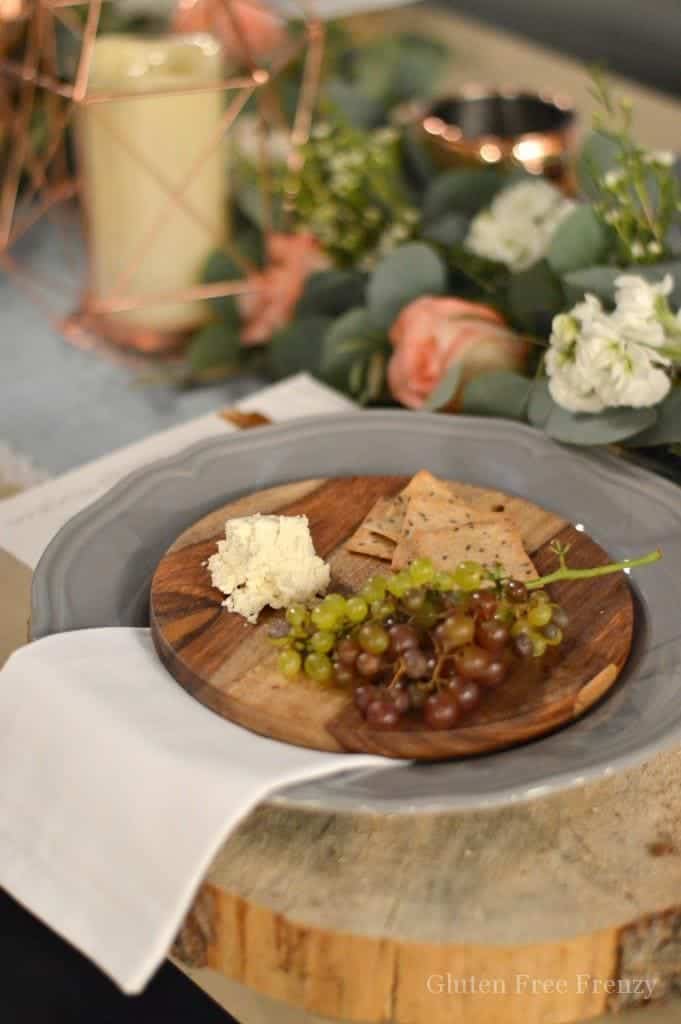 The first thing I wanted to do was incorporate copper tones with soft earthy flowers and wood. The moscow mule mugs and geometric candle holder were the perfect copper aspects on the table. I found both at Homegoods. I had literally been wanting the moscow mule mugs for months but just couldn't justify the cost. When they went on serious sale at Homegoods, I just had to snatch them up. I had already been wanting to put together mini, cheese plates in each individual place setting but when I found these perfect mini wood circles, I knew it was meant to be! Can you believe it, they were another Homegoods find. It is seriously my favorite store. While you can add whatever you want to your cheese plate. I like to keep it simple with a wedge of my fave, Boursin cheese, some Glutino rosemary crackers and mini grapes, which were picked fresh from our neighbors tree.
I had a Utah timber company, Wasatch Timber, cut wood chargers for me. What I love most about them is that they are cut from trees that had died and maybe wouldn't otherwise had gotten used. It's kind of like the Charlie Brown Christmas tree story right? I kept the table runner muted with the chambray color and white lace edge. Of course, another Homegoods find. Woot, woot! The gorgeous menus were the perfect icing to the table. I fell in love the moment I saw them! Melissa Esplin at calligraphy.org is so incredibly talented. Her work is definitely a wow factor that is worth investing in. Since I am not a calligrapher, her work added something that I never could have on my own. Another thing I am not is a florist. That's why I called on my friend Joshua at Five Penny Floral. I gave him an idea of my vision and he put together the most gorgeous table garland. I was truly in awe! The greenery came from eucalyptus AND olive complete with real olives. The flowers were just perfect and so fresh. Joshua is my go to florist and again, he gave my party something that I never could have gotten on my own.
No dinner party is complete without a bar cart full of delicious drinks. If you don't drink, that's ok neither do I. The good news is that there are so many fantastic drinks like these fragrant lavender Dry Sparkling sodas. I even found a moscow mule mix so paired it with ginger Live Soda Kombucha for a non-alcoholic moscow mule perfect for those copper mugs. The last thing you want to do when hosting a dinner party is stress about dessert. I kept it earthy with these geode cookies from Enchanted Cookie Boutique. I am simply amazed with the owner Shanan & the fact that I can give her an idea of what I want, and she can execute it perfectly every time. Her talent is incredible! The good news for all of you is that she ships nationwide AND she makes gluten-free cookies. Isn't that so awesome? So dream of your wishlist cookie design and give her a call.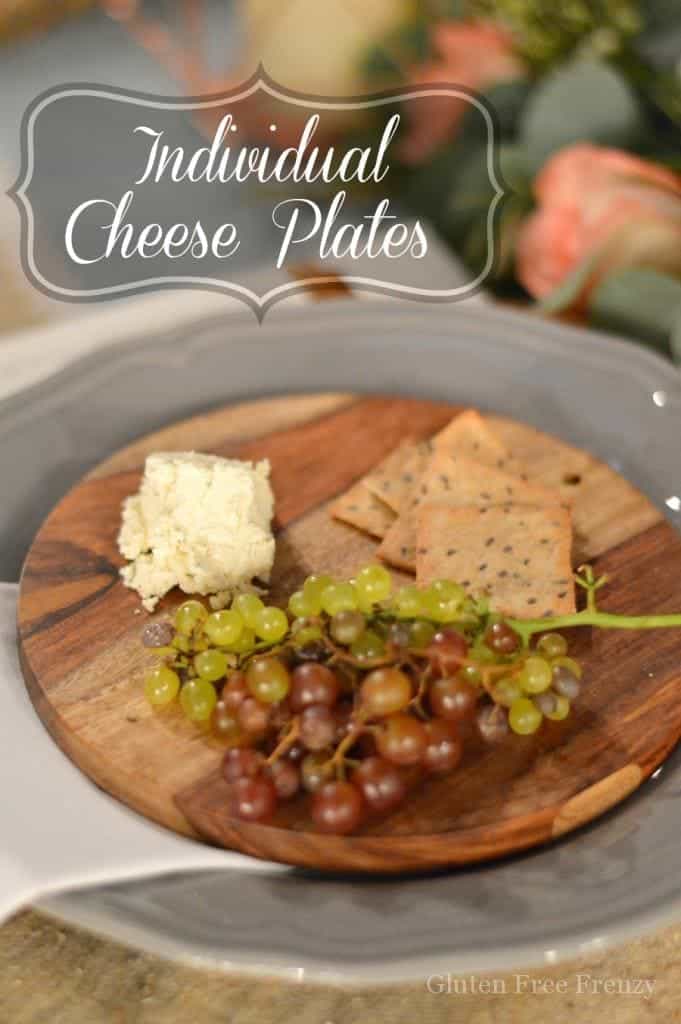 CREDITS
Styling and Design: Chandice Probst of Glutenfreefrenzy.com
Floral: Five Penny Floral
Wood Chargers: Wasatch Timber
Geode Cookies: Enchanted Cookie Boutique
Calligraphy Menus: Melissa Esplin of Calligraphy.org
Table Runner, Moscow Mule Mugs & Faux Copper Candle Holder: Homegoods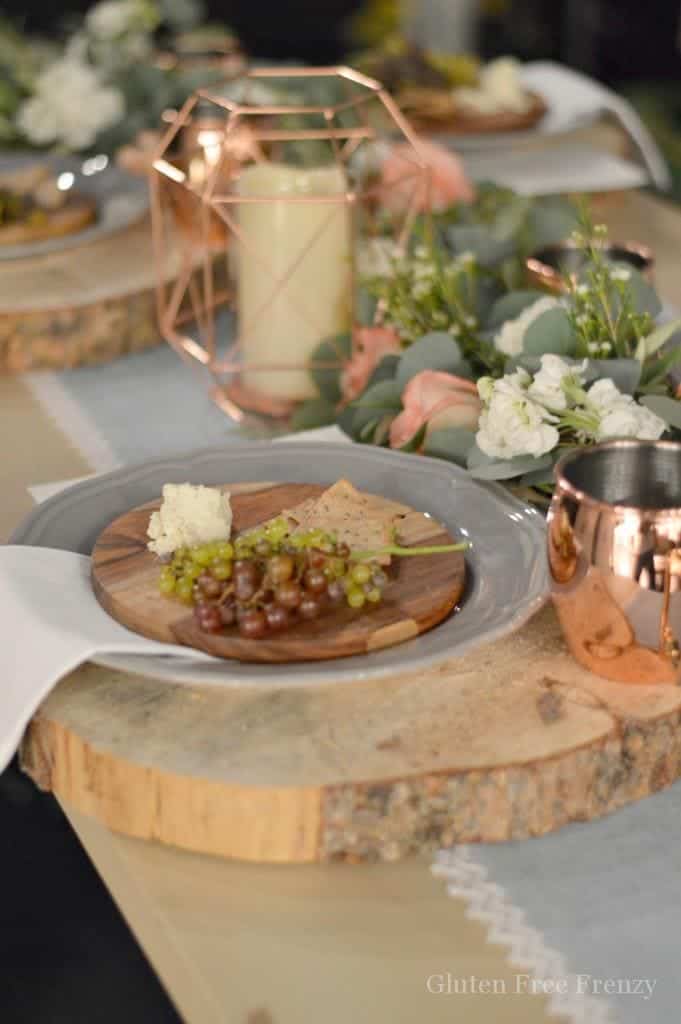 *I was provided with some products for this feature. I only work with brands I love though and these opinions are all my own.