This apple themed teacher gift basket is perfect for back to school gifting. Any teacher would love to receive it.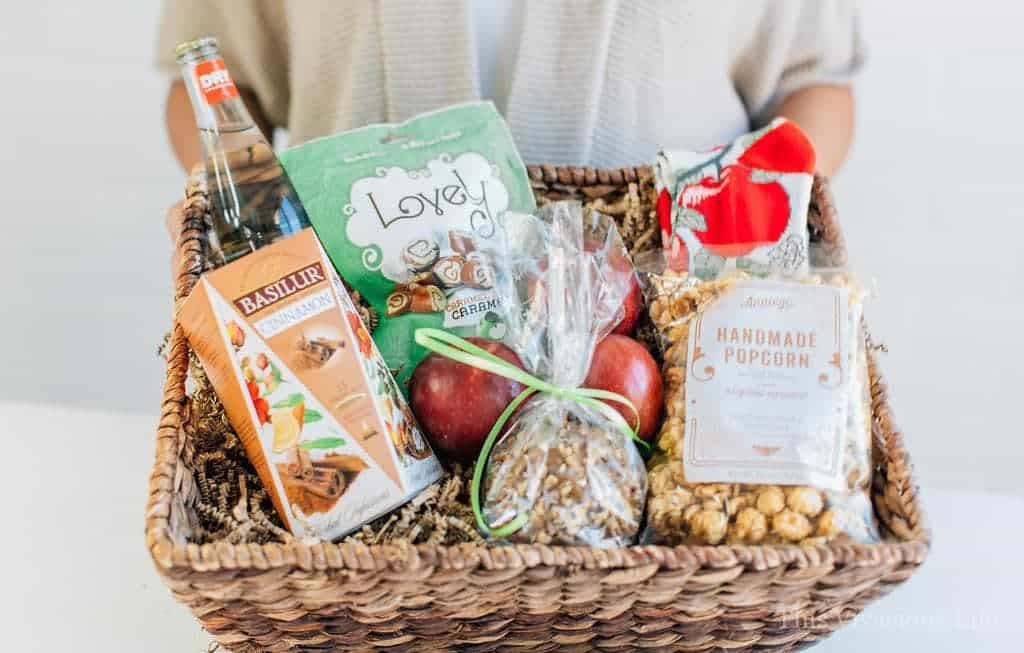 You won't believe how easy this apple themed teacher gift basket is to put together.
You can literally arrange this apple themed teacher gift basket in minutes. However, it looks so classy that your teacher will think it was purchased from an expensive retailer. No need to purchase from Harry and David though when you can put together something like this on your own for a fraction of the cost.
There isn't a teacher I can think of that wouldn't love to be gifted this apple themed teacher gift basket. It's great for the first day of school, as a holiday gift or during teacher appreciation week.
If you can't find these exact things, get creative and look around your local stores for themed items. The key is to not go overboard on just apple things. Rather, think of other things that remind you of apples. For me, this was easily caramel. In my mind when I think of apples, I always think of caramel. I love that this gave me another direction to go with my gift basket as well.
Of course you will find fresh apples in the basket because they couldn't be more beautiful. But you'll also find a caramel dipped apple, caramel popcorn and even socks with apples on them thanks to Dry Sparkling soda. I also had to put in one of their Fuji apple flavored sodas in the basket since our family loves them so much.
Another thing that reminds me of apples is cinnamon. For this reason, I chose to include a cinnamon herbal tea box. I thought a hot cup would be perfect with the caramel dipped apple.
To arrange, start by filling a brown wicker basket or wood crate with brown crinkle paper strips. This creates that farmers market feel. Then simply place your items one by one in the basket changing up height and width so not all the tall things are together.
You can deliver it as is or place a bow of some kind around the basket. If you'd really like to, you can also wrap the whole thing in clear cellophane and tie the top with a ribbon but I actually prefer just gifting it more raw with no cellophane or bows.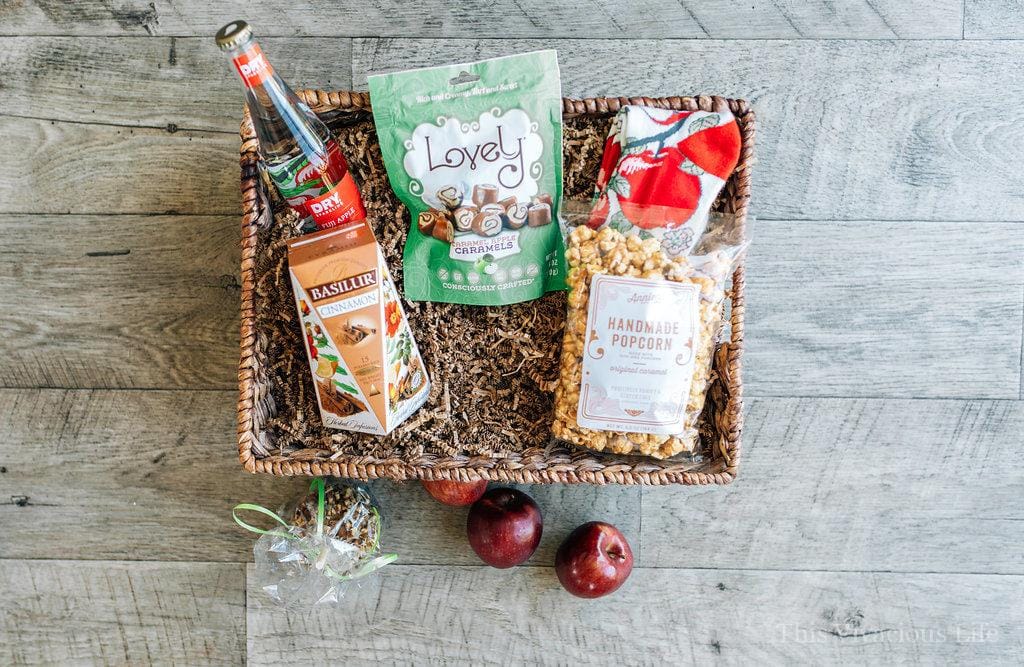 I hope you've enjoyed this apple themed teacher gift basket. If you're looking for more, head over and check out our other teacher appreciation gift ideas.



Homemade Teacher Gifts
Easy Teacher Appreciation Gifts
Photo Credit for the Apple Themed Teacher Gift Basket: Amie Pendle