this post may contain affiliate links
These books for foodies will be appetizing to your mind and your stomach.For people who really love food, there is nothing quite like enjoying it in the written form.
I have always loved food so it's no wonder that I also love books for foodies. Ever since I was a little girl I have had a deep love for food. I would hide hotdogs throughout the house so that I could always have something to eat. Don't get me wrong, my parents fed me plenty but my mom said my appetite was never fully satisfied. We laugh now but she said it was pretty gross to find hotdogs in her couch but even worse was seeing me go find and eat them.

From the taste & smell to even the words that describe food, I get carried away into my own mind when I think of it. As a little girl I always loved the books that involved food. My favorite Christmas book was a scratch and sniff that smelled of things like orange, hot chocolate, gingerbread and peppermint. To this day I still read that book to my little ones every Christmas.
I also loved the Mrs Piggle Wiggle series because they described her as a woman who always smelled of sugar cookies. They have always been my favorite cookie… In every story was some sort of description of food. I found it entertaining and delectable at the same time. I still remember that instead of being horrified by the description of bacon cooking in the pan in Charlottes Web I could almost smell it & my mouth would water.
For fun as a young girl, I would look at my moms cookbooks and mark things I wanted to make. Cookbooks to me were just as interesting as a good fiction. I would get so excited every month when her Taste of Home magazine would arrive. It was fun to see what the competition was for the month and which recipes won. I remember thinking even at such a young age of things I would make to win the prize.
My mom watched Martha Stewart Living every morning and subscribed to her magazine. This was another magazine I looked forward to reading and literally couldn't wait my for my mom to finish before I wanted to get my hands on it. I was as enthralled with the gorgeous food photography as I was with the descriptive words like decadent, aromatic and full-bodied flavor. Hearing someone describe one of their favorite dishes can be almost (keyword) as enjoyable as tasting it for yourself if they are a really good writer.
Throughout my teenage years and early adulthood I continued to read books that tantalized my mind and encouraged my taste buds. In fact, my bookshelf is filled with foodie books. I began to collect cookbooks and to this day have a beautiful collection that I have woven into the fabric of my home decor.
When my husband and I got married, we lived our first year together on the Princeton campus while he finished up his senior year. There I was introduced to a lovely author who I thank for introducing me to the genre of culinary murder mystery. The great thing was that her books were based on mysteries that took place on the campus of Princeton. This let me feel like I was truly immersed in the books at the time.
I quickly moved on to other culinary murder mystery's and found them enthralling and delicious. But for me in recent years, food memoirs have become a new favorite. Of course, I can't rave enough about My Life in France by the one and only Mrs Julia Child but there are other great ones as well. My personal favorite is Voracious by Cara Nicoletti. Her love for food and literature shows in every page that you turn. She makes me want to read books that I never would've thought of reading simply for the culinary aspect hidden inside.
While this is just a start, I've put together a small list of my favorite books for foodies. It would be great to have you enjoy them as much as I have. I am constantly craving more great books for foodies, so would love if you left your favorites in the comments below. It truly would mean the world to me… Bon appetit!
Books for foodies-
Voracious: A Hungry Reader Cooks Her Way through Great Books
 by Cara Nicoletti
My Life in France
 by Julia Child
Mastering the Art of French Eating: From Paris Bistros to Farmhouse Kitchens, Lessons in Food and Love
 by Ann Mah
Lemon Tart: A Culinary Mystery by Josi Kilpack
Gluten for Punishment (A Baker's Treat Mystery)
 by Nancy J. Parra
The Year of Cozy: 125 Recipes, Crafts, and Other Homemade Adventures
 and A Cozy Coloring Cookbook: 40 Simple Recipes to Cook, Eat & Color
 by Adrianna Adarme
Batter Off Dead: A Pennsylvania Dutch Mystery
 by Tamar Meyers
Candy and Me: A Girl's Tale of Life, Love, and Sugar
 by Hilary Liftin
The Princeton Murders
 by Ann Waldron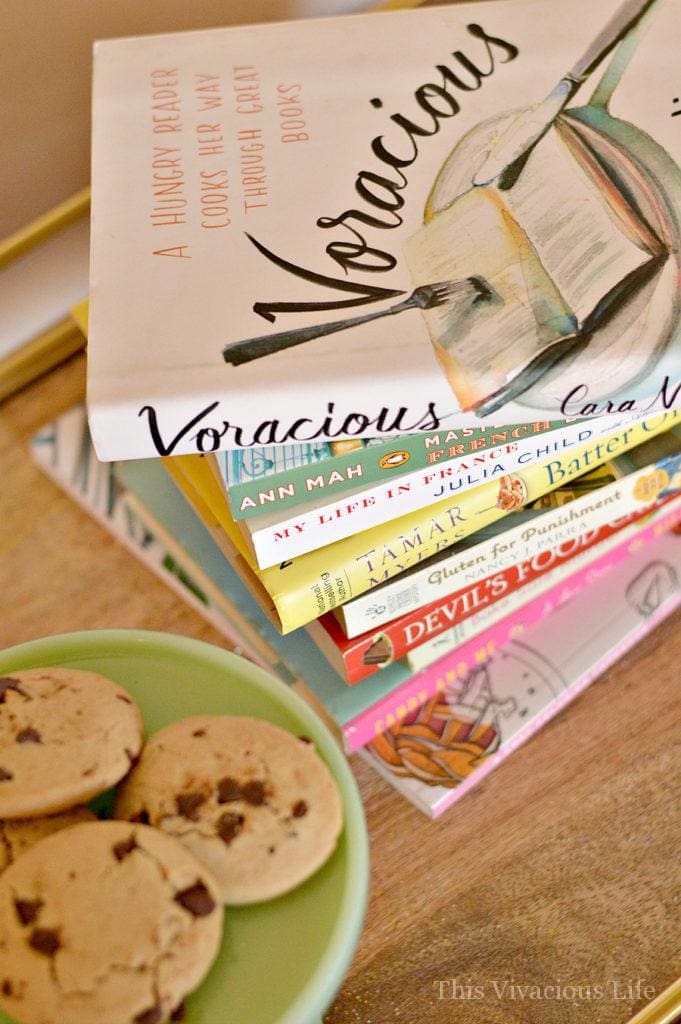 Photos by Tyree Shaw Photography
*This post may contain affiliate links.