this post may contain affiliate links
This cookies and milk party is one that everyone will enjoy…kids and adults alike. No party says yum like a cookies and milk party. This one has all the good stuff including activities, goodies and more.
This cookies and milk party was something I was more than excited to put together. I'm more of a savory girl but when it comes to treats, cookies are my favorite. I love them crunchy, chewy, thin or thick. No matter how, they are one amazing snack!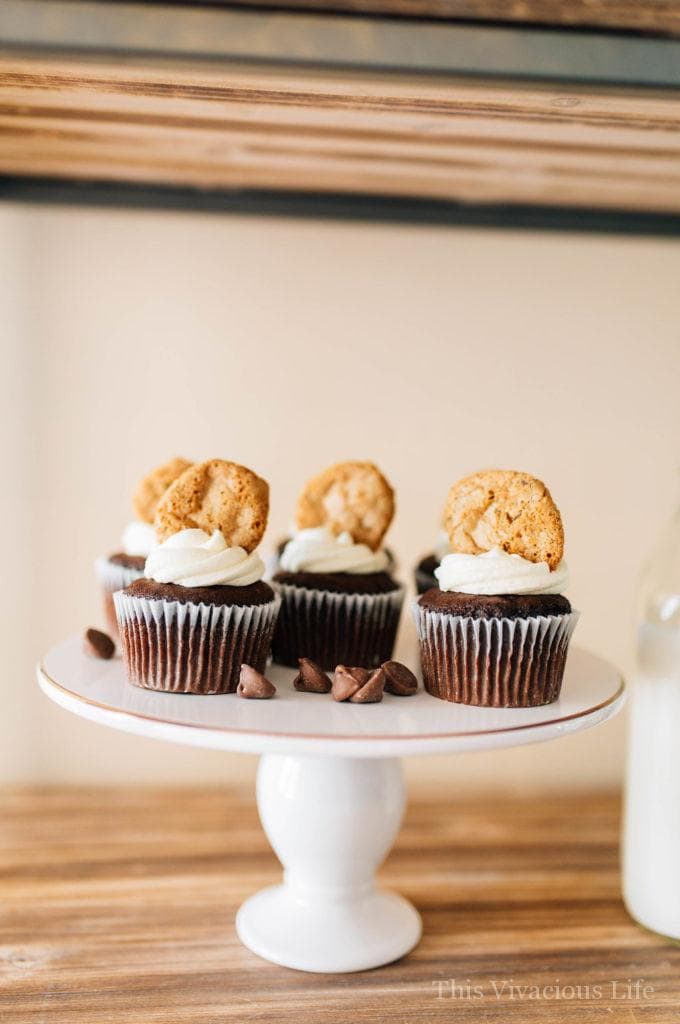 When it comes to a cookies and milk party, the possibilities are endless when it comes to how to feature them. Years ago I did a little cookies and milk part for my second sons first birthday and loved how the cookie in the cupcake turned out.
I decided we had to do those again. Simply make up or purchase some delicious gluten-free cupcakes and top them with your favorite gluten-free cookie.
We also served cold milk in classic glass milk jugs. I love how vintage and nice they look in this cookies and milk party setting. Place classic cookie ingredients like cinnamon and chocolate chips on your table and you have some natural cookie "confetti".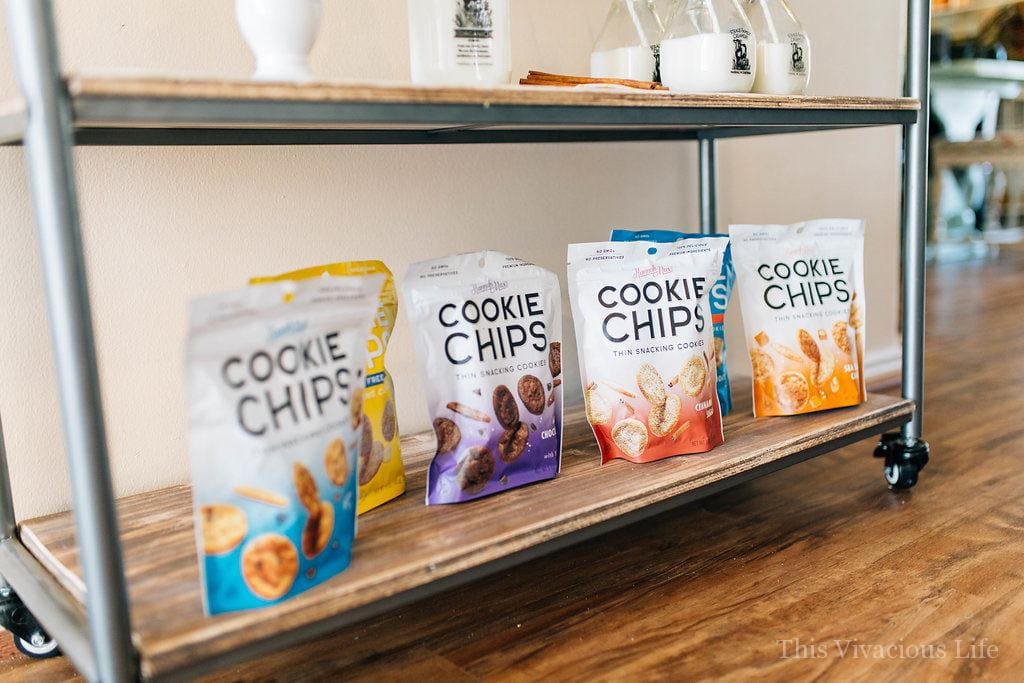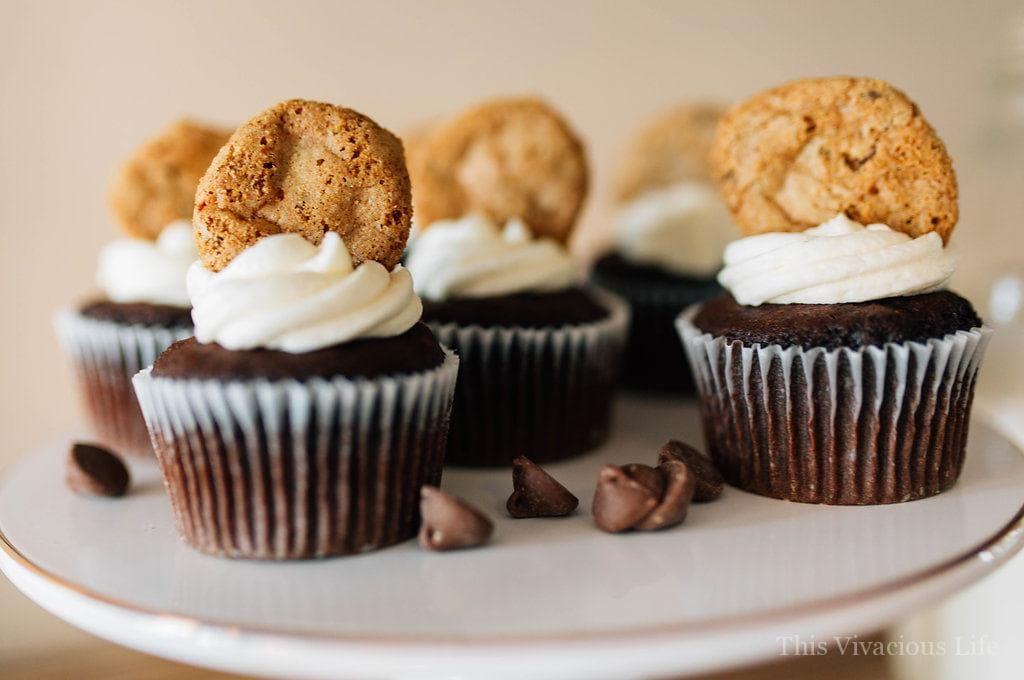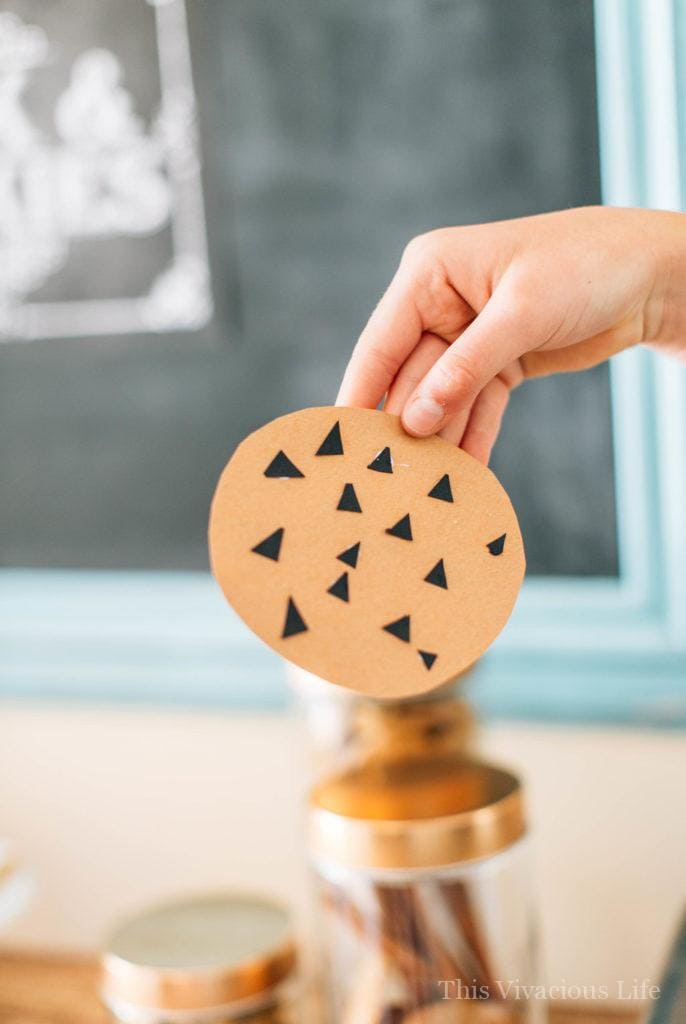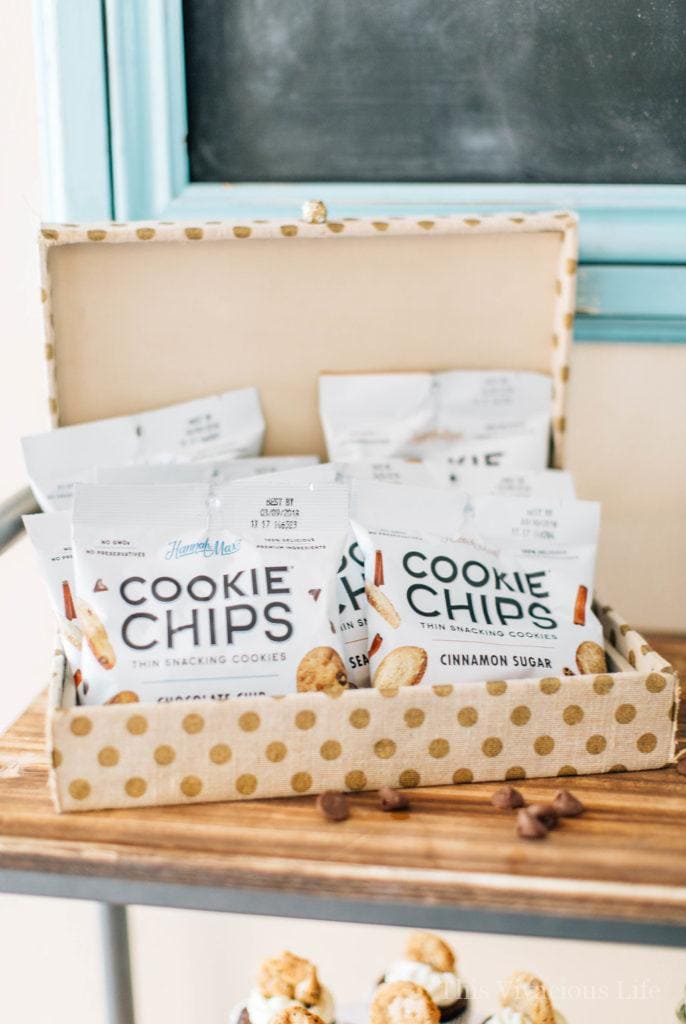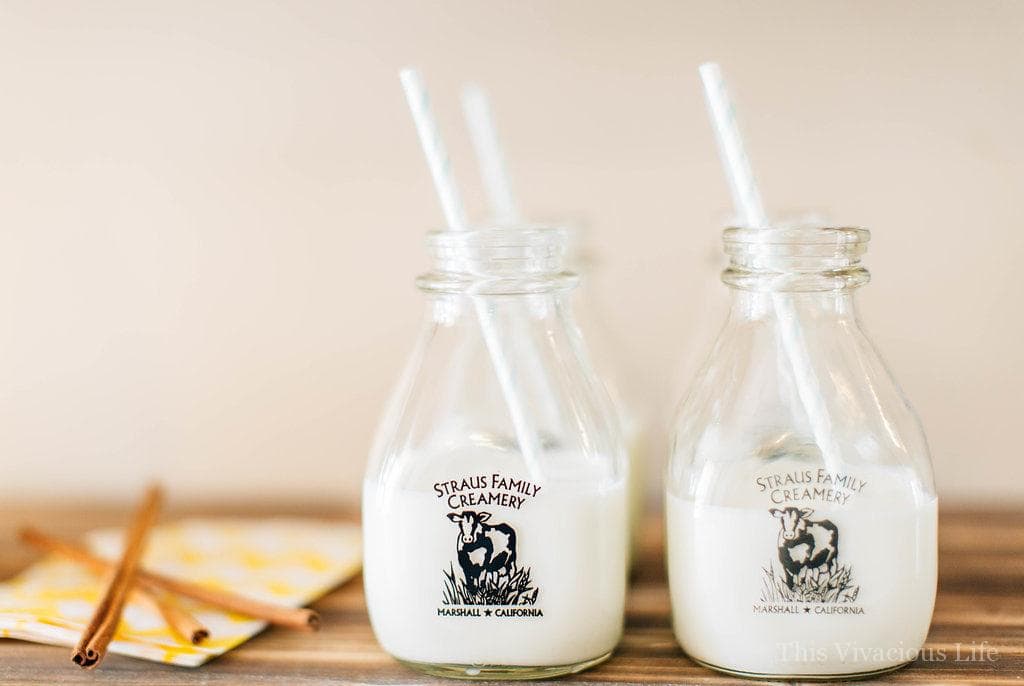 When it comes to finding gluten-free cookies that taste good and please a crowd, Hannahmax Cookie Chips are definitely a brand I recommend. The lemon sugar variety are my absolute favorite and so delicious! They are super sweet but have a nice little zing to them thanks to the lemon. Hannahmax also has a great chocolate chip cookie chip  that is gluten-free and has that classic chocolate chip cookie flavor.
Not only do they have two great gluten-free cookies but they also have a variety of non gluten-free cookies. They are great for serving up to both your gluten-free and non gluten-free friends. Here are the varieties they offer:
Dark chocolate chip with sea salt
Peanut butter with sea salt
Chocolate chip
Cinnamon sugar
Original
Sea salted caramel
Coconut white chocolate with sea salt
Another fun set up for our cookies and milk party was to create contemporary looking cookie jars. I couldn't resist these copper top glass jars that I found for super cheap at HomeGoods. For the chocolate chip cookies, I stacked them on chocolate chips.
For the cinnamon sugar cookies, I put some whole cinnamon sticks inside the jar. Lastly, for the lemon sugar I stacked them over granulated white sugar.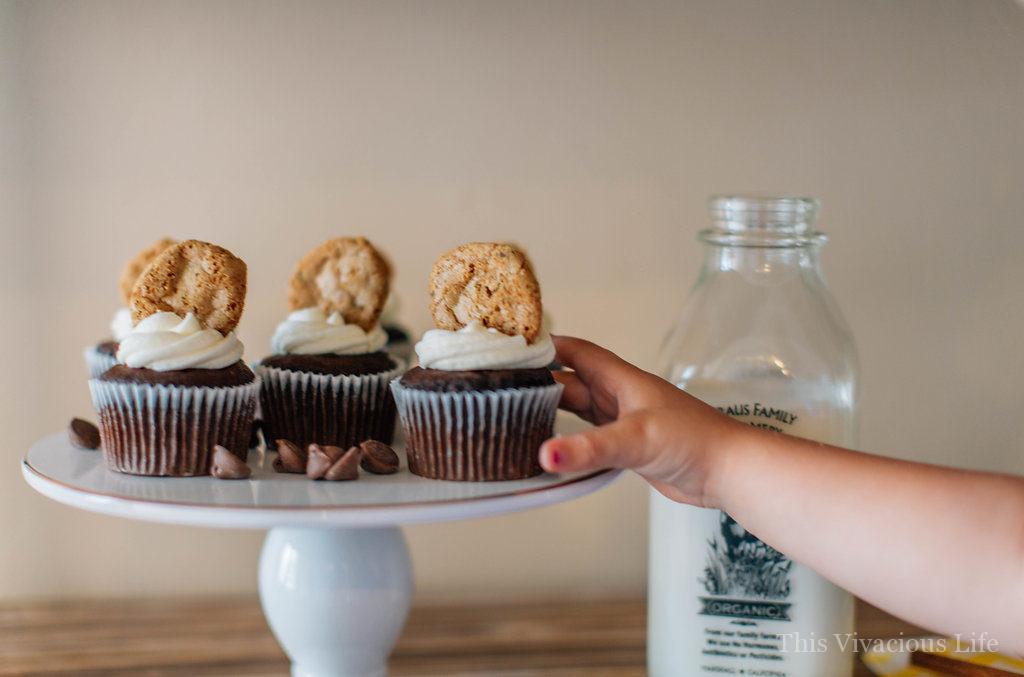 To make it easy for your guests to get the cookies they want, place mini paper bags near the jars. The kids especially love making the personalized cookie bags.
For a little take home cookie snack, we had mini Hannahmax Cookie Chips bags ready to be picked up. We placed them in a gold dot jewelry box to create a cute setup. These cookies are so great because they can be eaten like chips on the go.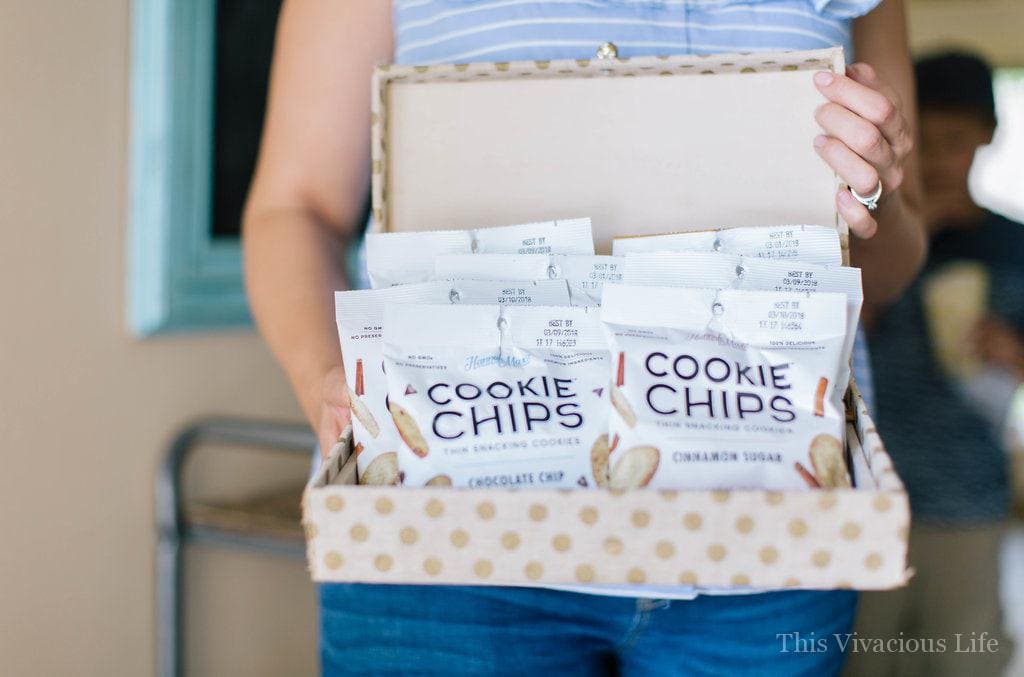 Having a decorated themed sugar cookie was a must for this party as well. My super talented friend Shanan over at Enchanted Cookie Boutique made up these darling milk jar cookies that fit all to perfectly with our theme. Little lady sure loved them!
This milk and cookies sign from Sasafras Printables was the perfect addition to our chalkboard that went over our setup. It created a great visual for guests to know exactly what kind of party they were attending. 
No party is complete without activities and this one was no exception. I decided to put together a create your own cookie station where guests could enjoy some crafts. The little ones especially loved cutting out and decorating their own little cookies. It was so cute to see my little lady being all grown up and using the glue like a big girl.
Their finished cookies made for great decor. They could also be used to play cookie, cookie who's got the cookie at the party.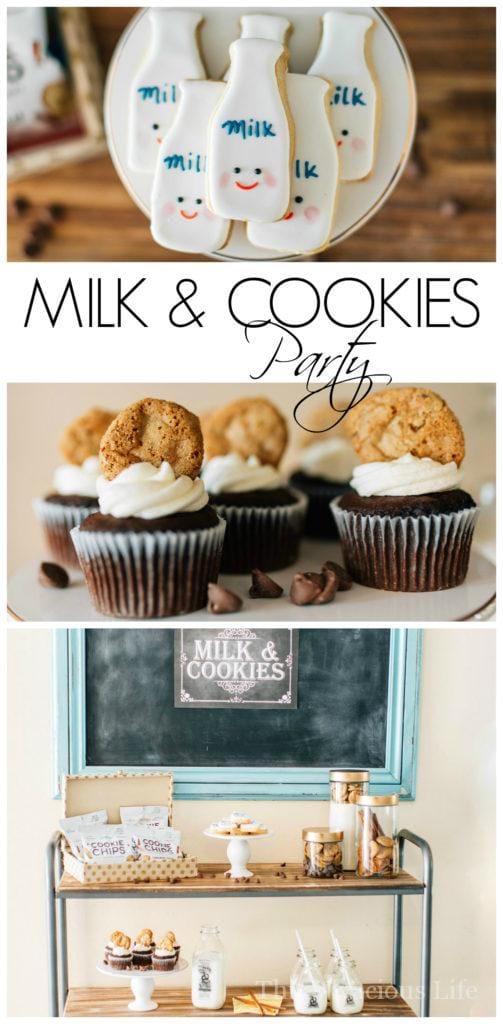 If you like these, be sure to check out some more…
Cactus Succulent Baby Shower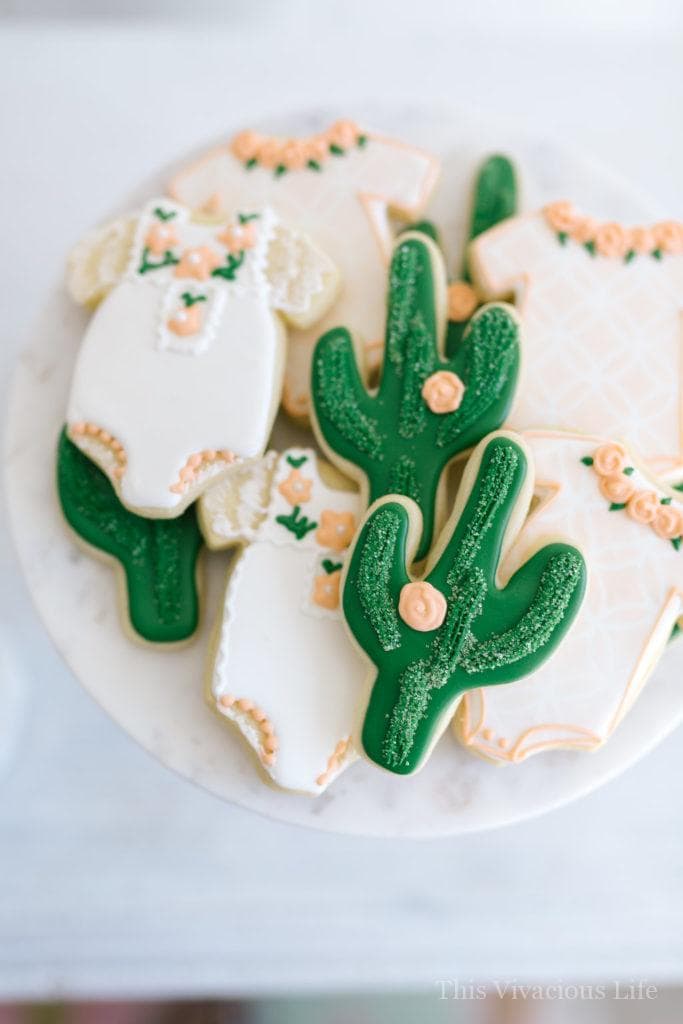 Adventure Awaits Little Lending Library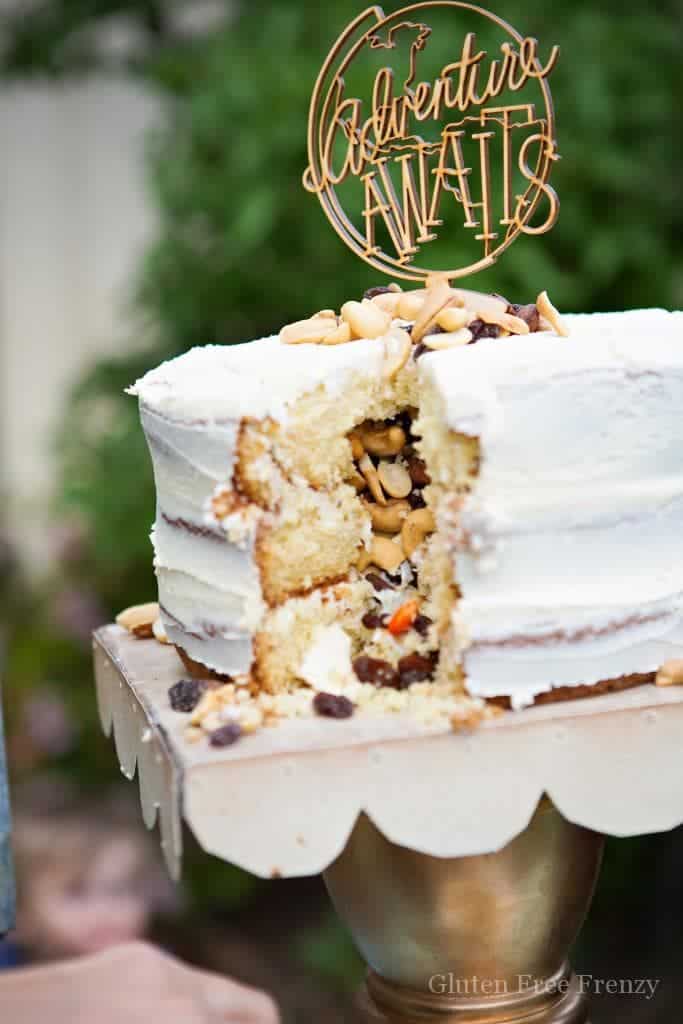 Ice Cream Pool Party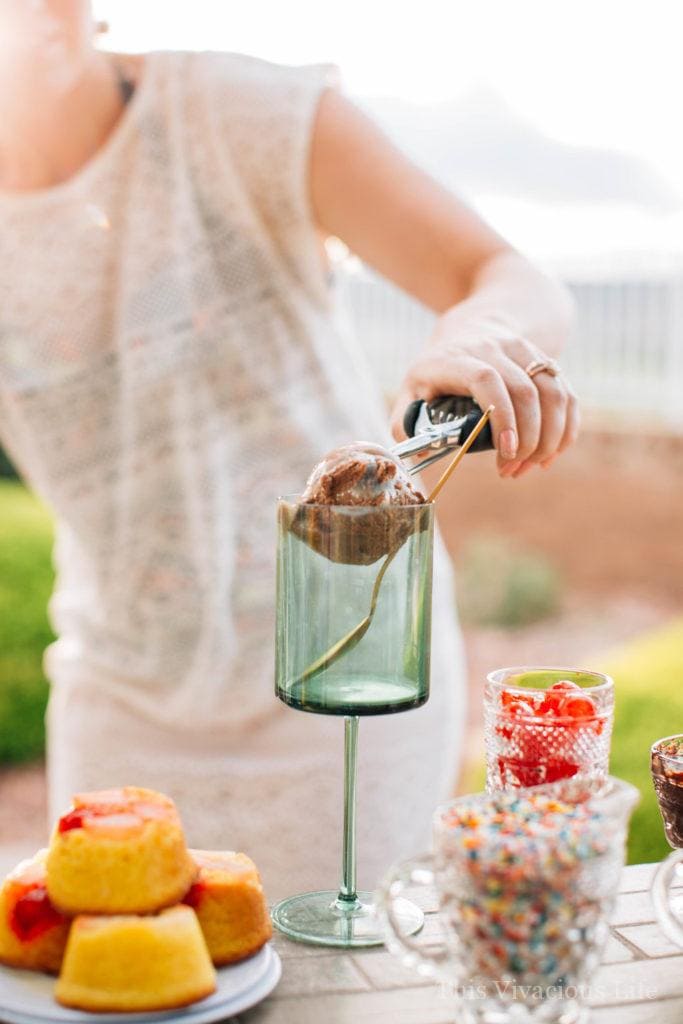 Photography: Amie Pendle Photography
Sugar Cookies: Enchanted Cookie Boutique
Printable: Sasafras Printables
Cookies: HannahMax Cookie Chips
*Thanks to HannahMax for sponsoring this post. I was provided with monetary and product compensation. All opinions are my own.