Is cranberry lemon shortbread trifle is a great dessert during the holidays.
You can't go wrong with this cranberry lemon shortbread trifle at your next holiday party or dinner.
I love this cranberry lemon shortbread trifle because it combines the classic holiday flavor of cranberry with a lightened up lemon pudding. Of course the buttery shortbread crust made from Walker's gluten-free lemon ginger shortbread cookies, is the perfect base for it all. I love how easy these cookies are to use and that all you have to do is crumble them right into the trifle dishes. Walkers gluten-free shortbread is the only brand I have found that actually reminds me of a true shortbread. Believe me, your guests will never know this dessert is gluten-free!
Another great thing about this dessert is that it's quite easy to make and won't require any baking. Now that's a welcome change from what holiday desserts usually require isn't it? While I love baking lots of cookies during the month of December; I also like easy desserts like this that change up what we can offer to guests.
To me, I feel that many trifles are a great holiday dessert that everyone will love. When the pudding is homemade like this one, your guest will especially be swooning. I had a friend once asked me if it was even possible to make homemade pudding. It it is and you'd be surprised at how easy it is to do! You can make it in a variety of flavors. However, this lemon pudding is the perfect addition to our cranberry lemon shortbread trifle if you ask me.
When topped with our glistening cranberry honey compote, it will not only make for a delicious dessert but a beautiful one as well. If you have a holiday party coming up the nice thing about this dessert is that you can even make it a day ahead. Just be sure to cover it with plastic wrap in the refrigerator. This way the pudding won't get hard on the top.
Cranberry Lemon Shortbread Trifle
Ingredients
1 box gluten-free lemon ginger Walker's Shortbread cookies
1 1/2 C fresh cranberries
1 T raw honey
2 C milk, divided
2 C heavy whipping cream
3/4 C sugar
2 T butter
4 egg yolks
1/2 C sugar
6 T cornstarch
juice of one large lemon
zest of half large lemon
Instructions
In a small sauce pan on low-medium heat, combine The fresh cranberries and raw honey
Cook until berries start to pop and mixture is hot
In another medium saucepan on low heat, heat 1 C milk, all the heavy cream, 3/4 C sugar and butter until milk is just slightly scalded
In another bowl cream together egg yolks and remaining 1/2 C sugar
Whisk egg yolk mixture into the hot cream saucepan
Allow that to cook stirring frequently, until it starts to thicken *Make sure the heat is very low
Mix reserved 1 C milk and corn starch together
Slowly whisk the cornstarch into the hot cream sauce pan mixture
Whisking constantly, making sure to blend the bottom and sides, continue cooking until mixture is a thick pudding
Whisk in the zest of half a large lemon and juice of one large lemon making sure not to let any seeds fall in
Meanwhile, crush two cookies per trifle dish and place in the bottom
Top each with a generous amount of lemon pudding until the trifle cup is filled
Top each with cranberry honey compote and serve warm or cover with plastic wrap and refrigerate for four hours if you'd like to serve it cold
https://www.thisvivaciouslife.com/cranberry-lemon-shortbread-trifle/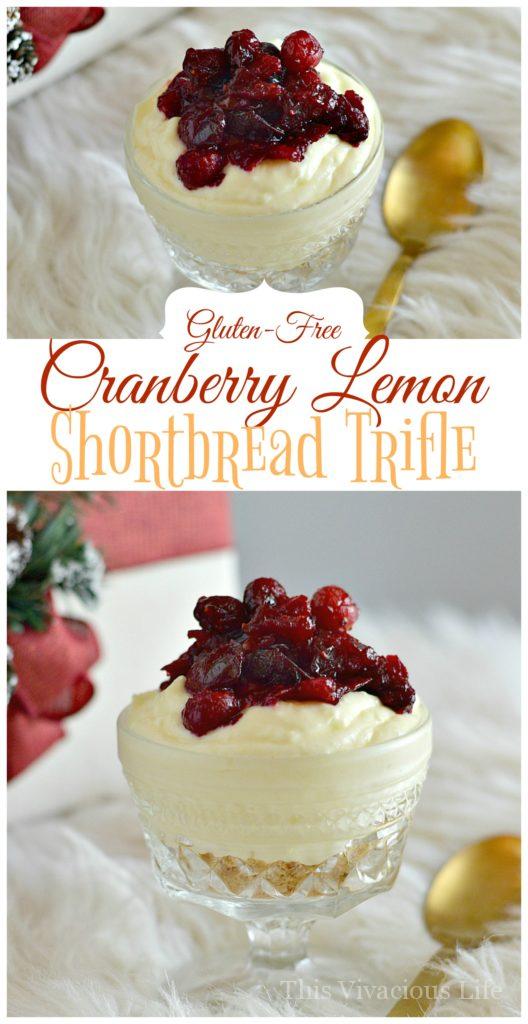 a Rafflecopter giveaway

I love holiday dessert recipes and want to share a few more with all of you…
Gluten-Free Sugar Cookie Peppermint Mousse Cups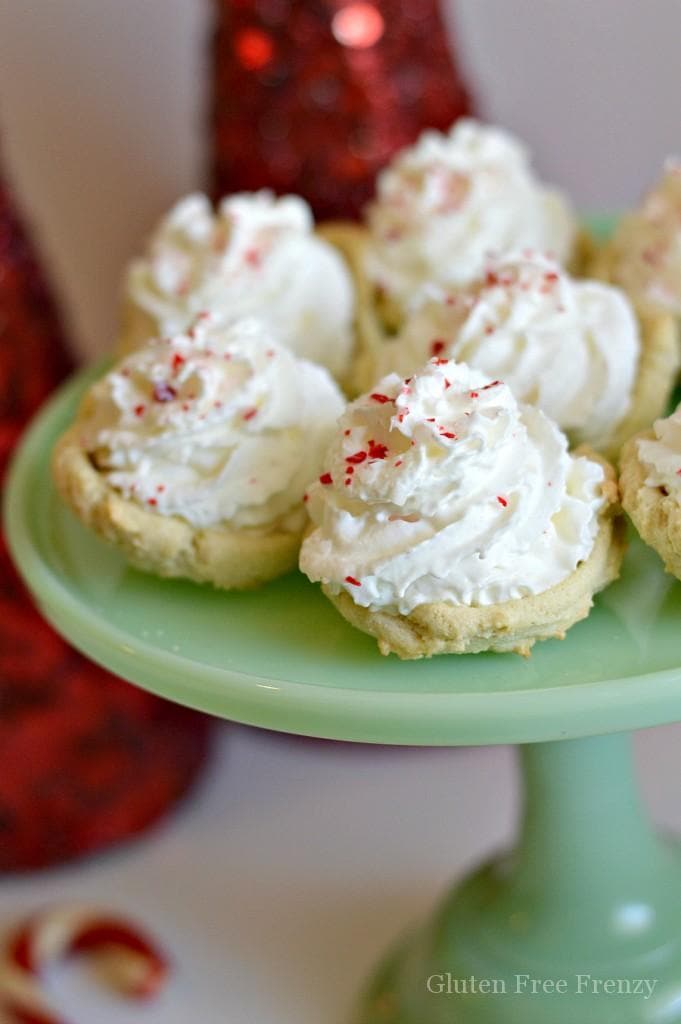 Muscly Frozen Peppermint Hot Chocolate
Gluten-Free Peppermint Brownie Bites
*Thank you to Walkers Shortbread for sponsoring this post. I was provided with monetary and products compensation. All opinions are my own.