These Easter bunny baking baskets were so much fun to put together! I wanted to do something special for some ladies in my neighborhood this year to say Happy Easter and I thought, what better way to do it than with a themed basket. I had already picked up the cute pink and brown bunny boxes and dish towels at the Target dollar spot so that was a good start. I also still had some Easter themed cupcake picks and liners from last year so knew they would make a great addition as well. The only thing I was missing was a treat to go inside…

Wouldn't you know it, that day I got a weekly newsletter in my inbox from one of my favorite bloggers, Jenny Keller of Jenny Cookies and it included the most scrumptious looking carrot cake cupcakes. The recipe looked simple enough to make gluten-free so I went over and watched her youtube video to confirm. Yep, not hard at all. I only had to swap out the flour for gluten-free all-purpose flour. Oh my goodness you guys, the end result was astounding! One of the most moist, delicious carrot cakes I have ever had before. Get the recipe from Jenny's website HERE. Be warned, you will totally be sucked in. She has the CUTEST stuff! Just remember that to make these cupcakes gluten-free, you only need to swap out the regular flour with gluten-free all-purpose flour. I really like Pamela's Products artisan blend or Glutino's all-purpose flour brands. 
Little lady had so much fun carrying this gift basket around like a purse. We couldn't get enough of her little smile either. 🙂 While I favored the brown box with yellow accents, the blush pink bunny with white, grey and more pink also turned out super cute. The possibilities are endless with these bunny baking baskets. Some other things you could include:
Cookie dough & frosting
Muffins & mix-ins
Plain donuts, icing & sprinkles
Don't have a bunny basket? A regular white box with spring printed tissue paper inside and a tea towel tied on top with twine looks just as cute. This way it is much easier to give the cupcakes already decorated as well. Just lay the picks in the center of the box so your recipient can add them once they take them out.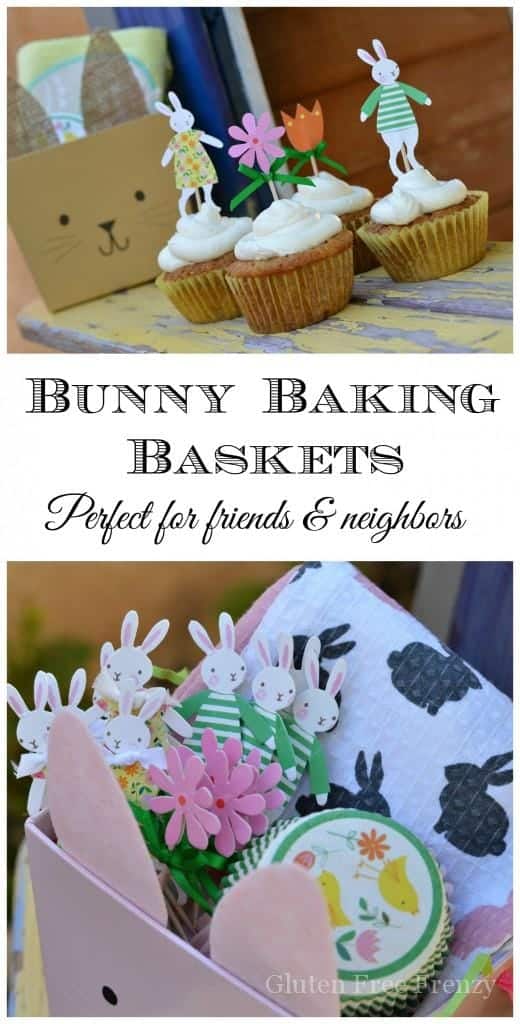 I thought it might be fun to add another homemade element to these bunny baking baskets. Since I am more of a salty girl rather than sweet, I had to think hard about what I wanted to make. I decided to crush up some Glutino pretzels and make it into an Easter bark. The sweet and salty candy turned out great and the best part was that it only took a few minutes to prepare. If you really want to wow your friends, pour the almond bark into a pretzel laid out on a non-stick silicone mat or parchment then paint a bunny face on and freeze to set. Boom, you now have edible pretzel bunnies!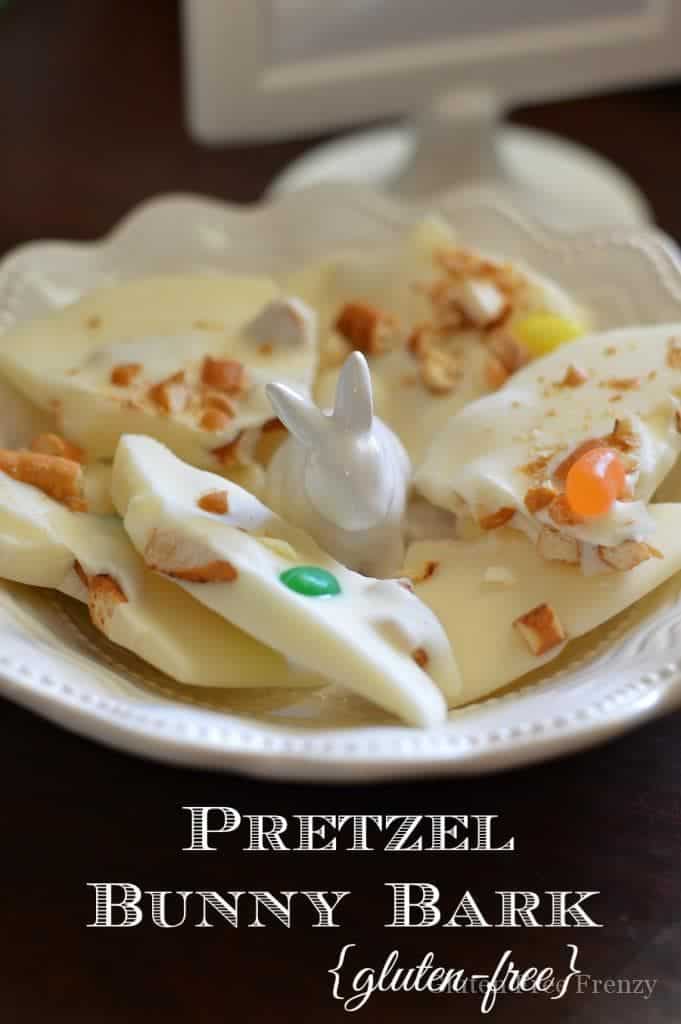 Print
Pretzel Bunny Bark
---
Scale
Ingredients
6

cubes of white almond bark

1/2

C gluten-free pretzels, crushed

1/2

C Easter candy
---
Instructions
Melt the almond bark over low-medium heat while stirring constantly. Pour onto a silicone baking mat lined baking sheet. Spread Easter candy and crushed pretzels into the almond bark then place in the freezer. Leave it in there 15-20 minutes or until it has completely hardened. Remove from silicone baking mat and break into bark size pieces.
Most importantly, let us remember the true meaning of Easter. The resurrection of our Lord and Savior Jesus Christ. I feel blessed to know that I can live with my family again because of this sacrifice. Check out an amazing video all about Easter HERE. 
*This post contains affiliate links. This simply means that I receive a portion of any purchases made using my links. It doesn't cost you anything extra but it does help me pay for site maintenance costs. All opinions in this post are mine and mine alone.