If you need the perfect red, white and blue treat to serve this year on 4th of July, this gluten-free almond cherry cheesecake is for you.This gluten-free almond cherry cheesecake is rich, decadent and so delicious! It is a dessert bursting with fresh, summer flavors.
Hello gluten-free almond cherry cheesecake! This decadent dessert is bursting with fresh summer flavors and festive 4th of July colors. I love this gluten-free almond cherry cheesecake because it is both delicious and gorgeous to serve up to guests. The best part about this dessert is that it is so incredibly easy to make.
Our almond cherry cheesecake is also a one-bowl prep dessert. So you can keep from having to do dishes all day after making it this easy treat. When a dessert is both delicious and simple to prepare and clean up, it's definitely a success in my book!
When it comes to hosting a 4th of July or patriotic get together, a red, white and blue dessert is a must. While I love all the flag desserts and layered parfaits, I feel like they've been a bit overdone.
I wanted to create something both festive and still beautiful enough that serving it any other time of year was acceptable as well. Cheesecake is a classic dessert that almost everyone loves.
Add in fresh, red cherries and nutty almond and you have one heavenly cheesecake. The fresh fruit is both beautiful as a garnish and also cuts the richness of the cheesecake. The tart cherries give such a nice balance.

While graham cracker crusts are traditional, this gluten-free almond cherry cheesecake is anything but traditional. We decided to lighten it up with a buttery shortbread crust. Walkers gluten-free pure butter shortbread made the perfect base for this dessert.
These cookies are so delicious and authentic that nobody would ever know they are gluten-free. We've used them in lots of desserts from our lemon ginger cookie salad to our pecan pie shortbread bars.This almond cherry cheesecake is definitely a dessert to celebrate with.
Of course, these no-bake mini strawberry cheesecakes from Gluten Free Palate are also a great option. Erin from Meaningful Eats also has some tasty no-bake cheesecakes!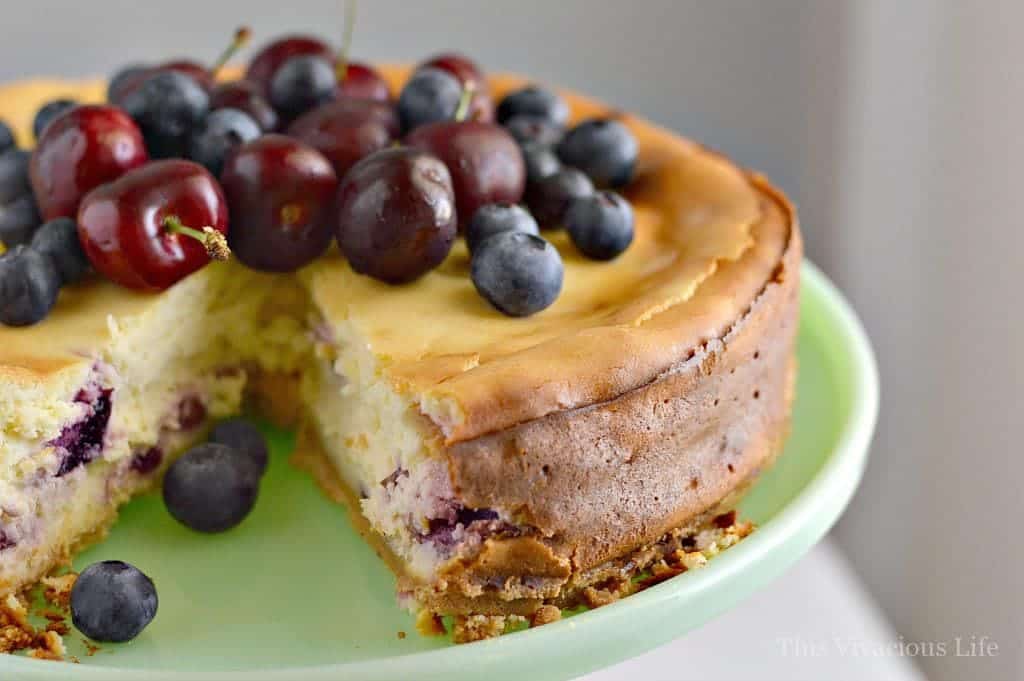 Gluten-Free Almond Cherry Cheesecake
Ingredients
12 Walkers gluten-free butter shortbread cookies
2 T butter
3 (8 oz.) packages of cream cheese
1 can of sweetened condensed milk
2 T gluten-free all-purpose flour
3 eggs
1 tsp. gluten-free almond extract
1 C fresh pitted cherries cut in thirds
Garnish: washed, unpitted, stem on fresh cherries, washed blueberries and whole raw almonds
Instructions
Preheat the oven to 350°
Crush 12 Walkers cookies then combine with 2 T melted butter
Press into a greased 9" springform pan
Meanwhile, in another bowl mix the cream cheese, all-purpose flour and condensed milk until well combined
Mix in the eggs & almond extract
Slowly add in 1 C cut pitted cherries
Pour into the springform pan and bake 55 minutes
Remove from oven and cool an hour on the counter
Place in the refrigerator for 4 hours or overnight
Gently remove the springform ring and place on cake stand
Top with fresh cherries and blueberries
https://www.thisvivaciouslife.com/gluten-free-almond-cherry-cheesecake/