These gluten-free gingerbread milkshakes may just become your new favorite holiday treat.
I love making these gluten-free gingerbread milkshakes because they are so easy and pack in the holiday flavors.
When you think traditional holiday treats you probably don't think of gluten-free gingerbread milkshakes but that's about to change… This cool, creamy dessert is going to be a welcome treat after baking dozens and dozens of cookies. The best part about it is that it can be whipped up in mere minutes.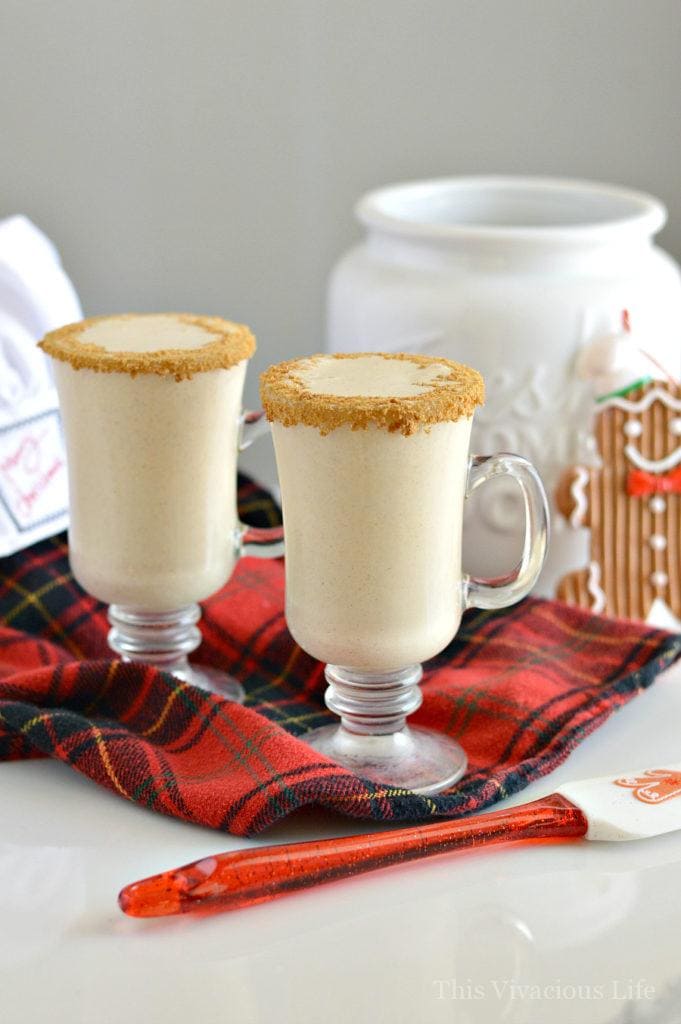 With flavors like allspice, cinnamon and fresh ground nutmeg, these gluten-free gingerbread milkshakes couldn't be more appropriate for the holiday season. The kids will love them just as much as the adults will. Lining the rim with crushed gingerbread cookies will only amplify their beauty when served up at your next holiday gathering.

I love using Proyo Salted Caramel Crunch Ice Cream. Each container has 35g of protein (10 grams per serving) but it tastes like a decadent treat! This flavor couldn't be more fitting for these gluten-free gingerbread milkshakes. Proyo Ice Cream is also certified gluten-free and non-GMO.
The sugar is lower than most ice cream because they use xylitol first, but what's perfect is the taste would never lead you to believe so. I've used their ice cream's in other recipes like my mini pineapple upside down cakes. No one could believe that the ice cream contained so much protein.
See, so thanks to ProYo, you can now enjoy a decadent treat during the holidays without all the guilt!
Find ProYo near you HERE.
Gluten-free gingerbread milkshake
Ingredients
1 pint Salted Caramel Crunch ProYo Protein Low Fat Ice Cream
1/2 C milk
1/2 tsp. allspice
1/2 tsp. cinnamon
1/2 tsp. fresh ground nutmeg
Dash of salt
3 T honey
1/2 C crushed gluten-free gingersnaps
Instructions
Place honey on a small plate and put crushed ginger snaps on another small plates
Dip the rims of your cup into the honey turning side to side, then dip into the crushed cookie crumbs
Combine all remaining ingredients in a blender and pulse until well combined but still thick
Pour into cookie rimmed glasses and serve immediately
https://www.thisvivaciouslife.com/gluten-free-gingerbread-milkshakes/
If you love this holiday dessert, be sure to check out these…
Muscly Frozen Hot Chocolate
BEST Gluten-Free Christmas Treats
Gluten-Free Peppermint Brownie Bites
*Thank you to Proyo for sponsoring this post. I was provided with monetary on product compensation. All opinions are my own.