this post may contain affiliate links
These gluten-free honey cakes with lavender whipped cream are perfect for serving up at your next tea party.
For a delicate dessert that will WOW your guests, these gluten-free honey cakes with lavender whipped cream are sure to please.
Lavender is one of my favorite flavors so coming up with these gluten-free honey cakes with lavender whipped cream was a no-brainer. I love the delicate flavor that it provides any drink or dessert. It's especially refreshing in the summer when served up in the form of a sweet treat.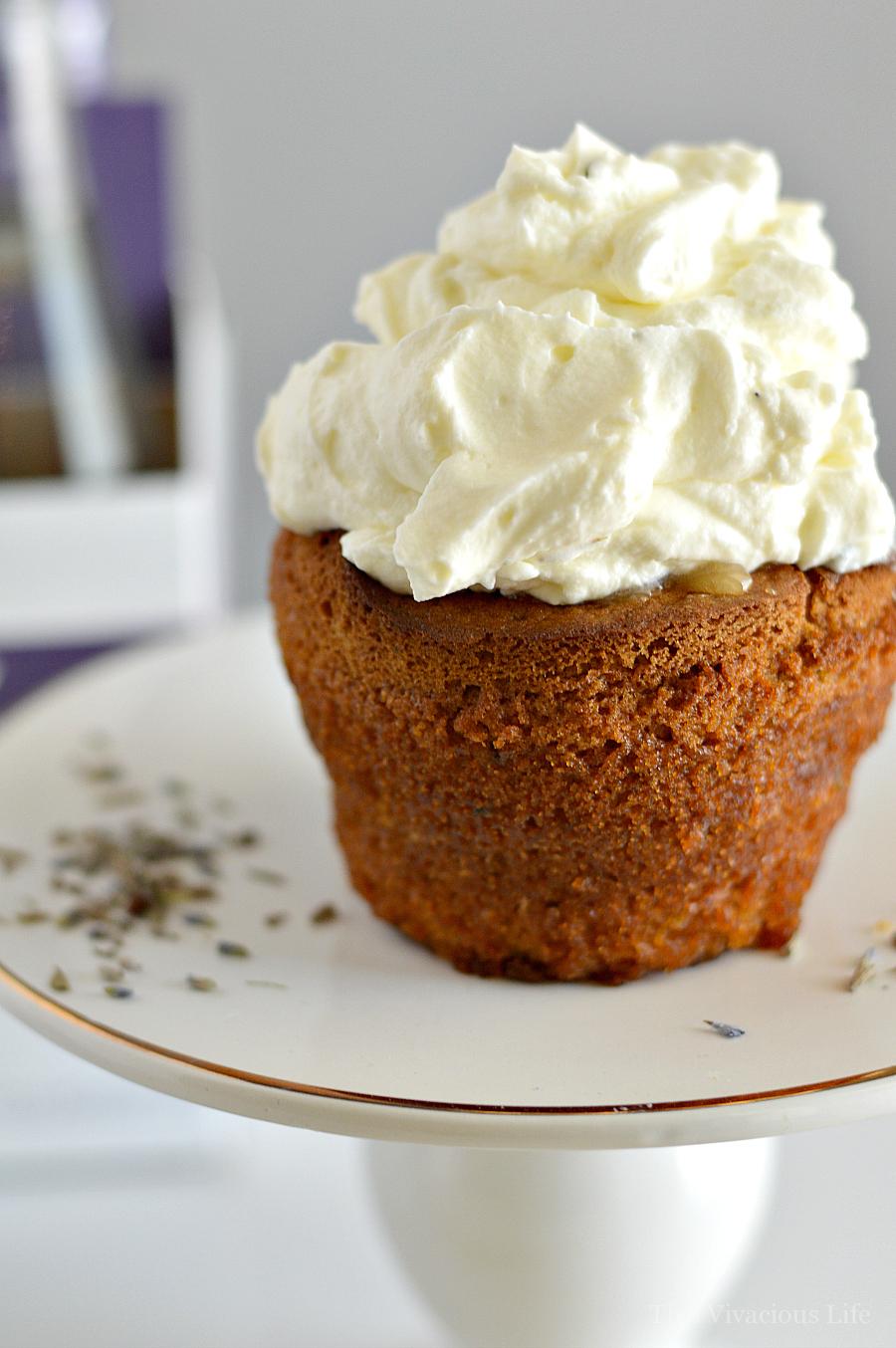 Tea parties aren't the only thing that you can serve these gluten-free honey cakes with lavender whipped cream at. They're fantastic for any summer gathering and are sure to be something your guests request again in the future. Though they are gluten-free don't be fooled, they are light, fluffy and so delicious that nobody would ever guess they don't have wheat.
I love serving these up with a cool glass of Dry Sparkling lavender soda. It pairs so perfectly with these honey cakes. This effervescent drink is especially refreshing in the summer. Well lavender is my personal favorite Dry Sparkling soda, I also enjoy their juniper berry, Rainer cherry and watermelon flavors a lot. The best part about them is they are lower in sugar than most sodas and very clean. You can taste this crisp, clean taste in every sip you take.
NEED MORE GOODNESS? Follow me on Facebook, Instagram, Pinterest, and Twitter for great recipes, entertaining ideas and more!
Gluten-Free Honey Cakes with Lavender Whipped Cream
This flavorful honey cakes are so light and delicious, plus they are gluten free
Servings: 8 servings
Calories: 288kcal
Ingredients
1 15 oz. gluten-free yellow cake mix
2 eggs
1/2 C butter softened
5 tsp. raw honey divided
1/2 C lavender Dry Sparkling soda
3 T edible dried lavender divided
1/2 pint heavy whipping cream
1 C powdered sugar
Instructions
Preheat oven to 325 degrees

In a mixing bowl, combine cake mix, eggs, butter, 2 tsp. raw honey, 1/2 C Dry Sparkling soda and 2 T edible dried lavender

Grease 6 creme brûlée ramekins and fill 2/3 full with prepared honey cake mix

Bake at 325 degrees for 18-20 minutes or until golden and cooked through

Once the cakes are cooled, Top each with 1/2 tsp. raw honey then with prepared whipped cream

To make lavender whipped cream, combine powdered sugar, heavy whipping cream and 1 T edible dried lavender
Nutrition
Calories: 288kcal | Carbohydrates: 19g | Protein: 2g | Fat: 24g | Saturated Fat: 14g | Cholesterol: 112mg | Sodium: 129mg | Potassium: 47mg | Sugar: 17g | Vitamin A: 955IU | Vitamin C: 1.7mg | Calcium: 31mg | Iron: 0.2mg
We've made some other delicious eats and treats using Dry Sparkling as an ingredient. My favorites are the sparkling cranberry cupcakes, marinated chicken skewers with cucumber yogurt sauce, crab stacks with blood orange vinaigrette & gluten-free sticky orange ginger chicken with coconut rice.
Whether you choose to make a delicious dish or enjoy this fantastic drinks on their own, you are in for a treat!
*Thank you to Dry Sparkling for sponsoring this post. I was provided with monetary and product compensation. All opinions are my own.