These gluten-free pumpkin spice donuts are going to be your new favorite fall harvest treat. 
Gluten-Free Pumpkin Spice Donuts? You betcha! It is that time of year, pumpkin everything. Whether you love pumpkin or not, you are sure to love these donuts.
My hubby won't eat anything that has pumpkin in it so I had to be sneaky serving these gluten-free pumpkin spice donuts to him. I took one to him in his office and before he had a chance to ask what it was, I gave him a quick bite. He starting nodding and saying, "mmm" with his eyebrows raised (this is his upmost approval reaction).
The fact that he enjoyed them but didn't feel too overpowered by pumpkin was a great success for me. I love fall flavors and thought it was a nice balance of pumpkin, cinnamon, nutmeg and homemade donut dough. These gluten-free pumpkin spice donuts are super duper easy to make in a mini donut maker. I got mine for less then $10 and it has been a great investment!
I love getting creative with donut flavors especially for different holidays (Did somebody say red velvet cupcakes for Valentines?). Feel free to bake them in the oven if you don't have a mini donut maker, they will turn out just as great.
Gluten-Free Pumpkin Spice Donuts
---
Ingredients
2 C gluten-free all-purpose flour
1/3 C brown sugar
1/4 C sugar
1 1/2 tsp baking powder
1/4 tsp baking soda
1 tsp pumpkin pie spice
1/2 tsp cinnamon
1/2 tsp Real Salt
1 C pumpkin puree
2 eggs
1/4 C milk
1/4 C butter, softened
Topping:
1/3 C sugar
1 T cinnamon
6 T butter, melted
---
Instructions
Preheat your mini donut maker. If using an oven, set it at 325°. Combine everything but the topping ingredients. Mix well and pour into donut maker 2/3 of the way full and cook 3-4 minutes, Donuts will be springy to the touch.
In an oven, pour batter into your donut pan 2/3 full and cook 8 minutes. Meanwhile, combine topping cinnamon and sugar in a bowl or on a plate. While donuts are hot, dip the top of each into melted butter, then into the cinnamon sugar mixture.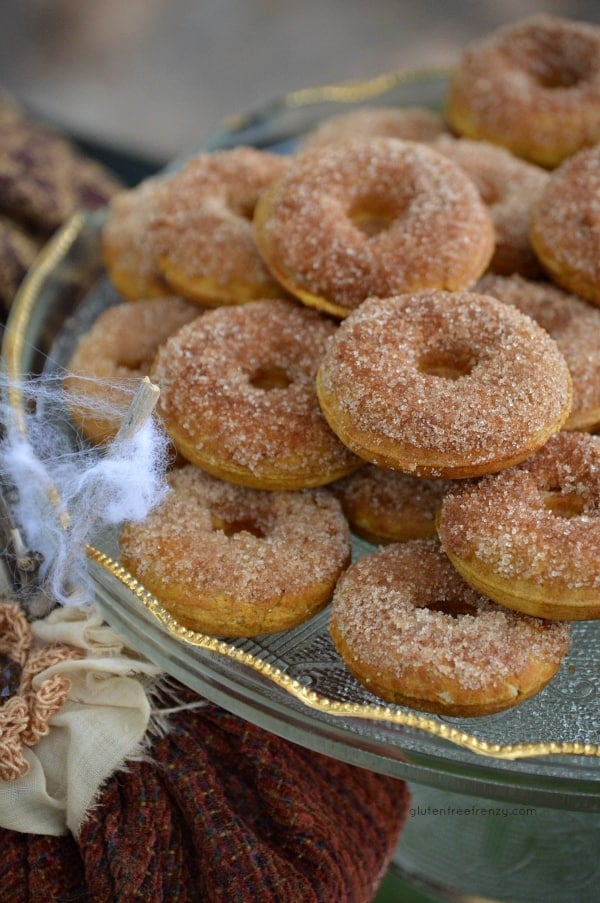 If you love these, you are sure to love our dairy-free chocolate dipped pumpkin spice donuts. They are gluten-free, dairy-free and so delicious that nobody would ever know!