this post may contain affiliate links
This gluten-free seafood pasta with lemon capers is an easy weeknight dinner.

The whole family will love this gluten-free seafood pasta lemon capers. 
This gluten-free seafood pasta with lemon capers is especially delicious when served with fresh grated Parmesan. I love it because it makes for a nice dinner in a snap on those busy weeknights.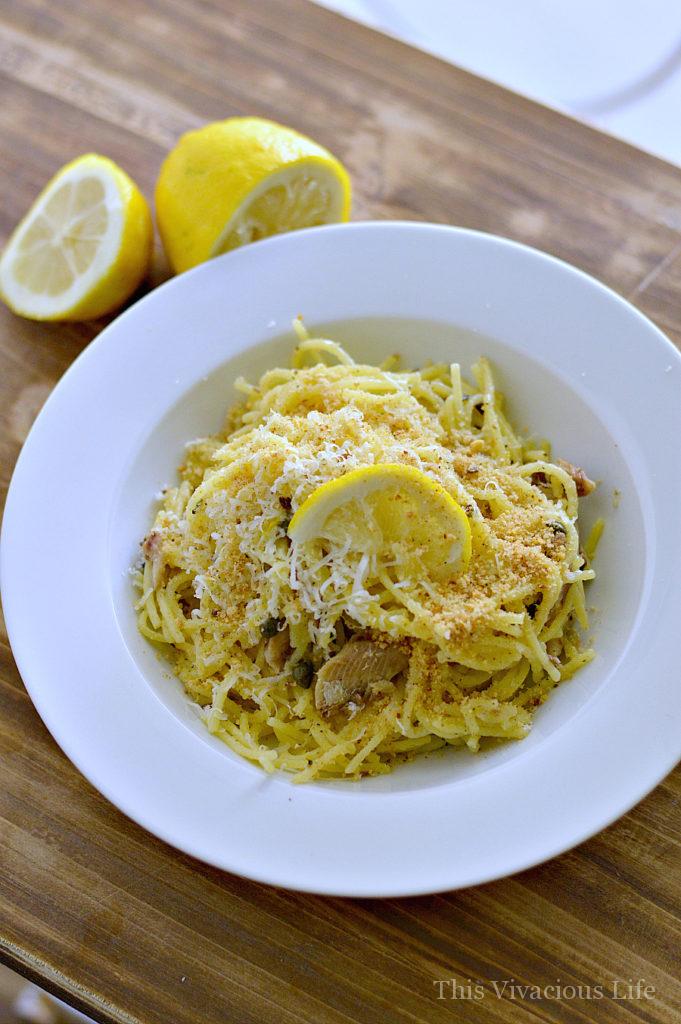 I don't know about you guys but it seems like our weeknights are always busy. Pasta is an easy dish to make but I always find myself making my go to gluten-free spaghetti. This gluten-free seafood pasta with lemon capers will change up your traditional pasta game without taking up too much extra time. The best part is that because of the addition of BELA Brand Sardines, your family will be getting lots of omega-3's and healthy fats.
BELA Brand Seafood provides Portuguese sardines packed in either water or olive oil. For this recipe I chose the lemon flavored olive oil because it just fit so perfectly. The flavor is truly authentic European in taste and quality. They are always packed fresh by hand and never frozen. I have personally never been a fan of sardines until trying these fresh, delicious BELA Brand Sardines.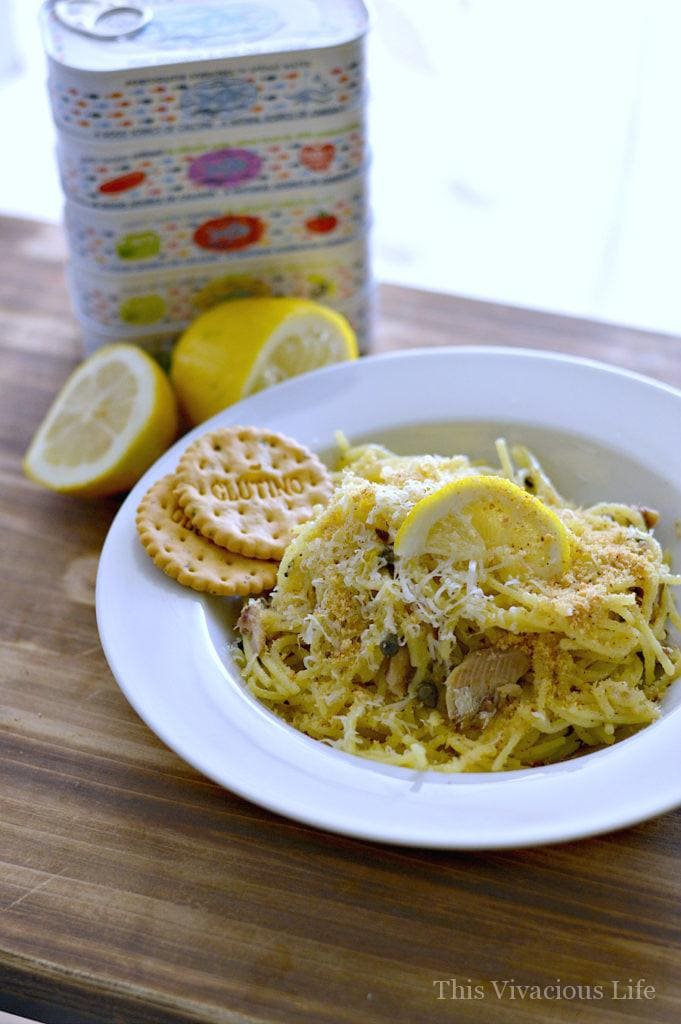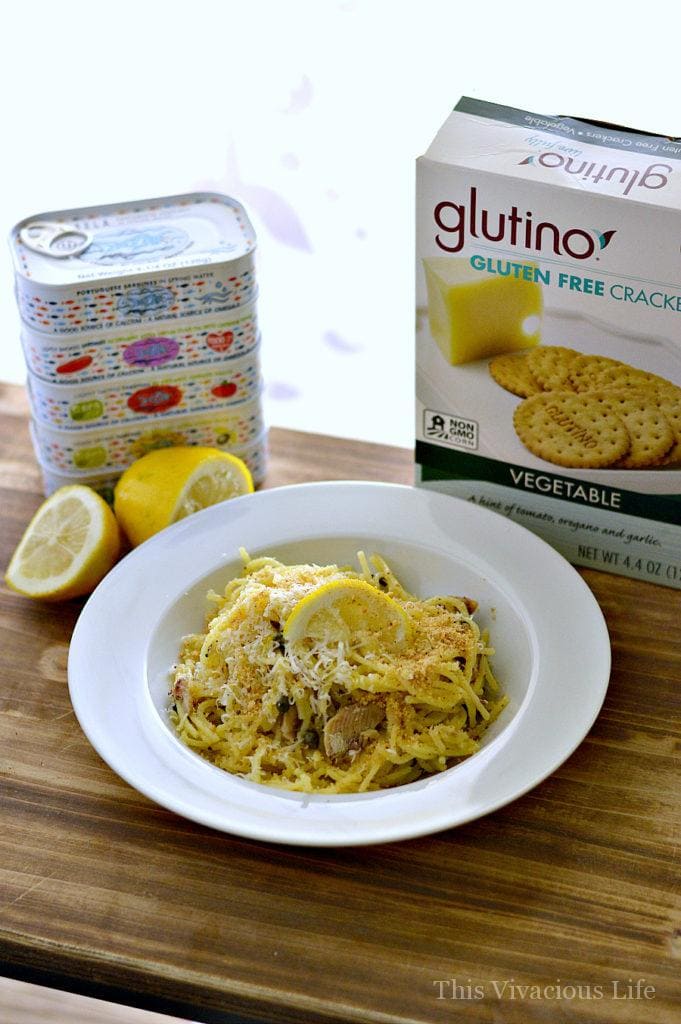 This gluten-free seafood pasta with lemon capers is made complete with a few extra garnishes. We chose grated fresh Parmesan, capers and a delicious bread crumb recipe using Glutino vegetable crackers and white bread.
Anytime I make something gluten-free that traditionally isn't, like these breadcrumbs, I want to make sure that it is so good nobody would ever know the difference. Glutino crackers and bread help me do just that. They are easy to find at your local grocery store and create an authentic Italian breadcrumb. 
While this dish is tasty as a dinner, it also makes a fantastic lunch just before hitting the gym. The gourmet, heart healthy BELA Brand Sardines are a great workout boost food either in this dish or on their own. These sardines are sustainable and also make a fantastic outdoorsy snack while hiking or camping. They definitely offer a more gourmet protein (we are talking 11 grams per serving) than traditional jerky and trail mix.

NEED MORE GOODNESS? Follow me on Facebook, Instagram, Pinterest, and Twitter for great recipes, entertaining ideas and more!
Gluten-Free Seafood Pasta With Lemon Capers
this seafood pasta is full of flavor, plus the lemon capers add a lovely zing!
Servings: 6 servings
Calories: 220kcal
Ingredients
6 oz. gluten-free spaghetti pasta
2 slices day old Glutino white bread
10 Glutino vegetable crackers
1 4 1/4 oz package BELA Brand Sardines in lemon flavored EVOO
1 T lemon flavored EVOO from the BELA Brand Sardines
juice from one large lemon
zest from half a large lemon
1 T capers
1 oz. freshly grated parmigiano
1 tsp. fresh grated black pepper
1 tsp. sea salt
Instructions
Pulse the Glutino white bread and crackers until made into breadcrumbs then season with salt and pepper

Cook pasta according to package directions

In a pot, drain 1 T lemon flavored EVOO from BELA brand sardines and heat over medium heat

Meanwhile, remove the small spine bone from each sardine in the package and shred the remaining sardines gently into the hot olive oil

Add the capers and cook 2-3 minutes or until the sardines and capers are slightly crisped

Toss the cooked spaghetti into the capers, sardines and EVOO

Add lemon juice, black pepper & sea salt and toss then remove from heat

Plate and top with parmigiano and lemon zest
Nutrition
Calories: 220kcal | Carbohydrates: 31g | Protein: 11g | Fat: 6g | Saturated Fat: 2g | Cholesterol: 37mg | Sodium: 665mg | Potassium: 121mg | Fiber: 1g | Sugar: 1g | Vitamin A: 60IU | Vitamin C: 5.7mg | Calcium: 170mg | Iron: 1.4mg
Here are some other great seafood recipes that we think you might like…
Gluten-free coconut shrimp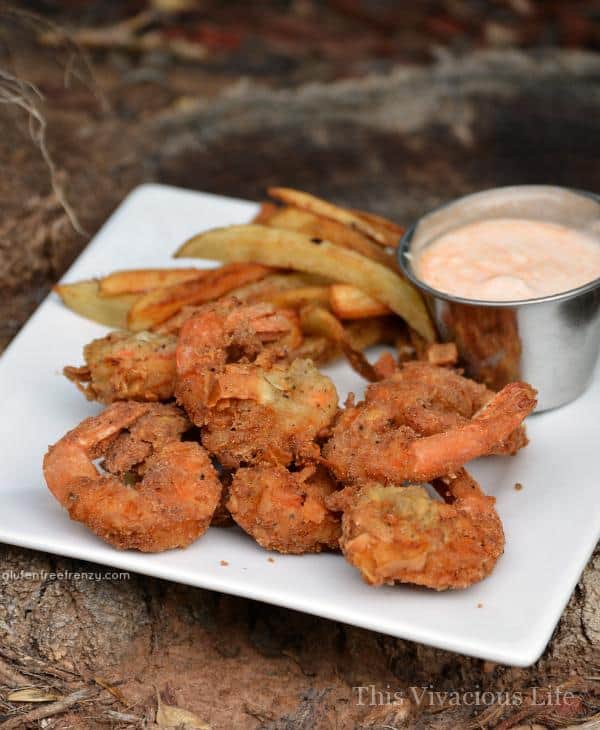 Crab stack with blood orange vinaigrette 
Gluten-free crab cakes 
*Thanks to BELA brand seafood and Glutino for sponsoring this post. I was provided with monetary and product compensation. All opinions are my own.