Take breakfast to the next level with these gluten-free strawberry shortcake breakfast bars.
Gluten-free strawberry shortcake breakfast bars are easy to prepare and a delicious way to start the day.
Oh my goodness you guys, these gluten-free strawberry shortcake breakfast bars are absolutely scrumptious! I had to hold myself back from eating the entire pan so I could give my kids some for breakfast. No seriously, I could have eaten the entire 8×8 pan myself. The combination of warm brown sugar, hearty oats and strawberries are just such a great trio.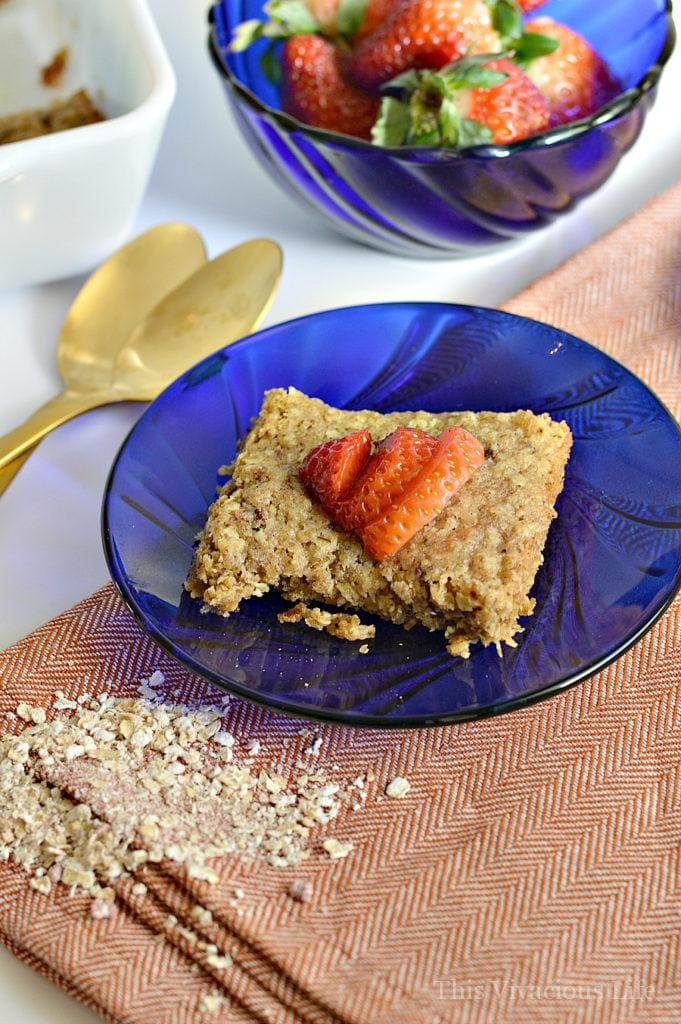 I love finding breakfasts that are both fresh and easy to prepare. We are not a cereal eating family. I just never really acquired a taste for cereal because growing up, my mom almost always prepared a hot breakfast. I love that tradition so now try to do the same for my kids. Don't get me wrong, it isn't some big production. We usually go simple with fried eggs and fruit. I also love to bake potatoes then cut them in the morning to make easy home fries.
I will say though that after eggs and breakfast meats, it's nice to change it up with something sweet. We do make our oatmeal pancakes with buttermilk syrup (SO good!) and these piñata breakfast muffins on occasion but I am always looking for new ideas. They do need to be quick though because this mama isn't a morning person.
I love these gluten-free strawberry shortcake breakfast bars because they are so delicious but, they can also be on the table in less than 30 minutes. It really only takes 5-8 minutes to prepare then just over 20 minutes to bake. They are great on their own or served with some delicious breakfast sausage or eggs. 
Gluten-Free Strawberry Shortcake Breakfast Bars
Ingredients
2 Bakery on Main Strawberry Shortcake Instant Oatmeal packets
1/2 C butter, softened
1/3 C gluten-free all-purpose flour
1/4 C brown sugar
1 flax egg (1 T flaxmeal + 2.5 T water mixed in a bowl)
1/4 tsp baking powder
Garnish with fresh sliced strawberries
Instructions
Preheat oven to 350°
Combine all ingredients in a bowl and mix well
Spread in a greased 8 x 8 baking pan
Bake at 350° for 20 minutes
Let cool then enjoy with fresh sliced strawberries on top
https://www.thisvivaciouslife.com/gluten-free-strawberry-shortcake-breakfast-bars/
The delectable strawberry flavor in these bars come from
Bakery on Main strawberry shortcake naturally flavored instant oatmeal packs.
I love that they can be used for more than just hot cereal. The best part? You can get creative with the flavor by using one of their other tempting varieties. Their flavors include:
In addition to being gluten-free, they are also non-GMO verified and kosher. Bakery on Main Instant Oatmeals have an extra dose of awesome in the form of flax and chia. I personally love that they are made with ancient grains like quinoa and amaranth as well.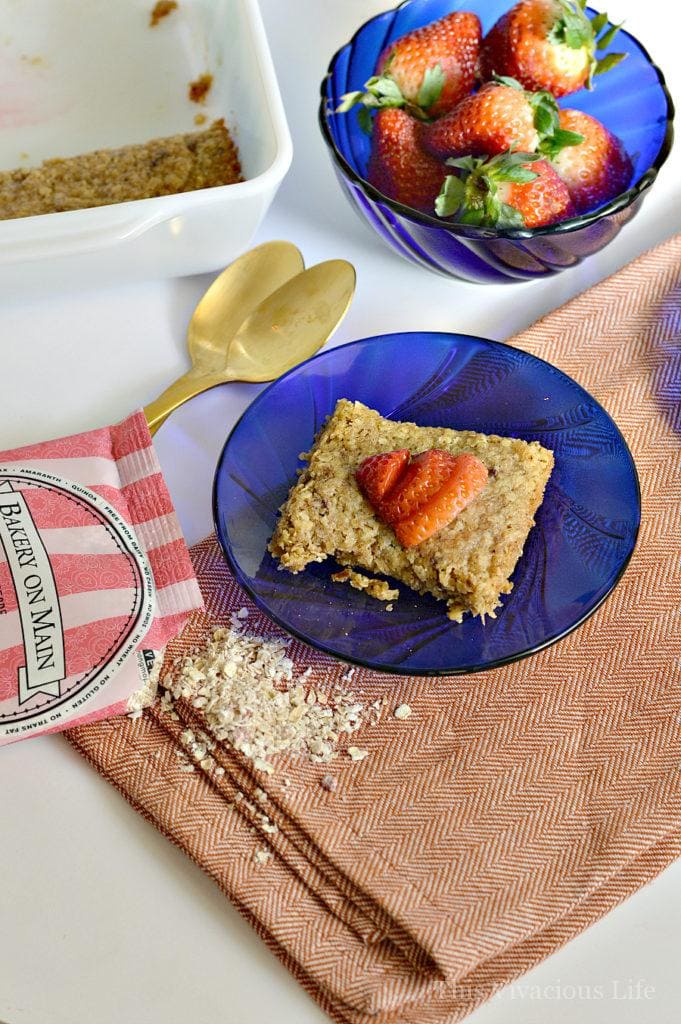 I can't wait to hear what you guys think of these. Let me know in the comments below which flavor you would choose. You never know, some may just happen to show up on your doorstep…
*Thank you to Bakery on Main for sponsoring this post. This post may contain affiliate links.