this post may contain affiliate links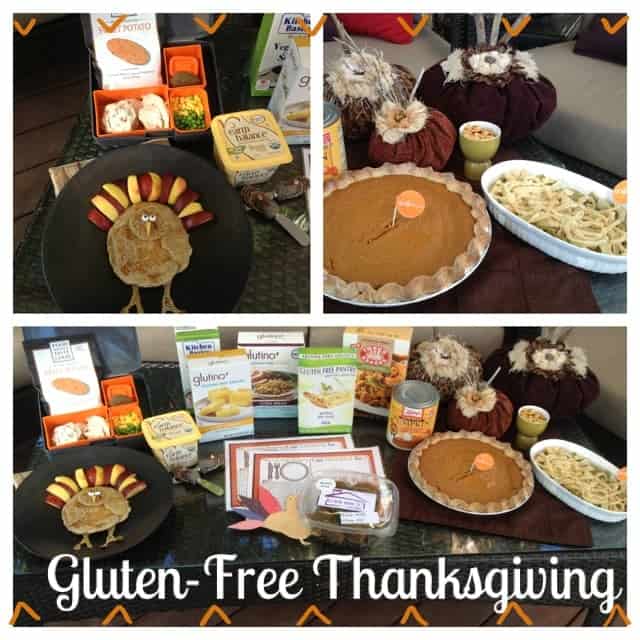 Some things to remember are that the kiddos love themed things like the above turkey shaped pancake with apple feathers. This will get them in the spirit and keep their little tummies full, if they aren't too keen on eating the other appetizers (although there are some delicious one, just saying ;). Also, I printed these cute placemats from Pinterest and laminated them so we could use them over and over again. It is fun for the kids to color on their placemat, just make sure to use washable markers or crayons. Gluten Free Labels is an amazing company that creates picks, labels and stickers that say gluten free so you can even have your dishes labeled if you can't do an entirely gfree Thanksgiving or will be taking some dishes to another person's home. I recommend labeling the dish AND the serving spoon. Welcome to our annual gluten-free Thanksgiving feast!!
Be sure to check out our full, gluten-free Thanksgiving menu as well!
Here are our gluten-free brand recommendations for Thanksgiving sides and items when you just need something quick and easy.
Stuffing: Glutino, Three Bakers and Rudi's Gluten Free Bakery
Pie Crust: Glutino, it's simply the BEST!
Crackers: Crunchmaster, Blue Diamond Nut Thins, Nabisco Rice Thins and San-J Tamari Crackers
Other great Thanksgiving items to help with the big day: Beelers Nitrate Free Ham, Food Should Taste Good Sweet Potato Chips and So Delicious Pumpkin Spice Coconut Milk