Experience the mysterious magic of the season with this styled Halloween bar cart. We show you two ways to style it. First, decor ideas for the entire month of October and second, a spooky styled treat cart for your next ghoulish gathering.

Nothing beckons the start of Halloween like setting up spooky decorations. This Halloween bar cart proves to be both whimsically fun and very useful.
Styling for the holidays is one of my most favorite things to do! I love that from the moment you get your decorations out from hiding, the season truly begins to start. My kids beg to put our stuff up in early September and I would happily oblige but luckily we have a voice of reason in our home. My husband reminds us that if we put them up too early, we won't enjoy them as much. So we have come to a date that works for everyone; the first day of Autumn which falls the last week or so in September.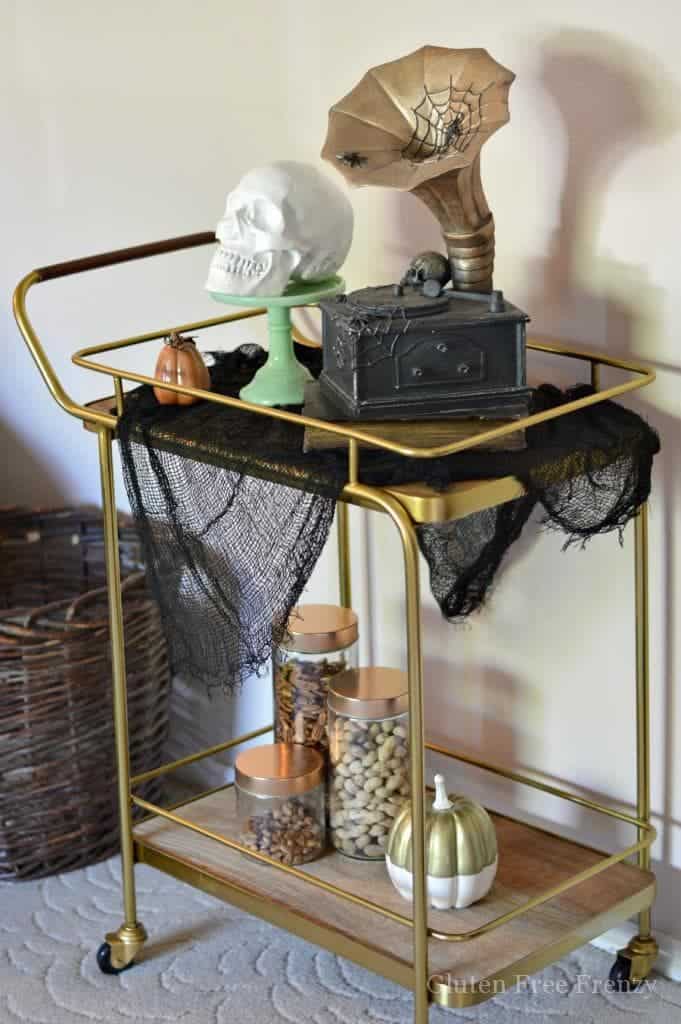 I had been eyeing this gold bar cart from Target for a while. The unfinished look of the wood and the rustic leather handle really appealed to me. Now, it is the number one thing I look forward to decorating each holiday (so be on the lookout for more bar cart decor posts). To add the first eerie touch to our Halloween bar cart, I got a black creepy cloth that was the perfect size for laying over the top of the cart. It was only $1 at our local dollar store, so a major score! I actually bought a few since I have other decor ideas for them as well.
Next, I topped it with two amazing finds from TJ Maxx HomeGoods (my FAVE store), a white skull and a haunted music playing record player. While I think the sound it makes is so annoying, the kids love it. Which means I better get used to it right? To jazz up the display, I set the white skull atop my mini jadeite cake stand. Really, any excuse I have to decorate with it, I will. It's just so cute!
On the bottom, I filled glass jars with different nuts. I did this mainly because I didn't want my kids getting into them (which totally did the trick) but also because nuts just say fall and winter to me. Next to the jars is a simple gold and white pumpkin to add that final fall touch. The great thing is that I can leave the bottom as is, all the way November. 
For me, a pretty display goes a long ways. Even when it is done for a simple family movie fright night. The kids love to see our treats displayed in a fun way.
With our new bar cart they even said, "Hey mom, it's a Harry Potter cart!" Since we watch the first Harry Potter every October, this was a fun little set up for our family. Last year we even made edible broomsticks, butterbeer and pumpkin pasties. You can see that all HERE.
I wanted this set up to really be about spending time with my family and I didn't feel like slaving away all day to make homemade treats. Luckily, Shari's Berries have a great assortment of fall goodies that taste great and look gorgeous on your bar cart! We chose the classic caramel apples, sea salt caramel chocolate covered strawberries and chocolate dipped cherries.
My biggest tip here is to find treats that are easy to make like our spider chocolate chip cookies or mini pumpkin spice donuts. You can also buy something already pre-made to take the stress of goodies off your plate. Sometimes the most simple display of chocolates and apple cider are just what your family wants if it means more time with you.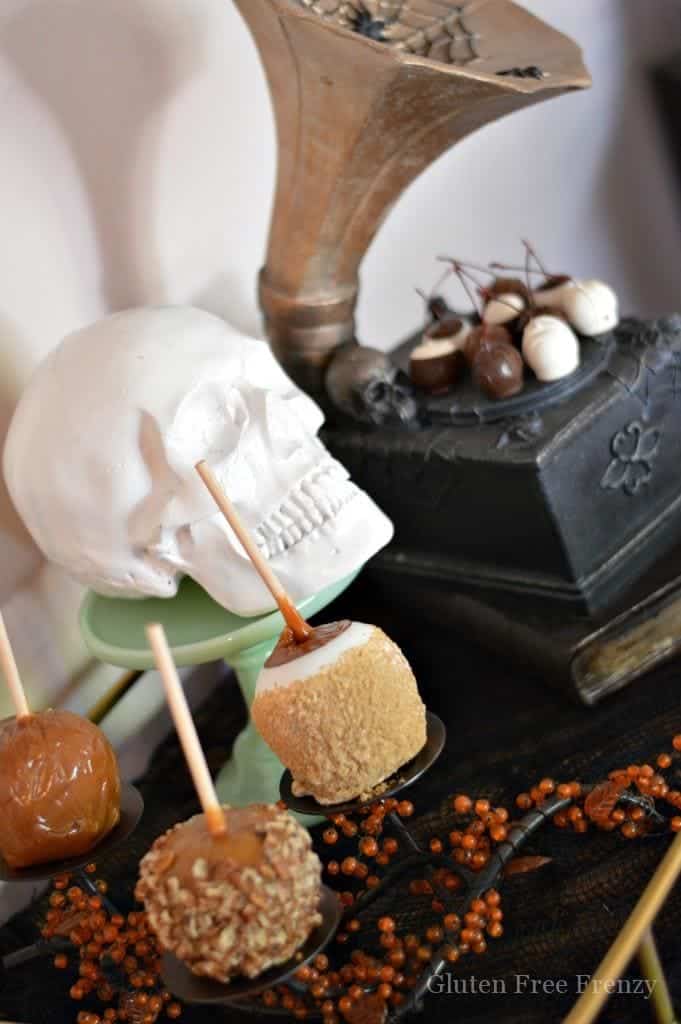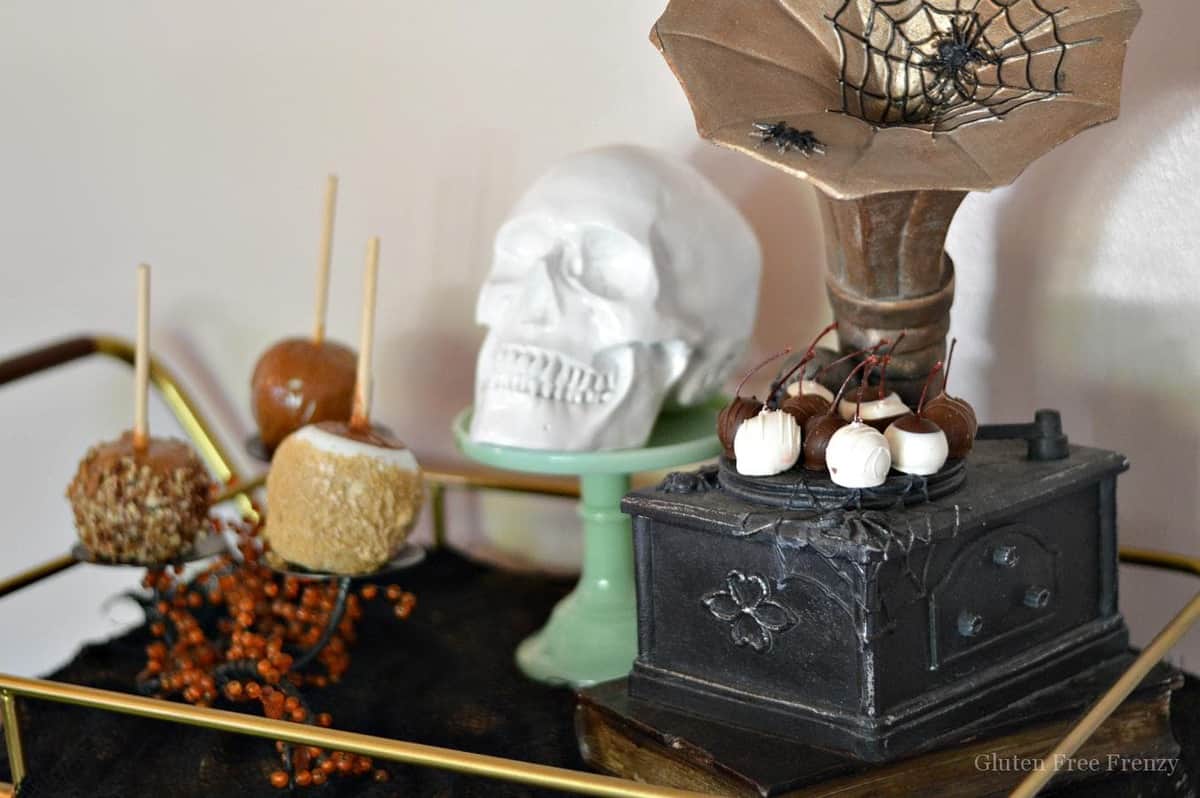 Display your treats on the same decor you are already using. It will elevate the look without any additional cost. For example, we put the cherries right on our spooky record player. For the strawberries, I simply moved my gold and white pumpkin to a cake stand and arranged them around it. To display our mouthwatering caramel apples, I used a festive, fall candle holder. This is one of my favorite ways to display cupcakes, caramel apples and really any other individual treat.
I am not big on gruesome decor, so this classy Halloween bar cart is exactly the kind of enchanting and frightful style I like to fill my home with in October.