this post may contain affiliate links
I absolutely love this Mexican corn chowder but I'm not the only one. My friends always ask for this recipe whenever it is served at a gathering. It is so incredibly flavorful and tastes ethnic with big, bold Mexican flavors. I love that it is easy to prepare giving me as much time as possible to do other party prep when gathering my friends together.
I grew up having soups often at my home. My mom always found ways to create a new, delicious meal with leftovers and often that came in the form of soup. She's such an amazing cook! While you can use leftover shredded or grilled chicken, the recipe below starts it from scratch.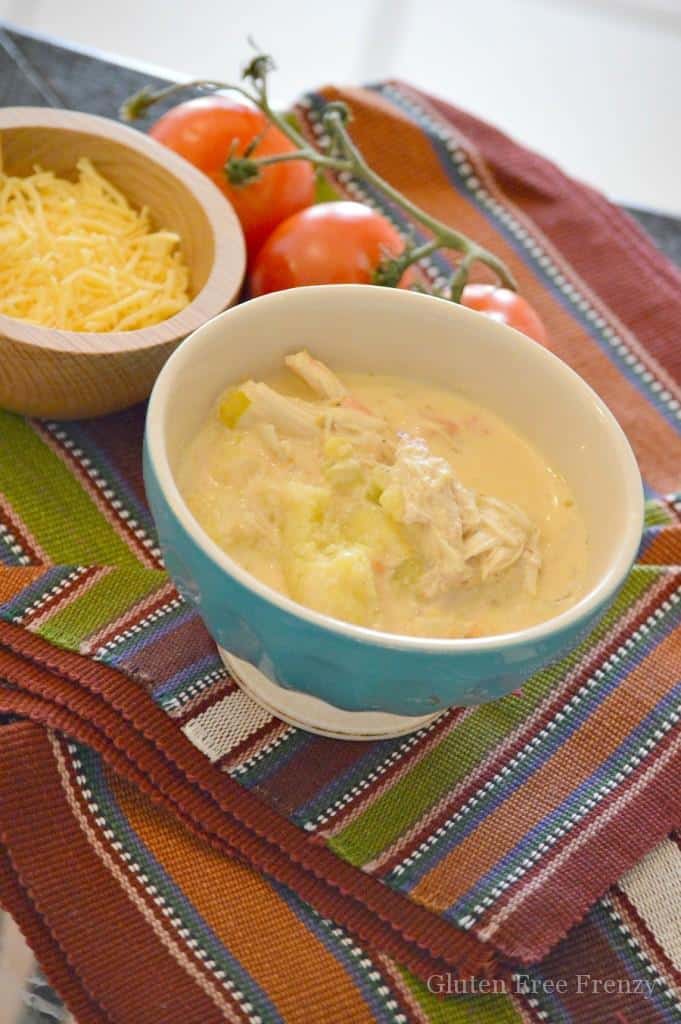 With this Mexican corn chowder recipe you won't have to fret about needing hours to prepare a fantastic meal. You can literally have it on the table in less than an hour. With authentic recipes like this soup, you can serve a variety of toppings. Here are a few of the ones that I like the most.
Fresh tomatoes
Cilantro
Sour cream
Lime wedges
Grated cheese
Salsa
We especially love topping it with the fresh cilantro & crispy brown rice tortilla strips. To make the crispy strips, just heat some coconut oil in a frying pan and toss in 1/2 inch brown rice strips. I have found that the best way to cut them is with a pizza cutter.I'm so excited for you to enjoy our Mexican corn chowder with some of your favorite people!
NEED MORE GOODNESS? Follow me on Facebook, Instagram, Pinterest, and Twitter for great recipes, entertaining ideas and more!
Mexican Corn Chowder
This corn chowder is so creamy and packed with flavor
Servings: 8 servings
Calories: 434kcal
Ingredients
1 1/2 lbs. organic free-range chicken breast, cubed
1/2 C chopped onion
2 garlic cloves minced
3 Tbls. butter
2 C frozen or fresh corn
1 C gluten-free chicken stock
1 tsp. cumin
2 C organic or raw whole milk
2 C shredded organic or raw cheddar cheese
1 can chopped green chilies undrained
1/2 tsp. hot pepper sauce
1 medium tomato chopped
*garnish with fresh cilantro and crispy tortilla strips made from brown rice tortillas
Instructions
*Brown chicken with butter and garlic. Add other ingredients. Bring to a boil over medium heat. Simmer 15-20 minutes then serve hot.
Nutrition
Calories: 434kcal | Carbohydrates: 15g | Protein: 27g | Fat: 30g | Saturated Fat: 14g | Cholesterol: 111mg | Sodium: 356mg | Potassium: 440mg | Fiber: 2g | Sugar: 6g | Vitamin A: 875IU | Vitamin C: 7.4mg | Calcium: 298mg | Iron: 1.7mg
Supplement the meal with some fantastic Mexican drinks. Whether it's hot out or just a bit breezy in the fall, any of these will be a great addition to your meal. Here are my favorite drinks that pair perfectly with this Mexican corn chowder.
Horchata
Mexican sodas
Watermelon agua fresca
Latin limeade
Aztec hot chocolate
Cucumber agua fresca