this post may contain affiliate links
Mother's Day breakfast in bed is a must, especially when it involves the whole family.  One of my favorite traditions is Mother's Day breakfast in bed. I love having the whole family together all cozied up.
Hosting Mother's Day breakfast in bed is a tradition that we did for my mom and now my kids do for me. Of course, dad helped us and my hubby helps the little ones too. It's always so fun because the breakfast is delicious and the kitchen is a disaster. Luckily, my husband also does all the dishes on Mother's Day too.

I remember that in the beginning, my hubby would tell the kids that they needed to give me my space to enjoy breakfast in bed. Luckily, I learned real quick (in like two minutes) that I didn't want to be alone. I want everyone snuggled in bed with me picking at my plate of food. It's the only way to enjoy Mother's Day breakfast in bed.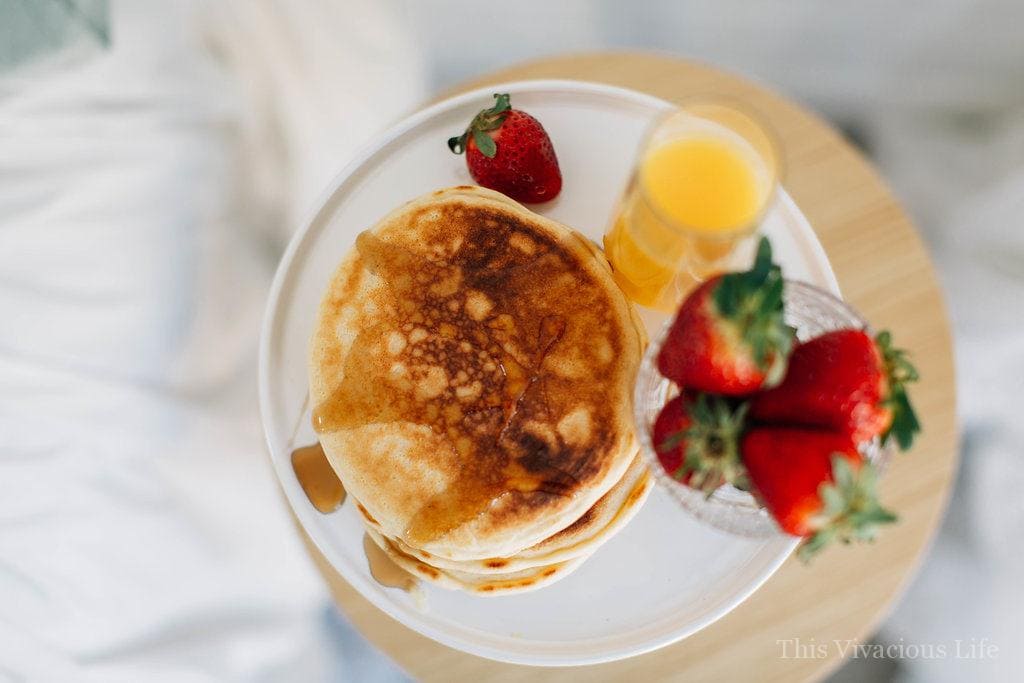 Pancakes are always a go-to breakfast for the kids and daddy to make. They are easy and so delicious. You can make our oatmeal pancakes with buttermilk syrup or go crazy and try my mom's famous Belgian waffles. Serve them up with fresh strawberries and fresh squeezed orange juice.
If mom isn't a big fan of pancakes, why not try our easy strawberry shortcake breakfast bars. Our savory breakfast cereal is another great non-pancake option.
Let the kiddos bring breakfast in on a cake stand to make it feel extra special. Another great way to serve it is on a food tray. I love the ones the have the fold out legs. 
As a mom, some of my favorite memories are made in the simple moments of our very own modest home. I love spending time with the people that matter most to me more than anything else…

Photos taken by Amie Pendle