Have you ever wondered what's the difference in muesli vs granola? Find out the answer to this question and everything else you need to know about these healthy breakfast options in this article.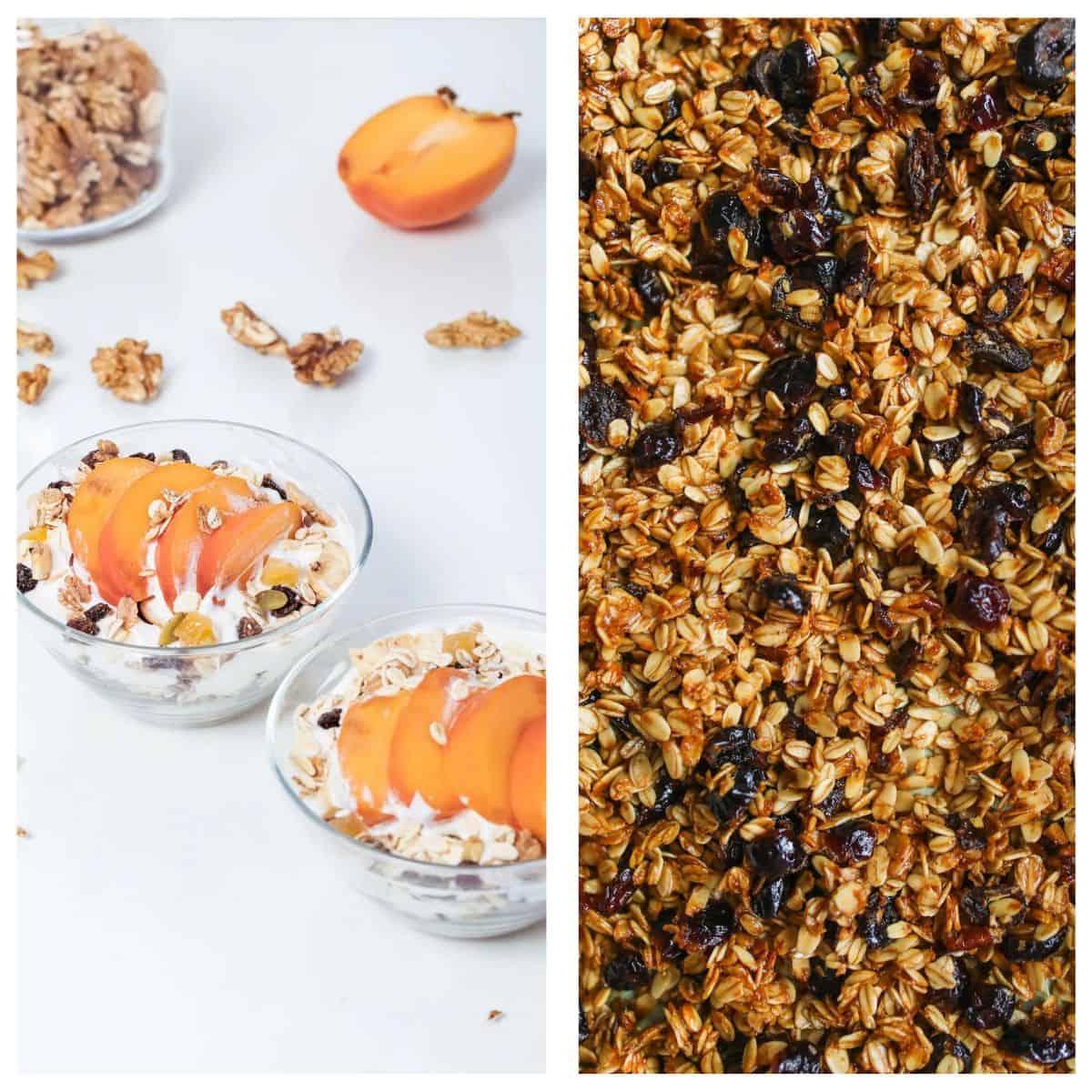 Breakfast is the most important meal of the day, but it is often skipped. These oat-based cereals have many health benefits and make a quick breakfast. But what is the difference between the two?
The main difference is that granola is already cooked, whereas muesli is more like raw oats mixed with nuts, seeds and often dried fruit. It can be made into bircher muesli which is like overnight oats so soaked overnight in milk.
What is muesli?
Muesli is a breakfast cereal that is popular in Europe. It is made up of whole grains, seeds, fruits, and nuts. There are many different uses for muesli, such as eating it like cold cereal or warm cereal.
Unlike granola, muesli is not cooked. There is no added sugar, so all of the flavors come from natural ingredients. There are no oils, sweeteners, or flavoring either.
Subscribe to This Vivacious Life
Receive a free e-book of Instant Pot recipes!
This nutritious breakfast alternative can be used in different ways. One way to enjoy muesli is by using it to make overnight oats. Pour some muesli into a mason jar, add milk and seasonings, and store overnight in the fridge.
Now how to eat muesli? What about muesli vs oatmeal? We've got you covered…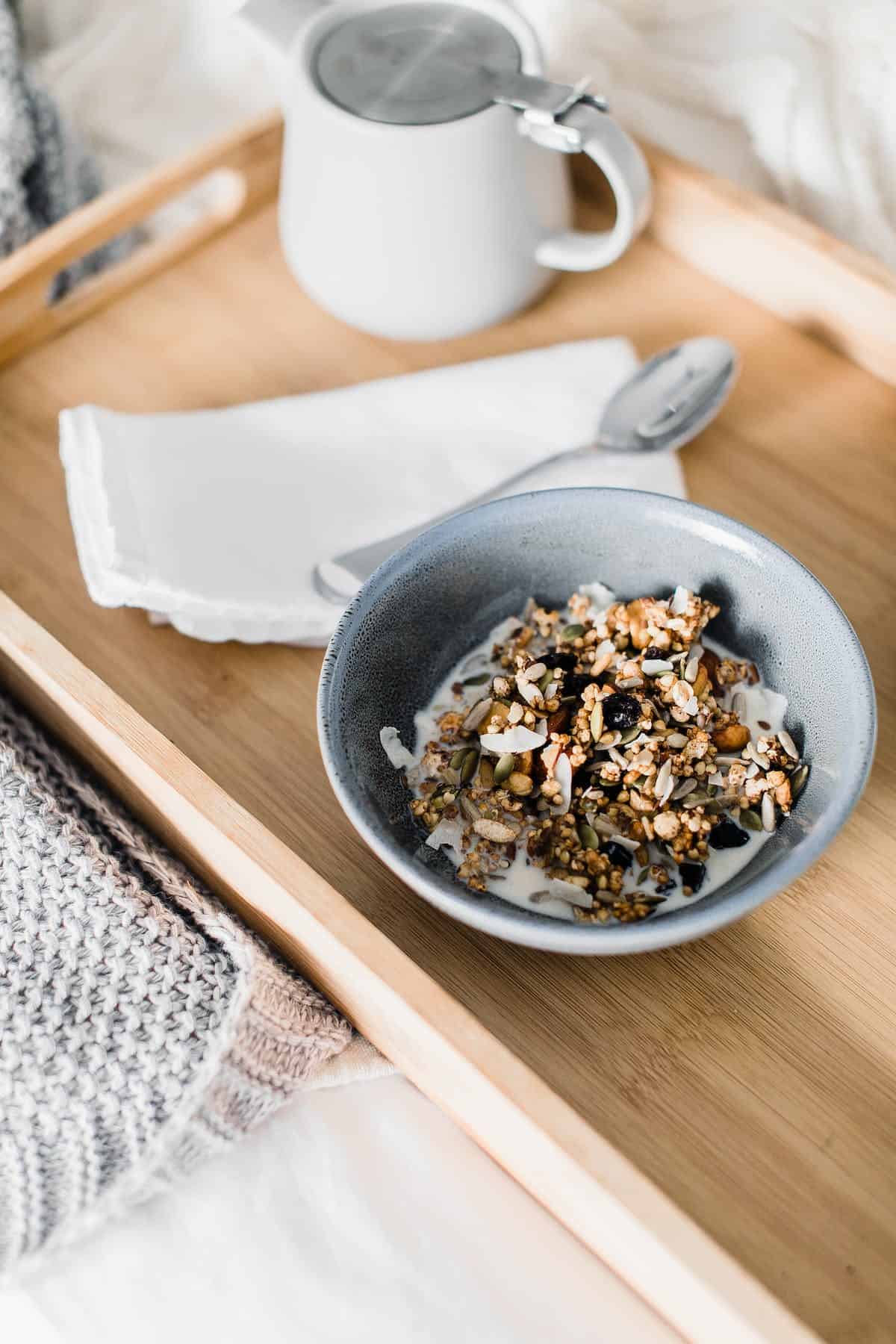 Vanilla almond milk or oat milk with natural sweeteners like cinnamon, maple syrup, and brown sugar makes for a delicious mixture with muesli for overnight oats. You can use muesli for many yummy snacks and treats like cookies.
We use muesli in our protein balls (gluten-free) for a filling and delicious snack. You can refrigerate them overnight or you can freeze them, and they will last for a month. I love giving my kids these because I know they are filling and healthy.
You should try out our bircher muesli for a tasty breakfast that is full of dietary fiber. It's a great option for a quick breakfast, especially if you have a busy morning. I like to meal prep this recipe, so I don't have to make breakfast.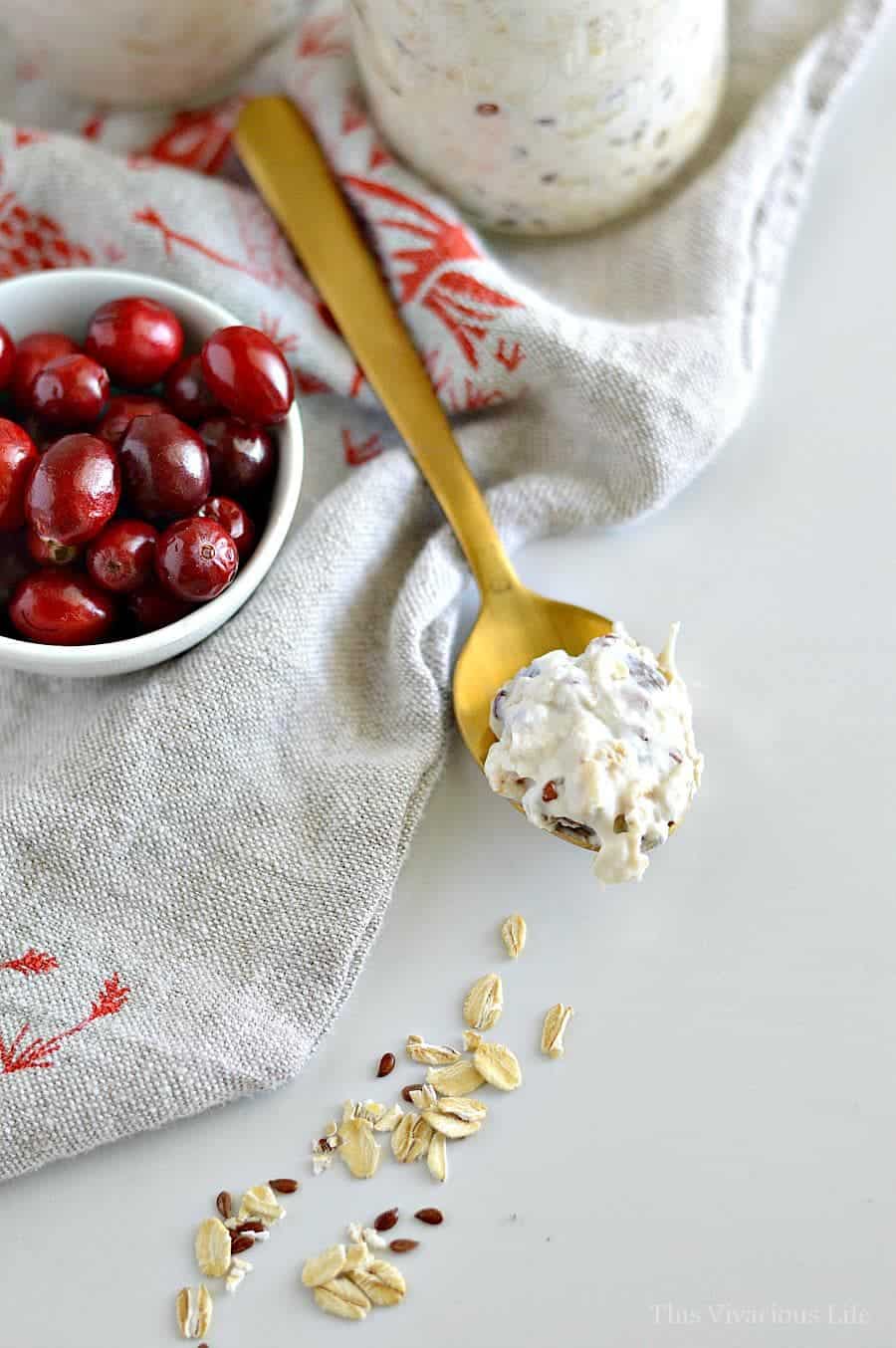 What is granola?
Granola is more common and well-known as a breakfast option. You can find it in the cereal aisle at almost every grocery store in the United States. There are tons of different types of flavors of granola.
Granola is baked and coated with oils, sugars, and different flavorings to get its tasty flavors. Because sugar and flavorings are added to granola, granola has high sugar content. But these gluten-free granola bars are a great homemade option.
It is common to eat granola out of the bag for a snack. You'll also find granola on top of yogurt with fresh fruit. The crunchy clusters of granola pair well with the creamy yogurt.
Granola bars are also a popular way to enjoy granola. Another common way is eating it like cereal. All you need to do is pour it into a bowl with cold milk, and then you have a good source of protein breakfast.
Our sweet vegan breakfast burritos call for granola. You sprinkle granola in the tortilla's middle, giving the perfect crunch. Plus, it makes an easy breakfast you can eat while running out the door.
Why is it called muesli?
In the late 1800s, Swiss physician Dr. Maximilian Bircher-Benner created muesli for his sick patients. Muesli has many health benefits, and Dr. Bircher-Benner believed most ailments could be cured with a healthy diet.
In the Swiss dialect, "Mues" means pureé. When nutritionist Maximilian Bircher-Benner first came up with the cure of a healthier lifestyle for his patients, he started with mushed up apples, therefore, it would be a pureé.
Dr. Bircher-Benner's patients would have muesli for every meal because it was a healthier option. Muesli provides healthy fats, fiber, and other nutrients that helped heal his patients.
Where did granola come from?
Just like muesli, granola was created by a nutritionist. American physician James Caleb Jackson created the first dry breakfast cereal and even sued (and won) John Harvey Kellogg, who created Corn Flakes.
In 1870, Jackson wrote a manual about treating sick people without medicine, focusing on healthy lifestyles and eating well. He had similar beliefs to Dr. Bircher-Benner's, believing people could be healed with healthy food and sunshine.
This healthy breakfast food started with the name "granula," taken from the Latin word for grain, "granum." Eventually, Jackson changed the name to "granola" after the lawsuit with Kellogg.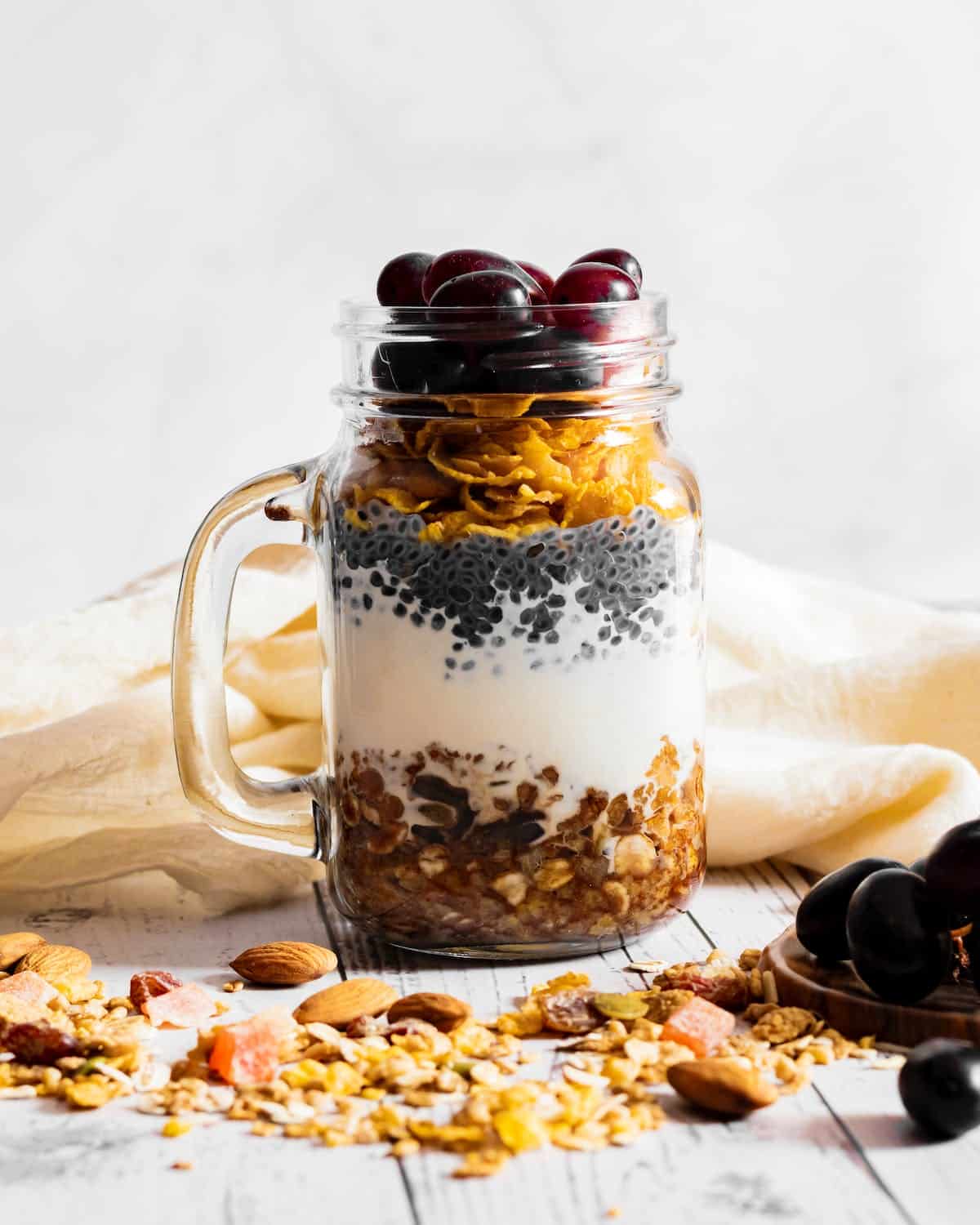 Is muesli gluten-free?
Yes and no. It all depends on the oats that you use when making muesli. Technically oats are gluten-free, but it all depends on the production and packaging of the oats.
Raw oats are naturally gluten-free but often come in contact with wheat and other gluten ingredients. When oats are contaminated with wheat, they are not gluten-free anymore.
One way to tell if oats are gluten-free is if they are certified gluten-free. Certified gluten-free oats are the only safe option for those with celiac disease. My favorite brand is the Gluten-Free Prairie brand.
For a product to be certified gluten-free, it must have less than 20 ppm (parts per million) of gluten. The FDA regulates this and will allow a product to have a label signifying its certification if it passes the test.
Why should I try muesli?
Muesli comprises grains, fruits, seeds, and nuts, making it a great option if you are trying to live a healthy lifestyle. This cereal has many vitamins and minerals in muesli that will help your daily life.
Some of the minerals in muesli are calcium, iron, and magnesium, which help your blood, brain, bowels, and bones. By eating muesli every day, you are giving your body nutrients that it needs to remain healthy.
THE BOTTOM LINE
Granola and muesli are similar but are not the same. Muesli does not have added sweeteners and flavors like granola does plus it is raw vs cooked. Both make for healthy breakfasts, but they have their ways of being made and eaten.