These rosemary oaty chicken nuggets are a healthy twist to a classic chicken nuggets recipe.
These rosemary oaty chicken nuggets are baked and full of flavor. The copycat hot mustard dipping sauce is the perfect accompaniment.
We love making these rosemary oaty chicken nuggets because the whole family enjoys them. The kids like them best with some ketchup while we enjoy them a little more sophisticated with our homemade, copycat hot mustard.
I always loved the flavor of hot mustard from the classic American hamburger chain so you can imagine my excitement when I was able to recreate it in my own home. 
With the end of school year upon us and summer coming quickly, we parents need all the help we can get in the food department.
These rosemary oaty chicken nuggets are a quick and easy dinner recipe. They are also great for lunches. I personally think they pair well with both veggies or homemade french fries.
While our recipe recommends making them into nuggets, you can also bake them into chicken tenders. I also recommend using fresh rosemary because it is much more flavorful. However, you can use dried rosemary.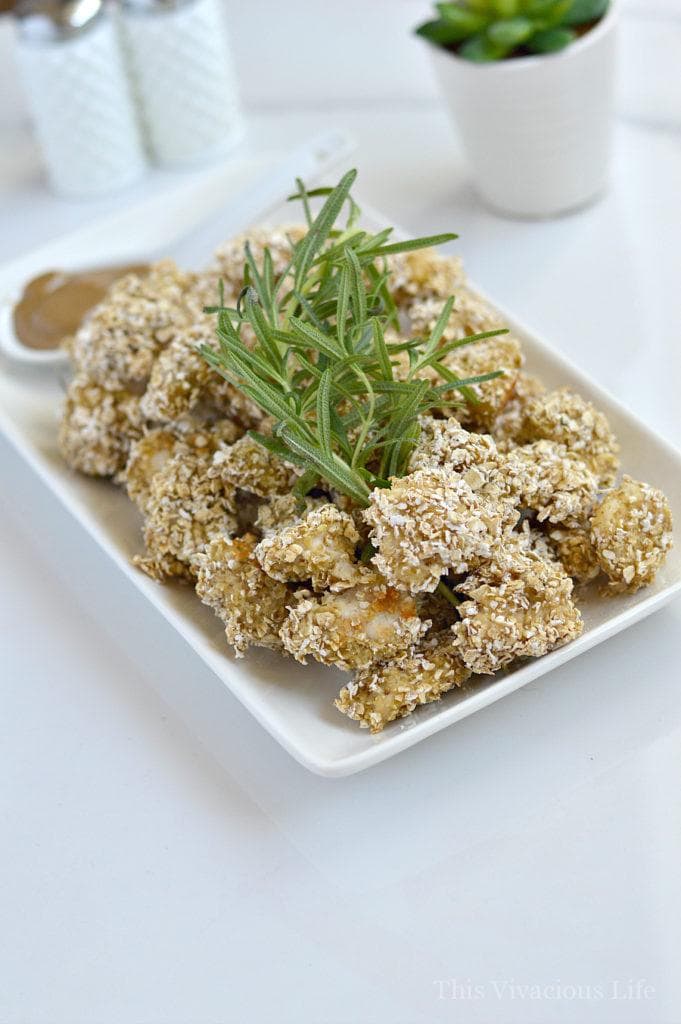 Bakery on Main has many amazing products but the Organic Happy Oats are one of my favorite. They are so versatile! You can enjoy them in the most obvious of ways like cooked hot as a breakfast cereal. You can also use them for a savory dinner recipes like these rosemary oaty chicken nuggets or our smoky chipotle peach meatballs. 
I just had to include the photo below. My 6 year old son took it and I couldn't be more proud. He is always right by my side when I am cooking, writing on my blog or doing photography.
My little guy wants to be a chef and even asked for an Easy Bake Oven for Christmas. He asks to bake in it or with me every single day. I just had to document this special photo…

Rosemary Oaty Chicken Nuggets
Ingredients
2 lbs. boneless/skinless chicken breasts or tenders
2 eggs
1 T fresh rosemary, chopped
1 tsp. salt
1 tsp. pepper
1 1/2 C Bakery on Main Organic Happy Oats or Quick Oats
1 T gluten-free dijon mustard
2 tsp. raw honey
1/2 tsp. gluten-free Worcestershire
Instructions
Preheat oven to 400°
Cut chicken breasts or tenders into 1' cubes
In a bowl, whisk eggs together
In another bowl combine rosemary, salt, pepper and Bakery on Main Organic Happy Oats
Dip chicken cubes into whisked eggs then generously coat chicken nuggets with oat mixture
Place dipped chicken nuggets on a baking sheet and bake at 400° for 20-22 minutes or until cooked through
Meanwhile, combine dijon mustard, honey and gluten-free Worcestershire and mix well
Serve with warm rosemary oaty chicken nuggets
https://www.thisvivaciouslife.com/rosemary-oaty-chicken-nuggets/
*Thanks to Bakery on Main for sponsoring this post.