I knew I had to put together a snack ideas for busy moms because that's what exactly what I am, a busy mom I don't know many of you are as well.
These are just a few of my favorite snack ideas for busy moms. They will keep you sustained and aren't too hard to put together.
I love putting together snack ideas for busy moms because I myself use them every day. It can be a challenge to get kids to school on time, juggle naps, clean the house and do everything else that we busy moms do. The last thing you need to worry about is keeping yourself fueled and hydrated. The key is to find a balance in snacks that will have enough carbohydrates to keep your energy up but also the protein and fat you need.
One of the very first things I recommend for moms on the go is to invest in a really good water bottle. Everyone made fun of me when I first got this 72 oz. Bubba because they couldn't imagine that I would need one that big. Here's the thing though, my kids always ask me for water and so of that 72 ounces I only end up getting about 45. And that's if I'm lucky.
If you're not a huge water drinker then try my favorite drink concoction. I use La Croix or club soda with pebble ice then add fresh limes and just a little bit of coconut Torani syrup. It feels like you're enjoying a day on the beach!
Having some sort of bag to carry everything around it is also helpful. I absolutely love my six pack fitness bags! They keep things cool with their ice packs and have built-in storage space for food containers. The great thing is you don't have to sacrifice style though.
Another thing I recommend is having some favorite go to packaged goods that don't require any preparation. I absolutely love the Honey Stinger gluten-free waffle cookies! They are so full of flavor and feel like a decadent little treat. However, they also have the carbohydrates I need to keep my energy levels up. They come in a variety of flavors including chocolate mint, vanilla chocolate, salted caramel, cinnamon and wildflower honey. The cinnamon is personally my favorite.
Honey Stinger also makes delicious energy chews, some even with caffeine for that extra energy boost. There's even more flavors of these including fruit smoothie, cherry blossom, pomegranate passion fruit, orange blossom, pink lemonade, grapefruit, strawberry, limeade and cherry cola. The non-caffeinated chews are even organic… bonus! I love that I can get natural energy from them without having to drink those crummy sodas out there.
Here are some of my other favorite snacks ideas for busy moms…
Banana chips with peanut butter
Prepared tunafish with sliced veggies
Mixed nuts with raisins and chocolate chips
Our gluten-free dairy free blueberry power muffins
Chocolate chip apple cookies
Jerky and peanuts
Ants on a log
Hummus and veggies
Apple slices and peanut butter
Cheese stick and gluten-free crackers
Frozen grapes
Muesli muscle bites
Premier protein shakes
Homemade bone broth in a thermos (this may sound weird but it tastes a lot like chicken noodle soup and has lots of protein)
Here are some other great snacks on the go…
Blueberry Power Muffins
Muesli Muscle Bites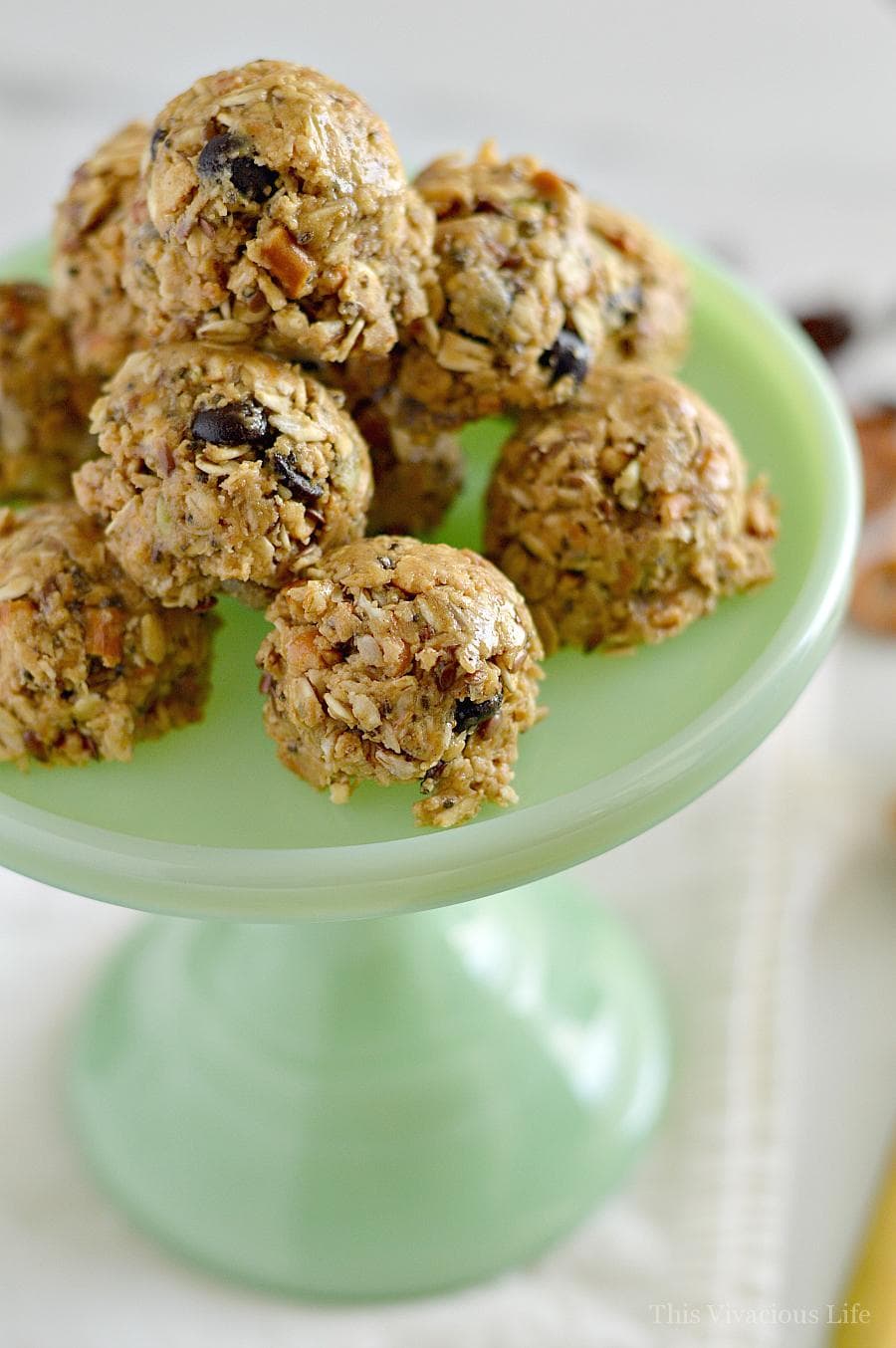 *Thanks to Honey Stinger for sponsoring this post. I was provided with monetary and product compensation. All opinions are my own.