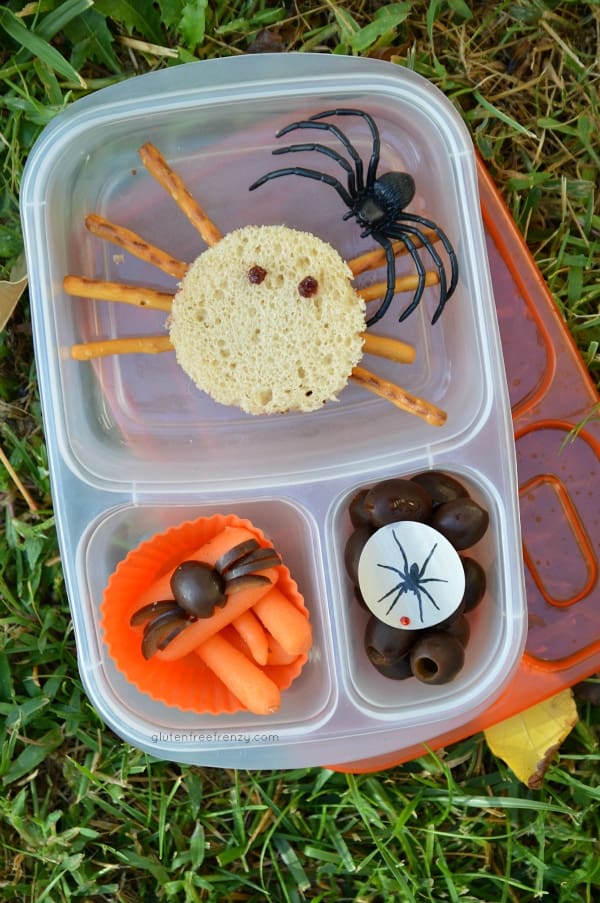 These gluten-free, spooky spider sandwiches are sure to make your little goblin light up with joy! The holidays are truly a fun time. Take a few extra minutes (and I promise that is all you will need for this lunch box) to do something a little extra for the kiddos this year. I love doing this in the form of fun lunch boxes. The first time I stumbled upon keeleymcguire.com, I was smitten! Keeley is such a sweet mama that comes up with the CUTEST lunch boxes for her little lady. It all started as a way to get her excited about her "new" food after being diagnosed with multiple food allergies. Keeley has a knack for making you feel inspired and I have to say, I hope I have made her proud with this lunch box. Take a peek at all of her cute Halloween lunch ideas!
Ok so back to our spooky spider lunch. This one is super duper easy.
Begin by making a gluten-free sandwich to your (or your kids) liking. PB (or a non-nut butter) & J work great for keeping the "legs" in place.
Next, use a circle cookie cutter to cut out the spider's body. Stick gluten-free pretzels in between the two slices of bread to create legs. (We used Glutino bread and pretzels here but whatever gluten-free varieties you have will work.)
Add a dab of some sort of sauce if making a savory sammie or jam if making a PB & J, to create the eyes.
For the spider olive, just cut two olives in half, length wise. Use one half as the body. With 2 of the other halves, slice 8 legs. Pop the last half in your mouth for a little tasting or use it for legs that you may have broken along the way. I almost always break at least one. Arrange them in the lunchbox to look like a spider.
Ok, so wasn't that easy?! A few extra minutes to create a lunch box that is sure to be the envy in the lunch room. Happy Halloween! Oh, and be sure to check out the Teal Pumpkin Project. It is a great program that I encourage all to participate in with me.
Need more Halloween ideas? Check out what we've got! You can also check out our Pinterest board for ideas.