this post may contain affiliate links
This shop has been compensated by Collective Bias, Inc. and its advertiser. All opinions are mine alone. #BlockPartyHero #CollectiveBias
It's that time year for…a neighborhood summer block party!Do you remember having these as a kid? I love the memory of my smiling, carefree parents when guests came over for a summer block party or bbq.
Even as a kid I can remember the way it made my heart swell to see my parents relaxing and laughing with their friends. The added benefit for me was getting to stay up late. I could have stayed barefoot in the grass eating delicious food all night (food has always been something that has brought me immense joy).
While we often did the typical burgers and hotdogs, I loved when my mom would bring out her gourmet dishes and goodies. She has always been an incredible cook an someone the entire neighborhood looked forward to getting an invite from for dinner.
While delicious, her dishes were almost always healthy. They were cooked with love and it showed in the bold flavors and beautiful presentation. For our summer block party this year, I wanted to do my mama proud.
Providing light, yet delicious dishes that our friends and their kids would love was my goal and I had an agenda to see that it was achieved…
I headed with my family to our local Sam's Club (an hour and forty-five minute trip but totally worth it) for some tasty products to get started. I decided on a build your own burrito bowl bar.
I wanted lots of fresh toppings, flavorful meat and a spicy touch because I can't get enough heat on my food! Pace Organic Medium Salsa that comes in a convenient and very reasonably priced 24 oz. two pack worked great for that. I really do love that Pace came out with a USDA certified organic version of their classic salsa.
I also wanted to up our flavor game by using quinoa instead of rice for the base of our burrito bowls. I went with truRoots Quinoa which came in a big Sam's Club size bag. It is resealable and great for dipping into when you need a last minute dinner side dish.
I love that this specific brand is certified organic and non-GMO project verified. This ancient grain is also gluten-free. Quinoa's nutty flavor adds a robust kick that really elevates the other fantastic flavors in our burrito bowls.
For me, it was an easy choice in using it over traditional rice. To get the most flavor from the quinoa, I cooked it in Swanson chicken broth which is made with a unique blend of flavors that really do enhance the overall dish and brings out the joy in cooking.
Did you know your rice cooker isn't just for rice? I use mine for cooking most grains because I literally can't cook it on the stovetop without burning the bottom. Time and time again, it kept happening until I finally figured out the magic cooking tool that a rice cooker can be.
For this flavorful quinoa, place 1 C truRoots inside with 2 C chicken broth. Click the button down to start the rice cooker and sit back while it does all the work. Now THAT is some leisurely cooking!

In addition to plain quinoa for the burrito bowls, I also made this delicious Quinoa & Pepper Pilaf recipe from Swanson's website. Though you can cook it on your stovetop as directed, you can also switch the cooking vessel to your rice cooker. Score!
This recipe was the one my friends were all raving about at the party. They loved the presentation of big and little quinoa & pepper pilaf stuffed peppers but they also thought the flavor was spot on.
I really think the sauté of shallot, garlic, peppers and oil gives it an extra burst of flavor that you can't get enough of. The little peppers are perfect for kids hands while the big peppers work great for a more hearty dish. They too can be topped with marinated chicken and toppings for a burrito bowl in a pepper. Yum!
For the chicken marinade, I used Swanson's 100% natural chicken. You guys, this stuff isn't just for soups in the winter. It is fantastic for marinating meat before tossing on the grill. To make it yourself, simply combine the following ingredients and place in a container with raw chicken.
2 C chicken broth
1 tsp. smoked paprika
1 tsp. cumin
1 T coconut oil
1 tsp. garlic salt
1 tsp. onion salt
Once in a dish with lid fit on tightly, refrigerate overnight or 6 hrs. minimum. Remove and grill until cooked through. Dice or shred for your own burrito bowl bar.
I can't resist a fun printable at any party. I thought this B.Y.O.B (build your own burrito) in a bowl… printable was perfect for my awesome Utah friends who would most certainly relate more to that than the traditional meaning of bring your own beer. 😉
It sure was fun seeing all of the creative burritos bowls that were put together. From the little ones preparing their bowls with the only two things they felt like eating that night to our adult party guests trying to jam pack every topping on the table into one bowl, there was something for everyone.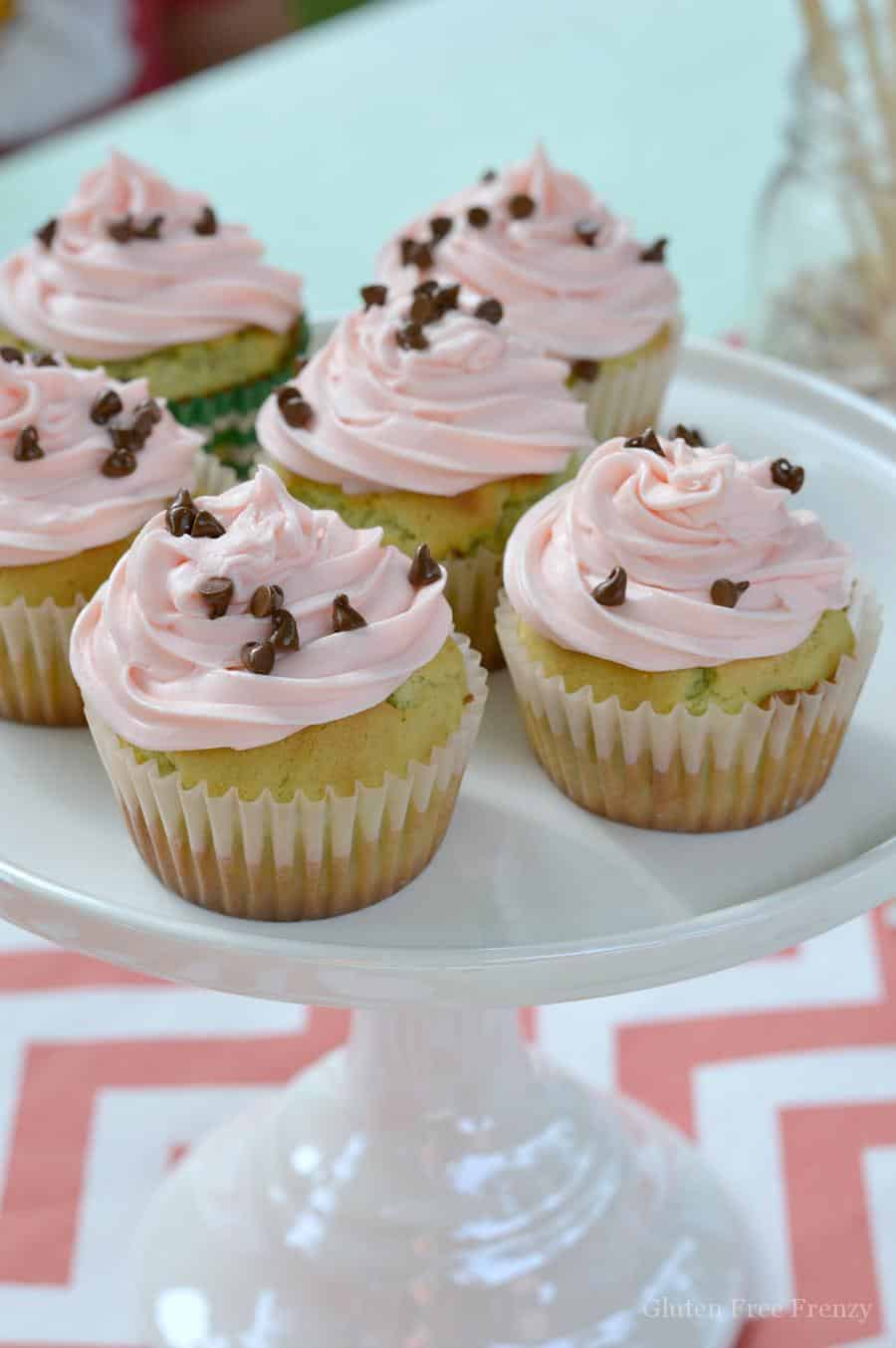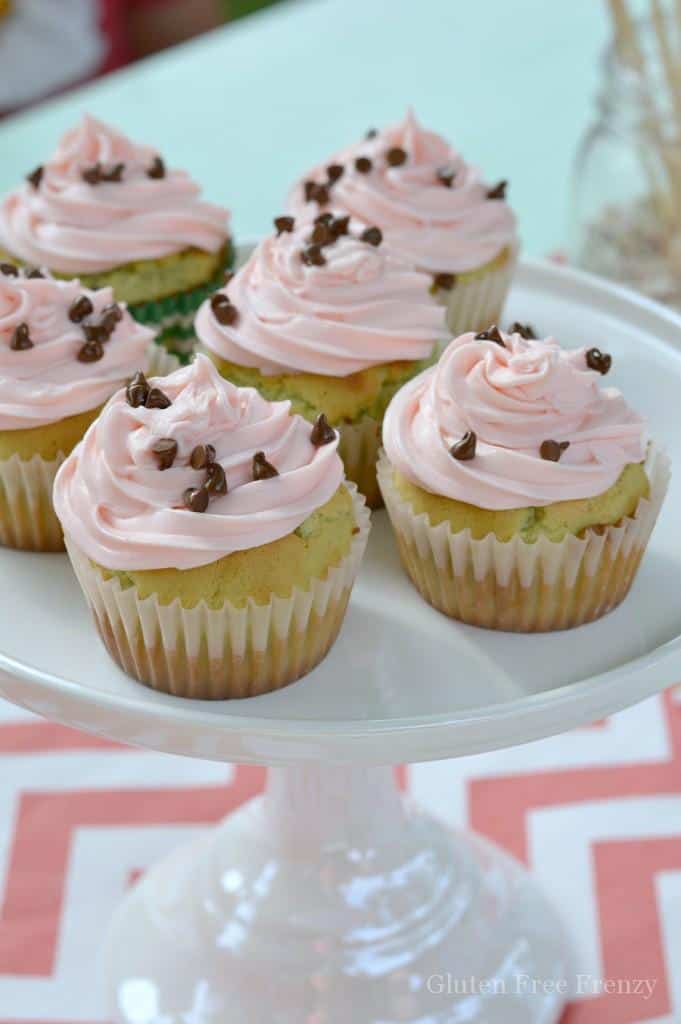 Since a summer block party (or any party for that matter) isn't complete without a delicious dessert and signature drink (in our case, non-alcoholic), I just had to go with a theme. I knew I wanted it to be fresh in both flavor and flare.
I figured watermelon was the perfect food to help me achieve this. I put together some watermelon cupcakes by preparing gluten-free cake mix (get my favorite cake recipe in our new cookbook) then add green food coloring before baking.
I topped the cooked and cooled cupcakes with watermelon pink frosting and mini chocolate chips to look like black seeds. If you really want to up your game, you can add some watermelon extract to your cake mix. If you are gluten-free, just make sure to get one that doesn't contain grain alcohol.
This refreshing watermelon strawberry lemonade was perfect for our hot summer evening. Cutting little triangles of watermelon and sticking them on the side of the mason jar makes for an extra cute presentation.
I personally chose the mason jars because they are just so casual looking and seem quintessential to summer. I just so happen to find fun little watermelon napkins the day before the party that I couldn't resist.
Seafoam and white paper striped straws also gave the drink some color and texture. To make it easy for little hands to pick up, I cut up the watermelon and skewered them so no hands even needed to touch the watermelon when eating.
Being sticky is literally my biggest pet peeve so this was more out of essential for me but they sure did turn out cute too!

While I absolutely love visiting at parties and I know the kids love having free for all play time, I also enjoy having something fun to do or play. I decided that the activity would be so great as the party favor for our guests as well.
Since my family and I love board games, I thought it would be fun to take them outdoors with this giant DIY Yahtzee. It is SO easy to make your own. Here's what to do:
Head to your local lumber store and get a long post. Any size you'd like to make your dice is fine but I went with a 3×3 post. While there, also grab the number of tin, steel or aluminum buckets you need.
Cut them into cubes that are all the same size (We end up getting 25 or so cubes).
Sand the cubes down around the edges where players could easily get slivers when picking them up.
Using an X-large black sharpie, draw the dice dots on. I recommend having a real dice on hand to use as an example.
Toss 5 dice in each bucket and have fun! *You can use score cards from your own regular size Yahtzee game or print some off online.
Everyone loved the yard game and really enjoyed taking home their own new bucket. I love giving party favors that can be used over and over again or help my friends make more memories with their loved ones.
Our last fun thing to do was of course, a watermelon eating contest! The big boys against the little boys and it sure was funny to watch. Those men got really competitive.
To do your own watermelon contest, just slice up a mini watermelon, place some pieces on a table, fill the chairs with party guests behind each slice and say "GO!" Believe me, they will know what to do.
It would be a blast! Sam's Club is also hosting summer block party in-store events. You can see a list of stores HERE.

Rarely do the hubby and I get a picture together because I am the one taking all of them. I decided to step out from behind the camera to cozy up with this cutie who was seriously the biggest help in getting ready for this summer block party.
He even played host (which is WAY out of his comfort zone) as I was putting the final touches on everything and grabbing some photos. I sure am lucky to have him and our great friends who brought my childhood summer party memories full circle as I laughed, smiled and enjoyed some carefree time.
It's funny, when you are a kid, you can't even begin to imagine what it will be like to be a parent or over the age of 30. Tonight I sat back and realized that while I thought I was in the prime of my life as a teen, these years truly are the best.
As my dad always says when you ask him how he is doing, "I am livin' the dream!" What a great lesson he taught us kids that everyday life with your family and friends truly is "the dream" not anything else…
NEED MORE GOODNESS? Follow me on Facebook, Instagram, Pinterest, and Twitter for great recipes, entertaining ideas and more!
Summer Block Party-Quinoa & Pepper Pilaf
These light and flavorful dish is perfect for summer parties
Ingredients
1

tablespoon

olive oil

1

shallot

minced

2

cloves

garlic

minced

1

medium red bell pepper

diced (about 1 cup)

1

medium yellow bell pepper

diced (about 1 cup)

1

cup

uncooked quinoa

rinsed

2

cups

Swanson® Certified Organic Vegetable Broth or Swanson® Vegetable Broth

2

tablespoons

chopped fresh parsley
Instructions
Heat the oil in a 2-quart saucepan over medium-high heat. Add the shallot and garlic and cook for 2 minutes, stirring occasionally. Add the peppers and quinoa and cook for 2 minutes, stirring occasionally.

Stir in the broth and heat to a boil. Reduce the heat to low. Cover and cook for 20 minutes or until the quinoa is tender and the liquid is absorbed. Stir in the parsley. Season, if desired.
Nutrition
Calories:
218
kcal
|
Carbohydrates:
34
g
|
Protein:
7
g
|
Fat:
6
g
|
Saturated Fat:
1
g
|
Sodium:
476
mg
|
Potassium:
397
mg
|
Fiber:
4
g
|
Sugar:
3
g
|
Vitamin A:
1410
IU
|
Vitamin C:
96.2
mg
|
Calcium:
29
mg
|
Iron:
2.4
mg