This vintage vow renewal is full of whimsy and feminine, rustic decor. Whether you are hosting a vow renewal or a simple gathering, this theme is timeless. Woodsy vintage bee boxes combined with fresh and soft florals merry well together. Combined with other aspects, they create a dream vintage vow renewal set up.
This vintage vow renewal was set up for two of the most deserving people. Let me tell you a bit more…
Mike and Megan were enjoying their first dance at their wedding when all of the sudden Megan whispered to Mike, "Please hold me, I don't think I can walk". Within a matter of days Megan had lost all feeling in her legs. She was no longer able to walk on her own. For the next few years Mike, a member of our armed forces who has served over seas, took care of his new wife's every need. Carrying her to and from her bed, driving her to doctors appointments and loving her as unconditionally as any man could.
Megan recently learned that the cause of her destroying illness was lyme disease. She has only this year began to have function in her legs again. This has allowed her to begin walking on her own. We wanted to create a lovely vow renewal for this incredible couple. We just had to give them a second chance at their first dance. It couldn't have been more magical.
Michelle Money, a friend of mine, had organized a women's retreat in which Megan would be attending . She decided it would be the perfect time to have Mike join and do the vow renewal.
The couple asked Michelle to officiate and it was beautiful. One thing Michelle really wanted to incorporate in for the couple was a foot washing ceremony. It was symbolic of their new abilities and reminding them of the vows they made years ago. To love in sickness and in health which they have embodied in every way.
I knew I wanted the back drop for the renewal as well as the foot washing to be flowy and rustic. We went with the rustic farmhouse arch and beautiful blowing drapes combined with a gorgeous vintage settee. I chose a beautifully simplistic basin with delicate pink rose petals and a crystal pitcher. There wasn't a dry eye in house. Everyone was touched during the unforgettable moments of unconditional love shared between Mike and Megan as they gently washed one another's feet.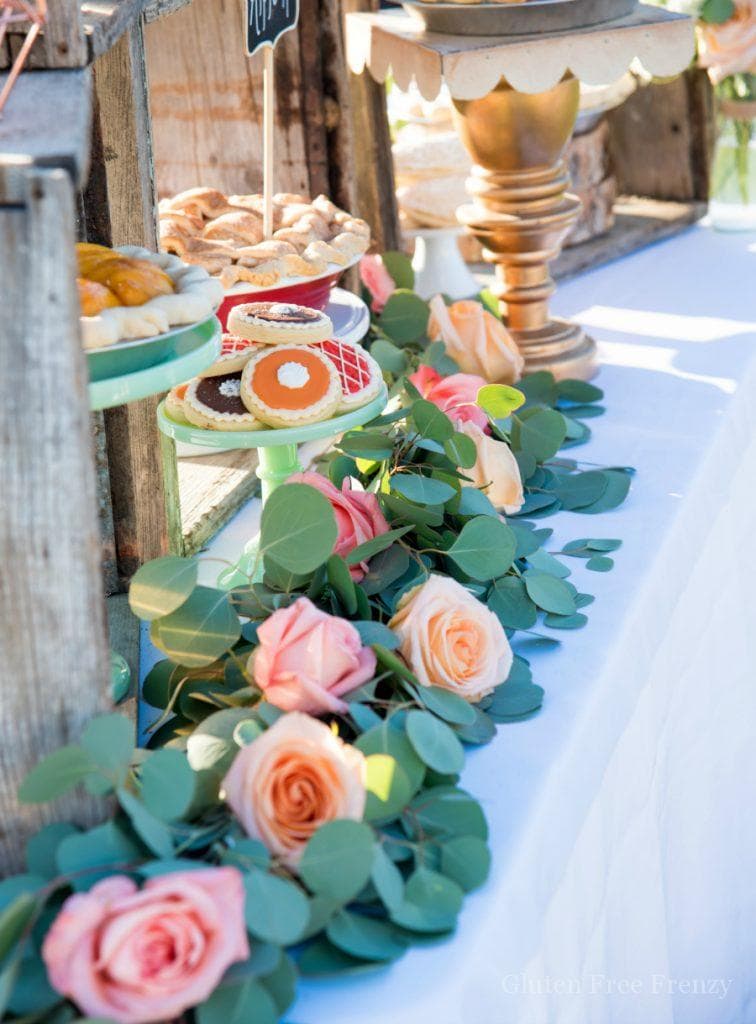 Of course, no celebration is complete without delectable treats. I put together a vintage pie table using bee boxes, raw wood chargers, a variety of cake stands. Of course, I had to include my favorite jadeite ones. The most gorgeous florals were truly the perfect addition. The garlands were made from olive and eucalyptus and smelled as divine as they looked.
We had traditional pies from the ever talented Tehmi at June Pie. We also had gluten-free varieties from the culinary genius, Tana Besendorfer of Gluten-Free on a Budget cookbook. Everyone was raving about both the traditional and gluten-free pies. Since our groom was vegan, Tana even created a mouthwatering vegan coconut cream pie. He was ecstatic!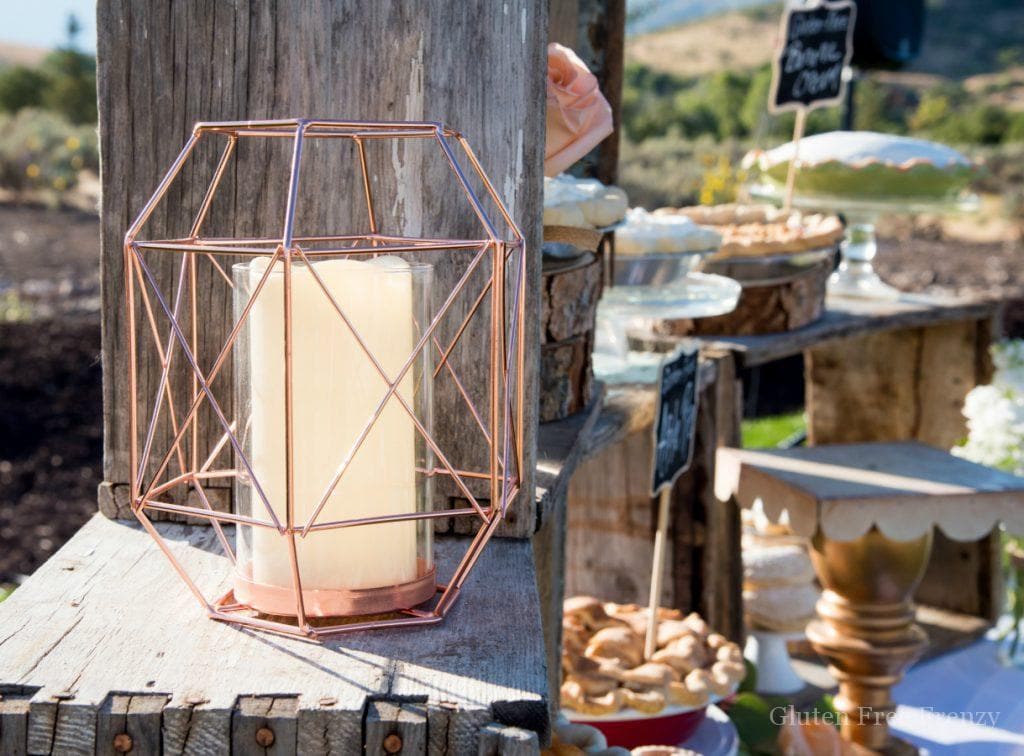 The pie decorated sugar cookies were the perfect favor for each guest. They couldn't have turned out more fitting with the theme. Shanan over at Enchanted Cookie Boutique is a cookie genius. She took our vision right from my mind and placed it perfectly on each cookie.
Fresh crab apples picked just hours before the ceremony were a nice final little touch. They were perfectly fitting for this celebration. It was truly an honor to be a part of this special day. Mike, Megan and my generous and loving friend Michelle are such kind people to be around.
I hope you all enjoy this vintage vow renewal as much as I enjoyed putting it together.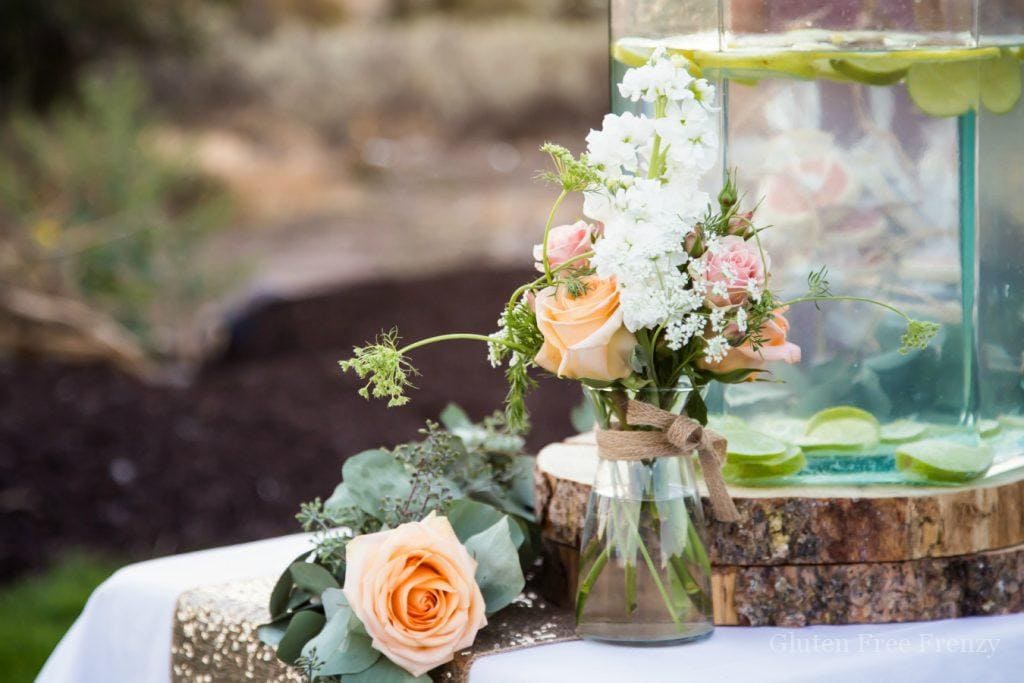 Vendor Credits-
Style & Design: Chandice Probst of Gluten Free Frenzy http://www.glutenfreefrenzy.com/
Floral: Five Penny Floral http://fivepennyfloral.blogspot.com/
Vintage settee and farmhouse arch: Alpine Rental Company http://alpineeventrentals.com/
Gluten-free pies: Tana Besendorfer of Gluten-Free on a Budget Cookbook https://www.amazon.com/Gluten-Free-Budget-Chandice-Probst-Besendorfer/dp/1462116086
Traditional pies: June Pie http://www.junepie.com/
Pie decorated sugar cookies: Enchanted Cookie Boutique http://stgeorgecookies.com/
Be sure to check out this celebration on Kara's  Party Ideas. It was such an honor to have it featured there!