This vintage Valentines tea party is a soft and delicate way to enjoy the holiday of love. Little ones especially love the mini treats and herbal tea.

While I love a classic red Valentines party, I really love a blush vintage Valentines tea party.
Having lived in Ukraine, I am a huge fan of tea time. We enjoyed herbal tea multiple times a day. This vintage Valentines tea party brought back all of my favorite memories from years ago. Since my little ones weren't born when I lived there, I loved sharing this tradition with during a holiday celebration.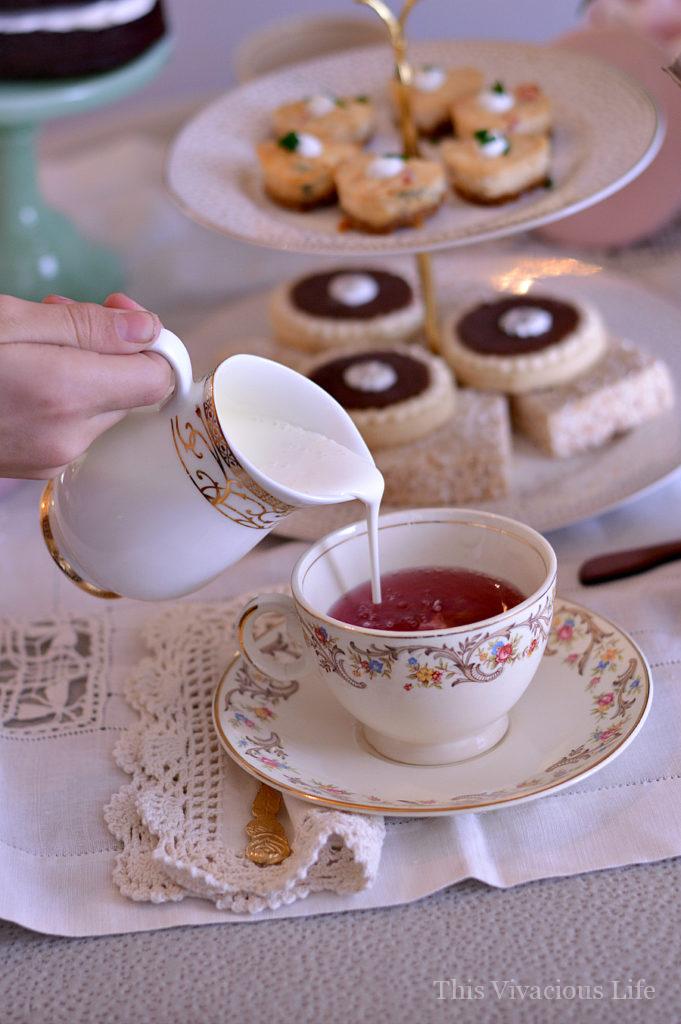 The star of a tea party is most likely the tea you serve. I love a beautiful floral tea made from rose petals, jasmine or lavender. I also enjoy a good herbal tea. Chamomile and mint are two of my favorites although I also love blending herbs for a delicious infusion.
Since I don't drink anything but herbal and floral teas, making sure that they are really fresh is very important. They tend to be more mild and not as strong as black so using loose usually works best for the most flavor.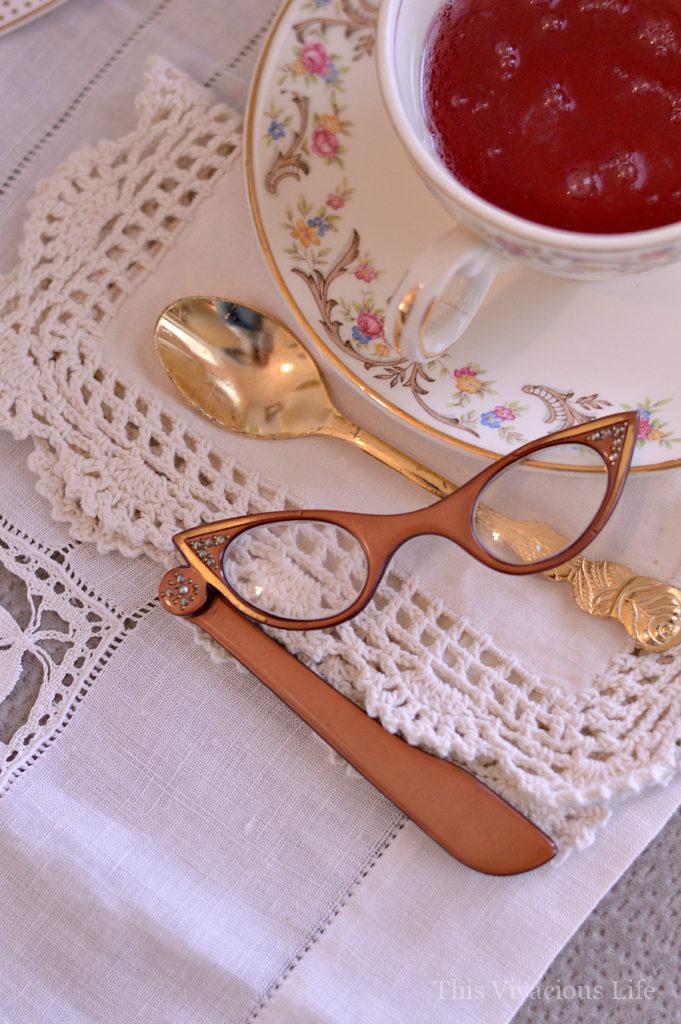 While tea is the star, I like to think it is also about the food that accompanies. For any tea party, but especially a children's tea party, it is important to have bite size snacks. Since it was a vintage Valentines tea party, I knew hearts had to be incorporated into the menu.
These little crab cheesecakes were the perfect savory snack. Glutino gluten free crackers
and butter were the perfect base for our flavorful bites.
We also serve up a three layer gluten-free chocolate cake with homemade whipped cream and heart shaped marshmallows. We served up extra heart shaped marshmallows in a blush pink jar. Of course, rice krispies and cookies were other necessary additions to our vintage Valentines tea party treats.
Make sure to serve all your dainty bites up on tea tier cake stands or on a mini jadeite 6″ glass cake stand. Mine is absolutely my favorite cake stand. I use it all the time.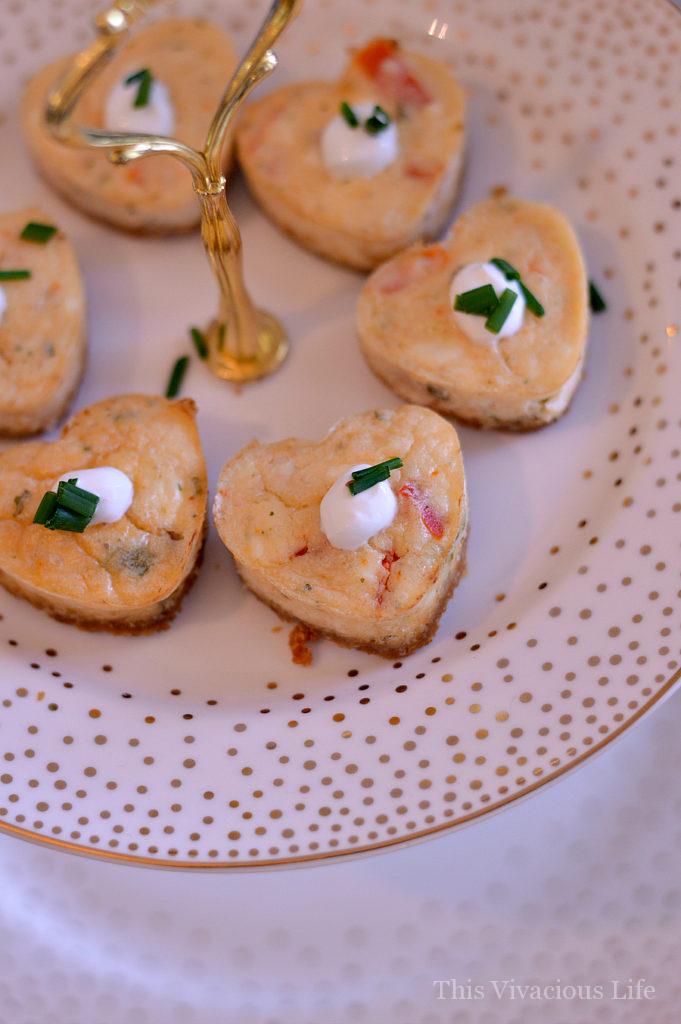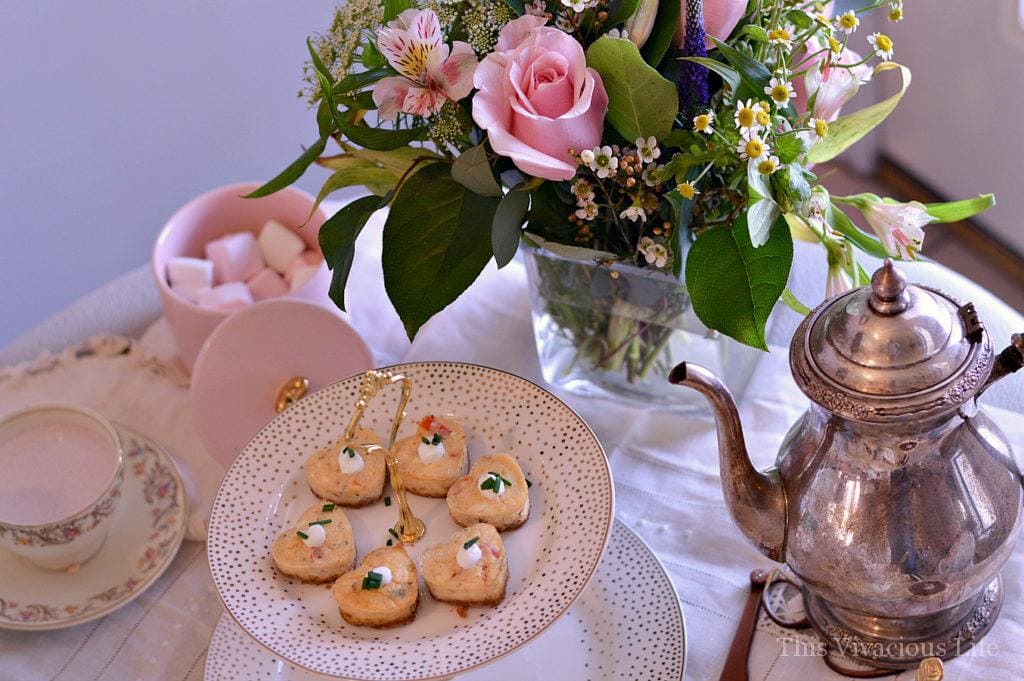 Florals are another must at your vintage Valentines tea party. I bought a beautiful spring bouquet with lilies from our local Harmons market. I then bought these gorgeous blush pink roses and added them in to make it a more upscale arrangement. This is also a great way to save money on flowers at your party.
Our tea party featured vintage linens, spoons and tea cups. I also couldn't resist this authentic silver tea party I found at my local antique store. I know we will be using it again in the future. For seating, we used plush white, cream and pink pillows instead of chairs keeping it even more soft.
In addition to mini heart shaped savory crab cheesecakes, I also bite larger ones for my hubby and I to enjoy. Topped off with cool creme fraiche and chive "sprinkles" these cakes are as delicious and rich as they are appealing to look at.
While you can use any cracker to make the buttery crust, I love Glutino brand because they work just like traditional crackers.
These crackers come in vegetable, cheddar and original flavors. I tried these savory crab cheesecakes with both the vegetable and cheddar and they tasted great!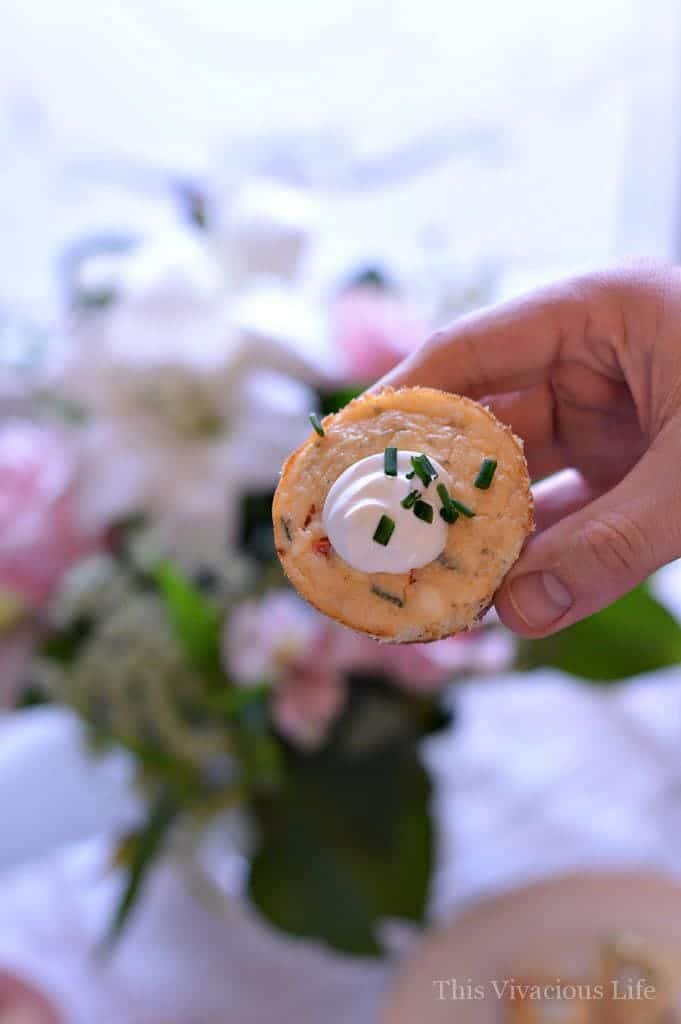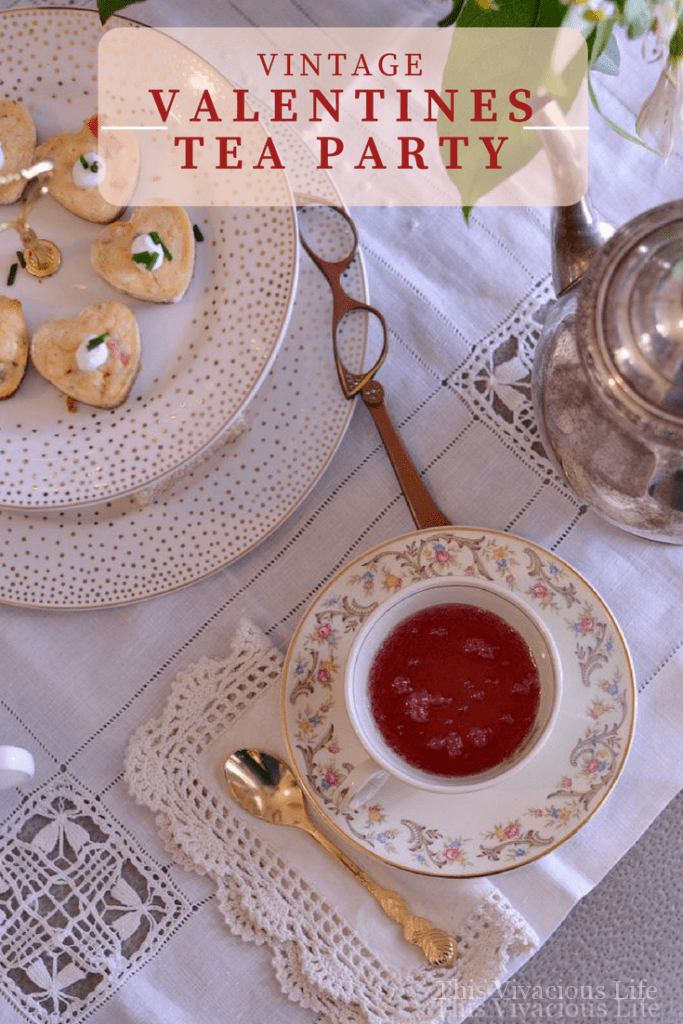 Print
Individual Savory Crab Cheesecakes (Gluten-Free)
Author:

Prep Time:

10 minutes

Cook Time:

10 minutes

Total Time:

20 minutes

Yield:

28 mini cakes

Category:

Appetizer

Method:

Oven

Cuisine:

American
---
Description
In addition to mini heart shaped savory crab cheesecakes, I also bite larger ones for my hubby and I to enjoy. Topped off with cool creme fraiche and chive "sprinkles" these cakes are as delicious and rich as they are appealing to look at.
---
Ingredients
1 box Glutino gluten-free crackers
1/2 C butter, melted
16 ounces cream cheese, softened
1/4 C gluten-free all-purpose flour
2 tsp. lemon juice
1/2 tsp. salt
1/4 tsp. cayenne pepper
2 large eggs
8 ounces crab meat (lobster and shrimp work as well)
1/3 C corn kernels
4 T red pepper, diced
1 tsp. parsley
1 shallot, diced
1 T chopped chives plus more for garnish
---
Instructions
Preheat oven to 350°
Spray a 16 vessel mini heart shaped silicone mold and a 12 vessel mini cheesecake pan with gluten-free cookie spray
Pulse crackers in a blender or food processor until made into fine crumbs
Stir the crackers into melted butter and split and press evenly into all the wells of the two pans
Meanwhile, in a stand mixer, mix the cream cheese, flour and eggs until well combined and smooth
Add the remaining ingredients and mix again until just incorporated
Divide mixture evenly among vessels
Bake at 350° for 10-12 minutes or until the cheesecakes are set and slightly elevated
Cool completely then remove and top with creme fraiche and chopped chives
Keywords: Valentine's Day, tea party, kid-friendly, easy appetizer
*This is a sponsored post by Glutino. I was provided with monetary compensation and products. Opinions are all my own and truly reflective of how we feel about these products. We love Glutino brand and use their products ALL the time! This post may also contain affiliate links.