this post may contain affiliate links
I'm excited to share tips on how to make the most of your own Yellowstone family vacation.
Our Yellowstone family vacation was full of fun, beautiful scenery and memories that will last a lifetime.
I hadn't been on a Yellowstone family vacation since I was in my teens and lived with my parents and siblings. I didn't really know what to expect but looked forward to the time with my husbands family since it was our first family vacation in 12 years.
Luckily, his parents new West Yellowstone really well and had lots of ideas and plans for us to enjoy ourselves. The first recommendation I have is to book a family cabin. We stayed in the largest one they have at Faithful Inn in West Yellowstone. It may seem overwhelming to all bunk up together but it sure made for a lot of fun.
The cousins loved that they could play each day and we parents enjoyed a homemade breakfast each morning together. It worked really well for us to have each family take a day for breakfast and put it together for everyone. That way you can sleep in on the other days you're not in charge.
The first day of our trip my mother-in-law wasn't feeling well so her and my father-in-law stayed behind at the cabin. We didn't want to do anything too big without them so we decided to go for a drive and look at animals. While it was fun to see everything from bison and a mama and baby cub to a coyote, this definitely wasn't the kids favorite.
I can completely understand why since it was just five hours of just driving around. They kept asking us when we were going to be there. When they learned there wasn't a "where" but rather that we were just driving around to see animals and scenery they all decided it was better to just sleep. I overpacked on snacks this day thinking that we wouldn't need them all… We ate all of them!
So I highly recommend on the day you drive through the park to look at animals, bringing lots of snacks and maybe even some little car activities for the kids. Bring binoculars too because it's easier for the kids to see the animals with them.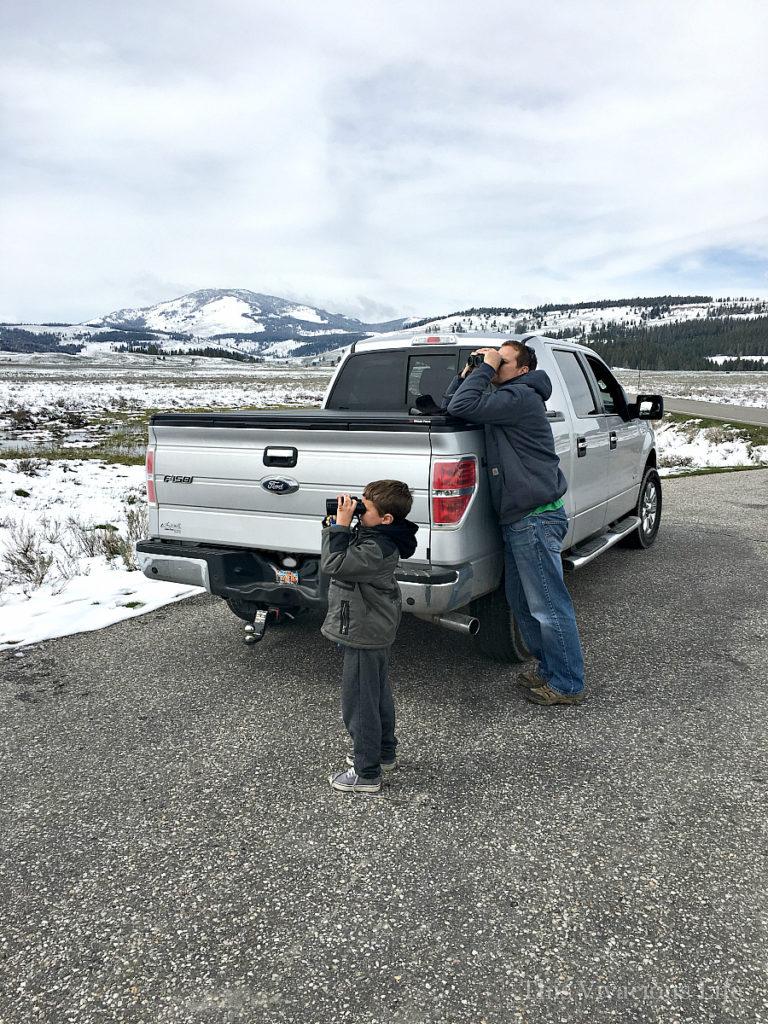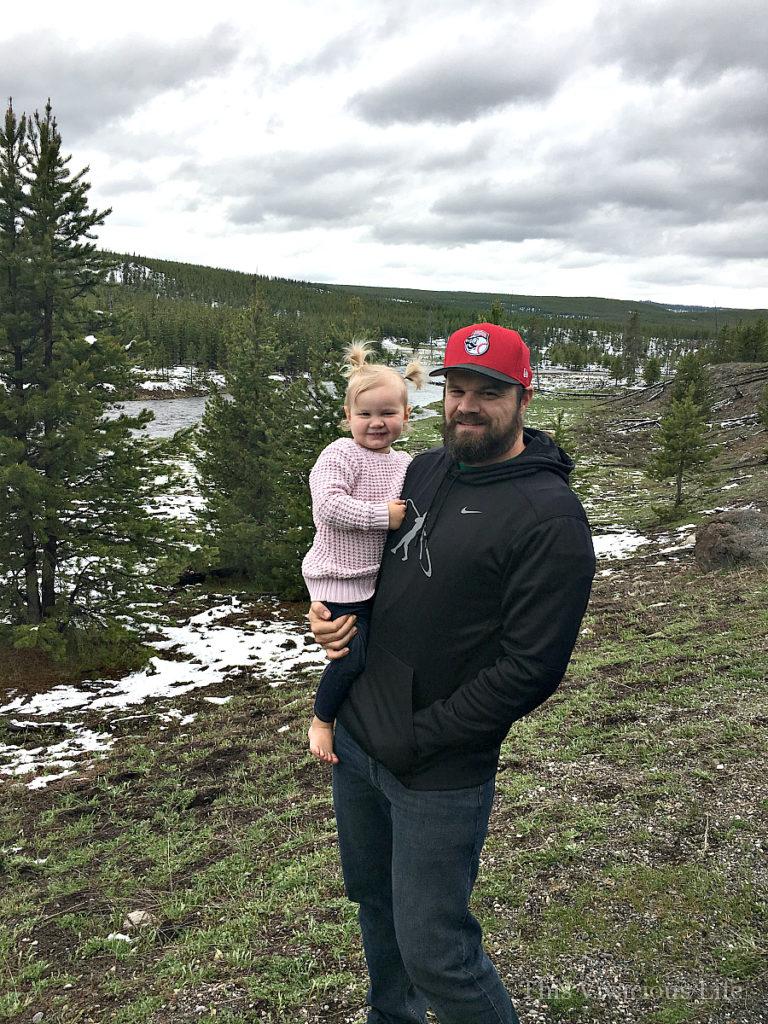 The second day we decided to go to the Grizzly and Wolf Discovery Center there in West Yellowstone. It was so much fun to see the bears and wolves up close. I couldn't believe how big they were! It is a little spooky to hear them howling during the day but still a lot of fun.
The best part about this adventure was the keeper kids program. Kids ages six and over can sign up for only five dollars. They spend a half hour learning more about bears and wildlife then they actually get to go into the bear habitat and hide their snacks for them.
Don't worry though, the bears have been taken out and put behind three different steel doors. They encourage the kids to hide them under lots of rocks because the bears find them very quickly. It was so cute to see the excitement on their faces as they watched the bears find their exact treats! They even got a souvenir button to take home.
After we enjoyed some time at the grizzly discovery Center we headed into town to visit the little shops on Main Street. They are so cute! The boys especially enjoyed the gem stores and hubby and I enjoyed getting some nostalgic sodas at the local soda station. They have two great taco buses in town if you're looking for a quick and easy lunch.

Of course a trip to Yellowstone wouldn't be complete without a visit to Old Faithful geyser. Though I remember it being larger when I was a kid it was still a lot of fun to go see. They have a big beautiful lodge that you have to tour! I don't recommend the food at the cafeteria as it really was just that… cafeteria style food.
My in-laws spent their honeymoon in that cute little cabin they are pictured in over 40 years ago. We just couldn't resist capturing a photo of them in front of it on this trip.
Bring board games and puzzles to enjoy at the cabin when it snows. It snows a lot there. We couldn't believe it was so blustery when we pulled into town at the end of May! No matter what you choose to do, as long as you have great people with you, your Yellowstone family vacation is sure to be a hit.
Be sure to check out our tips for doing your own staycation if you can't get away right now.