I have found that a food bar, like this pretzel bar is always a fun way to set a theme for a party.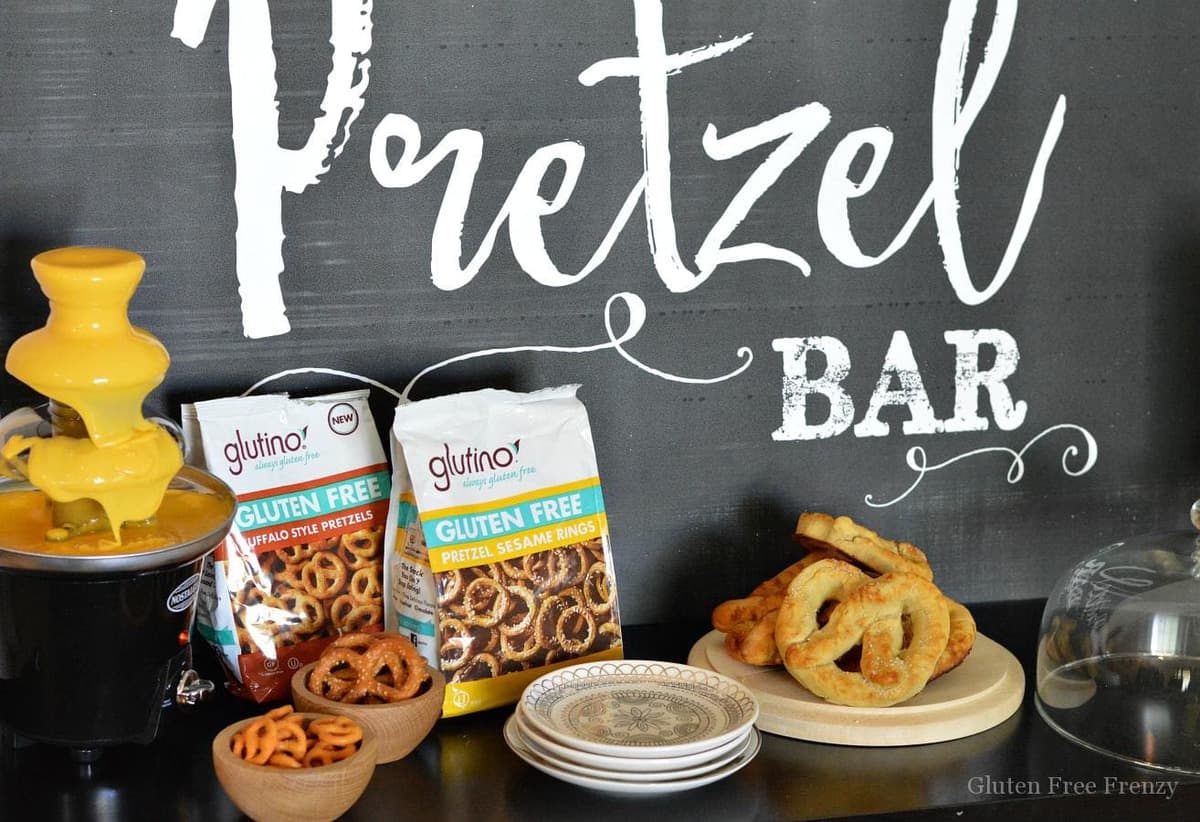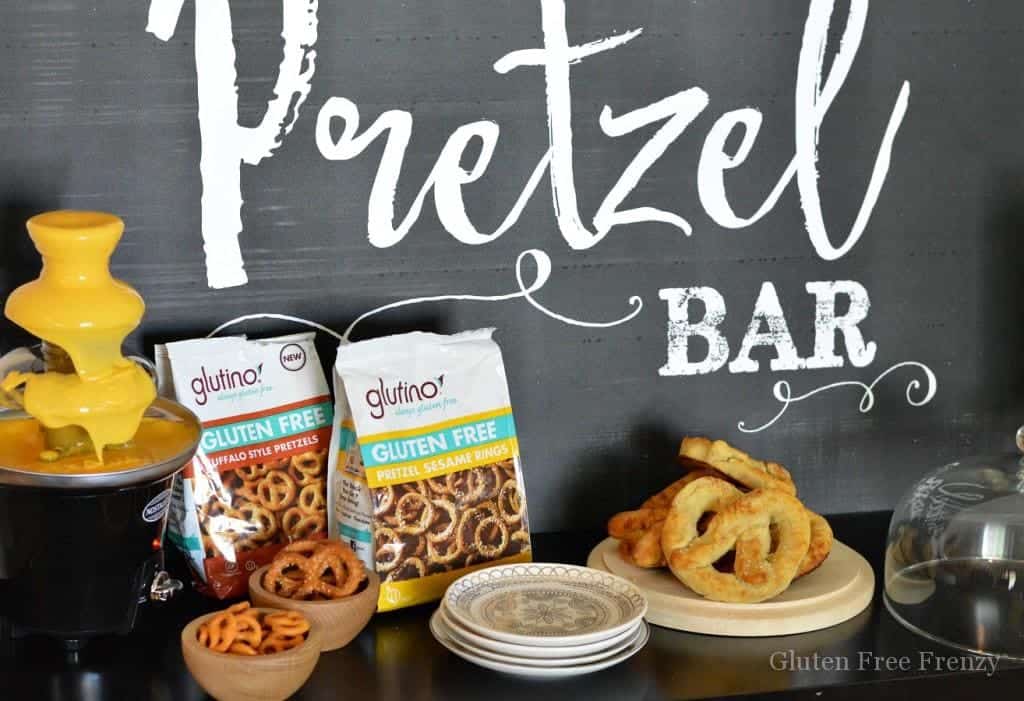 This pretzel bar is a great idea for simple snacks and your next game day gathering or even boys birthday parties.
Oh my goodness, I loved styling this pretzel bar and party for our friends at Glutino for National Pretzel Day! I love food bars and I have seen them all. From a soup bar, nacho bar and cookie bar, but this pretzel bar is one that isn't already flooding Pinterest. It has all the aspects of a really good food bar including variety, yummy eats and a star recipe.
My hubby and I love NBC's The Office. When I say my husband has watched the entire series more than ten times, I am not exaggerating. He turns it on as funny background entertainment when we are doing our work at night. When I started thinking about how I wanted to style this party, I couldn't help but think of the pretzel day episode. I told Josh (my husband) that I was styling a pretzel party and you know what he said? "You have got to do something with The Office!" I just laughed and told him how I'd thought that as well.
I decided to build on the moment in the episode when Micheal asked if he could get all the toppings. The pretzel guy said, "The works". Josh and I watched, paused, rewinded and re-watched until we had all 18 toppings listed on a piece of paper. Next, I knew I needed a gorgeous sign to go with our pretzel bar as well as one that listed "The Works" toppings.
I immediately reached out to Jessica from Pen + Paper Flowers after falling in love with her sign featured on my friend Jessica of Fantabulosity's coffee shop party. Come to find out, I had pinned her signs years ago on my Pinterest board. Jessica of Pen + Paper Flowers created this beautiful pretzel bar sign for the party. She then customized our party even more with "The Works" sign. They were the perfect addition!
Subscribe to This Vivacious Life
Receive a free e-book of Instant Pot recipes!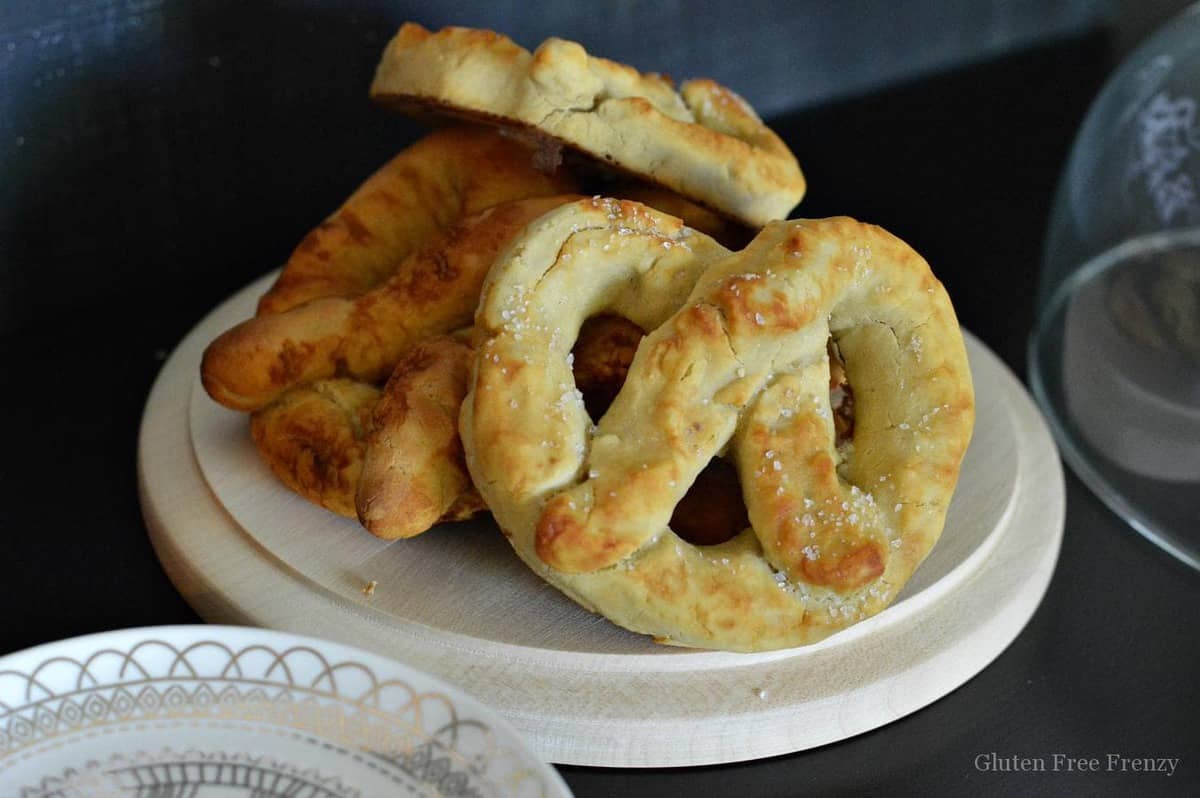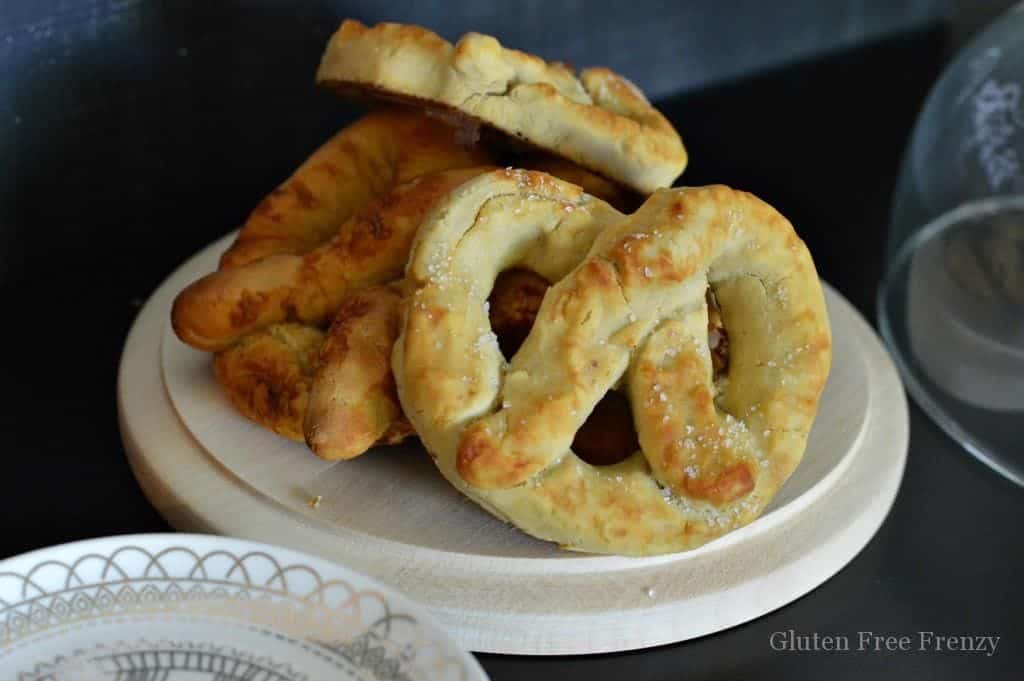 Of course we knew that a gluten-free soft pretzel recipe was a must. Thanks to Glutino's all-purpose gluten-free flour, it really was quite easy. These pretzels are best hot and fresh but we also ate them later and they were great then as well. The full recipe is at the bottom of the post. After pinning a nacho cheese fountain as an idea for my hubby's 30th birthday years ago, I couldn't resist the idea of doing it for our pretzel bar.
I just used this little chocolate fountain and added nacho cheese (yeah, that super processed stuff that we wouldn't ever eat otherwise). The kids absolutely loved it! Ok, so did the daddies. The gluten-free buffalo style pretzels from Glutino tasted the best in it. The cheddar and buffalo flavors were great together.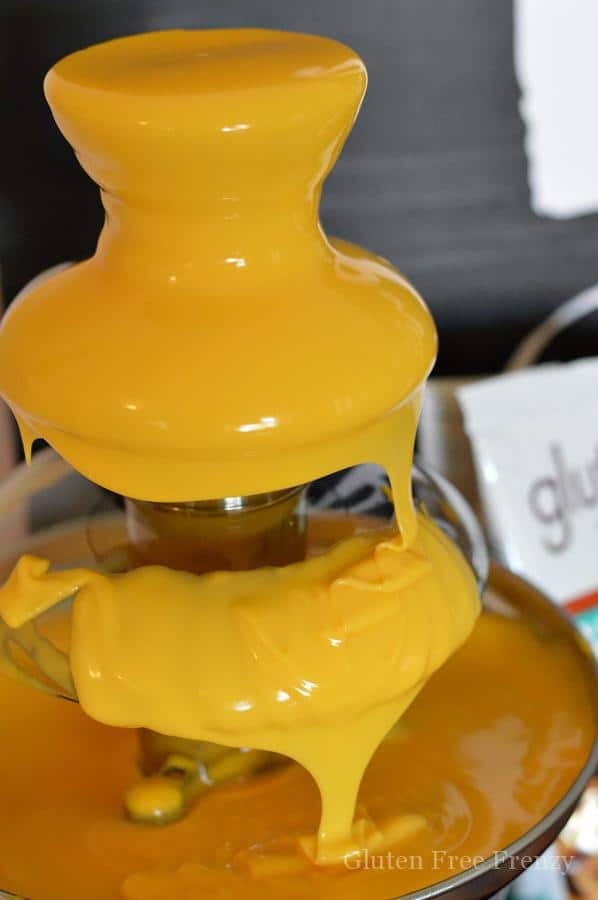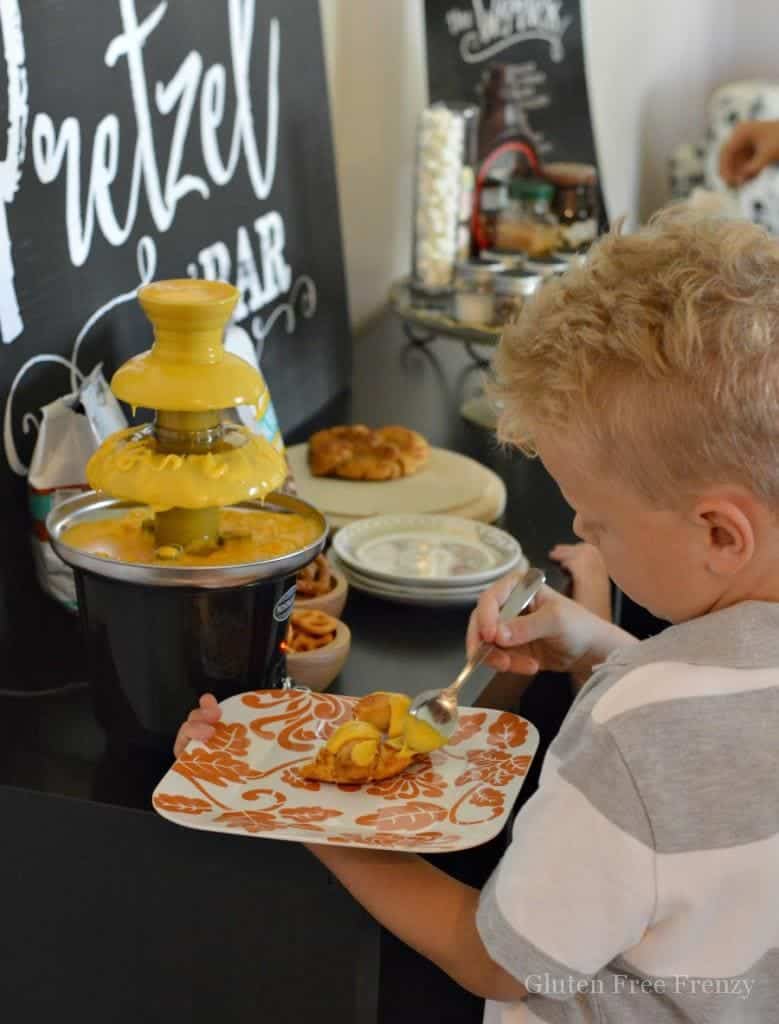 So here are some more details of our "The Works" pretzel station. There were so many delicious toppings for the gluten-free soft pretzels to become sweet little morsels. Of course the kids had to try every single topping. Their plates were covered in ooey, gooey dripping chocolate and topped with marshmallows and cotton candy bits.
The adults kept it more refined with nuts, toffee nuts and white chocolate chips. I loved our sign but I also wanted a bit more going on with our theme especially since the other end of our display had the nacho cheese fountain as the focus. I found this giant inflatable pretzel on Amazon and thought, "What the heck? Others will love it too".
Oversized "props" are another fun addition to parties. They give that eye candy that you are looking for and something that clearly states what the theme or reason for the party is. Oh and it will be fun to use in the pool this summer so that's a bonus.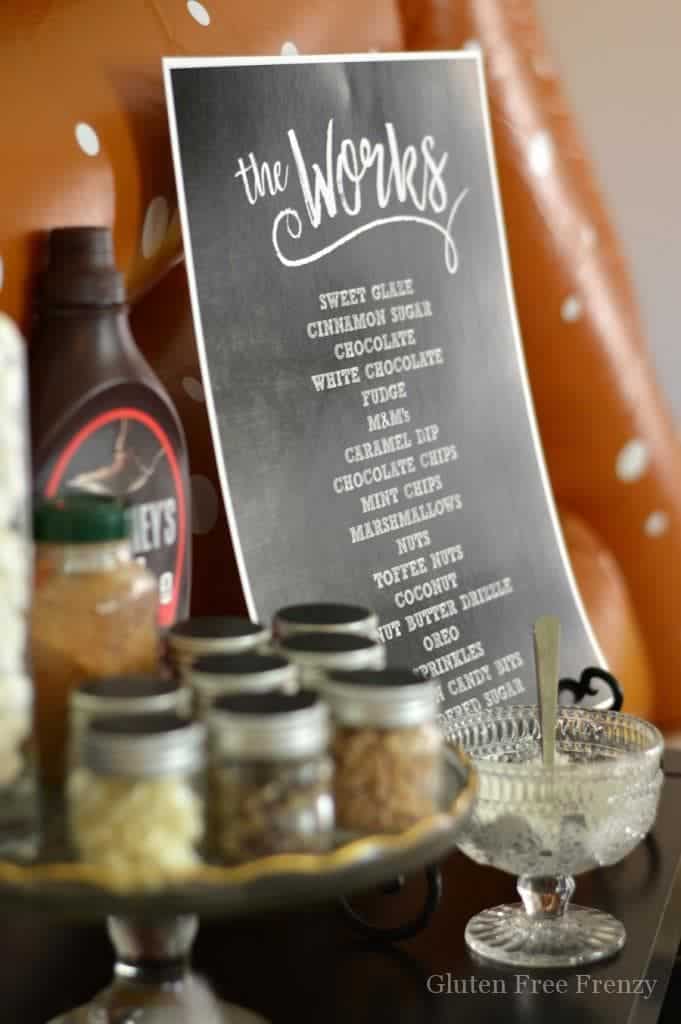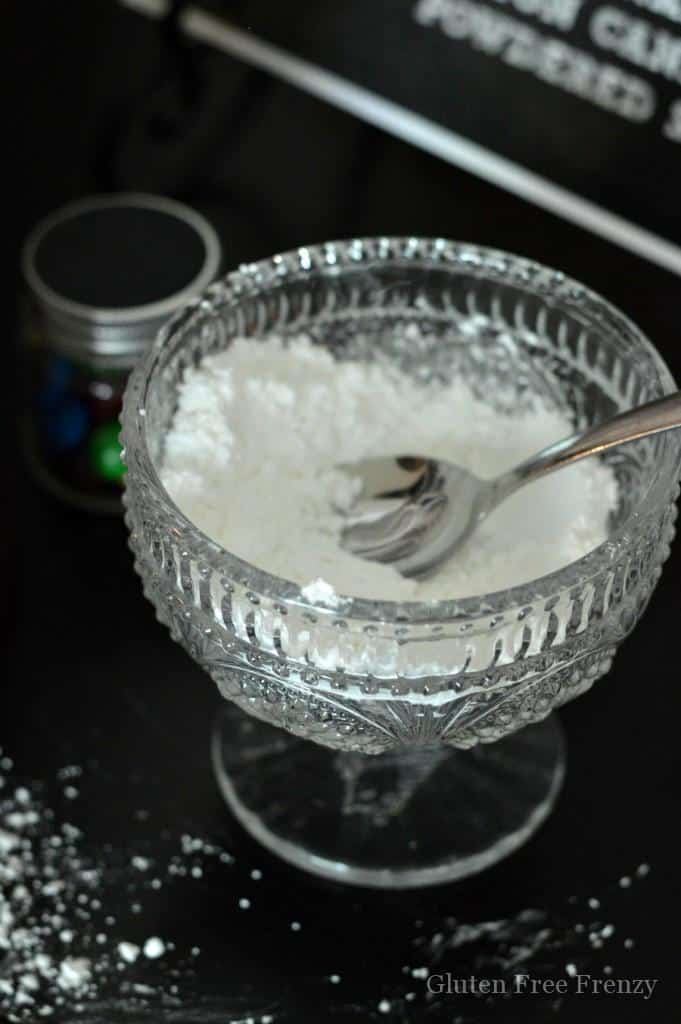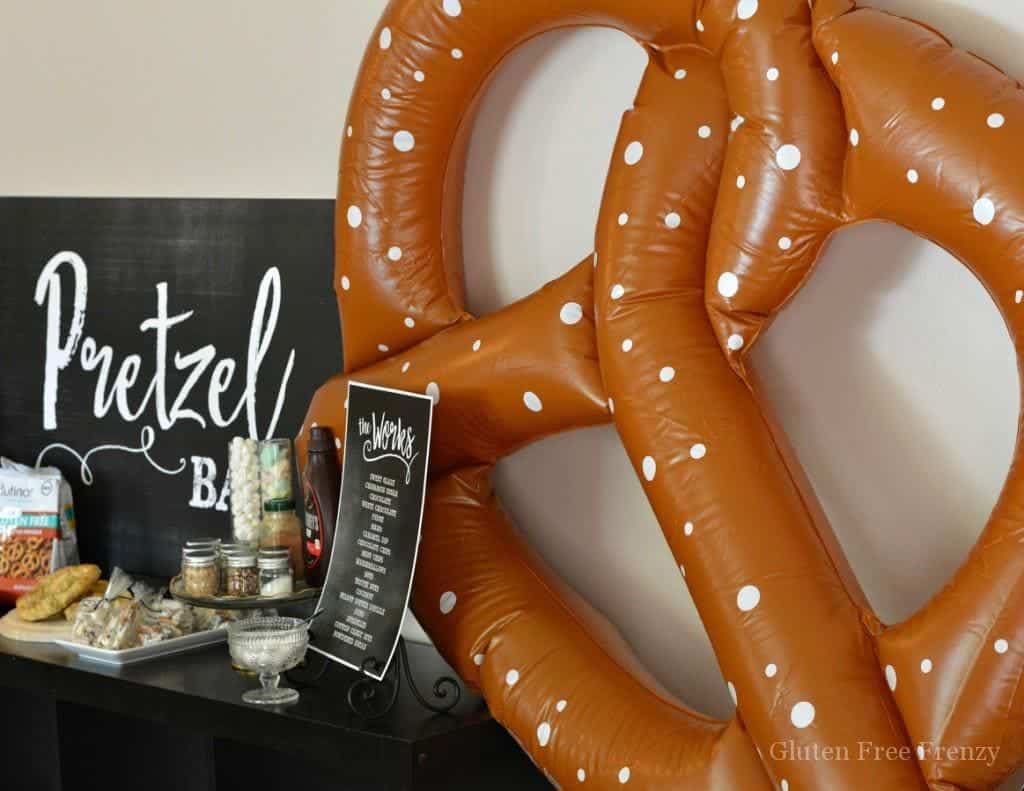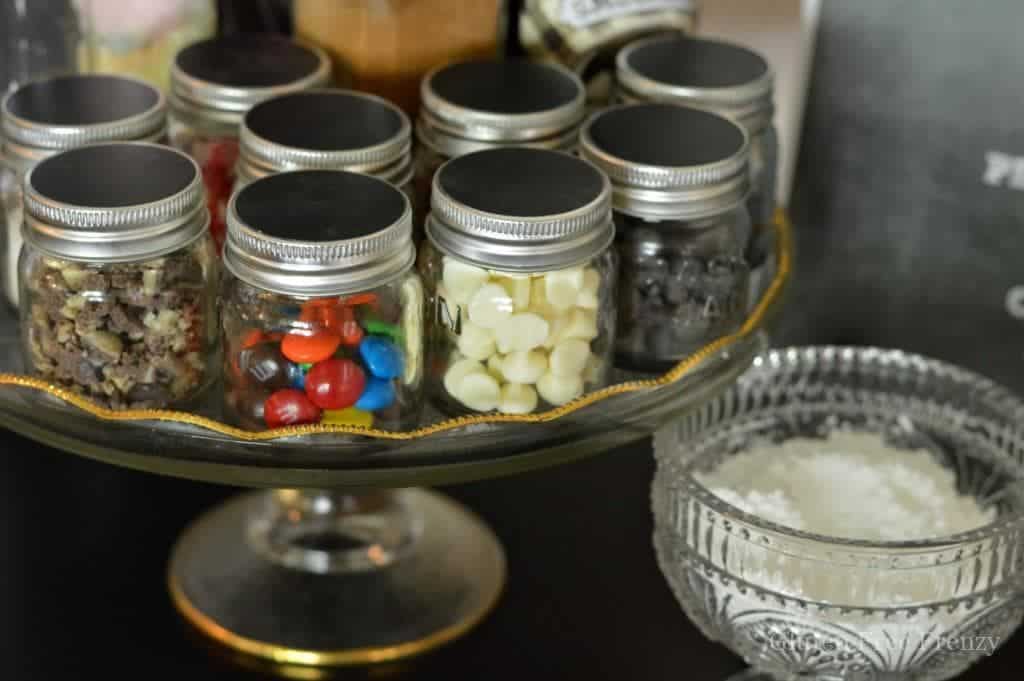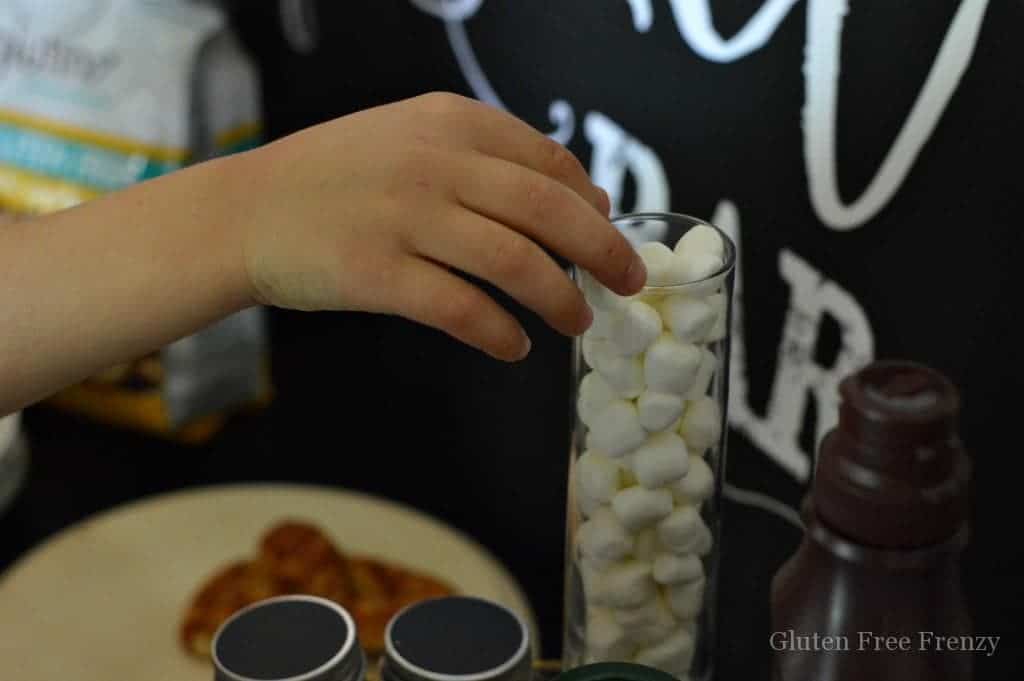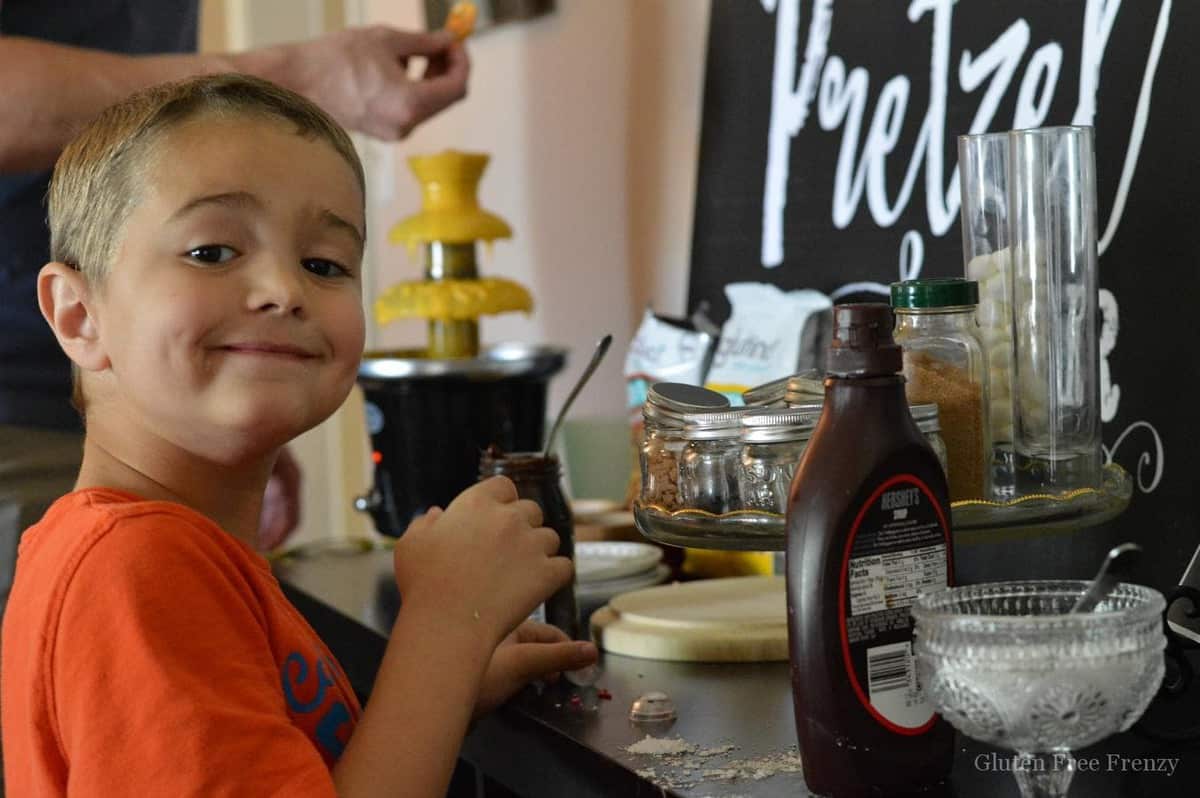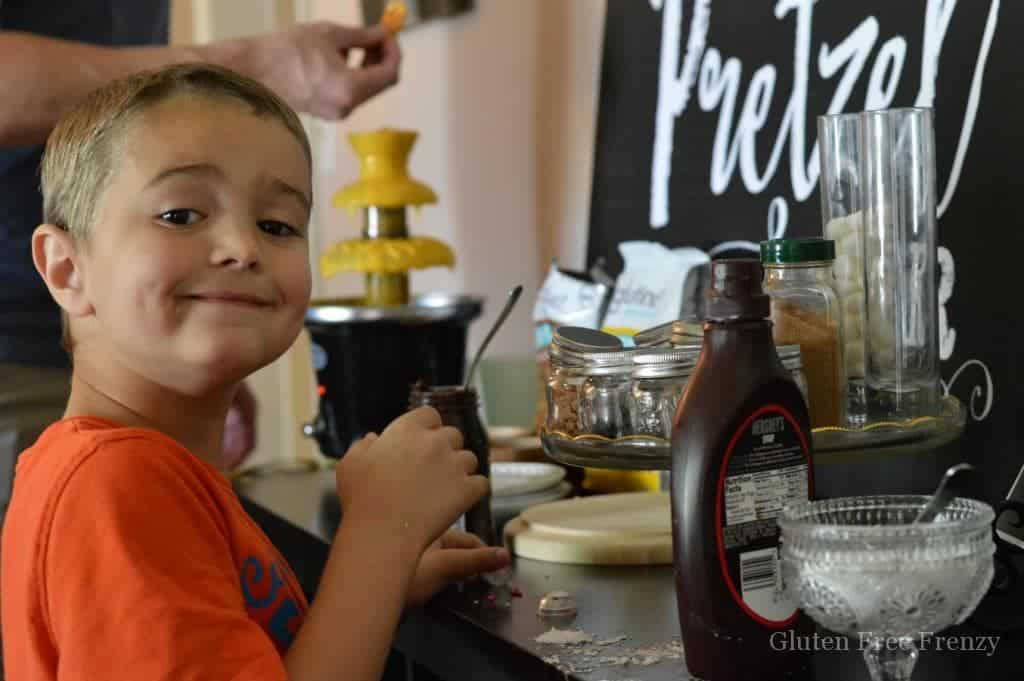 I totally overbought in the toppings department. So I put together my go to treat when it comes to leftover candy, bark! This "The Works" pretzel bark is super tasty and sweet but the salt from the pretzels really balances it out. It even gives it a fun crunch. Plus, it can be made in a snap. On a silicone mat or wax paper lined baking sheet, put some broken gluten-free pretzels. Add a bunch of your toppings from "The Works" station then cover in melted white almond bark.
Put it in the freezer for 20-30 minutes then remove, peel back paper or mat and break into bark pieces. Super easy and they make a great take home party favor for your pretzel party guests! I personally love trying to tie in the take home treat with what was served so they can continue enjoying the flavors the next day or maybe, if they are anything like me, even later that evening in their jammies.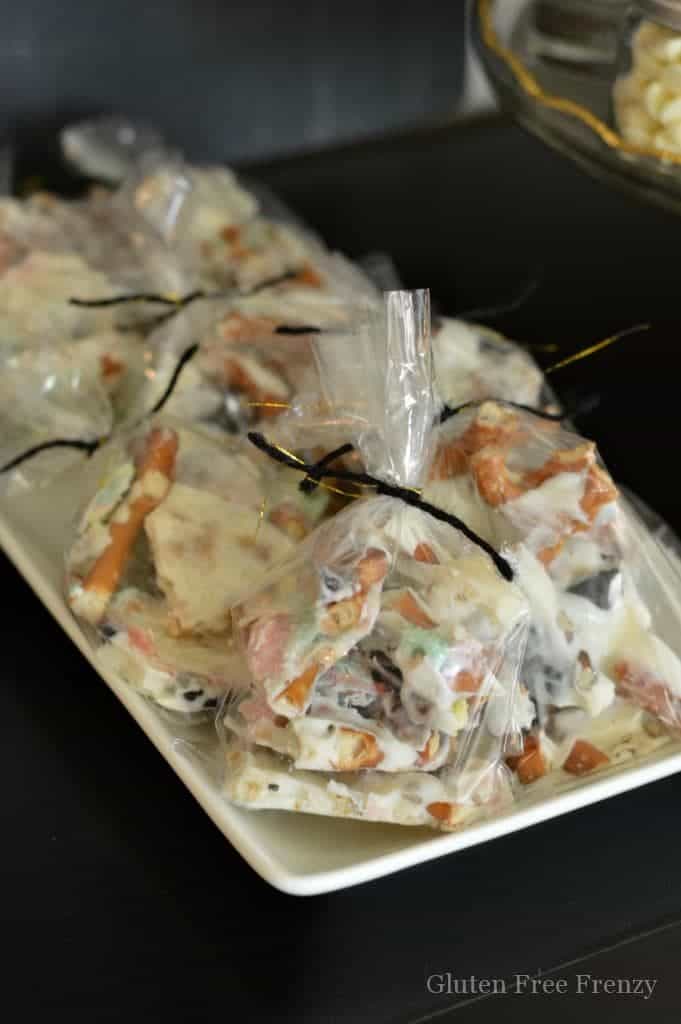 Fun was had by all at our little pretzel party. I was so excited that my hubby even got into the theme of things (very hard for him) with his The Office shirt. Of course, I couldn't get enough of Glutino's salted caramel pretzels so I kind of hoarded those. Little lady loved the giant hard pretzels because they were almost like a teething ring in perfect size for her. I turned my back on her for two seconds> Next thing I knew her little chubby hands and face covered in fudge!
All I could do was laugh because she was squealing and so proud. She looked too cute not to grab the camera! Luckily she was on a blanket not the carpet or it might have been another story. We had fun with our friends and appreciated their willingness to join us for a middle of the day pretzel party.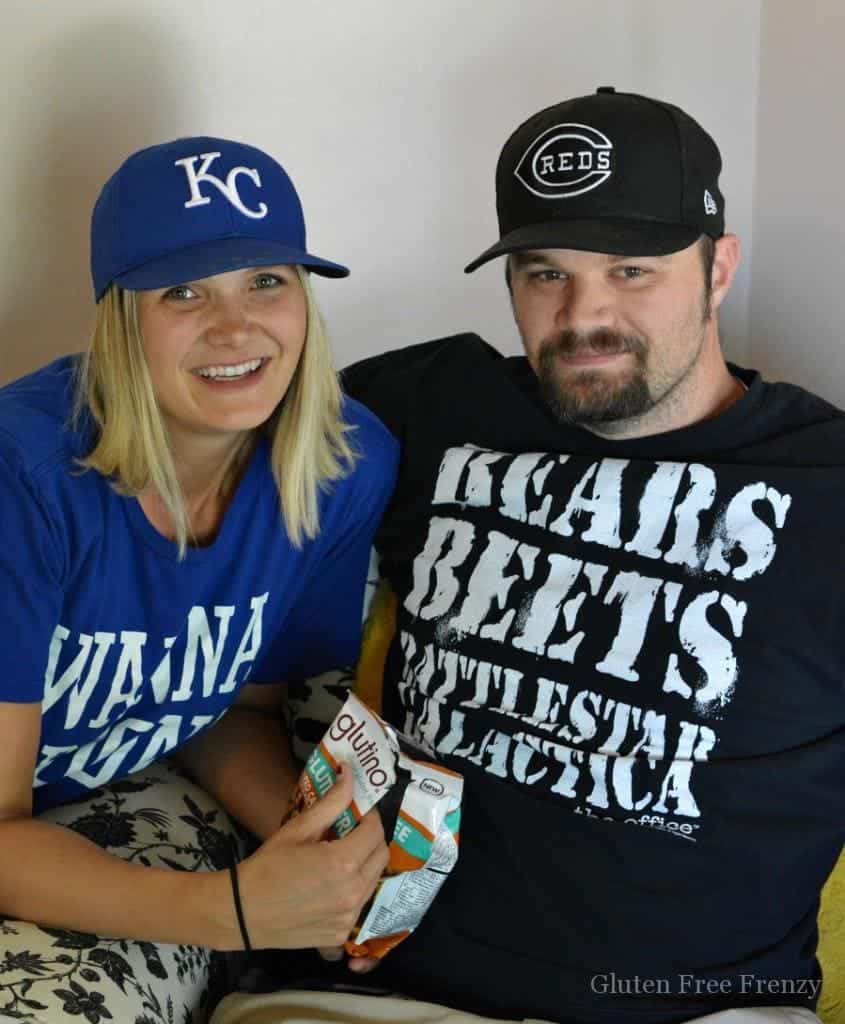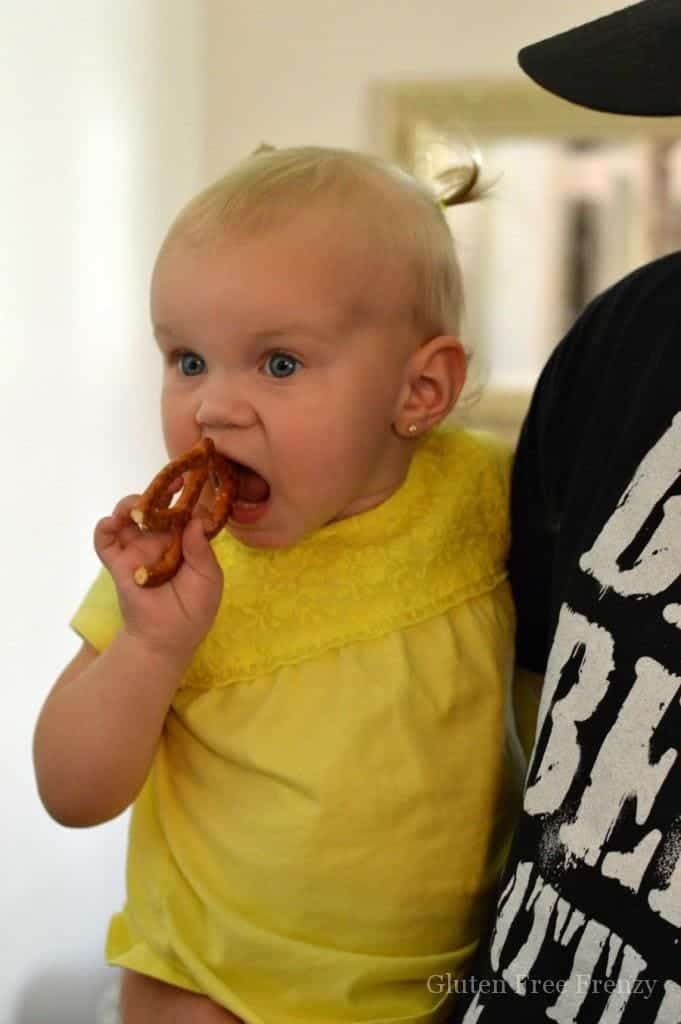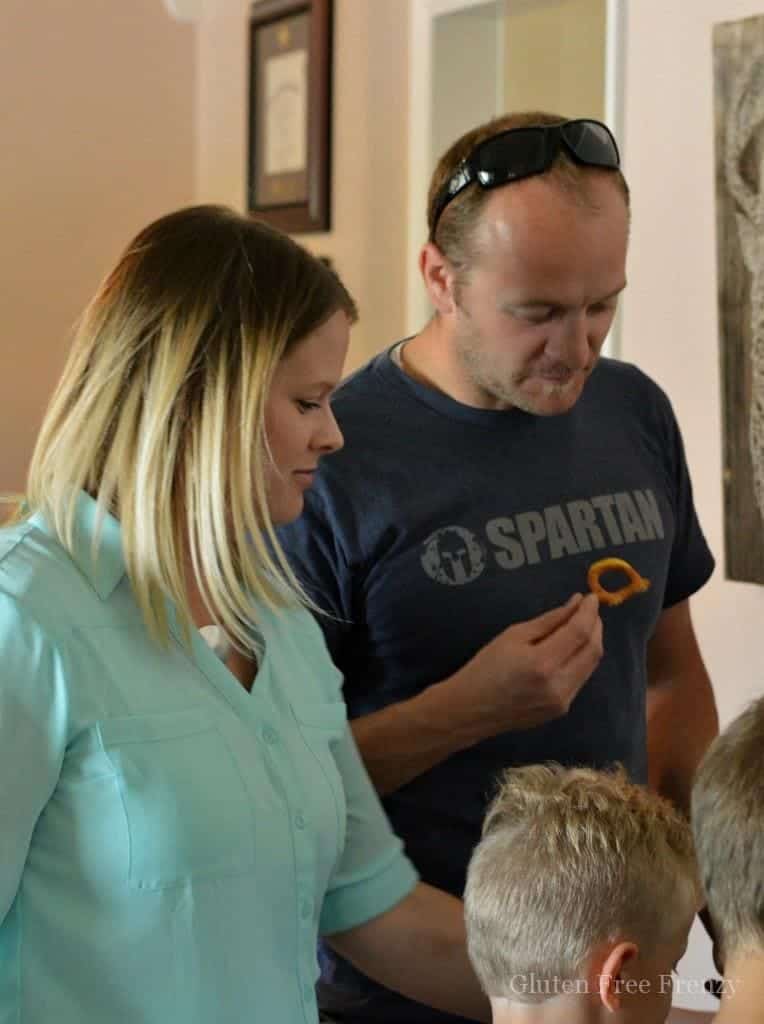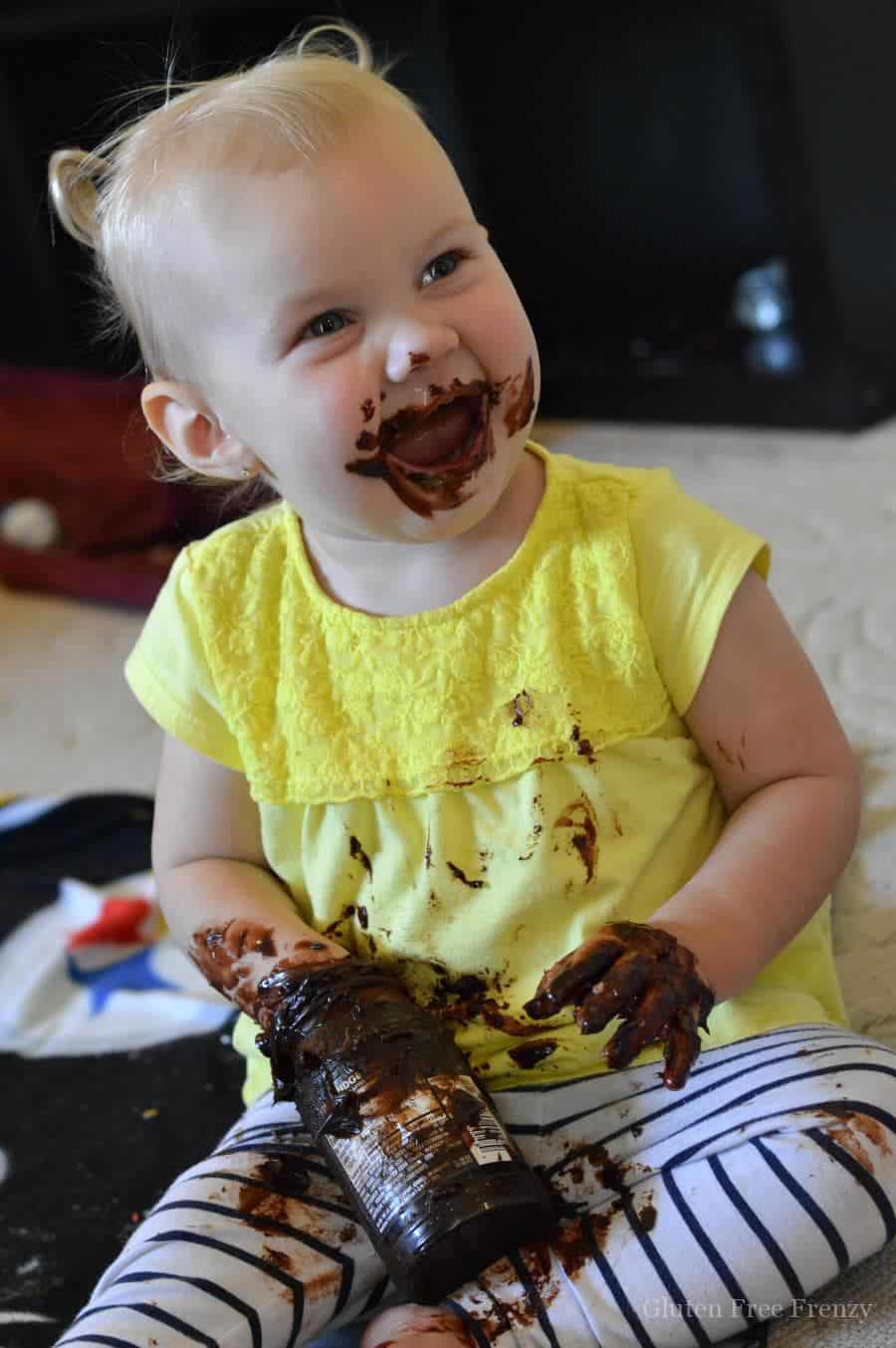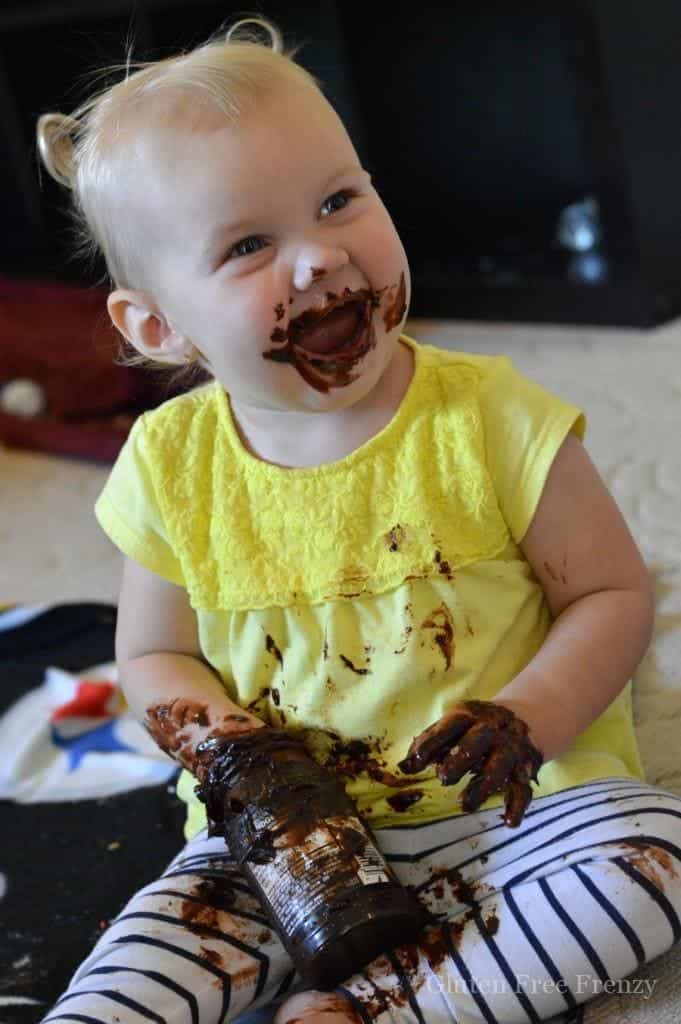 Of course, a party isn't complete without games right? I thought of Twister right away and knew it was too good not to incorporate. Get it? Twister and pretzels? This was actually my kids first time playing it but they loved it! I think I will be repurposing it for our end of school party with colored shaving cream circles in the back yard.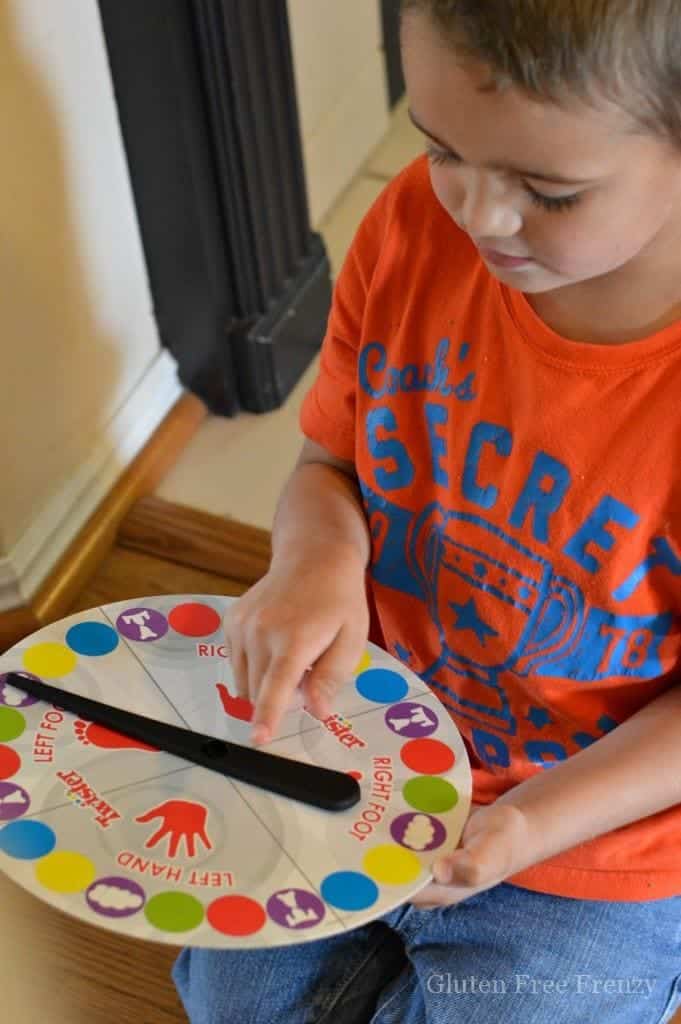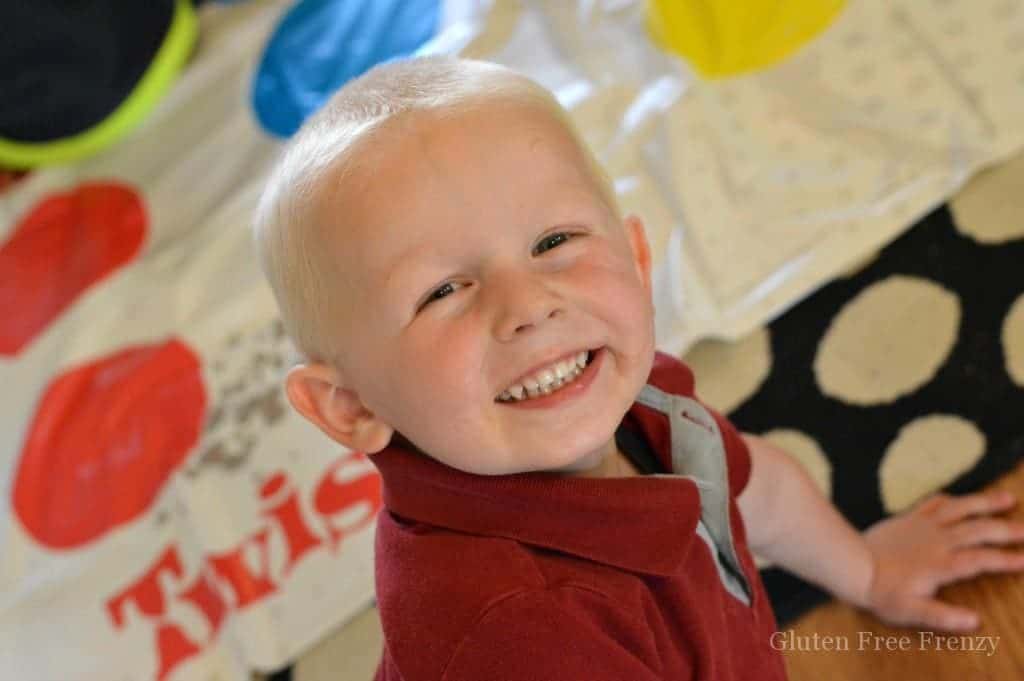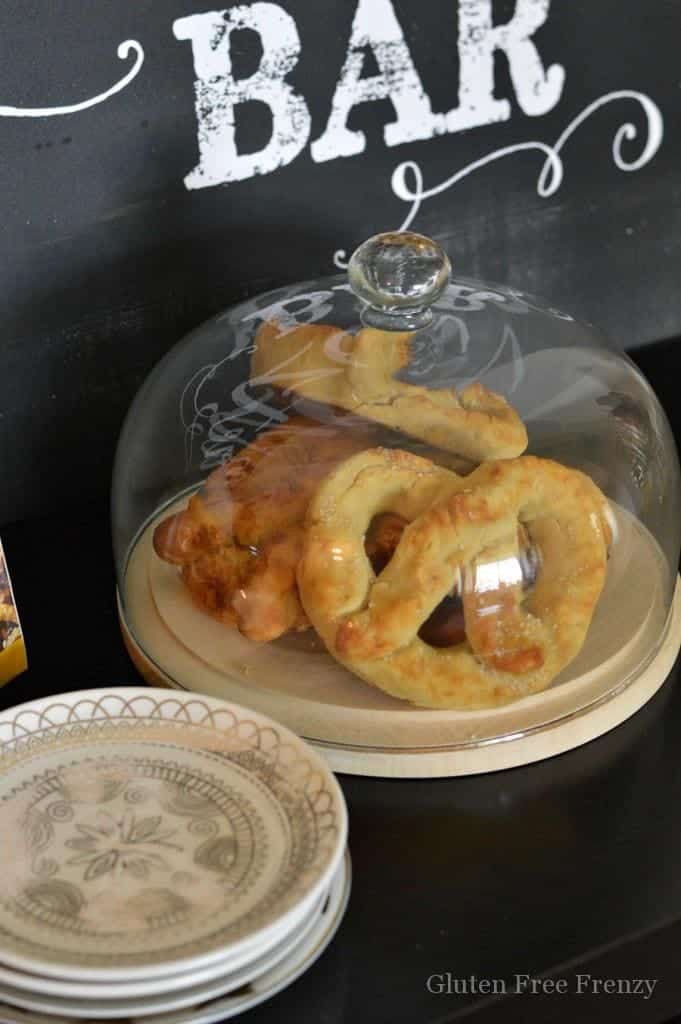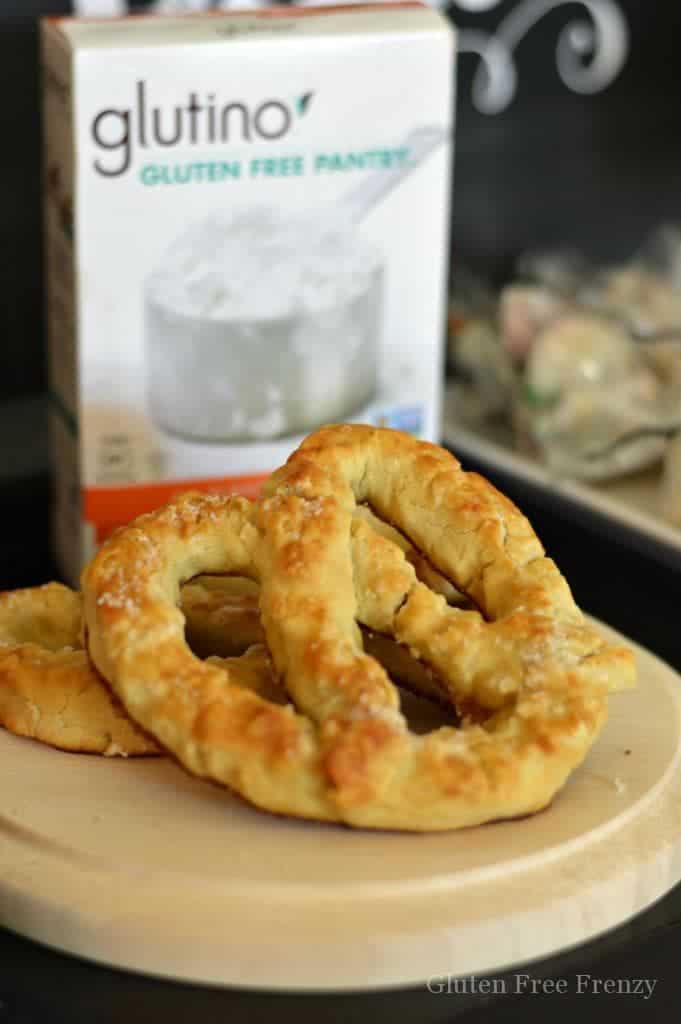 NEED MORE GOODNESS? Follow me on Facebook, Instagram, Pinterest, and Twitter for great recipes, entertaining ideas and more!
Gluten-Free Soft Pretzels
Soft and delicious, these gluten free pretzels are the best!
Ingredients
2

C

whole milk

2

instant yeast packets

4 1/2 tsp.

4 1/2

C

gluten-free all-purpose flour

Glutino brand is what we used

6

T

brown sugar

7

T

real butter

softened (plus more for brushing)

3

tsp.

Real Salt

1

tsp.

unflavored gelatin

1

tsp.

apple cider vinegar

2

eggs

room temperature

8

C

water

3

T

baking soda
Instructions
In a saucepan, warm the milk as you consistently whisk. Be careful not to heat until hot. Remove from heat and pour into your mixing bowl. Add the yeast packets and let sit for 5 minutes. Add brown sugar, butter, salt, gelatin, apple cider vinegar, eggs and flour. Combine using a hook attachment on your Kitchenaid making sure to scrape down sides as needed with a rubber spatula. Add up to 1/4 C more gluten-free all-purpose flour as needed to have the dough come together. Cover and let rise at room temperature 60 minutes. Preheat oven to 400° and line two baking sheets with silicone mats. In a large bowl, combine the water and baking soda. With lightly (gluten-free) floured hands, turn out your dough and break into two, continue breaking those pieces down until you have 12 balls of dough. Roll each out into a long rope then shape into a pretzel. Dip each pretzel into the baking soda and water bath until fully submerged then place on the mat. Bake at 400° for 12-15 minutes or until golden brown. Remove and brush with softened butter and sprinkle with coarse salt.
Nutrition
Calories:
548
kcal
|
Carbohydrates:
82
g
|
Protein:
16
g
|
Fat:
21
g
|
Saturated Fat:
11
g
|
Cholesterol:
98
mg
|
Sodium:
2794
mg
|
Potassium:
172
mg
|
Fiber:
10
g
|
Sugar:
19
g
|
Vitamin A:
625
IU
|
Calcium:
184
mg
|
Iron:
3.7
mg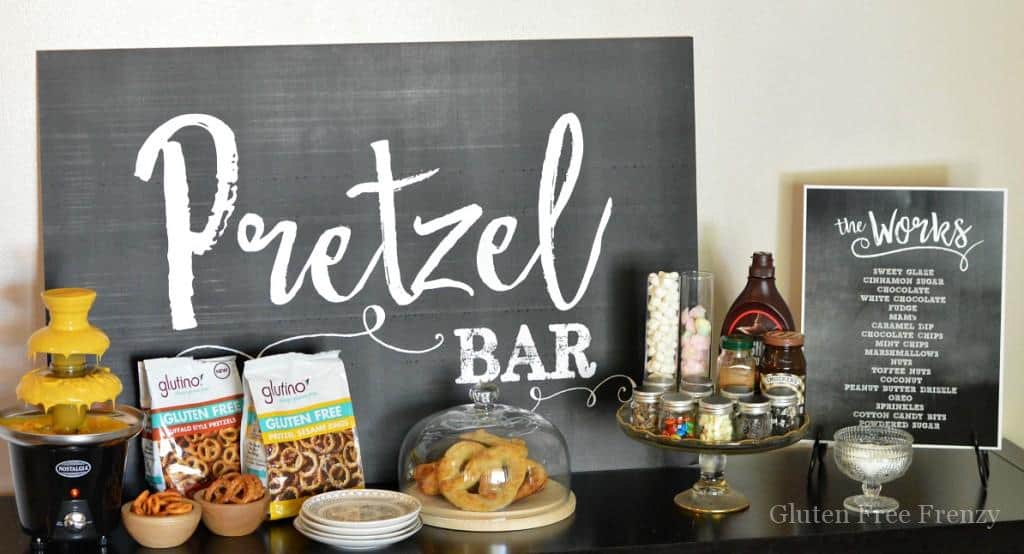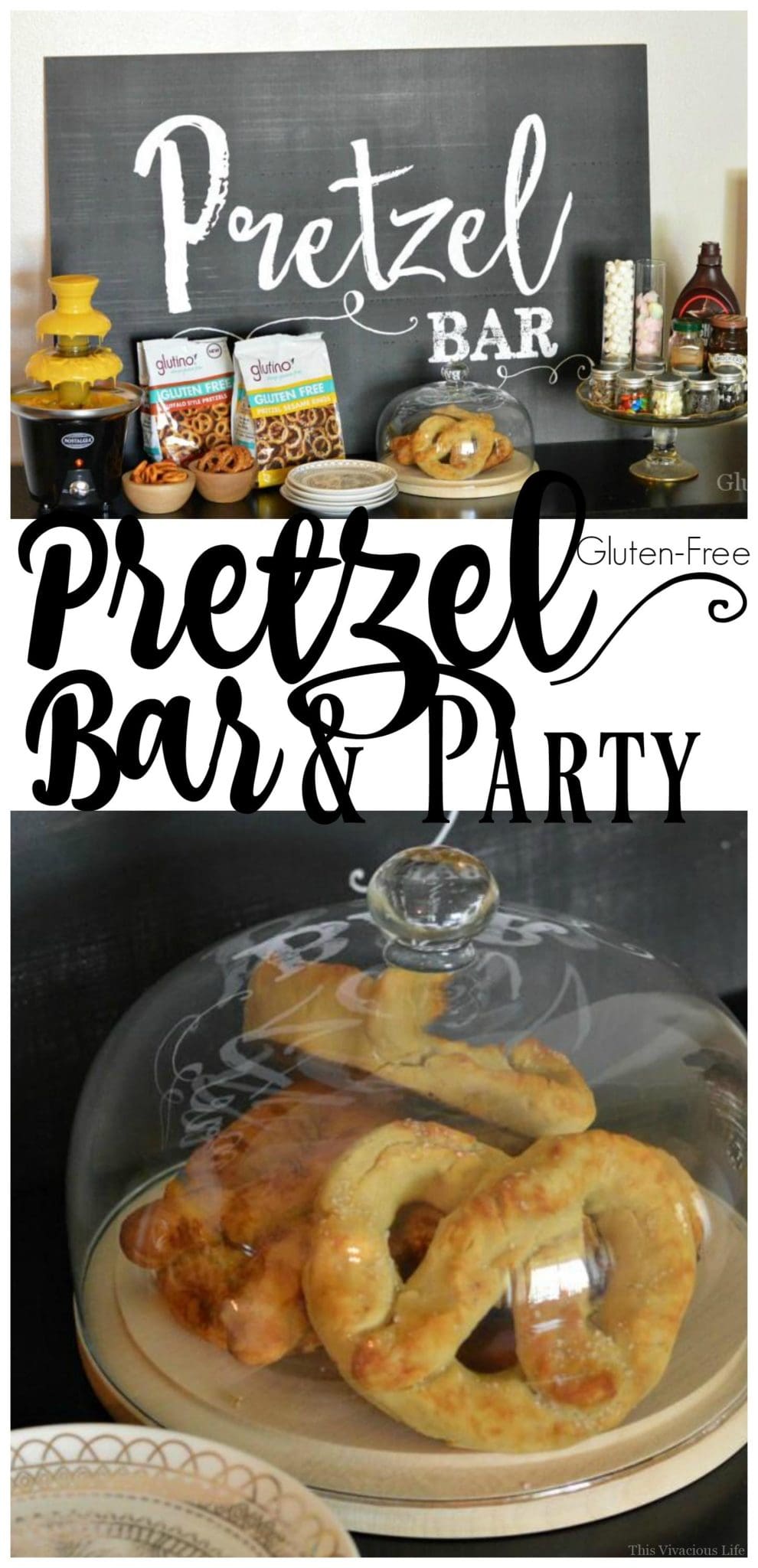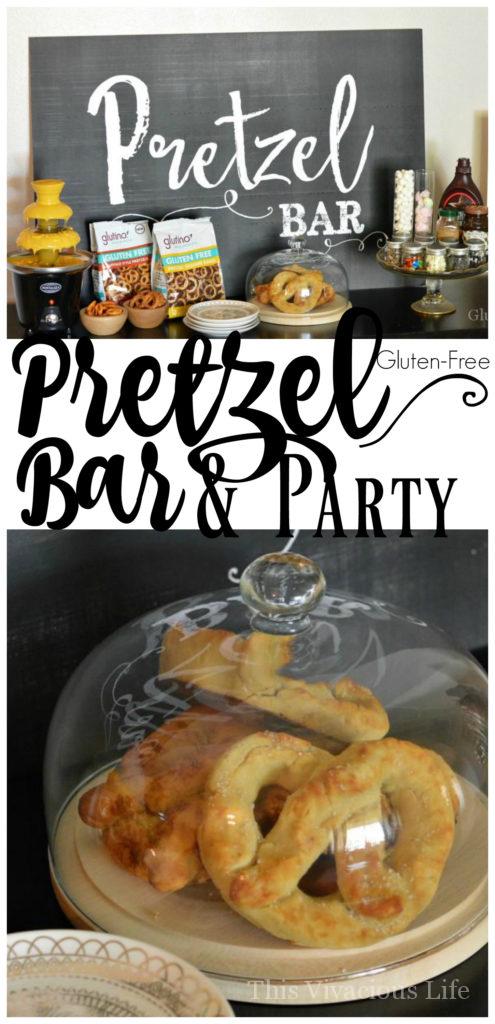 Vendor Credits:
Party Styling and Photography- Chandice Probst of This Vivacious Life
Signs- Pen + Paper Flowers
Pretzels and Gluten-Free All-Purpose Flour- Glutino
This is a sponsored post by Glutino/Boulder Brands. I was provided with monetary compensation and products for featured. Opinions are all my own and truly reflective of how we feel about these products. We love Glutino brand and buy/use their products often. This post may contain affiliate links which won't change your price but will share some commission. You do not pay anything extra. 
This post is featured on the vegetarianmamma.com linkup.