I wanted to be taken seriously, so I tried to take on a more calm and "proper" persona which didn't work for me. In recent years, I've become comfortable in my own skin, and I want that part of me to shine! I know there are others out there who feel the same way. I have talked to so many of you who want to be taken serious professionally, but also want to live true to your VIVACIOUS self. I am here to tell you that being authentically you is the only way to truly live happily. People will gravitate towards your authenticity and want to learn more about what makes you so joyful.
Everything I do is authentic (No smoke and mirrors here.) What you see are true excerpts from our life. If I share a blog post on how to throw a Valentine's tea party, you better believe that it was styled first with my little ones in mind. If it is a recipe I am showcasing, more than likely my middle son was in the kitchen with me measuring out ingredients (He wants to be a chef one day.).
I am all about the end memory or feeling of any event, delicious recipe or holiday idea I share. I don't just set up a beautiful table, photograph it for my blog then put it away before my family can see it. On the contrary, I style it for them, because I want to create a special memory that will bring them joy for many years to come. I love sharing our happily ever after moments because my hope is that they will give you ideas for creating your own.
Now, all the "fun and glam" in my life doesn't mean that I don't face challenges. I have overcome many things and continue to be faced with hard things. However, I actively choose happiness. I enjoy focusing on making memories with a grateful heart that will last a lifetime. I do this with the people I love most. It helps me combat any and all hard things that come my way. I was taught this at a young age as my mom would always make even the smallest of holidays special for us. She didn't do it to show the neighbors. She did it because she received great joy in seeing how happy it made us. I am a very nostalgic person and so many of the traditions my mom instilled in us, are things I now hope to share with my kids.

I hope you find this blog to be a safe haven of authentic joy and happiness in an often negative world. More than anything, I want you to know that you are free to be YOU! Live with unbridled joy and do what makes you truly happy. Life is too short not to enjoy it with those you love most…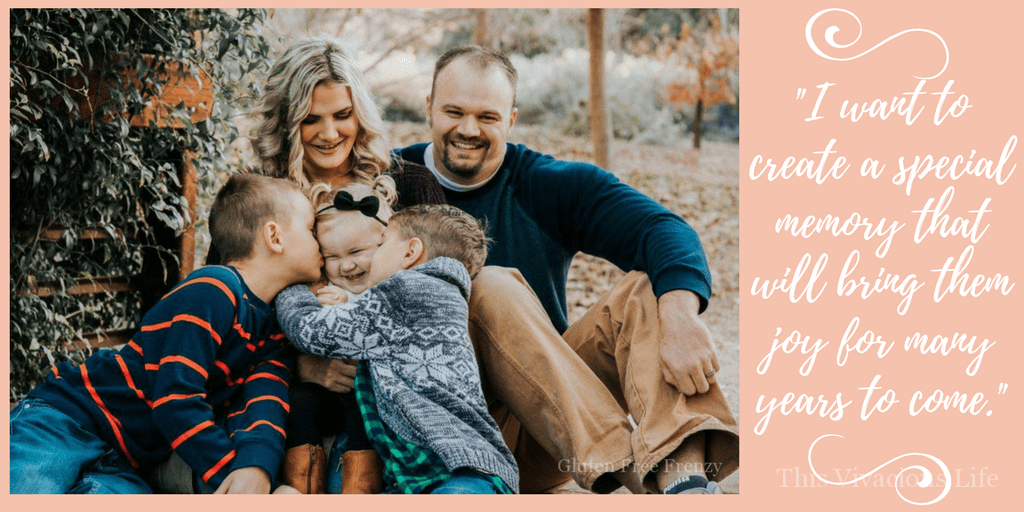 I had the honor of co-authoring a book with my called Gluten Free on a Budget, a cookbook filled with 100+ vibrantly photographed recipes. I have had the great joy of being featured on ABC 15 Sonoran Living, Channel 12 Arizona Midday and in print publications, Women's World, Deseret News, The Arcadian Journal and Total Kid Magazine. While living in Arizona, I was a contributor on Channel 3 Your Life A to Z in Arizona regularly showing everything from party planning and packing cute bento box lunches to last minute Valentines ideas and the perfect holiday gifts for your friends. I now contribute to Good Things Utah as often as my schedule allows.
In addition to my above professions, I truly consider my role as a wife, mother and everyday cook to my family to be of greatest value. If you want to learn more about the faith that grounds me and has provided me with more happiness than I could imagine, please click HERE. Get a FREE copy of my favorite book ever click HERE.
Get your FREE eCookbook of 5 Gluten-Free Instant Pot Dinner Recipes
Subscribe to get our latest content by email.