this post may contain affiliate links
This little lending library party is a great way to promote literacy in the community and have fun at the same time!
I am so excited to share our adventure awaits little lending library party with all of you! I love any opportunity to throw a party "for a cause". This little lending library party is one that bettered my local community and my dream is that it does for some of you as well as you build your own little lending libraries.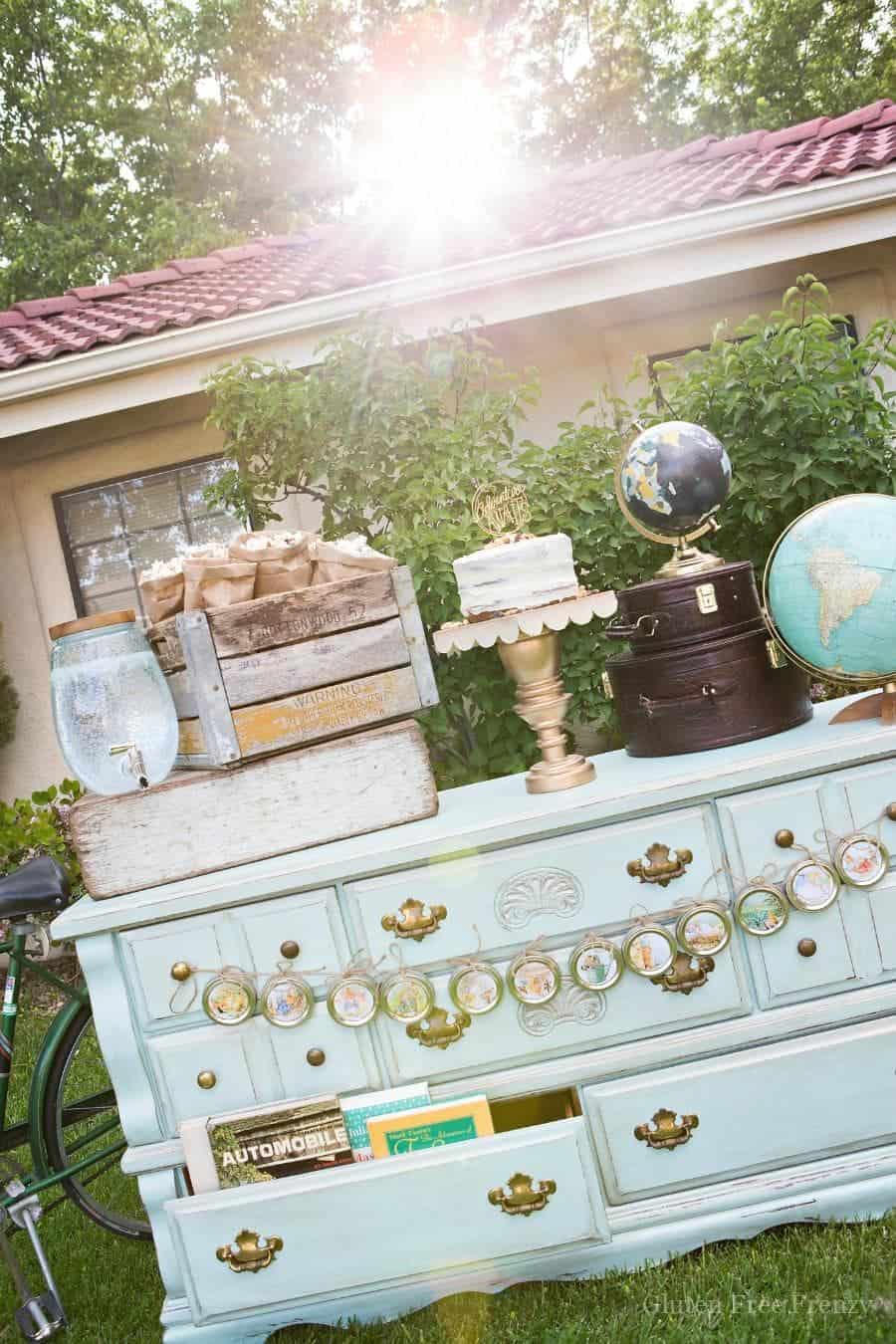 I love summertime. It means that I get to let go of over crowded schedules, the stress of getting kids to school on time (which I am sadly, not very good at) and can just enjoy my sweet little ones.
Last summer we started this tradition where we make a summer fun activities checklist. You can see more about that HERE. Each of us decide on things we each want to add to the list. From big family trips like going to a national park, a day activity like visiting a museum or little activities that are easier to complete such as baking cookies and serving in our local homeless shelter, the list is full of fun!
Last summer we decided that building a little lending library and having a party celebrating it joining our neighborhood would be something fun that we wanted on our checklist. One of my first pins on pinterest was THIS cute little community library. I knew right away that I wanted one of our own.
Of course, our project really became daddy and grandpa's project once we got into it and saw what all it entailed. While not terribly difficult, I am not really the craftsman. My boys sure did love helping their dad and grandpa build the little lending library and I enjoyed designing it.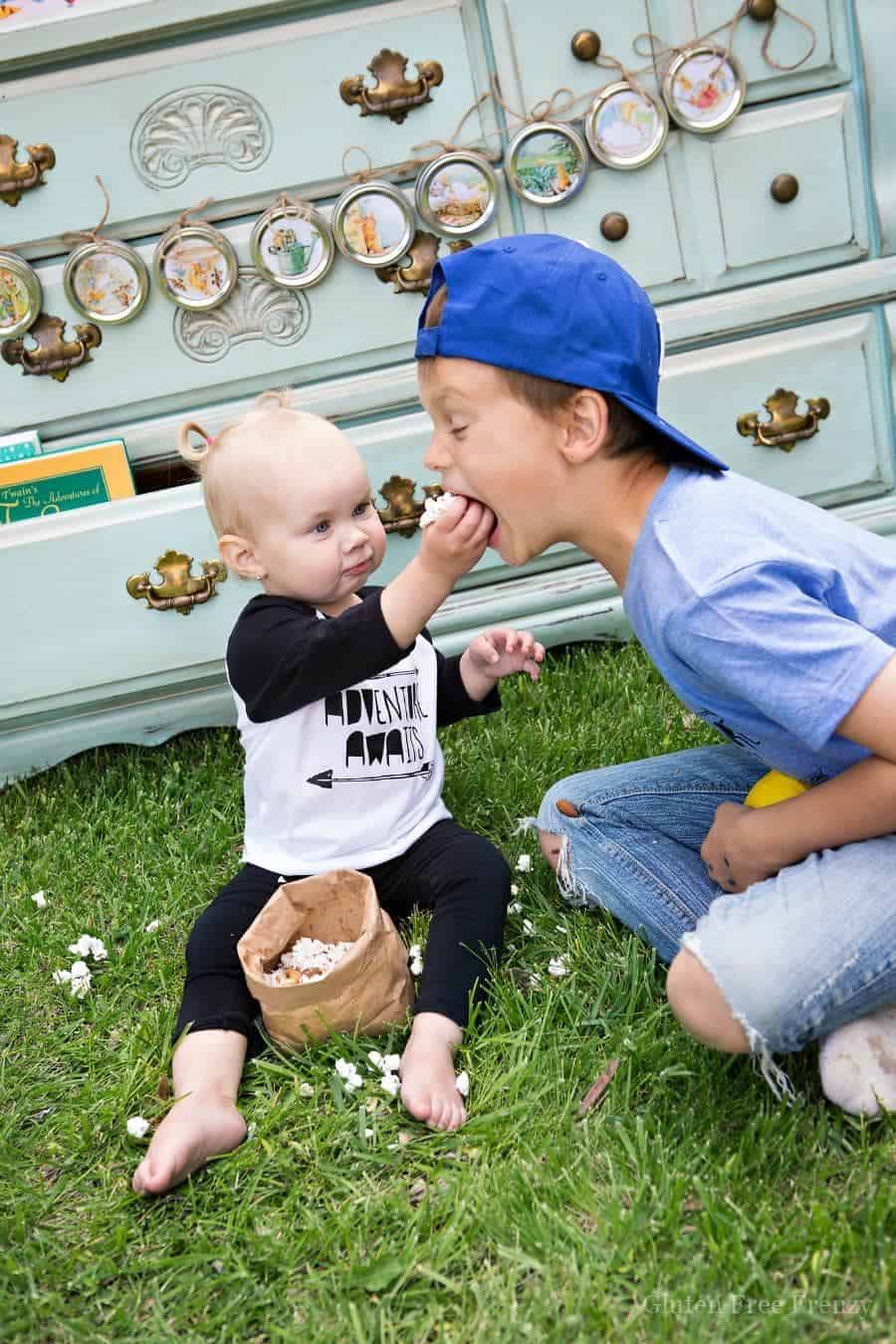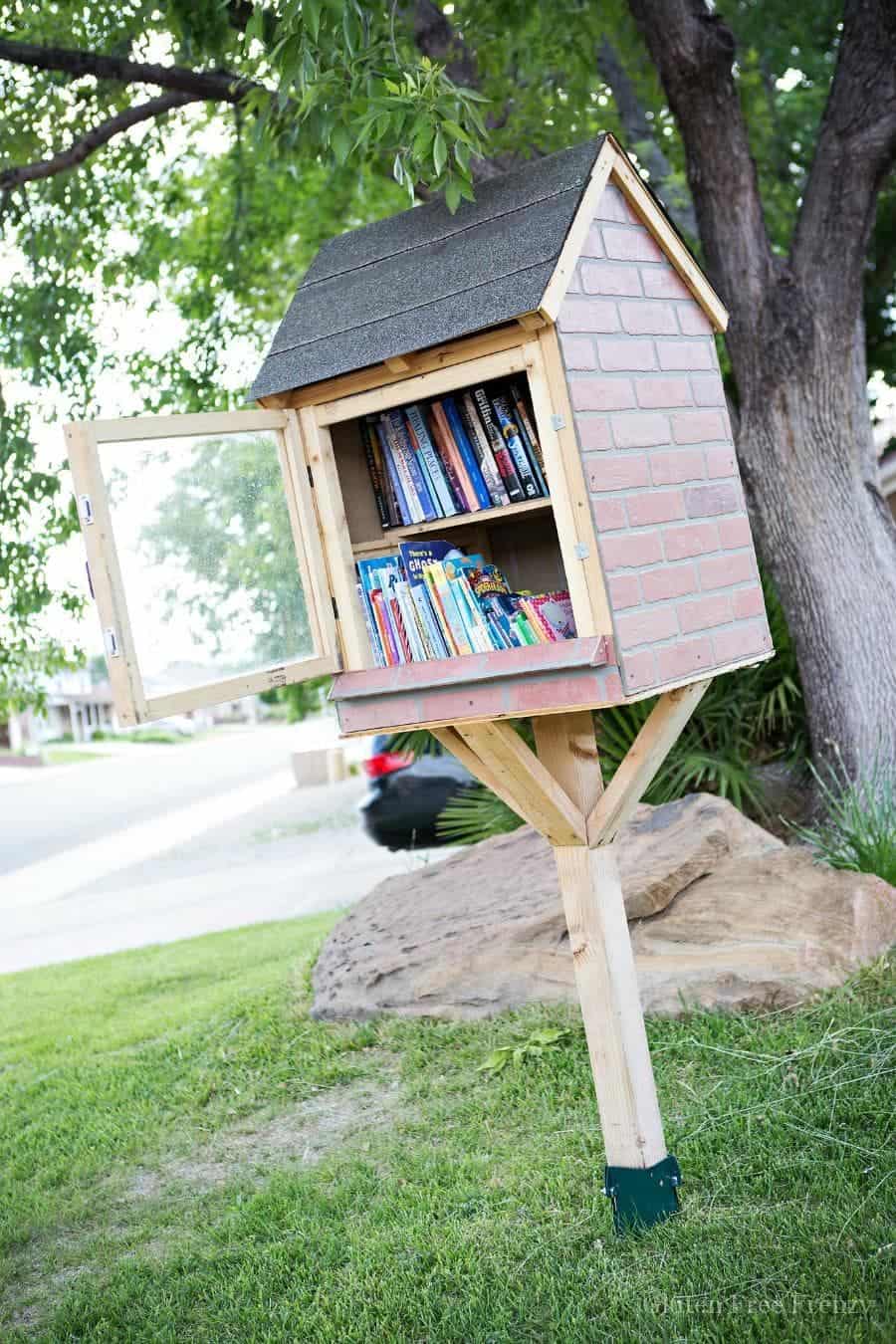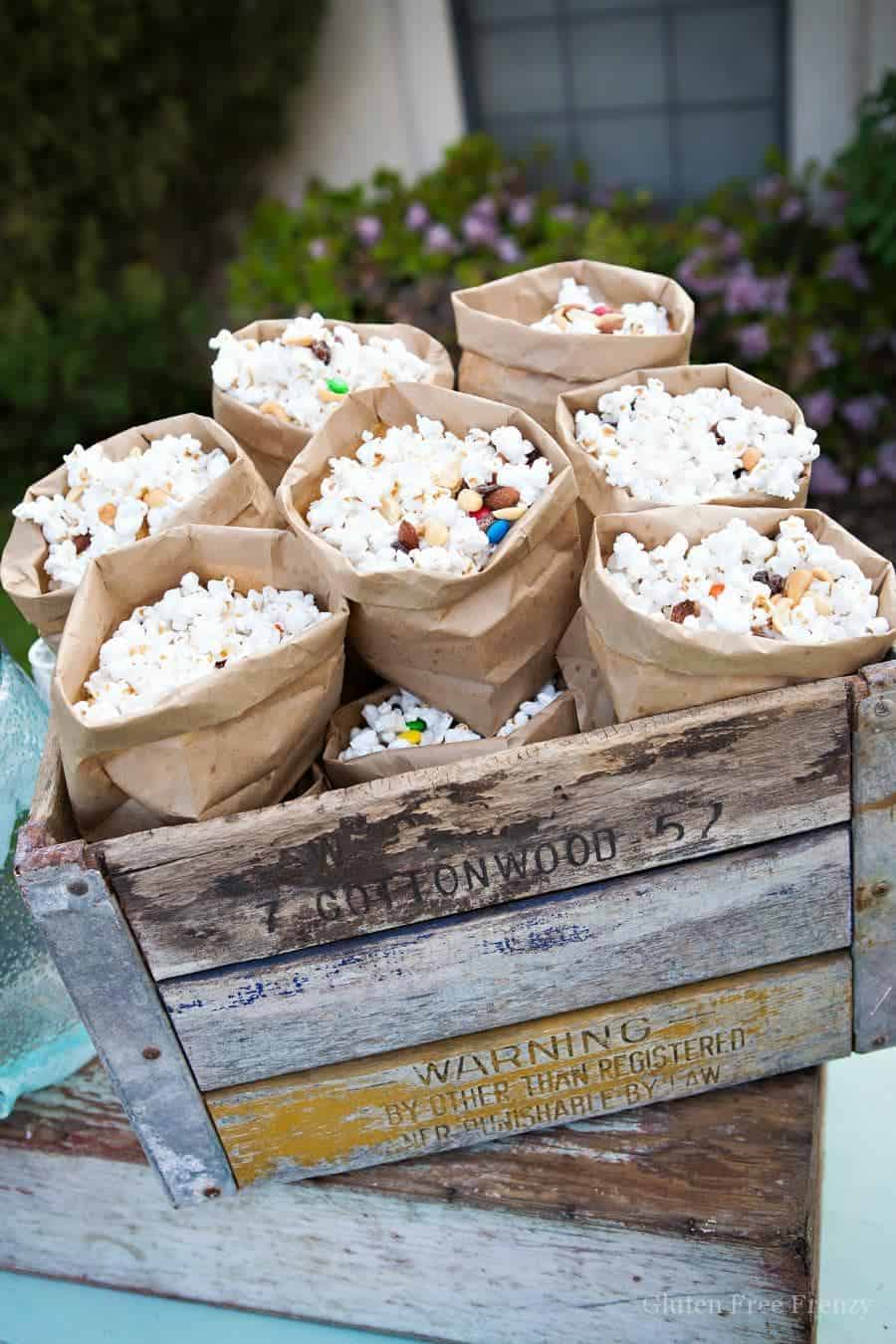 When it came to planning the party, I definitely wanted to keep it focused on our cause…childhood literacy. It seemed only fitting to have Adventure Awaits be the theme because like they say, adventure awaits in your favorite books.
These shirts by Vicarious Clothing couldn't have been more fitting for the theme. My kids loved them and I love that the company sent us an extra one to give away to a lucky kiddo.
I collected vintage barbie and children's books for my daughters room decor so they fit perfect with our set up. The invitations designed by Katie DidDesigns couldn't have been more fitting for our get together. She was so amazing to work with and her design truly speaks for itself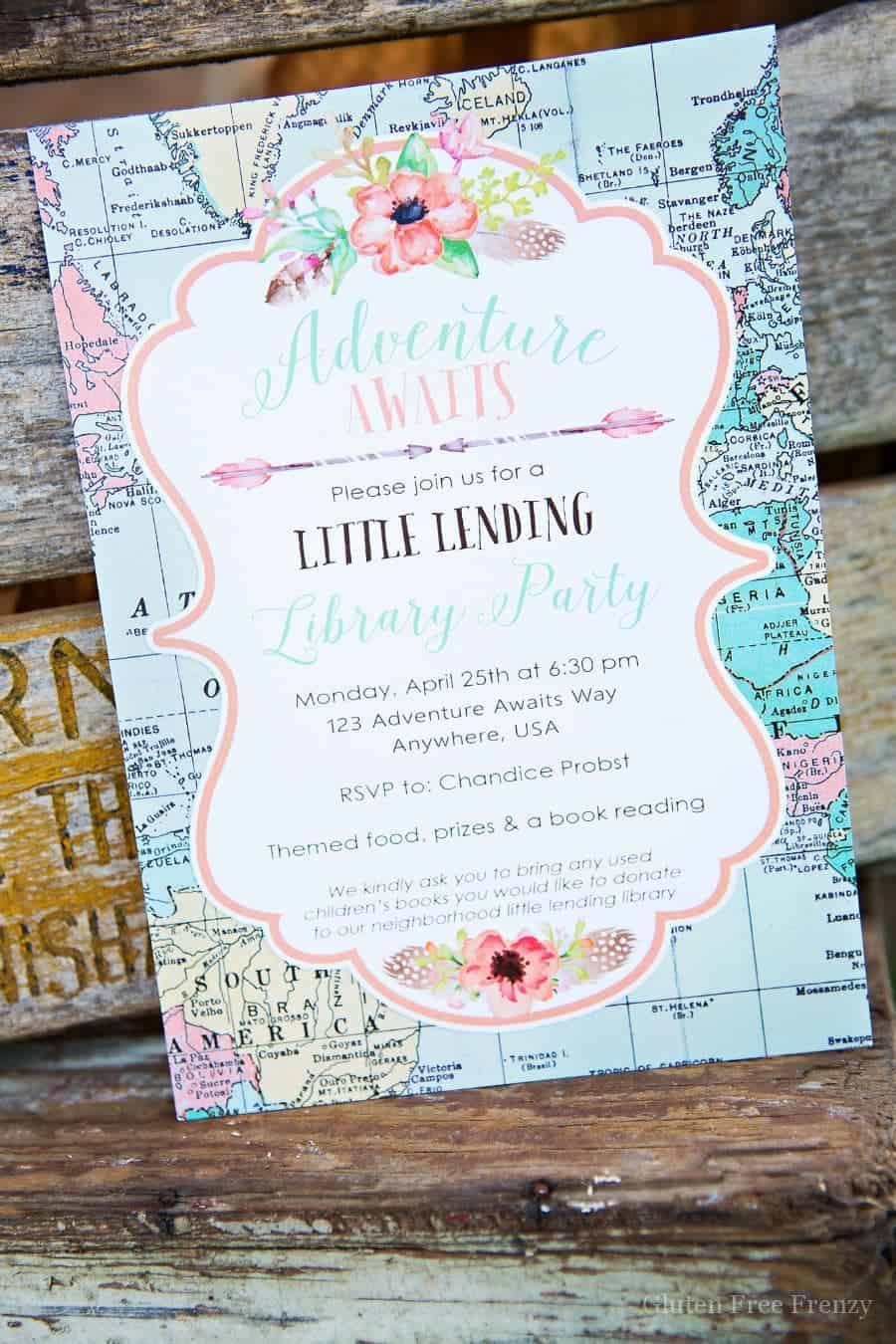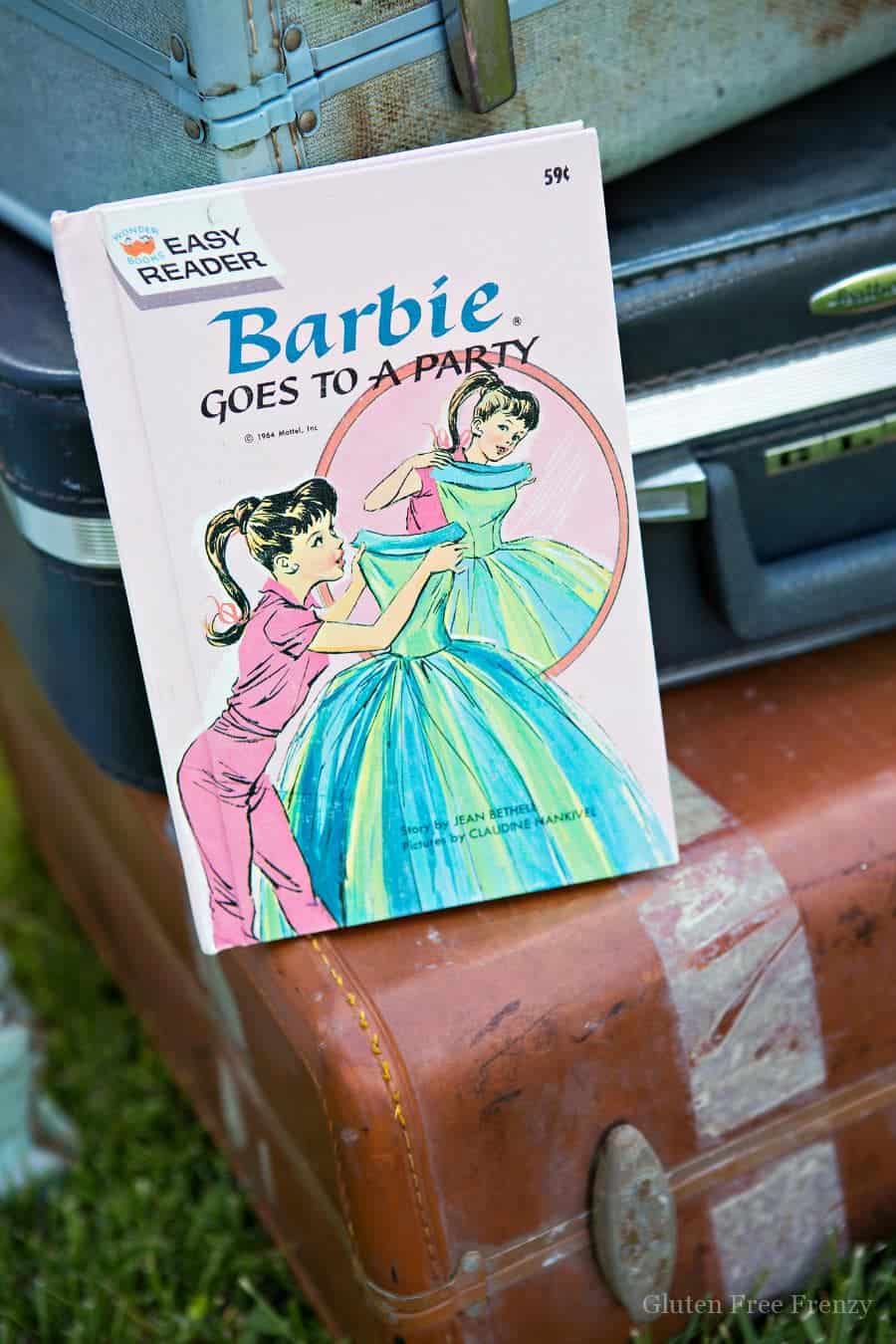 For the rest of the decor, I used vintage luggage, bikes, globes and more books. I will say though that my absolutely favorite piece of decor was the mason jar story banner that hung from the front of our dessert dresser setup. Cassidie from Every String Attached is super talented and has other great pieces in her etsy store but this banner is the newest.
Subscribe to This Vivacious Life
Receive a free e-book of Instant Pot recipes!
I highly recommend using pieces you already have in your home rather than buying new. This dresser we did our setup on is actually one my mom & dad used early on in their marriage. I had it repainted with this mermaid gold shimmer under the baby blue color.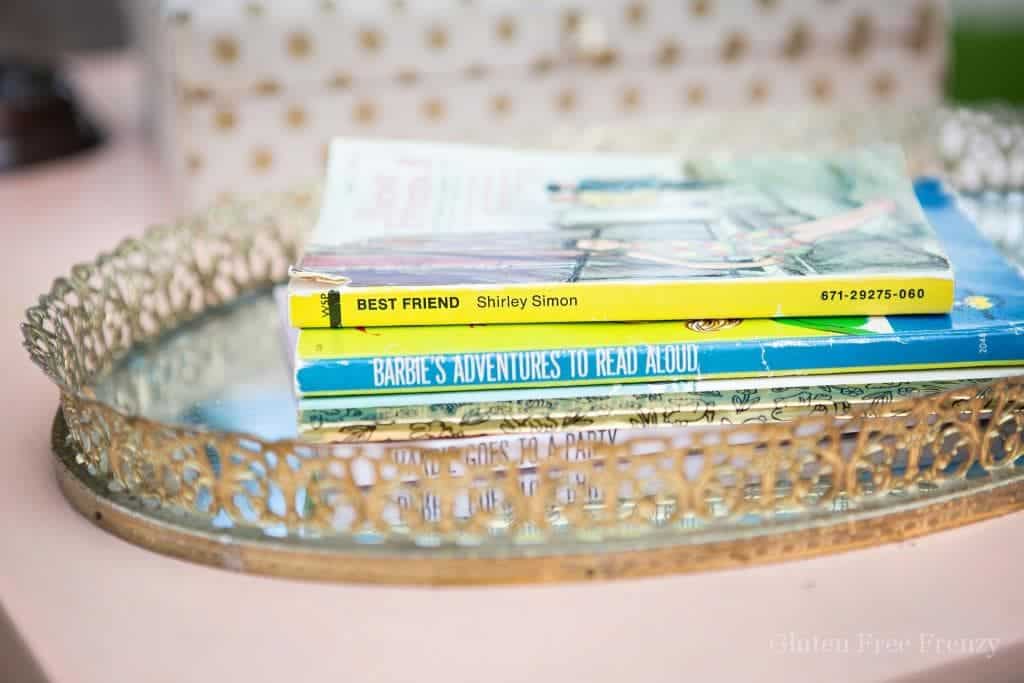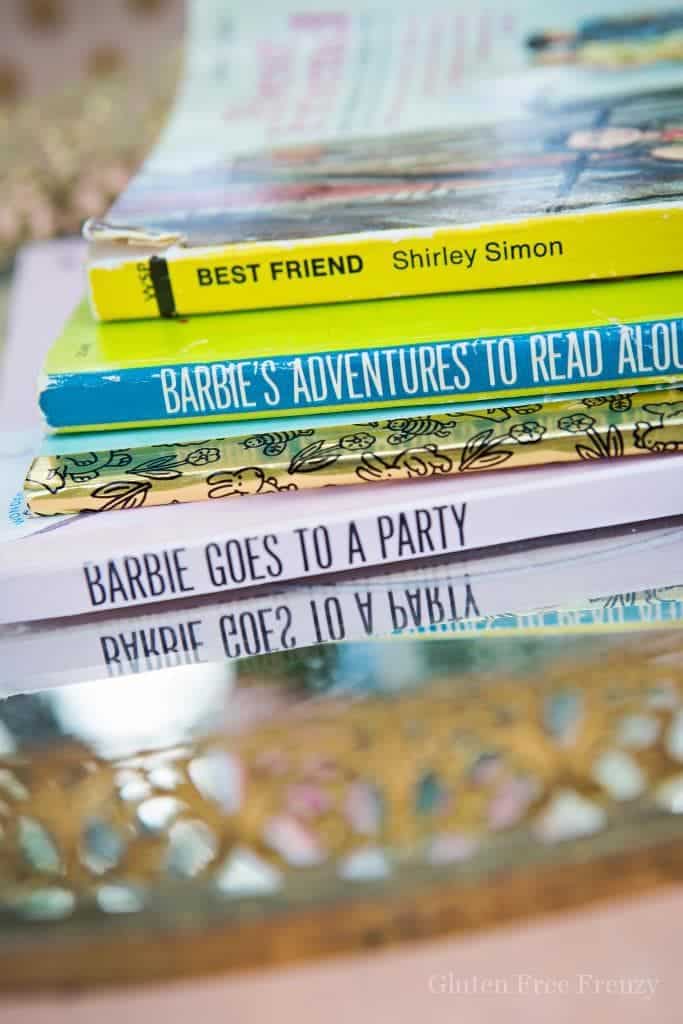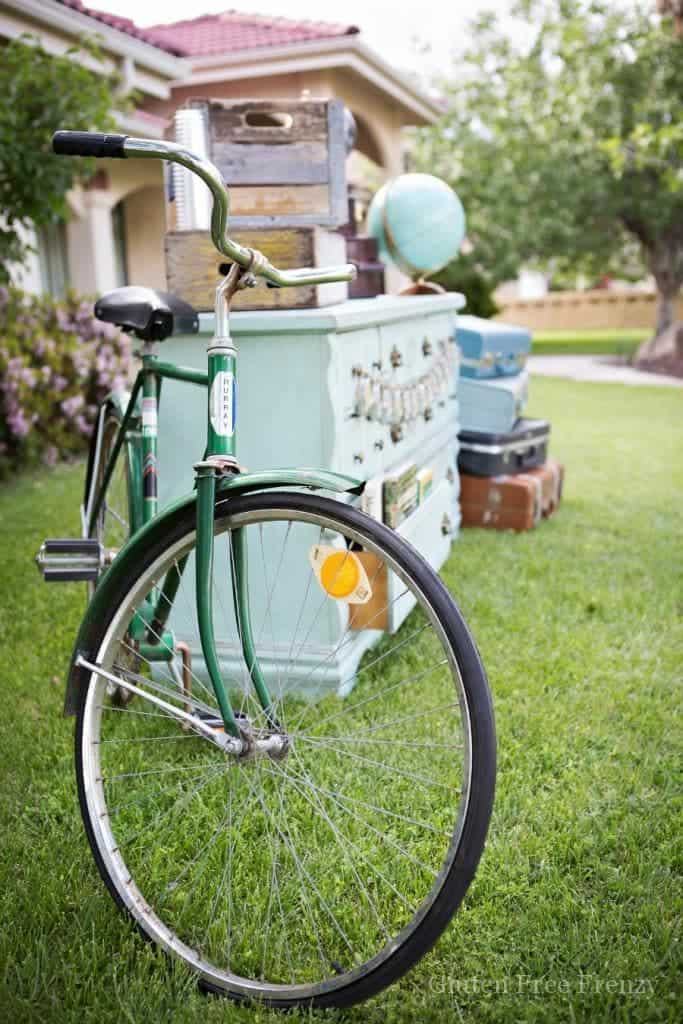 When it came to the food, I wanted to keep it simple. For once in my life, the food wasn't going to be the focus but of course, it still had to be good. I found this gorgeous wood cake topper from Belle and Union and knew it was amazing for the trail mix piñata cake I planned to make. It was much easier than it looks and it tasted delicious!
Oh and of course it was gluten-free. Since I love trail mix and felt like the little bit included in the cake wasn't quite enough for our guests. I added it to the individual popcorn bags and the kiddos especially liked it.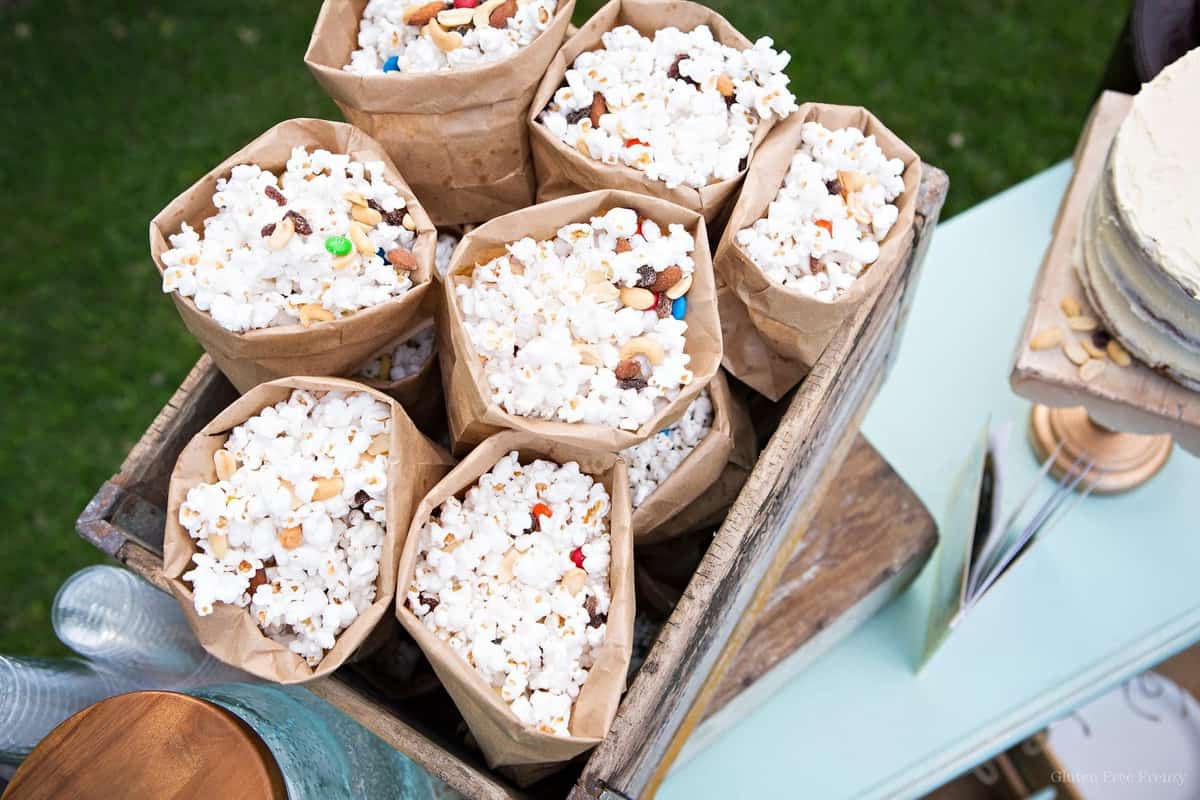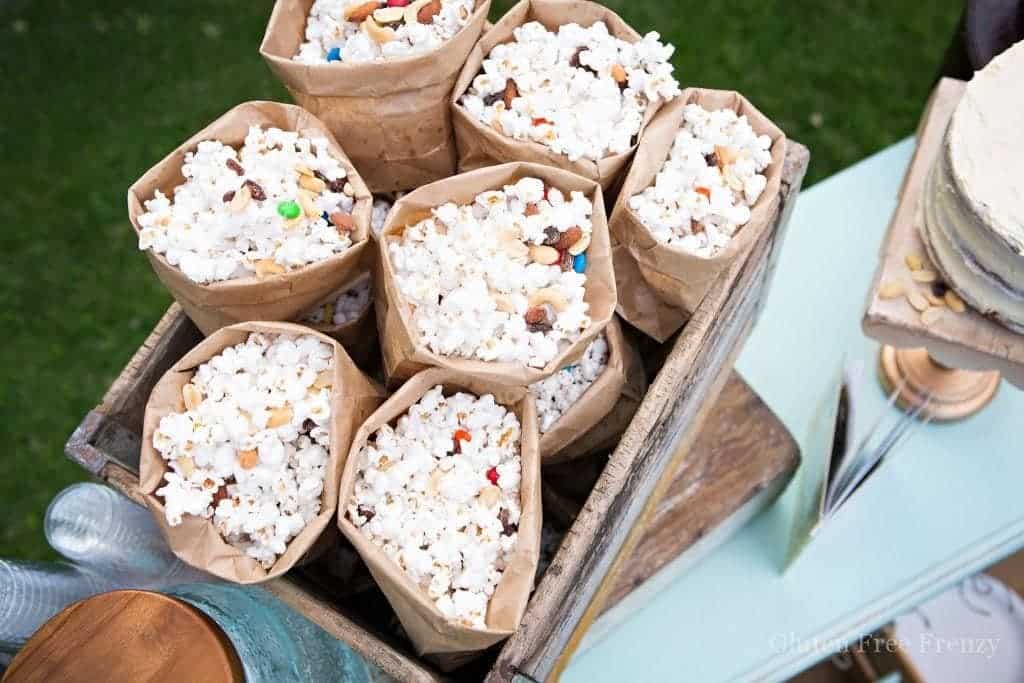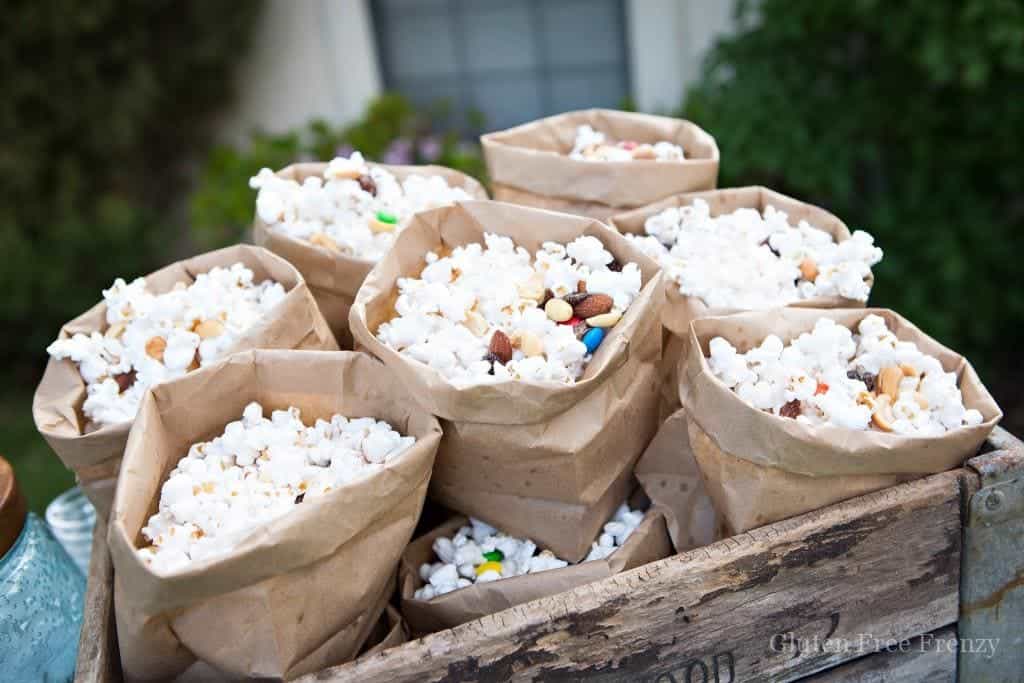 At parties, I always like having something fun planned. The agenda for this party came without even having to think about it. A book reading was really the only thing that seemed to fit just right and boy did it ever.
I loved seeing how invested the kids were in the story itself and then how excited they were to pick their own book to take home from our little lending library. They felt so special and like they had been given much more than a used book.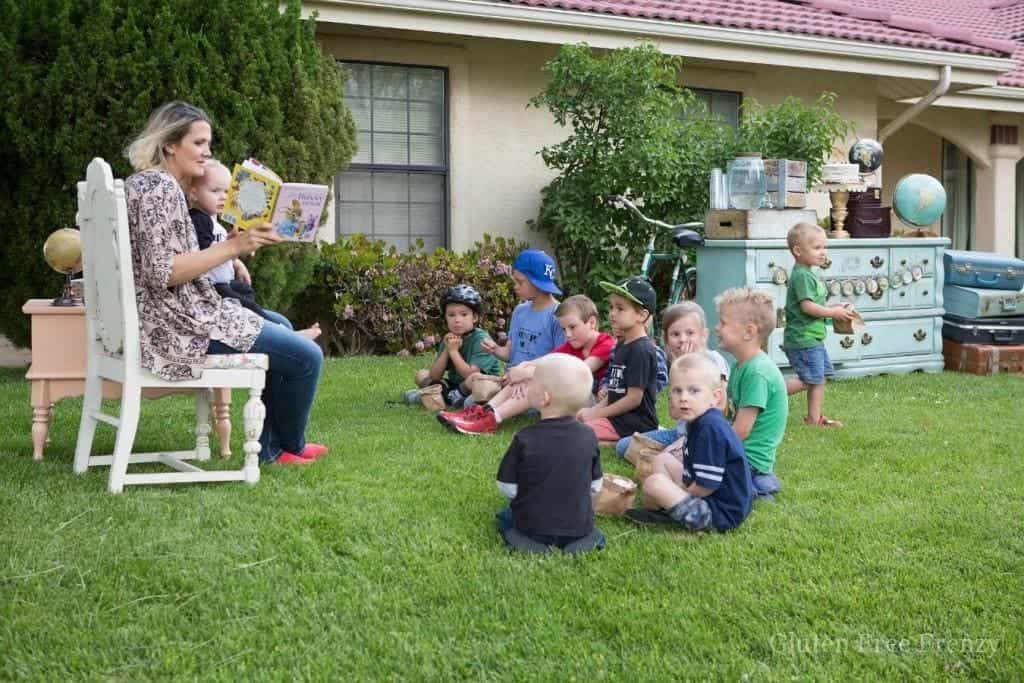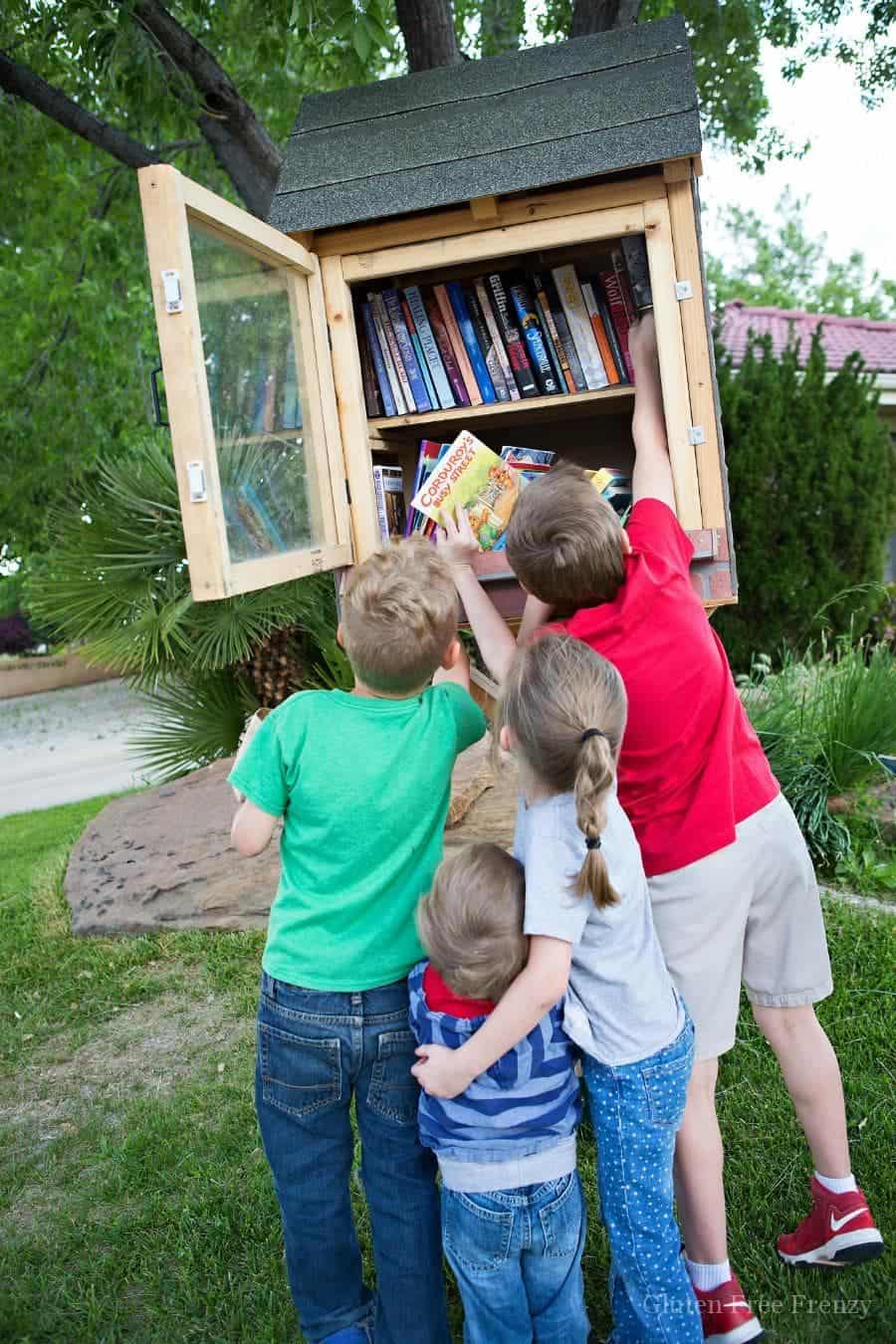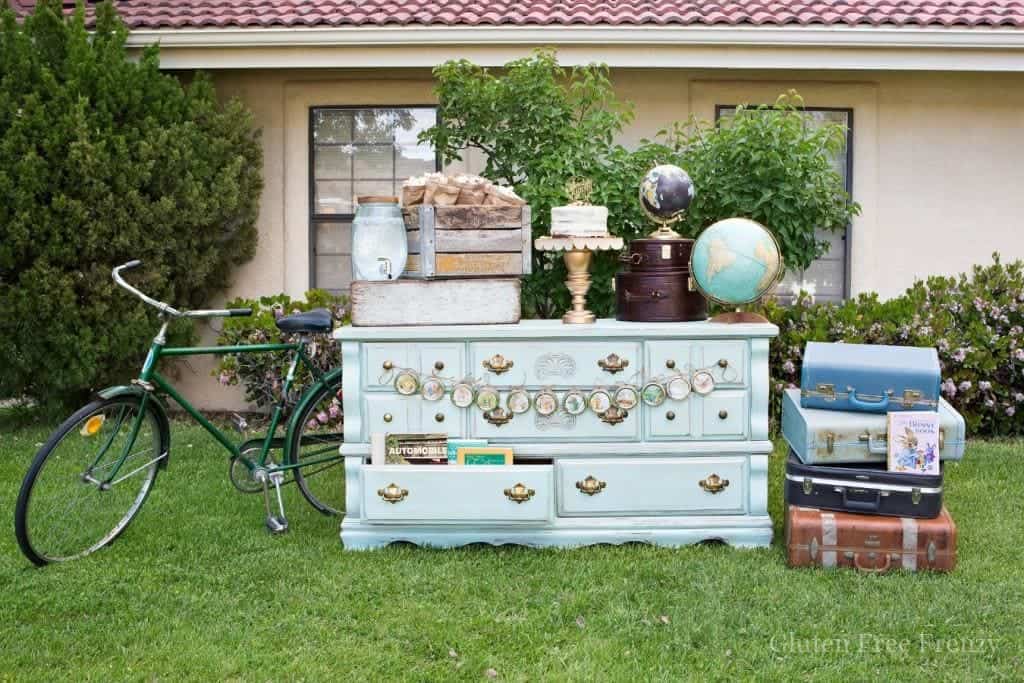 I can't wait to see how many of you decide to build a little library of your own. Please, please share it with me via social media or email when you do! It truly is my dream to see child literacy being promoted on a more local level through these little lending libraries.
I have to thank my sweet and talented friend Wendy for these gorgeous photos. KW Bale Photography is definitely now my go to for capturing special moments in just the right way.
Vendor credits:
This little lending library is so fun to put together and is a great way to do something special with your kids for your neighborhood. While you can make yours anyway you like, I wanted to give you some measurements to give you an idea of what ours looks like.
House frame: 17 1/2 inches deep and 23 3/4 inches tall before building the roof on top
House door: 19 3/4 inches tall & 19 inches wide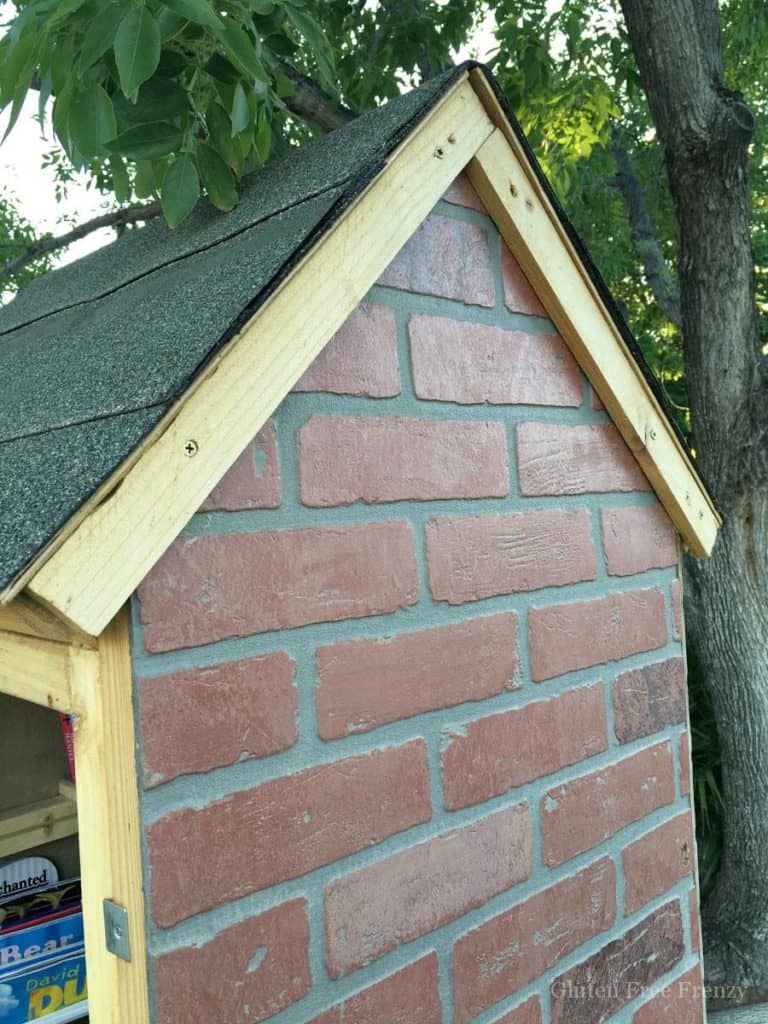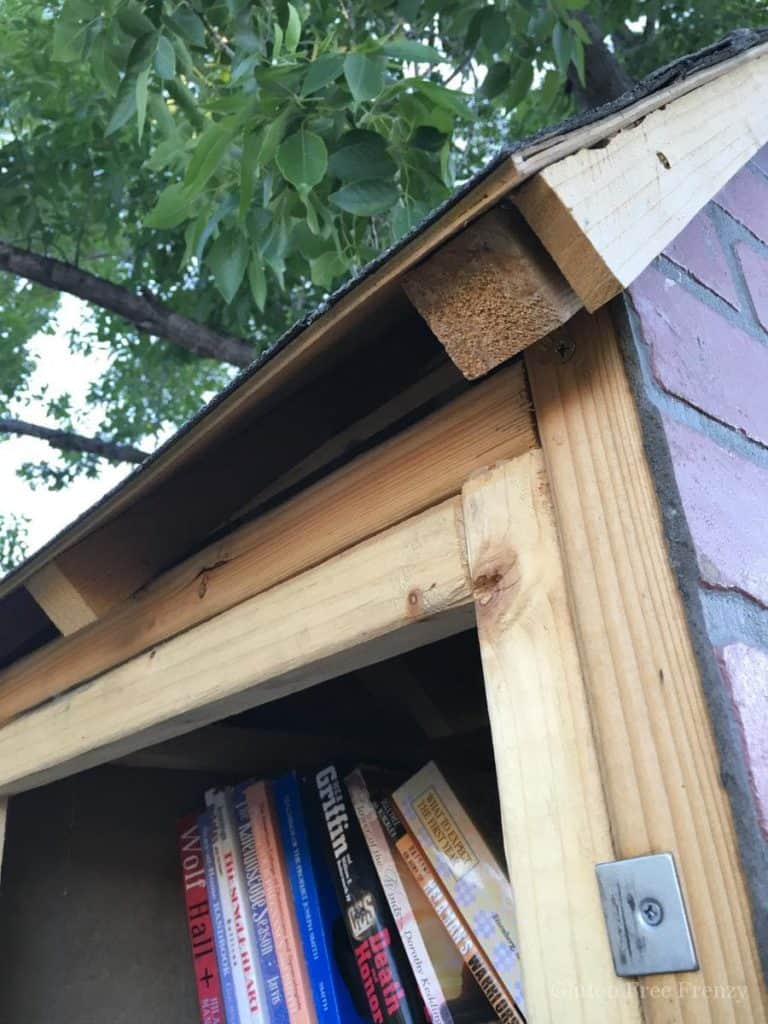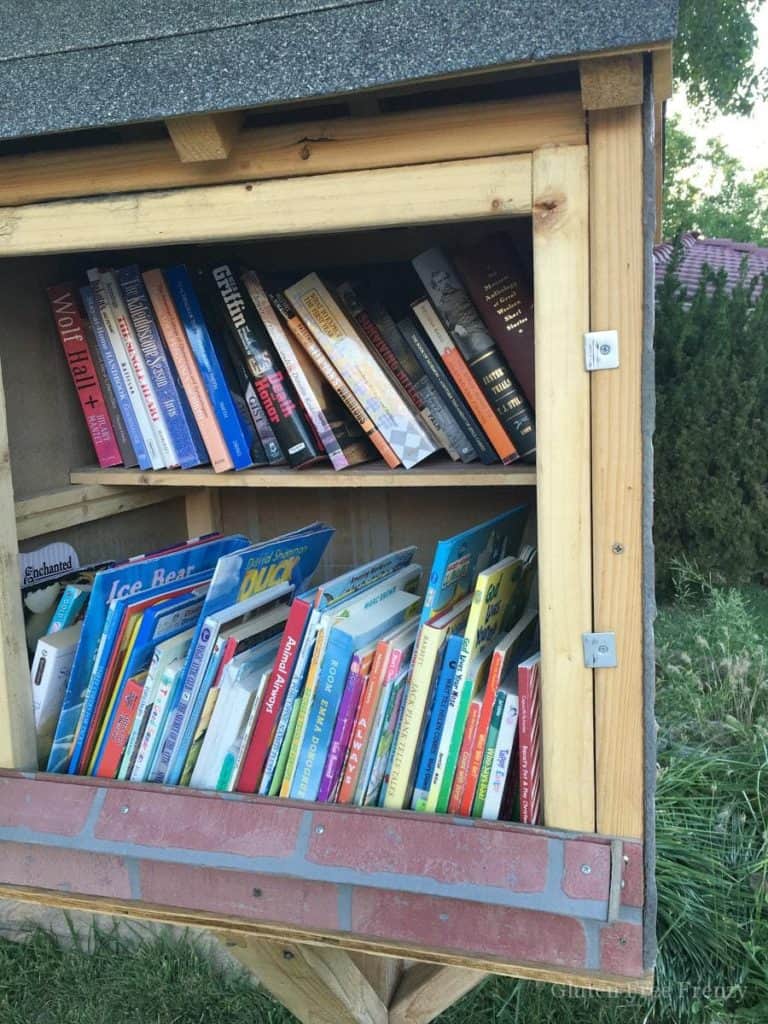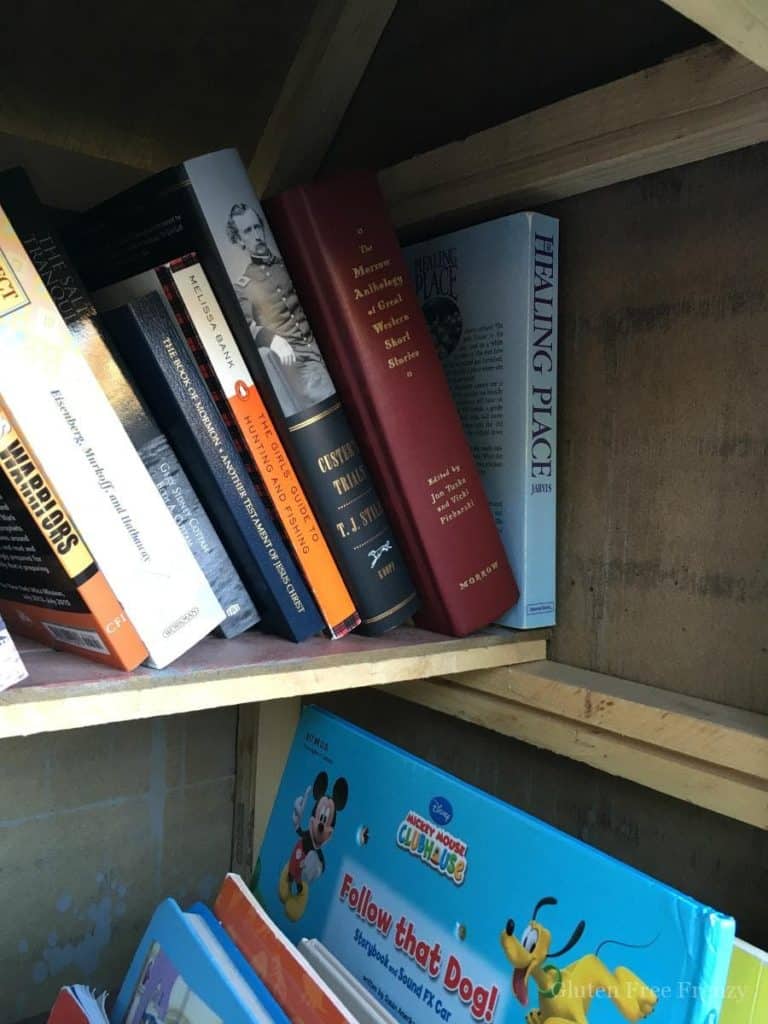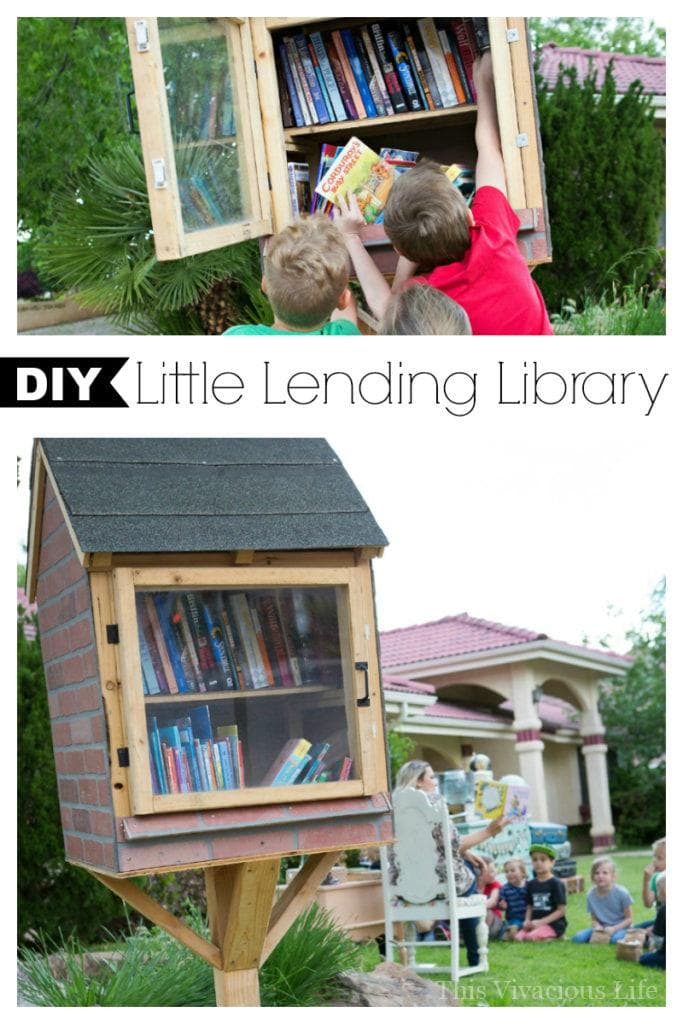 *Originally published June 1, 2016