this post may contain affiliate links
This galentines day cookie decorating party is sure to be a hit with all your favorite gals!This galentines day cookie decorating party is the perfect gathering to celebrate all your favorite ladies in a fun and festive environment while also learning something new.
I loved hosting this galentines day cookie decorating party because it was not only beautiful but also delicious! The activity for the evening, cookie decorating, doubled as perfect party favors. I am excited to show you just how easy it is to host a gathering like this for your own girlfriends. They will love it and likely request that it become a yearly tradition.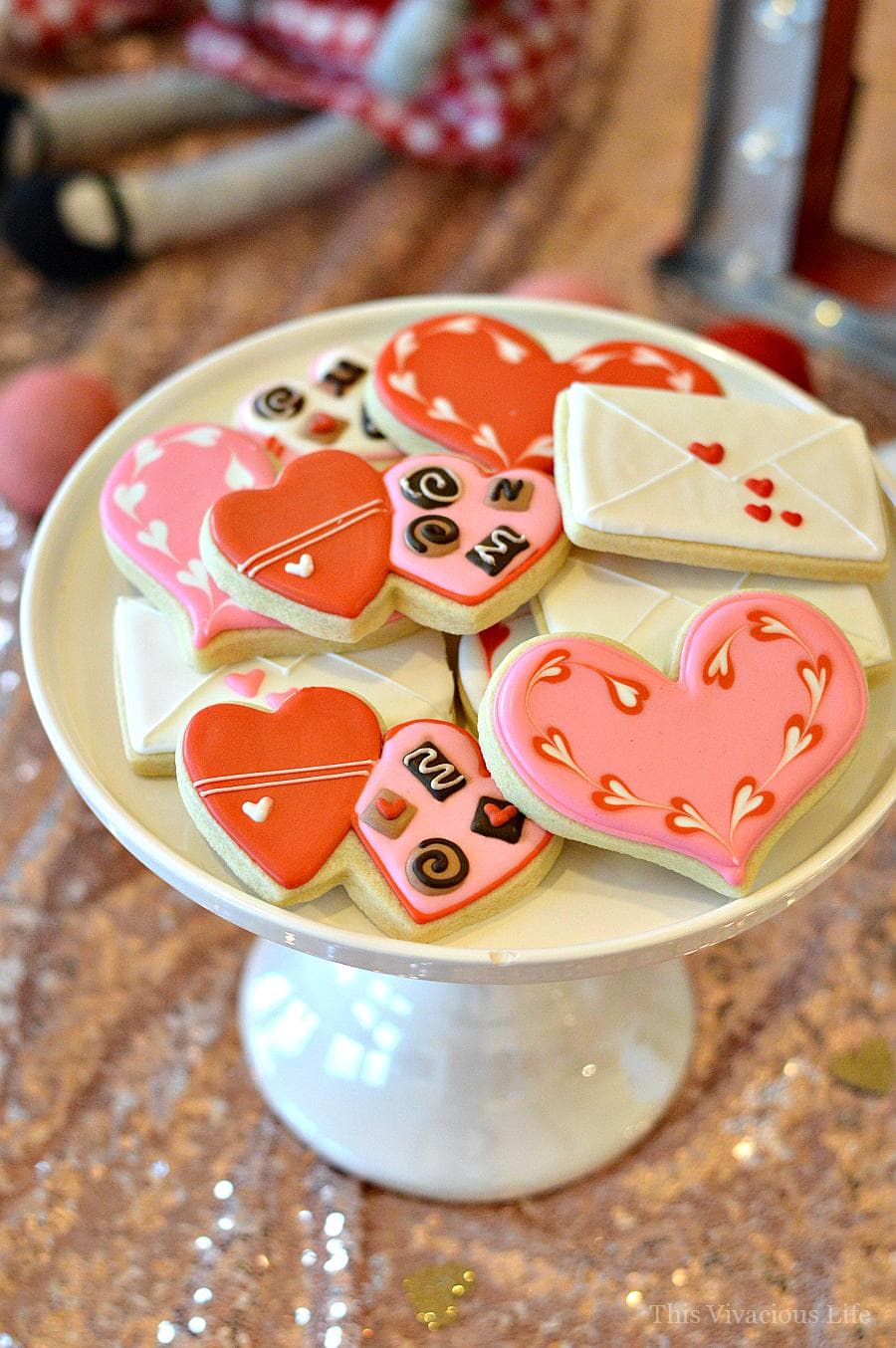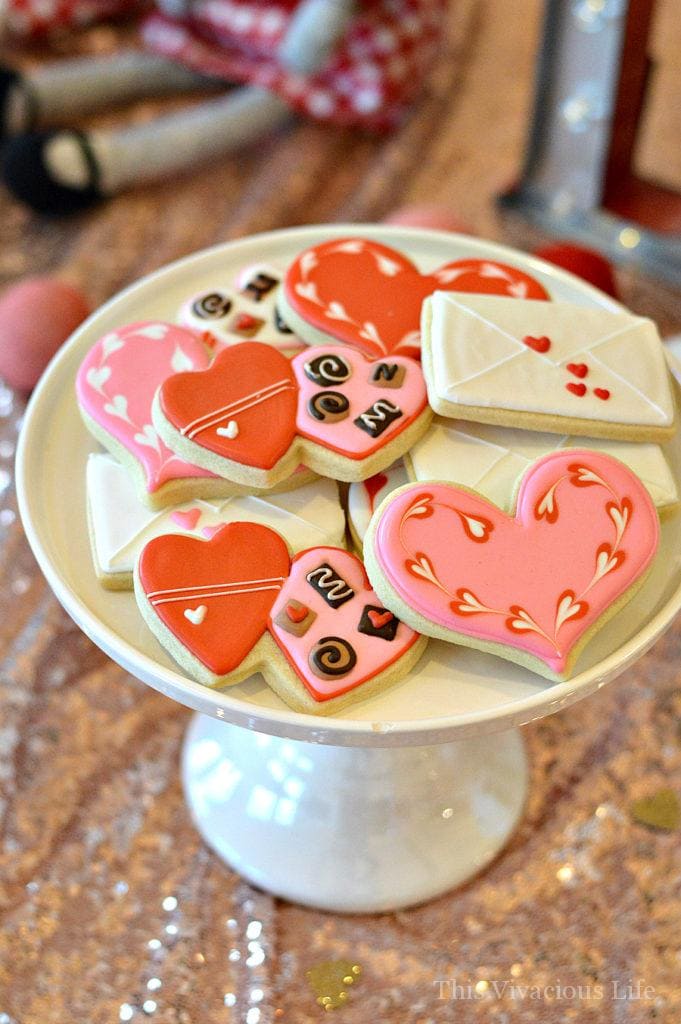 First, let's settle on what galentines day means. Lets ask Leslie Knope (Amy Poehler), the founder of galentines day and star of the hit show Parks and Recreation. She says, "Oh, it's only the best day of the year. Every February 13th my lady friends and I leave our husbands and our boyfriends at home and we just come and kick it breakfast style. Ladies celebrating ladies. It's like Lilith Fair, minus the angst. Plus frittatas."
However you choose to celebrate, it's fun filled for sure. We have done the traditional breakfast theme at our galentines favorite things party and fries before guys at our other galentines day party. This year though, I really wanted to do a galentines day cookie decorating party. I knew just the right lady to call…
Shanan of Enchanted Cookie Boutique is my local cookie gal. She is so incredibly talented and I knew she'd be happy to share her talents with us. I love that her cookies are not only amazing to look at, but hands down the best sugar cookies ever!
She even makes them gluten-free with separate utensils and baking sheets for those who need them. Of course, she didn't disappoint in creating three amazing valentines themed cookies for us to learn how to decorate.
When each gal arrived at our local White Space Studios location, I made sure they had a fabric heart bag waiting on their chair. I figured this would make it easier to take home some of their goodies. Of course, what would a galentines day party be without the perfect card right? These galentines day cards from Lily and Val are my favorite. I also had little bags of Mrs. Call's chocolates for each girl because February is all about the chocolate.
I also made sure to have smaller baking sheets for each lady. These made for an excellent place to put the cookies and frosting they would be using. They then used them to decorate their cookies on and take them home done. Another great party favor!
As with any gathering, decor is important. I decided on traditional reds and pinks for this setting. I absolutely love this handmade button heart sign from Whitney over at Generation Farmhouse. She's on instagram as @generationfarmhouse too. She has SO many other cute pieces both for holidays and everyday home decor.
Subscribe to This Vivacious Life
Receive a free e-book of Instant Pot recipes!
This sign made the perfect accompaniment to our drink table. We had some cute Valentines straws and stirrers, Dry Sparkling ginger soda and some water in a pretty pink pitcher from Target that matched the cups.

Fresh flowers are a must, even if a stem doesn't make it into the vase. Haha! I also lined our pure white tables with this rose gold glittery tablecloth I found on Amazon (link below). This felt garland and those cute mice have to be my two favorite valentines decorations. I use them for everything!
I simply added some strawberry macaroons from TJ Maxx to a little heart plate from the Target spot for our centerpiece. Oh and the love sign was also a TJ Maxx HomeGoods find. Any other TJ Maxx fans out there?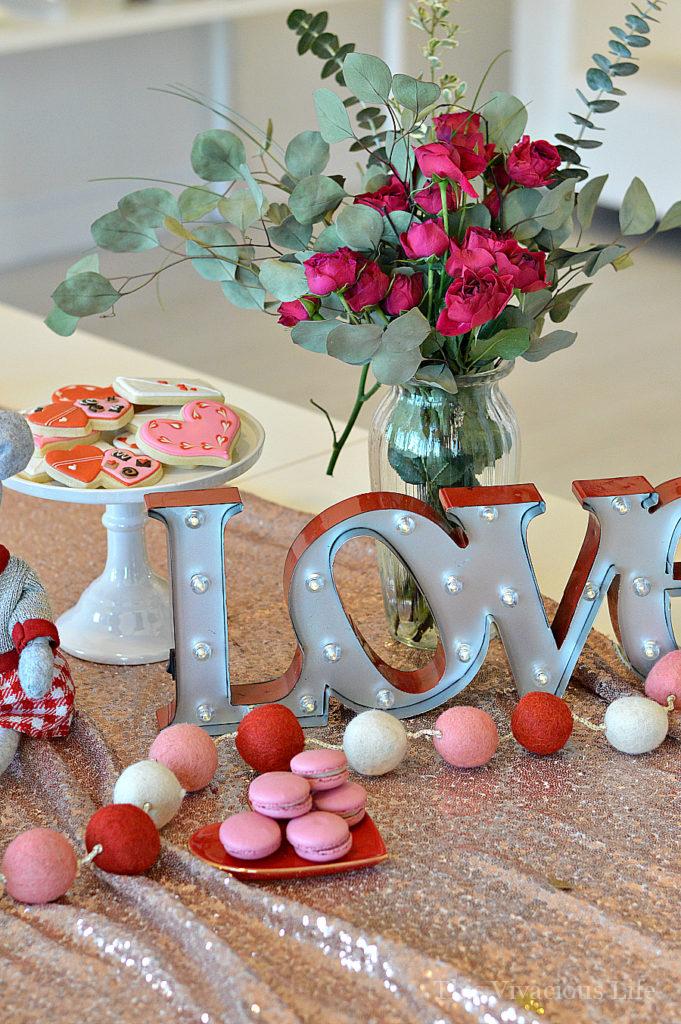 For dinner, I always love to go with something easy yet delicious. Viva Chicken is my local favorite! Their food is so fresh and flavorful. It's all Peruvian and super healthy as well. I wrote all about the delicious Viva Chicken gluten-free menu offerings here on the blog.
I personally can't get enough of their herbal limeade and those incredible sauces. From left to right is the solterito, roasted chicken, chaufa and fried plantains (fried in the same oil as non-GF fries so beware of cross contamination).
As you can see, the ladies at our galentines day cookie decorating party loved it too! It made for a light and fresh alternative to our super sweet treats. Next to the plantains, I put a cute Loralee Lewis sign for a bit of Valentines whimsy on that table too.
This is Shanan from Enchanted Cookie Boutique. She had us practice our cookie decorating skills first on a printable sheet. This was super helpful. I had no idea how difficult a simple circle would be. She gave us the tip to lift the bag off the paper or cookie just a bit and let the icing fall. She said it is easier to guide it where you want it to go that way rather than keeping it close.
I hope you guys love this fun gathering as much as we did. Happy Galentines Day!
Location: White Space Studios
Cookies: Enchanted Cookie Boutique
Heart Button Sign: Generation Farmhouse
Catering: Viva Chicken
Cards: Lily & Val
If you like this party, be sure to check out these other galentines gatherings…
Galentines Day Party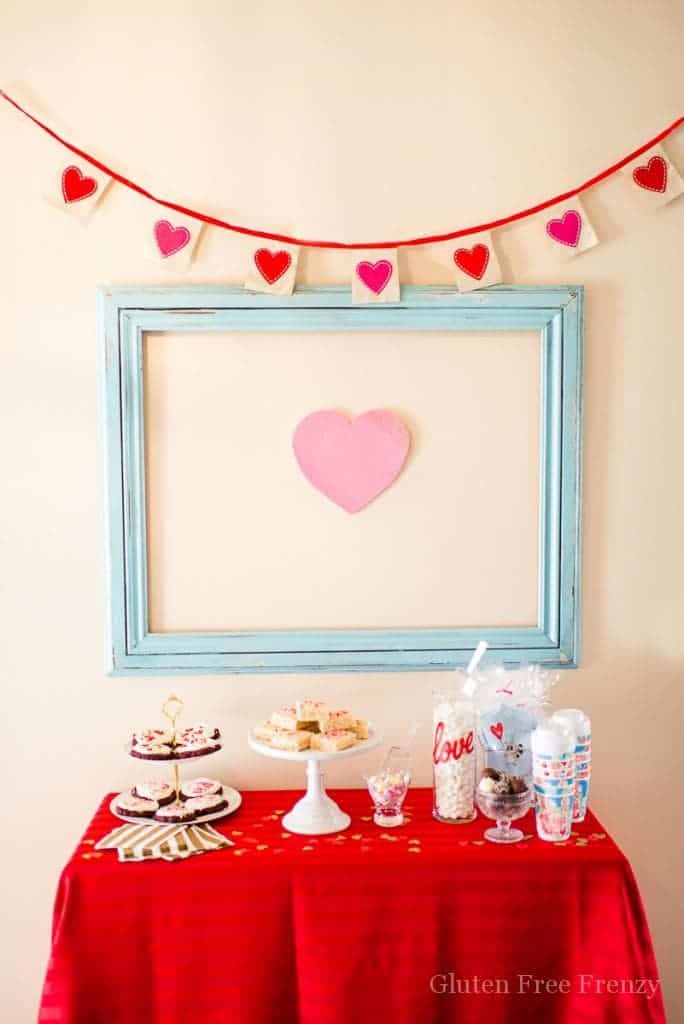 Vintage Valentines Tea Party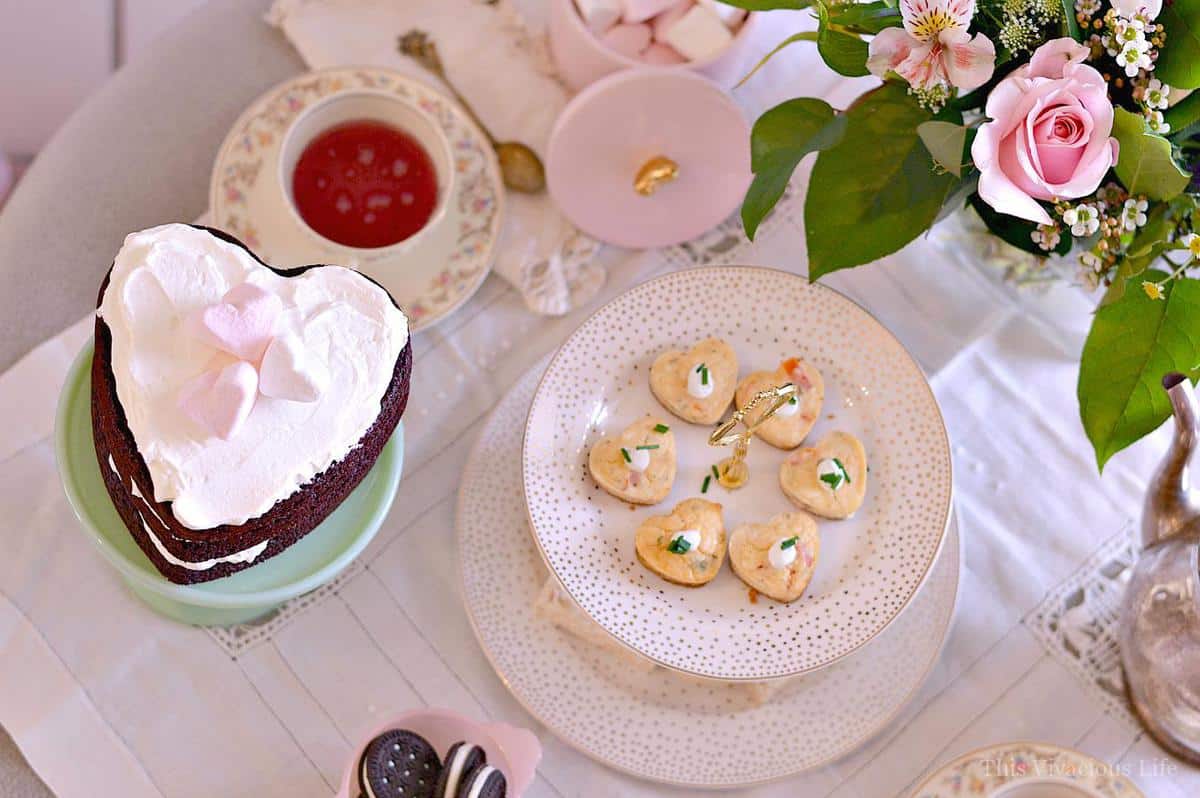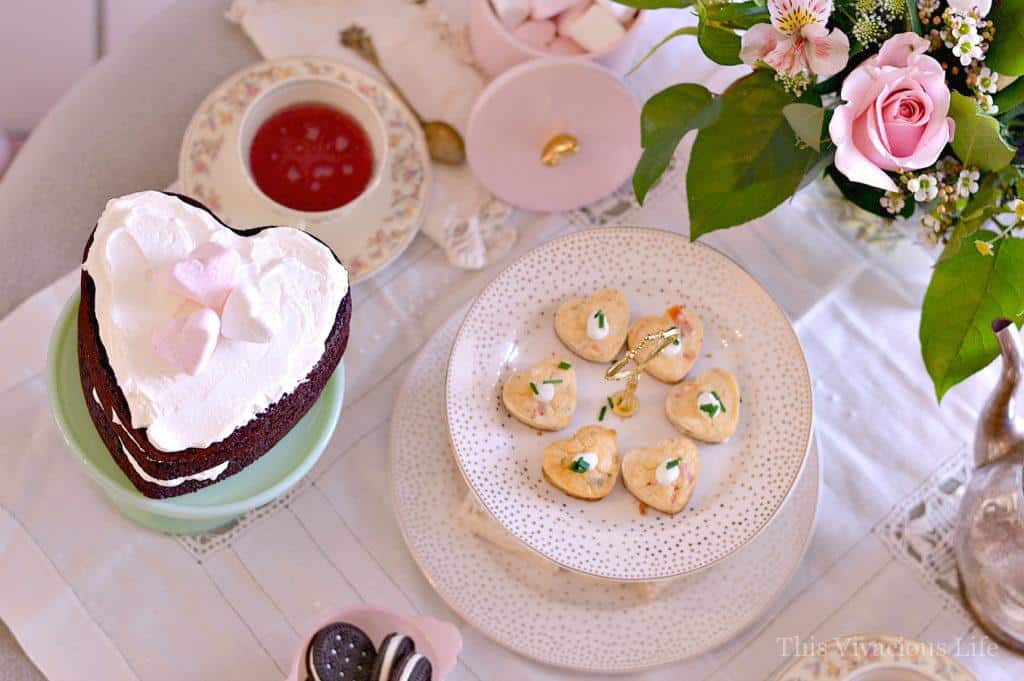 Galentines Day Favorite Things Party