Oh happy day, I have finally mastered the art of a really good gluten-free fried cake donut…These gluten-free fried cake donuts are nostalgically authentic and absolutely delicious!
Nobody will ever know these gluten-free fried cake donuts aren't full of flour. Speaking of flour, how fun are these edible roses and how perfect are they for Earth Day?
I love using edible flowers in food because they are both beautiful and offer a soft floral flavor. These are definitely optional but make for a little extra fun especially during the spring time. 
I always tell people that my celiac disease hasn't limited the foods I eat because if I want something, I just make it gluten-free. Until now though, I haven't been able to make a reeeeeally good gluten-free fried cake donut.
I have made some yummy baked donuts including our pumpkin spice donuts and our dairy-free chocolate dipped pumpkin spice donuts. But, they weren't a classic fried donut like every person deserves to have in their life.
Awhile back we bought a deep fryer because we love making homemade french fries. We filled it with coconut oil so that we were using the best quality oil at least when we deep fry the heck out of our food. I have to say, I think the coconut oil really made these donuts extra tasty. 
Creating the base for our donuts was a challenge. Most homemade donuts use yeast and go through an entire process of making a yeast dough. Let me just tell you, it isn't the best for gluten-free. That is from trial and error not just guessing that I know that. I finally decided that a non-yeast donut would work best.
I used my go-to all-purpose flour Glutino Gluten Free Pantry brand and it worked like a charm! The sour cream cut with the whole milk made the dough soft but also well held together. The dough was so good that we had to stop ourselves from eating it all before making the actual donuts.
The dough was also very workable like a traditional donut dough would be. Using a circle biscuit cutter and a mini circle cookie cutter I was able to make the perfect donut shapes, although a donut cutter would have been even easier…oh well.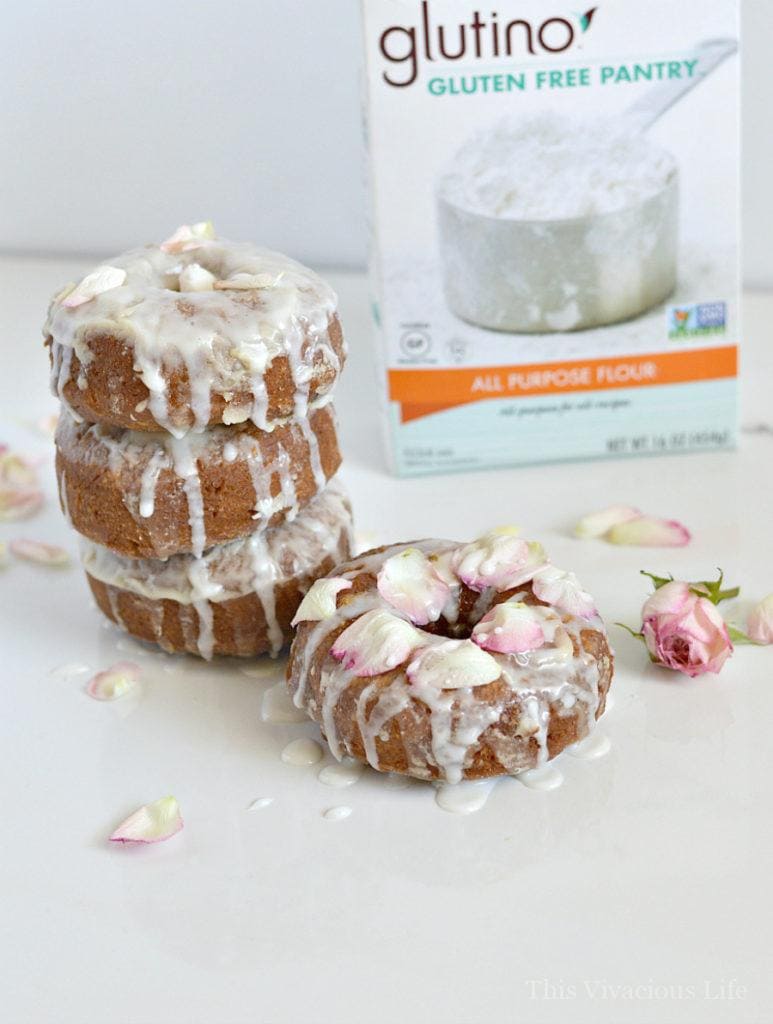 We hope you all love these gluten-free fried cake donuts as much as we do. For an extra special Earth Day touch, sprinkle with edible rose petals. You can even add a drop or two of rose oil to your dough if you'd like even more rose flavor.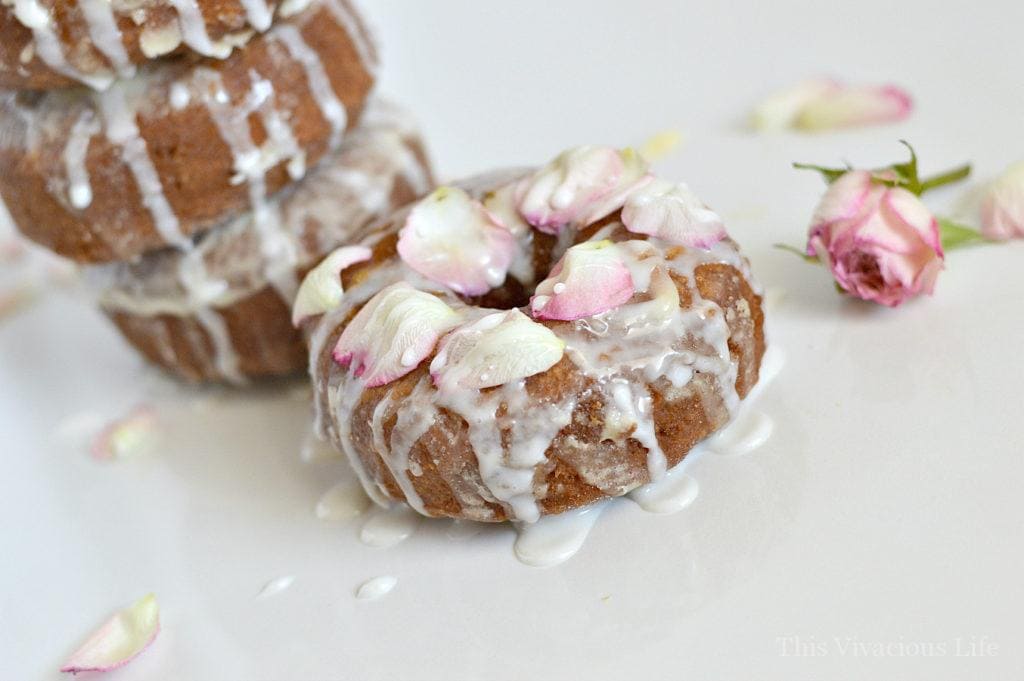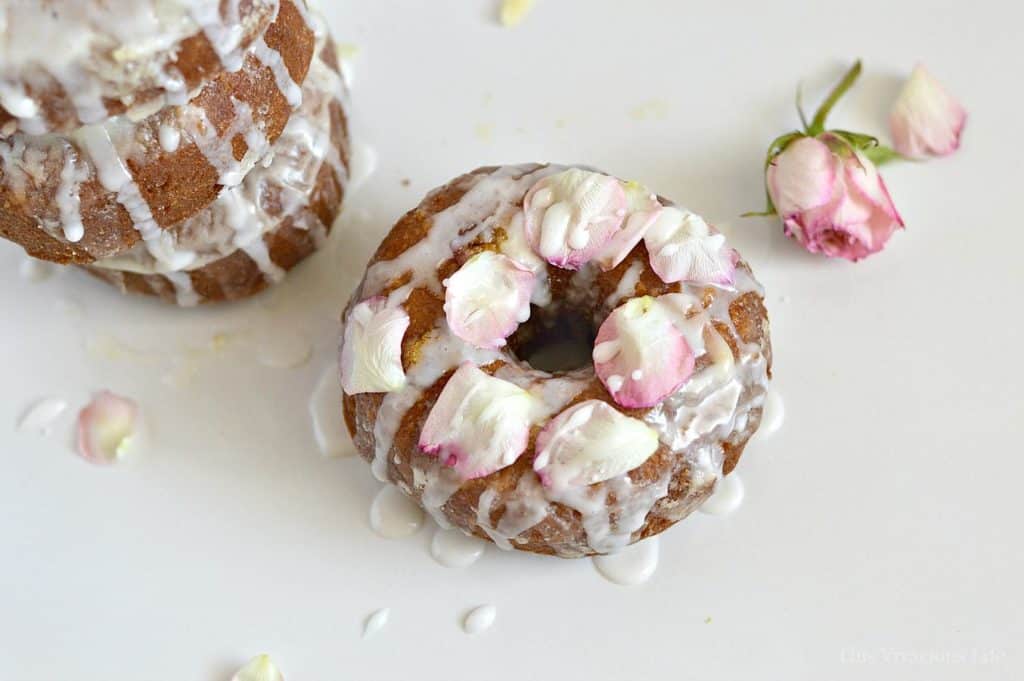 Gluten-Free Fried Cake Donuts
Ingredients
Oil for deep frying
2 eggs
1 C whole milk
1 C sour cream
5 T butter, melted
1 tsp. gluten-free vanilla extract
1 1/4 C sugar
5 C Glutino All-Purpose Gluten Free Flour Blend
2 tsp. baking soda
1 1/2 tsp. salt
2 tsp. xanthan gum
1 1/2 tsp. gluten-free baking powder
1/2 C powdered sugar
1 T butter, melted
3 tsp. milk
Instructions
In a standing mixing bowl, beat eggs and sugar
Add the milk, sour cream, vanilla and melted butter then mix well
In another bowl, combine the remaining ingredients
Slowly add the dry ingredients to the wet ingredients and mix well
On a gluten-free all-purpose floured counter, roll out the donut dough 2 inches thick and cut into 12 donuts and donut holes
Heat the oil either in a deep fryer or deep fry pan until it reaches roughly 375°
Fry donuts for 2 minutes making sure to flip once
Place cooked donuts on a baking rack over a paper towel lined baking sheet to let excess grease drain off
Meanwhile, make an easy glaze by whisking powdered sugar, 1 T melted butter and 3 tsp. milk
Drizzle over warm donuts
Optional: sprinkle with edible rose petals
https://www.thisvivaciouslife.com/gluten-free-fried-cake-donuts/
If you love these donuts, be sure to try these other delicious goodies…
Chocolate Dipped Pumpkin Spice Donuts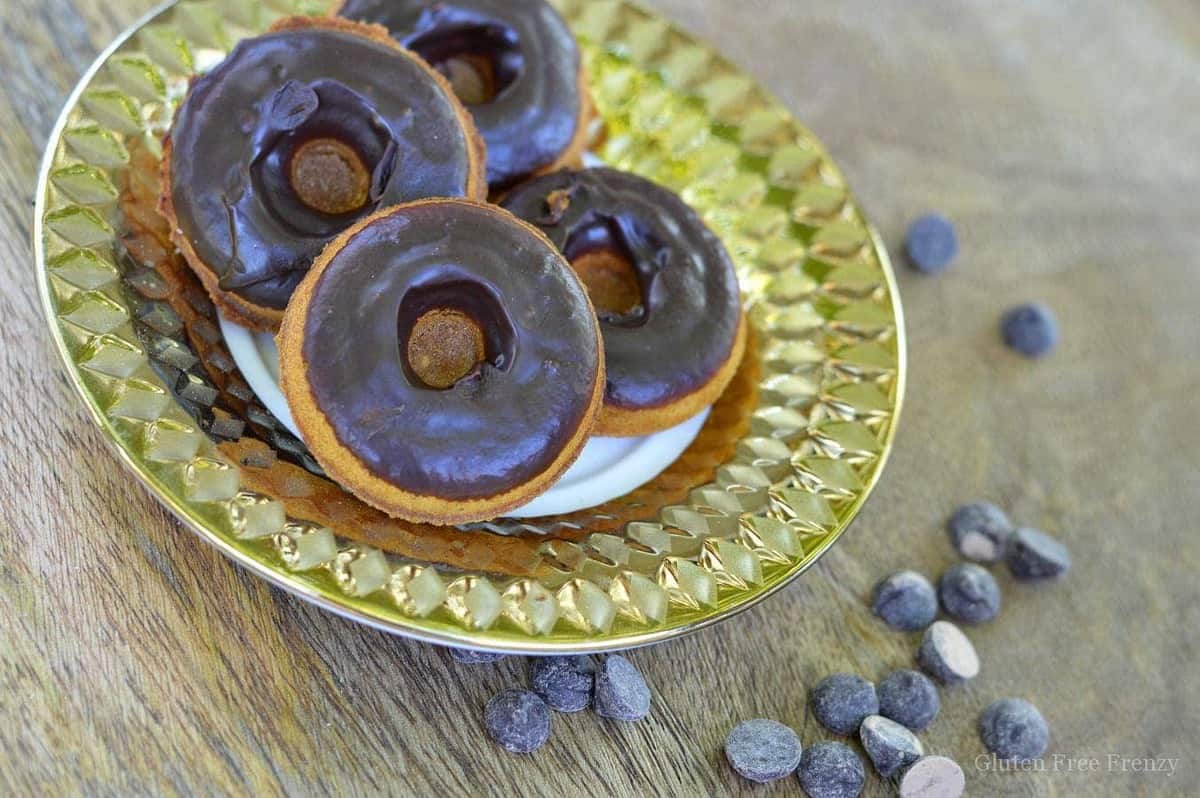 Ooey Gooey Red Velvet Cookies
Chocolate Lovers Party
Gluten-Free Valentines Recipes to WOW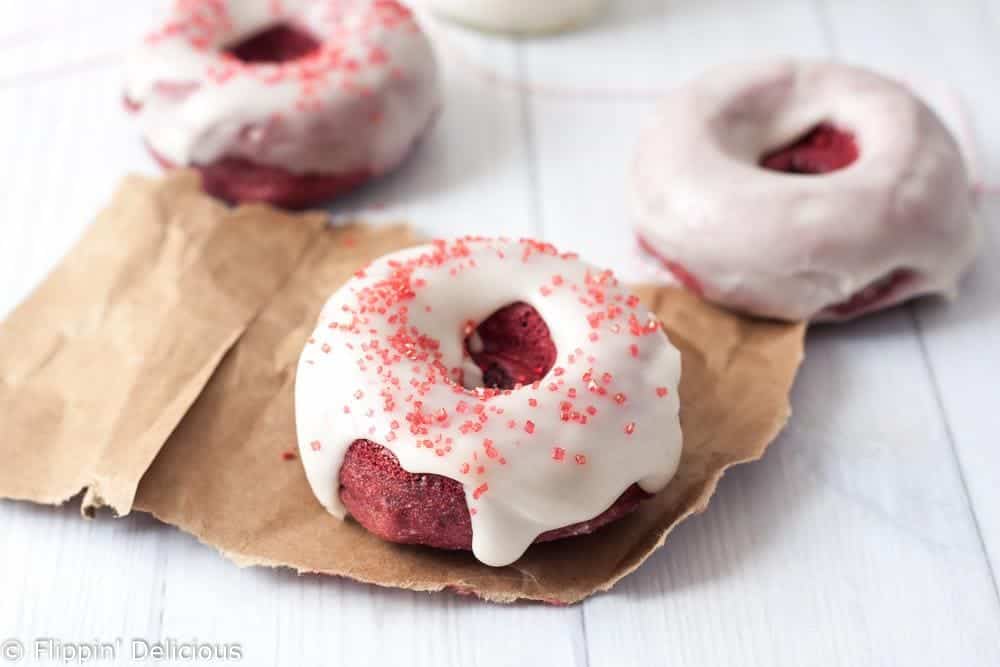 *Thank you to Glutino for sponsoring this post.