this post may contain affiliate links
Thanks to our friends at 6 Pack Bags for sponsoring this post.
Having healthy holidays can be tough, especially when you are like me and love to get in the kitchen and bake sweets! But with these 5 tips, you are sure to not go overboard with anything that doesn't make you feel your best.
While weight loss is not meant for this time of year, maintaining healthy habits improves both your mental health and physical health.
Adding in some fresh fruits as a healthy snack and choosing smaller plates will be simple things that help in a BIG way!
However, healthy holidays really are possible. With just a few simple tips, you can manage it while still having a great season. With just a bit of restraint and effort you can still make a lot of memories and have fun!
While I am not a registered dietician, I do know that incorporating some healthy recipes, an extra glass of water and avoiding alcoholic drink, can make everyone feel better.
Subscribe to This Vivacious Life
Receive a free e-book of Instant Pot recipes!
You certainly don't need to be stressing about new year's resolutions during the holidays. This is the time to enjoy people and delicious foods but we can stay healthier and happier if we feed and move our body well.
Your immune system will thank you!
Healthy Holidays Tip #1:
Be sure to still get in your daily exercise. While it is a super busy month, commit to a bit of time each day to go on a walk, go to the gym or jump on the trampoline with the kids…snow clothes and all!
Exercise will release oxytocin the happy hormone. It will help you get through the stress that can come during the holiday season.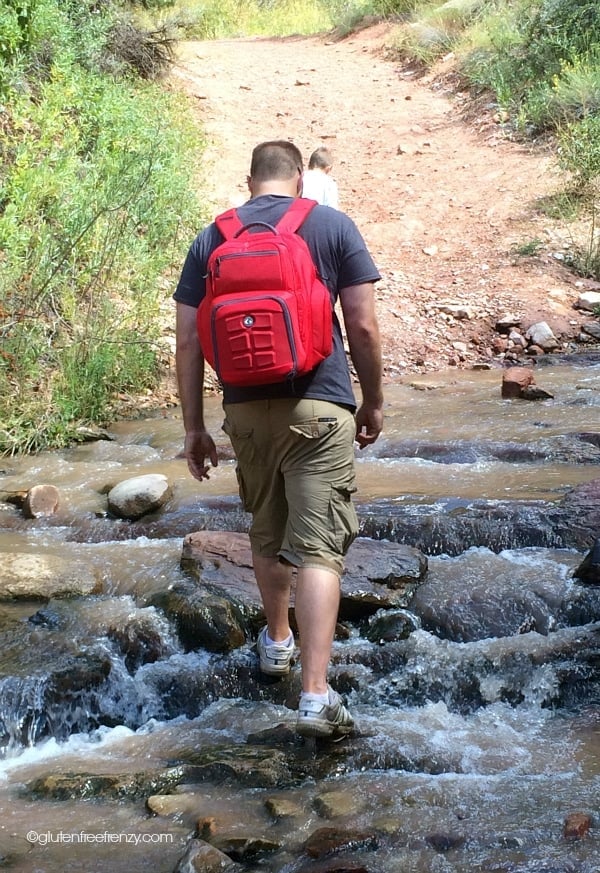 Healthy Holidays Tip #2:
Fill up on protein and veggies! That way, when the treats make their debut, you can eat in better moderation because you've already filled your body with good stuff.
Healthy foods, healthy meals, healthy lifestyle, healthy holiday season, healthy choices, it all seems like a lot right? But simple swaps and portion control can leave you feeling great this holiday season.
Change out some of your favorite holiday recipes with healthy options or start your day with a balanced breakfast. A great way to do this is to use greek yogurt when you would normally use sour cream.
This simple switch in lots of your holiday favorites gives your body some extra calories at the holiday meal or family dinners. Family members won't even be able to tell the difference!
Eating both veggies and protein can be hard especially with all the holiday travel and busyness. That's why I love the 6 Pack Bags. They are perfect for meal prep or packing extra nutrient dense food when traveling.
Whether you choose the smaller Innovator Cube Meal Prep Management Tote or the bigger bags like the Innovator 300, Expedition 300 backpack or Commuter Backpack, the convenience of using these stylish bags makes it an easy YES!
So pack up some prepped whole grains like quinoa, brown rice, and sorghum as well as some sweet potatoes and lean proteins for the road! You might discover that some of your favorite recipes go great with these as well.
Healthy Holidays Tip #3:
Get enough sleep. Sleep is nearly as important for the health of your body as water so don't skimp. Try to get enough sleep even when you are busy. You will be more productive during the day.
Also, if you get enough sleep, you will have the energy to workout and make the best meal choices.
Healthy Holidays Tip #4:
Drink enough water. Staying hydrated will keep your energy up and will also keep your skin looking clear for all those holiday photos.
If you notice more headaches, it usually means you aren't getting enough water. Also, limit alcohol intake.
Try one of our delicious holiday mocktails instead. This cranberry White Russian mocktail is my favorite! Our blackberry rosemary mocktail is great too.
Healthy Holiday Tip #5:
Keep from getting sick by washing your hands often and taking vitamins and herbs. I love taking elderberry. The elderberry gummies are SO good and I swear by them!
I also take zinc tablets and drink real coconut water whenever possible. I feel like all of these things help me a lot!
See, just a few simple tips is all it takes! The best part is that to have healthy holidays, it's not too tough at all.