This white Russian mocktail is a family favorite that is easy to make and so delicious! You can make it with coffee but it also works with brewed cocoa beans or coffee flavored syrup if you prefer.
Either way, it is going to be delicious! Pair it with some of our other mocktails like these Christmas punch recipes non alcoholic for the ultimate array of offerings!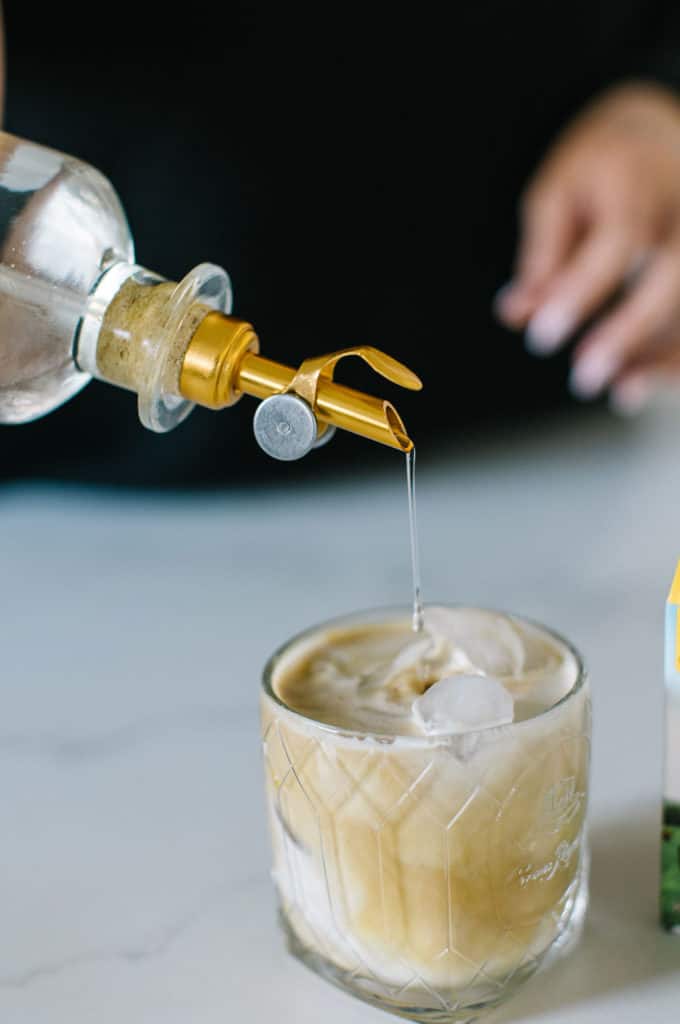 If you love this mocktail, be sure to check out our delicious Halloween mocktails, Thanksgiving mocktails and Christmas mocktails to serve up at any kind of gathering.
Non-Alcoholic White Russian Mocktail
This bold but creamy non-alcoholic drink is a classic and can be served anytime. It is especially wonderful as an after dinner drink. Since it doesn't have alcohol, you don't have to worry about the hangover that could come from too many strong liquor cocktails.
There are only a few simple ingredients that you likely have on hand already. Like our non-alcoholic pina colada, ginger beer mocktail, non-alcoholic gin and tonic, virgin margarita and mimosa mocktail, it only takes about 5 minutes to make as well so you can have it served right to your guests in a matter of minutes.
Subscribe to This Vivacious Life
Receive a free e-book of Instant Pot recipes!
Traditional white Russians use a coffee based liquor but, I wanted to create an authentic version of this classic sans coffee and alcohol in order to create a family friendly mocktail. Luckily, we found a delicious coffee liquor syrup that works great and pairs so well with the Dry Sparkling soda that we used in place of the vodka. It is different than what we use in our non-alcoholic vodka dirty martini but it works better in this recipe.
You could also use non-alcoholic Prosecco in place of the vanilla soda for a more boozy flavor. Or go crazy and add some 0.0 rum like we use in our virgin mojito mocktail.
I love how clean and simple the rest of the ingredients are as well. Nothing weird going on here, just a delicious drink that will make all your party guests (big or small) swoon as it feels very sophisticated.
Like our blackberry lemonade or lavender lemonade, it is cool and delicious on a hot summer day. If you need more ideas, our summer mocktails and 4th of July drinks are also full of great recipes!
How to make a non-alcoholic White Russian
Add Dry Sparkling vanilla soda (or any other vanilla creme soda will do) together in a rocks glass with ice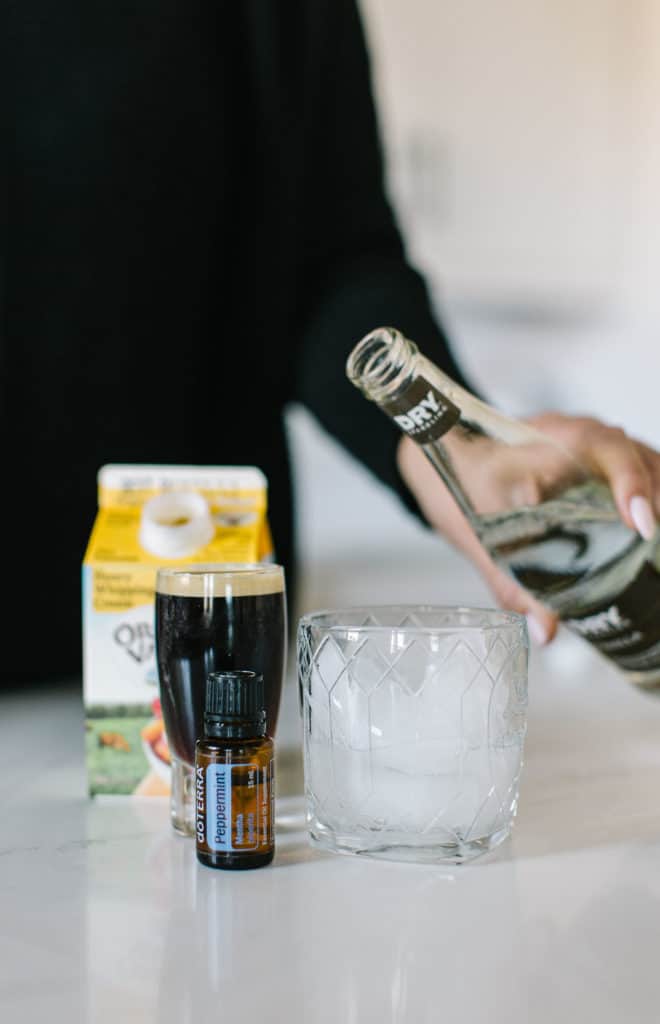 Add coffee flavored syrup (or coffee)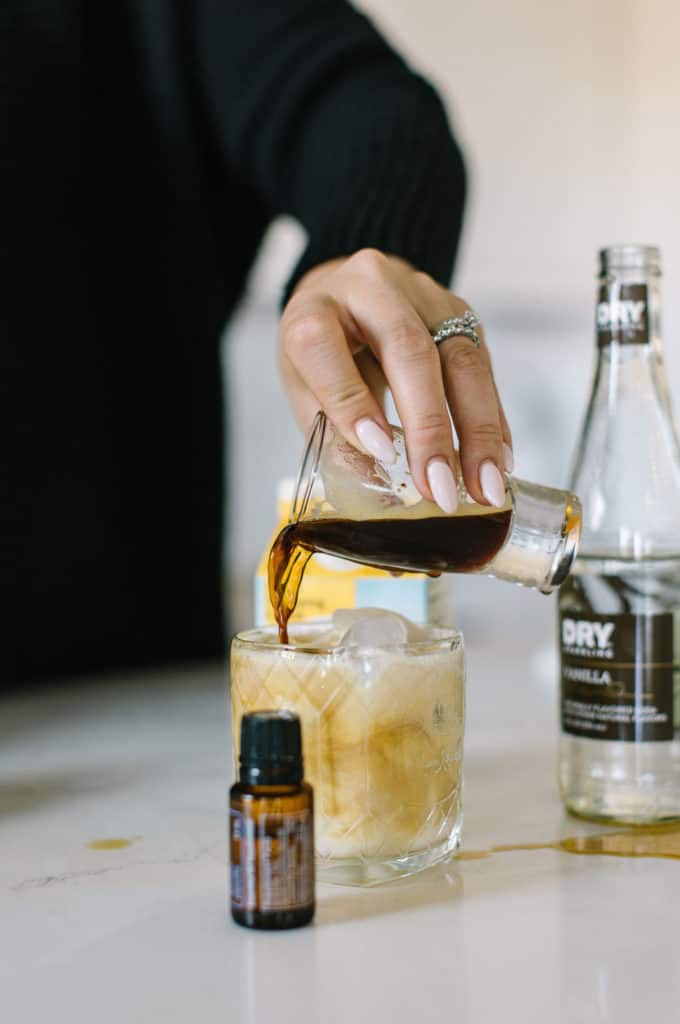 Add cream and whole milk then stir

Optional: add some peppermint drops or simple syrup for additional sweetness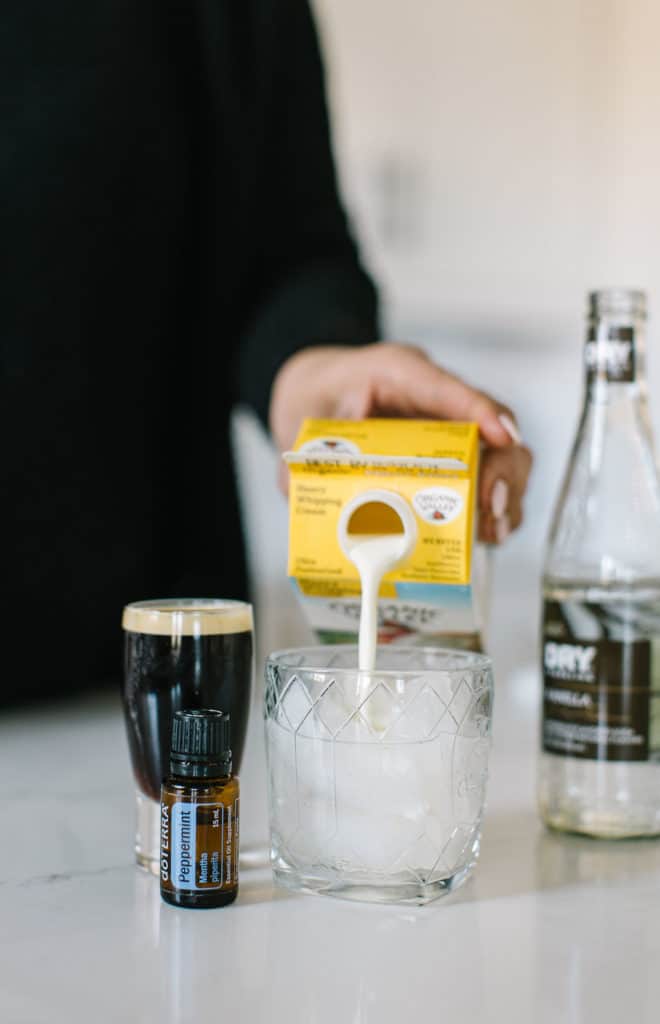 Give it some more flavor!
You can change the flavor of your White Russian with the addition of any of our simple syrups. And you know what? They are super SIMPLE to make!