This grown up ice cream pool party is so fun. You are going to be counting down the days until it's warm enough where you live to re-create one for yourself. The best part about this ice cream pool party is that it doesn't require much to make it a blast that all will remember.
I love throwing a good party and this ice cream pool party was so much fun! Since I wanted it to be more grown up, having Proyo high protein ice cream made perfect sense. Most of the gals coming are health conscious and so they really appreciated having a healthier option. Of course, all the toppings bumped up the calories and made it a super yummy party dessert.
The entire pint of Proyo low fat high protein ice cream has 35 grams of protein…so basically you should just enjoy the entire pint right? Kidding of course, well actually I'm not. It is so good you will want too! Not only does it taste delicious, it also works so great in recipes as well. I knew since we were doing an outdoor ice cream pool party, a yummy dessert to go with the ice cream was a must. I decided on the mini gluten-free pineapple upside down cakes I shared the recipe of below.
We used melted Proyo ice cream in the recipe and drizzled more on top. You can use any flavor you like but I recommend coconut since it goes so well with the pineapple. Here are some of the other flavors…
Vanilla bean
Mint chip
Dutch chocolate
Coconut
Mocha
Dark chocolate toffee
Blueberry pomegranate

For your ice cream bar, keep it simple. Feature delicious pints of your favorite ice cream along with classic toppings. I chose a homemade chocolate fudge sauce, marshmallow sauce, rainbow sprinkles, strawberry syrup and maraschino cherries. Have some fun plastic cups for everyone to make their ice cream sundaes in.
Subscribe to This Vivacious Life
Receive a free e-book of Instant Pot recipes!
For bar decor, a fresh summer bouquet and fresh fruit make great decor. I used a pineapple and simply put some hot pink shades on it. I also found a $5 pink iron bar sign at Target that went well on our ice cream bar.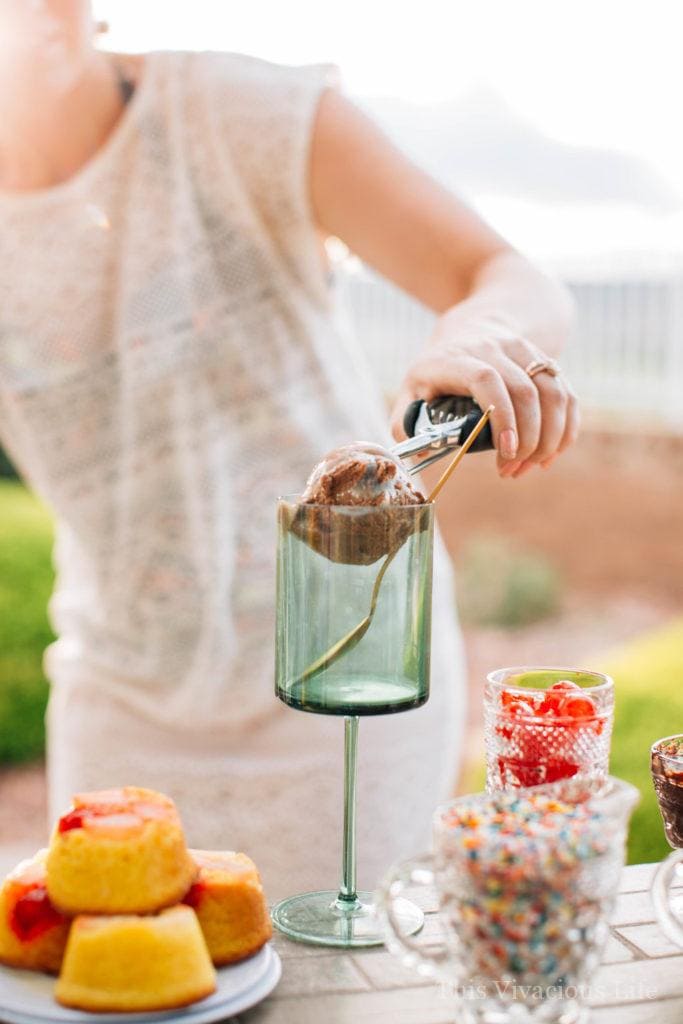 The next thing you need to make your ice cream pool party extra fun are giant novelty ice cream pool floats. I chose an ice cream cone, an ice cream sandwich and a double red cherry pool float. My friend happen to have a flamingo so I tossed that in the mix too and it looked great. With these pool floats, you don't even need any other entertainment! Just turn on some Bob Marley and let everyone have a blast.
As you can see from the pictures below, these awesome girls didn't have any trouble having fun! You know, it takes a lot to find girls who can just have fun in front of the camera that is truly authentic. Let me tell you, these girls are as real and authentic as it gets. I was laughing with them (and at times at them, but only in the nicest way because of their awesome shenanigans) all night long.
Though I was too smitten with my friends darling baby to play in the pool, I had just as much fun watching and laughing along. Plus, I got to hold a beautiful little 6 week old baby all night which was worth every second of not splashing around in the pool!
No matter what you choose to serve on your ice cream pool party menu or what inflatables you choose to buy, be sure to invite friends who will love the party as much as you enjoyed putting it together for them. Oh and have a splashin' good time!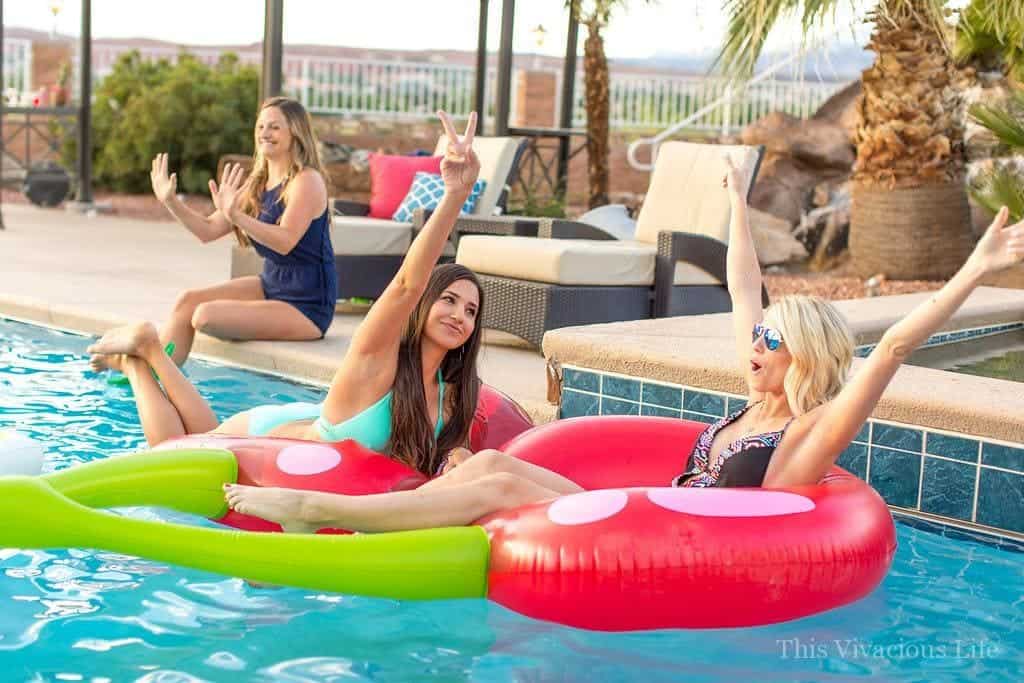 NEED MORE GOODNESS? Follow me on Facebook, Instagram, Pinterest, and Twitter for great recipes, entertaining ideas and more!
Ice Cream Pool Party & Mini Gluten-Free Pineapple Upside Down Cakes
this mini gluten free upside down cakes are so moist and delicious, perfect for parties
Ingredients
1

15-18 oz. box gluten-free yellow cake mix

1

5.1 oz. box gluten-free vanilla pudding

1

C

melted Proyo coconut or vanilla ice cream

3

eggs

3/4

C

oil

1

15 oz. can pineapple tidbits
Instructions
Preheat oven to 350°

In a stand mixer, combine all ingredients except pineapple and cherries

Spray 12 muffin cups with non-stick cooking spray (make sure it is gluten-free)

Add a few pineapple tidbits and a maraschino cherry to the bottom of each muffin tin

Top with an ice cream scoop of cake mix

Tap the muffin pan a couple times to let the cake settle over the pineapple and cherry

Bake at 350° for 18-22 minutes

Let cool completely then room and flip over to serve

Top with more melted Proyo as a delicious cream topping
Nutrition
Calories:
351
kcal
|
Carbohydrates:
32
g
|
Protein:
3
g
|
Fat:
24
g
|
Saturated Fat:
3
g
|
Cholesterol:
67
mg
|
Sodium:
813
mg
|
Potassium:
120
mg
|
Fiber:
1
g
|
Sugar:
13
g
|
Vitamin A:
205
IU
|
Vitamin C:
25.7
mg
|
Calcium:
52
mg
|
Iron:
0.5
mg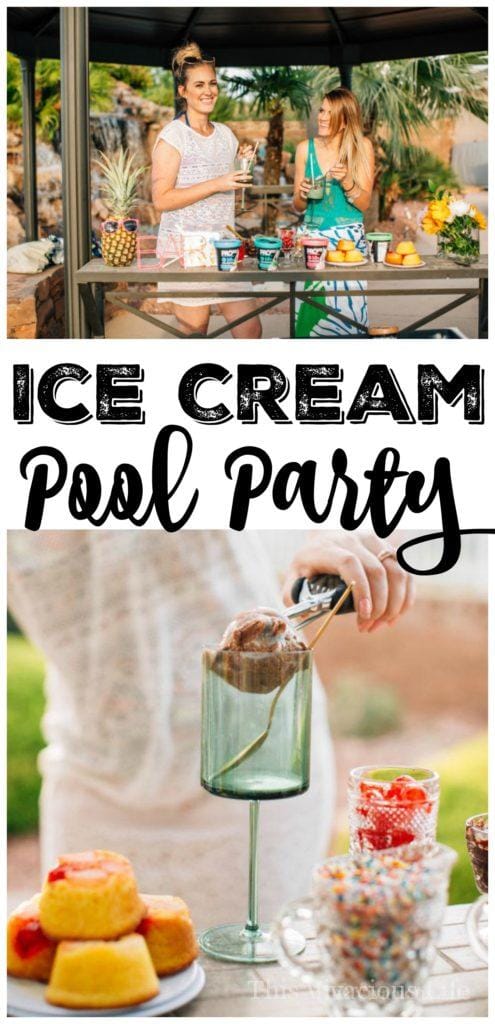 *Thank you to Proyo for sponsoring this post. Photos by Amie Pendle