So you are pregnant with your fourth child? Maybe you are just thinking about it. Well, let me share with you what it's really like from personal experience…Being pregnant with your fourth child is a whole new ball game. You'd think by now we'd have it figured out but I was in for some surprises and I bet you will be too.
While being pregnant with your fourth child is so exciting, it is also surprisingly different than it was with the first three. Now, every woman is different so this is just my experience. But from what I have heard, it seems to be pretty consistent with what other moms who are pregnant with their fourth child are going through as well.
Let's start with the good since we are really going to have to focus on that to get through the bad. Some awesome things about being pregnant with your fourth child include:
You have a stronger grasp of when enough is enough. It is much easier for me to give myself that nap I so need now than with my first. That's not saying it isn't harder because their are more kids to get to quiet down so you can, I just mean that you are more willing to let yourself try. With my first I thought there was too much to do to slow down for a nap.
Along with that, you understand that dishes and house cleaning can wait. You want to savor the quiet moments because it may be your last time being pregnant. We can even show you how to take a moms day off.
You let your kids be much more involved with the pregnancy. While I may not be taking my kids name suggestions seriously (Stuart, Bob and Willy…no seriously, that's what they suggested) I am more willing to listen and say, "Yeah, those all sound like very fun names. Why did you choose those?"
Healthy eating matters more and for the right reasons. After having three and probably doing the whole "eating for two" thing at least once or twice (maybe even three times), you understand better now that nutrition really is important for your baby. I eat more mindfully now that I am pregnant with my fourth. I want to give him the best nutrition I can. With that said, you are also more patient with yourself when you do have a treat or two (or five) once in awhile.
Speaking of treats, I have loved finding "treats" that are better for my body this time around. I am especially loving the new Proyo low fat, high-protein ice cream. I mean, there are 35 grams of protein in every pint so how can you feel that bad right?! The best part is that the ingredients are clean and it tastes SO great…my friends tried it recently at our ice cream pool party and fell in love! 
Ok, now let's talk about the not so great things about being pregnant with your fourth. So many of these were brand new for me and really threw me for a loop.
You might have more pregnancy acne. At least I did. I'm not talking a few dots here and there either, I am talking like 15 year old full blown puberty face acne. This was the first time I had it this bad. I have to say that it shook my confidence there for awhile. The good news? It has gotten better now that I am almost 20 weeks along.
The nausea is just as bad if not worse than it was with the first three. During weeks 6-9 I just laid in bed and cried in between throwing up. For awhile I couldn't even keep a banana down.
Speaking of being down and out, by your fourth, you likely have some great little helpers. My oldest boys sure were fantastic in helping me with anything I needed. From getting me more gluten-free crackers and water to playing with little sister, I can say I don't know what I would have done without them. On one of my really bad days, I even kept my oldest home from school to help…probably not the best parenting but he was so great that I really felt I needed him.
My skin and hair were more dry than ever. I had to switch to a dandruff free shampoo and conditioner and start using lotion a lot more. My skin has been all sorts of crazy!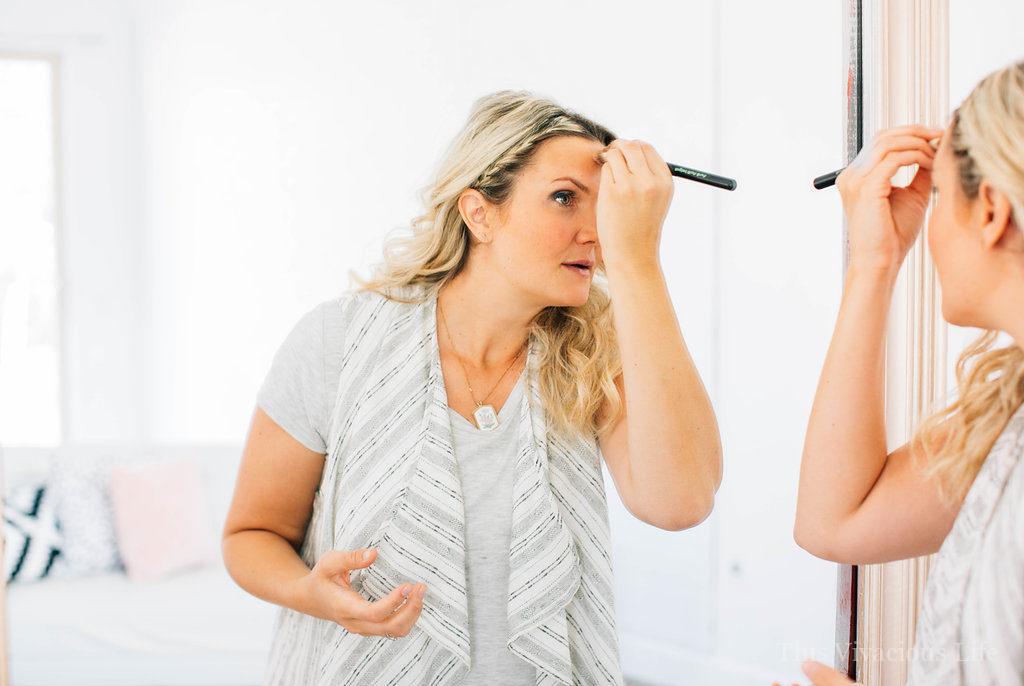 While being pregnant with your fourth can be quite different than your previous pregnancies, it is also so much fun to realize that you are bringing another beautiful little human into your family. I have never felt so self conscious due to the pregnancy acne and dry scalp, but I am also a confident mama as well.
I'd love to hear how your fourth pregnancy was/is. Are you experiencing any of these symptoms as well?

Photography by Amie Pendle
Subscribe to This Vivacious Life
Receive a free e-book of Instant Pot recipes!
*Thank you to Proyo for sponsoring this post. I was provided with monetary and product compensation. All opinions are my own.