These gluten-free buttermilk biscuits are like little pockets of buttery, flaky Heaven.
I will say that these gluten-free buttermilk biscuits are still one of the best recipes from my mom's kitchen to date.
Gluten-free buttermilk biscuits were always the recipe we chose to feature at cooking demos and speaking engagements or book signings we have done. It just has a wow factor that people can't resist. In fact, when we make these, nearly every person who eats one chooses to purchase our cookbook.
They are just in awe with the taste and texture (well, and because they want my mom's coveted pie crust recipe that is flaky, buttery and can actually be rolled out and made into a lattice crust).
I say this not to toot my own horn but to let you know that REALLY good gluten-free biscuits are possible. I literally could eat them everyday and be a happy gal. Well, these and my moms years in the making BEST gluten-free cinnamon rolls. They are hands down the best cinnamon rolls you will ever eat and nobody would know they are gluten-free. 
My hubby and kids also get so excited when I tell them I am making gluten-free buttermilk biscuits. They run in (well, the kids anyway) wanting to help. I think just to make the process a bit quicker, but I will take it.
Whether you choose to enjoy them savory with our sausage gravy and some hot hashbrowns as a side dish, or sweet with homemade jam, you really can't go wrong.
As Agnes from Despicable Me would say, "It's so fluffy I'm going to die!"  Who would have thought you could get a gluten-free buttermilk biscuit that is as good as the original thing. It can be tough to make a gluten-free version that is flaky and fluffy, but cultured dairy lightens and apple cider vinegar helps with flakiness. Arrowroot and gelatin are important in this recipe because they act as binders when not using any eggs. Top these light fluffy biscuits with butter, honey or jam. Enjoy! – Tana (my mom and co-author)
One BIG note about these biscuits:
It is KEY that you not over work them. Only roll them out once then cut your biscuits. Put the extra dough aside and proceed to roll out more from the original batch.
When you've done that and have a collection of "seconds", or the dough that has already been rolled out once, use it to roll out one more disc to cut biscuits from. The reason for this is because we don't want to much air getting into these and taking away from that ultra fluffy biscuit result.
Trust me, if you follow these directions, you will get that big beautifully flaky biscuit of your dreams!
You can find this recipe and 100+ more (almost all with photos) in our cookbook, Gluten-Free on a Budget. Also in the book are complete sections about living the gluten-free lifestyle from packing lunches to transforming your pantry and resources we recommend.
Some of the recipes you will find in our cookbook include:
Mom's coveted pie crust
Raspberry Toaster Pastries
Banana Black Bottom Pie
Buttermilk Pancakes
and so many more!
Really it is an all-inclusive book for thriving on the gluten-free diet while still enjoying amazing food and not breaking the bank. If you think these buttermilk biscuits look good, check out more of what is in our cookbook HERE.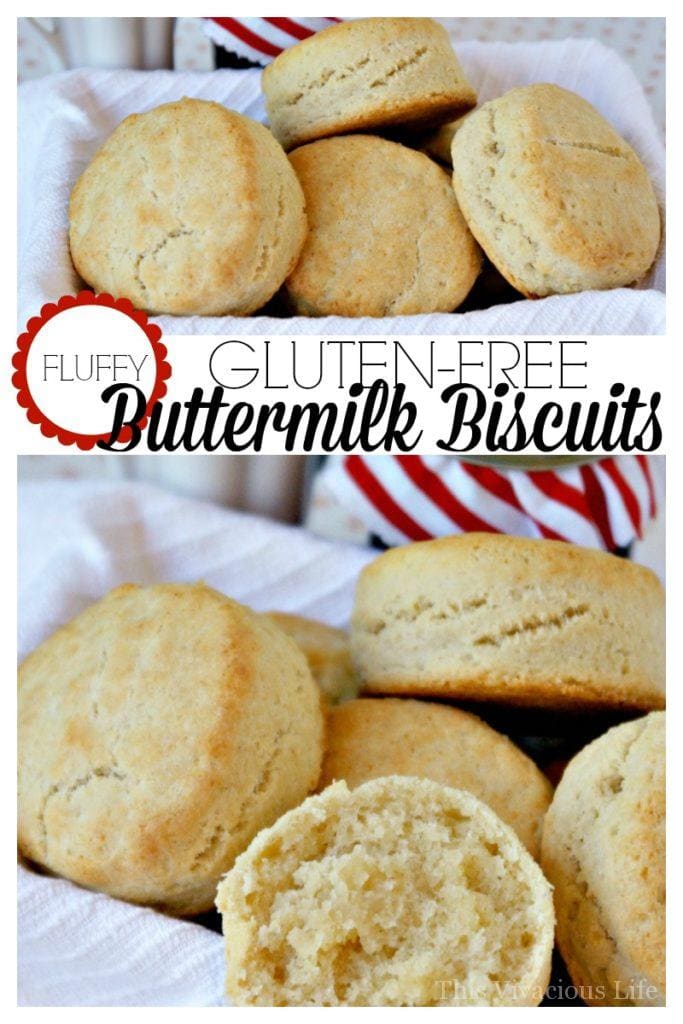 Buttermilk Biscuits (Gluten-Free)
Ingredients
1/3 c. brown rice flour
1/3 c. sorghum flour
1/2 c. tapioca starch
½ c. potato starch
2 T almond flour
2 T arrowroot
1 T coconut flour
4 tsp. baking powder
1 tsp. gelatin
1 tsp. xanthan gum
1 tsp. Realsalt
2/3 c. butter, cold
½ c. buttermilk
½ c. sour cream
1 tsp. apple cider vinegar
Instructions
In a stand mixer, combine all dry ingredients. Using a cheese grater on large or coarse size, grate butter into flours and mix until crumbly.  Stir in buttermilk, sour cream and vinegar. Heat oven to 450°. Let mixture rest for 20-25 minutes. Working with small portions shape dough with hands on parchment or a non-stick baking sheet, to 1" thick and cut into rounds with a cookie cutter.  Repeat with remaining dough for 8 biscuits. Bake on a parchment or non-stick covered cook sheet for 13-15 minutes or until lightly browned.
*NOTE: Try to work the dough as little as possible both in your mixer and when cutting. Roll it out once and cut then put "scrap" dough to the side. When ready, combine all scrap dough and roll out to make more biscuits. Basically, you want to treat them like little angels or they will not be fluffy and super duper soft.
Tana's Take It up a Notch Tip:
Use aluminum-free baking powder. There are several brands on the market, so it should not be difficult to find one and it will only cost you a few cents more to make this important change.
https://www.thisvivaciouslife.com/gluten-free-buttermilk-biscuits/
Oh and if you like this recipe, be sure to check these out…
Best Gluten-Free Cinnamon Rolls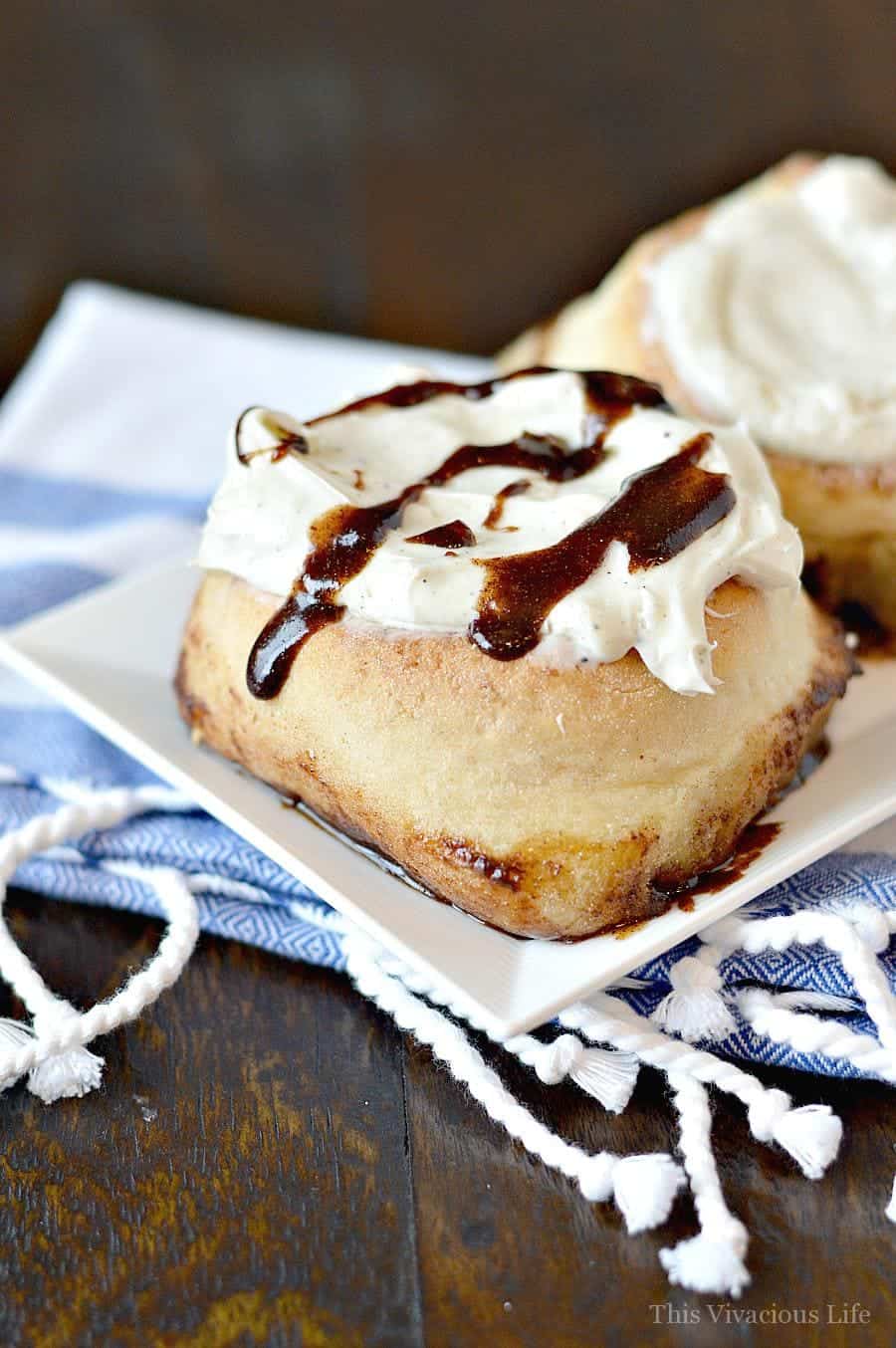 Gluten-Free Belgian Waffles
Gluten-Free Dairy-Free Blueberry Power Muffins
Video by Amie Pendle. This post was originally published in our cookbook in 2014.