this post may contain affiliate links
This post may contain affiliate links please read my privacy policy.
What, a fried gluten-free ravioli? Yes and it's everything you could dream of! This delicious dish is going to be your new favorite appetizer to serve to family and friends.
This easy gluten free ravioli takes less than 30 minutes to make! Top with parmesan cheese or feta cheese and dunk in marinara sauce from our gluten free meatballs, Alfredo, or your favorite sauce!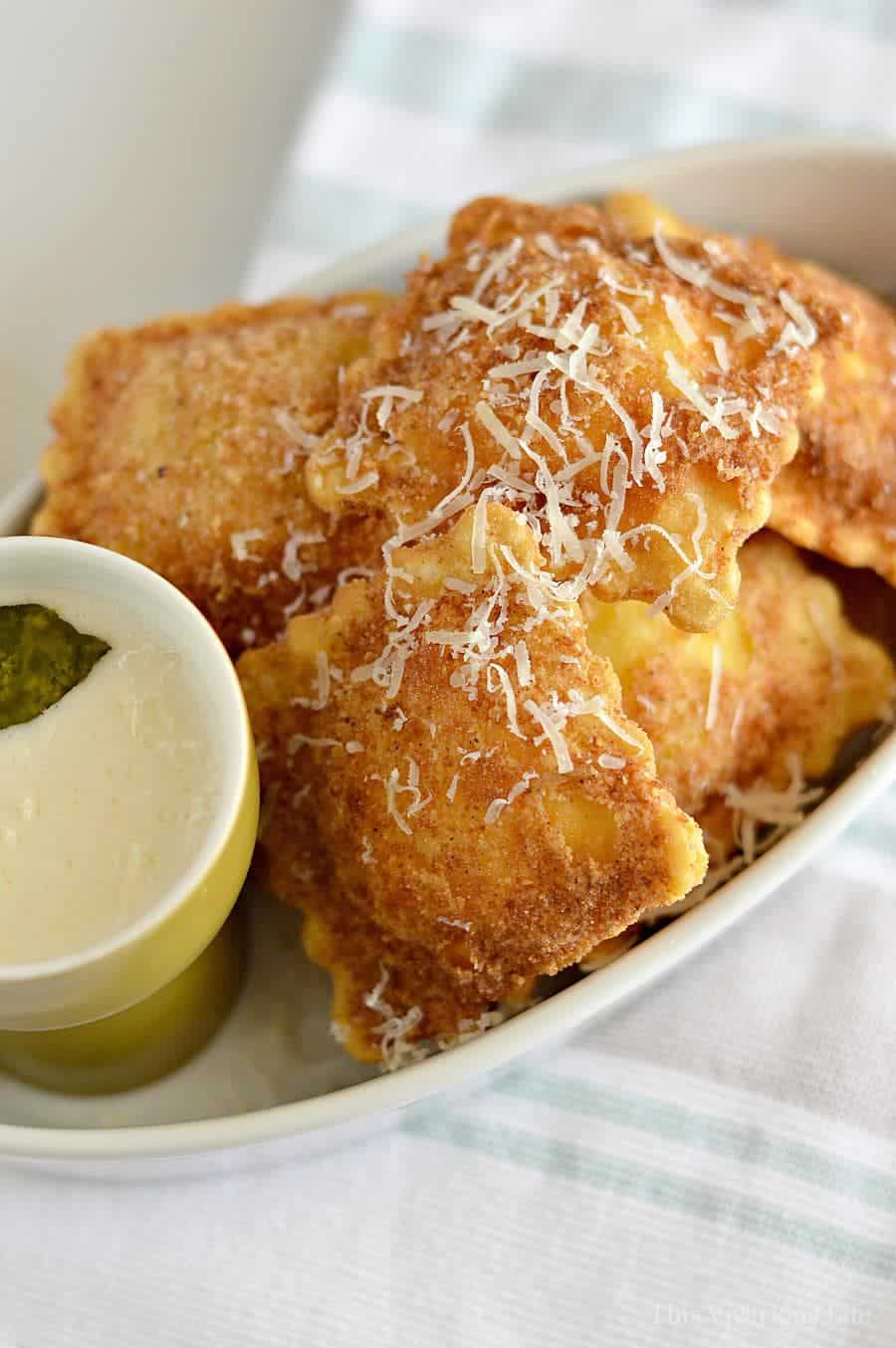 I'm so excited to bring you this gluten-free fried ravioli recipe because I have been wanting this now for years. Every time I go to an Italian restaurant and see it on the appetizer menu… I whine knowing it's not a gluten-free recipe.
Even though this recipe is gluten-free, you can't even taste the difference! My kids absolutely devoured an entire plate of these in no-time! It's that good! For another great gluten-free Italian dish, checkout my Gluten-free chicken parmesan!
Subscribe to This Vivacious Life
Receive a free e-book of Instant Pot recipes!
Another great thing about this recipe is that it's super easy! You don't need a rolling pin, pasta machine, pasta roller, or any other special equipment. This homemade ravioli is made with simple ingredients to get this appetizer on the table in no-time.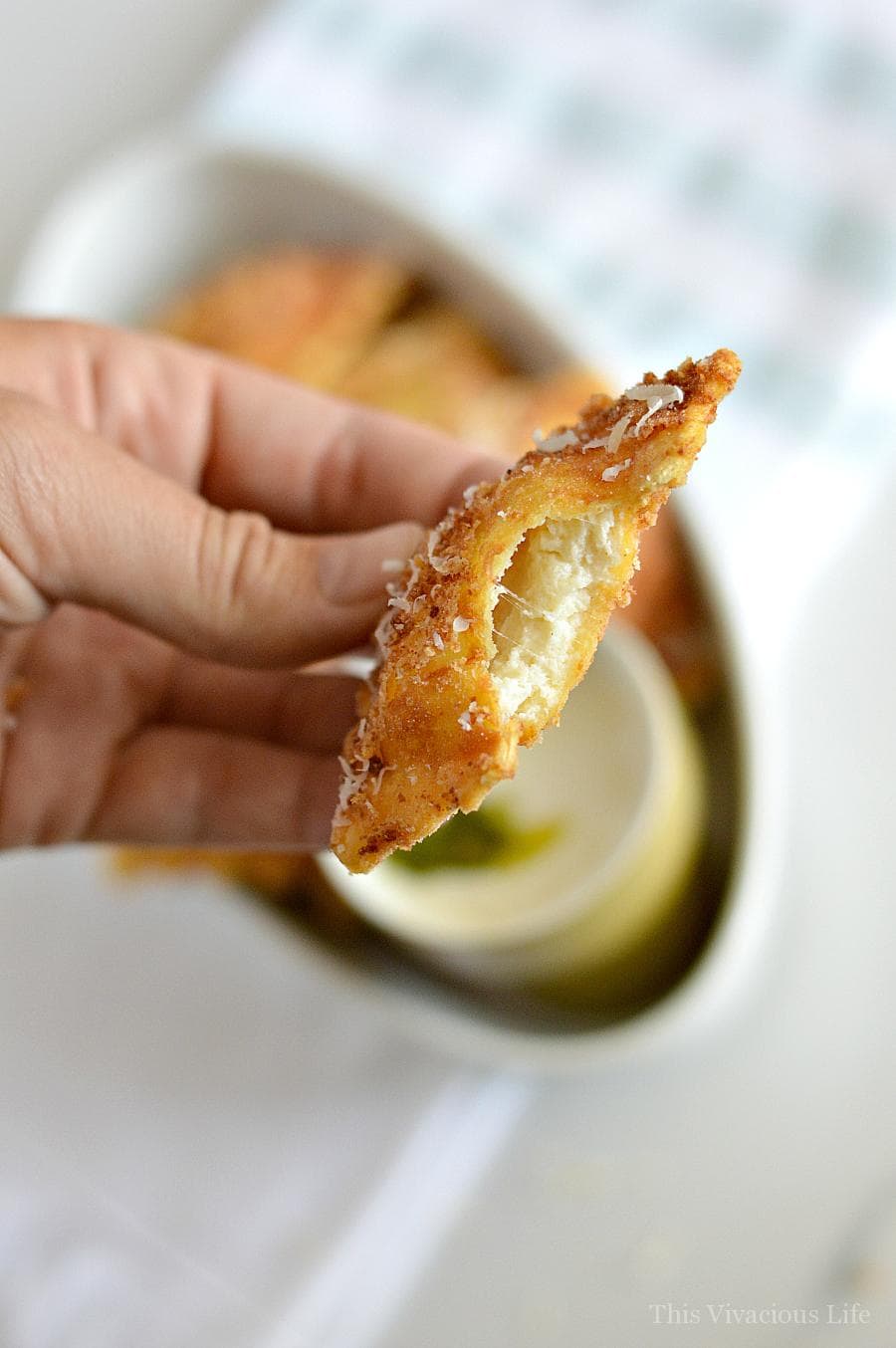 Can you fry ravioli instead of boiling?
Yes! For an extra crunch and flavor, you can fry your ravioli! You can fry frozen, homemade, or refrigerated ravioli on the stove or in a deep fryer. Canola oil, olive oil, or coconut oil are all great options for frying.
If you like beef recipes, you can fry beef ravioli but this recipe calls for ravioli with cheese filling! Cheese ravioli filled with asiago cheese, mozzarella cheese, Romano cheese, and/or cheese cultures is to die for!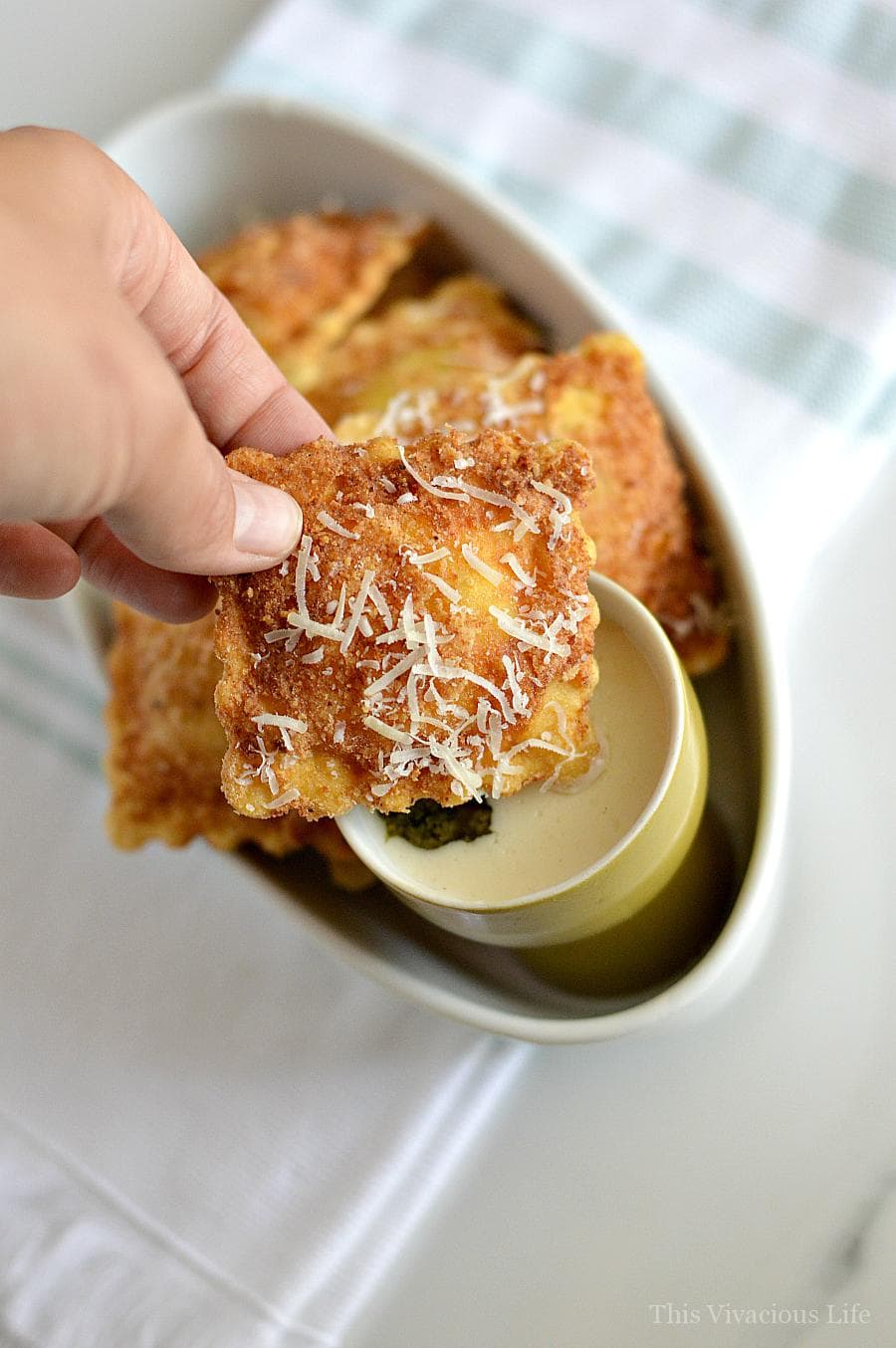 Do you have to boil ravioli before frying?
No you do not have to boil ravioli before frying. Boiling your ravioli before frying will take away the crispiness which is the best part!
Using refrigerated ravioli, dipping in a milk/cream mixture, then coating with gluten-free flour is the best way to get crispy ravioli!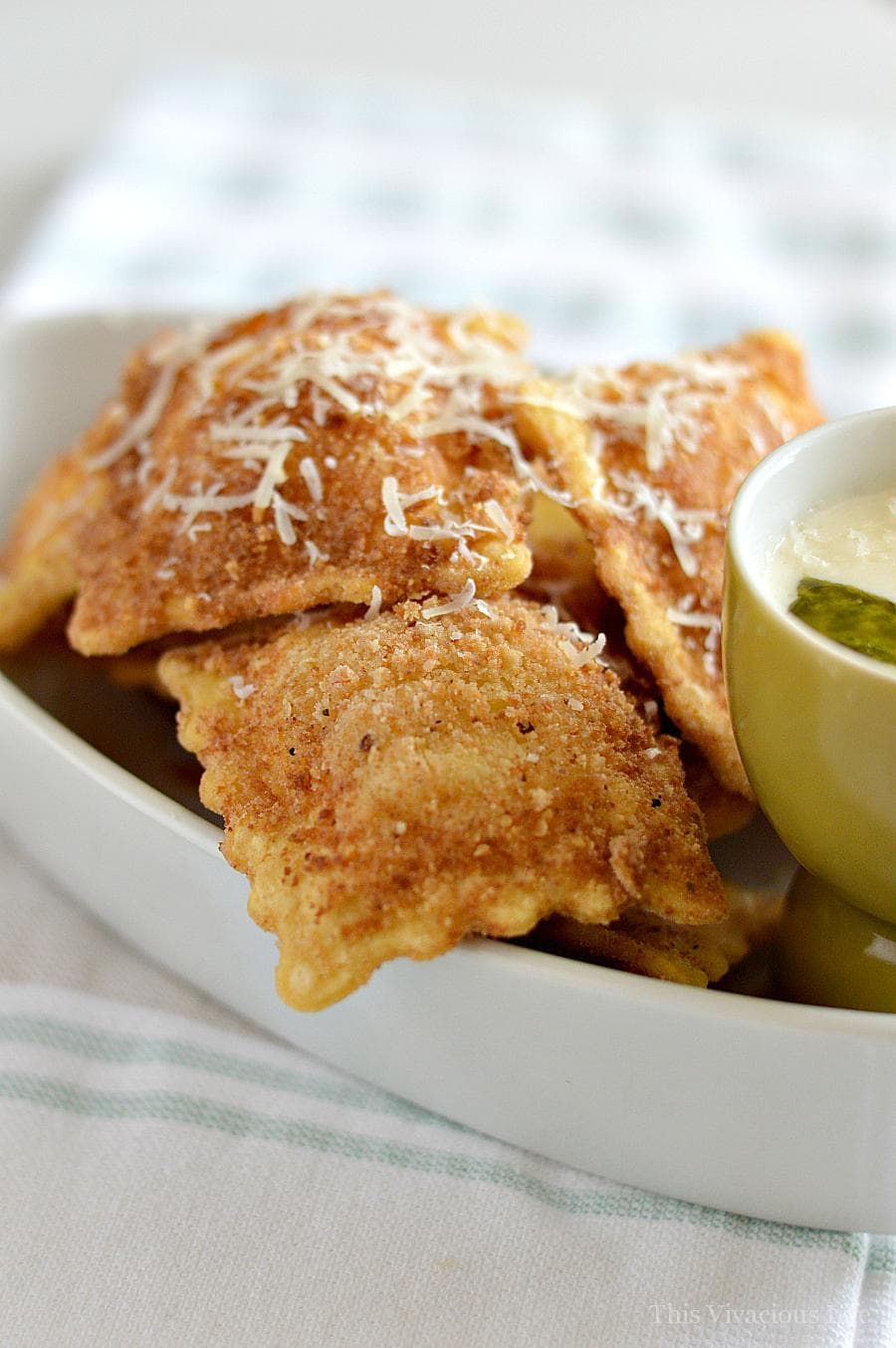 What is fried ravioli made of?
There are a few simple ingredients you need to make this gluten free ravioli recipe. There are no crazy ingredients like guar gum, tapioca starch, potato starch, tapioca flour, etc. that you find in other fried recipes.
Gluten-free ravioli
Refrigerated gluten-free ravioli is the tastiest and easiest way to make this recipe. Frozen ravioli may work, but refrigerated tends to taste more fresh and authentic.
Gluten-free all-purpose flour
Flour is apart of the breading for this fried ravioli recipe. If you're not gluten-free, you do not have to use gluten-free flour.
Gluten-free butter crackers
Gluten-free table or butter crackers add so much flavor and texture to the breading in this recipe! It's one of the key ingredients to making your ravioli perfectly crunchy!Schar has some great options as well as Glutino.
Salt and black pepper
Sea salt and black pepper are staple spices in almost any recipe. Feel free to add more of your favorite Italian spices like garlic powder, onion powder, oregano, etc.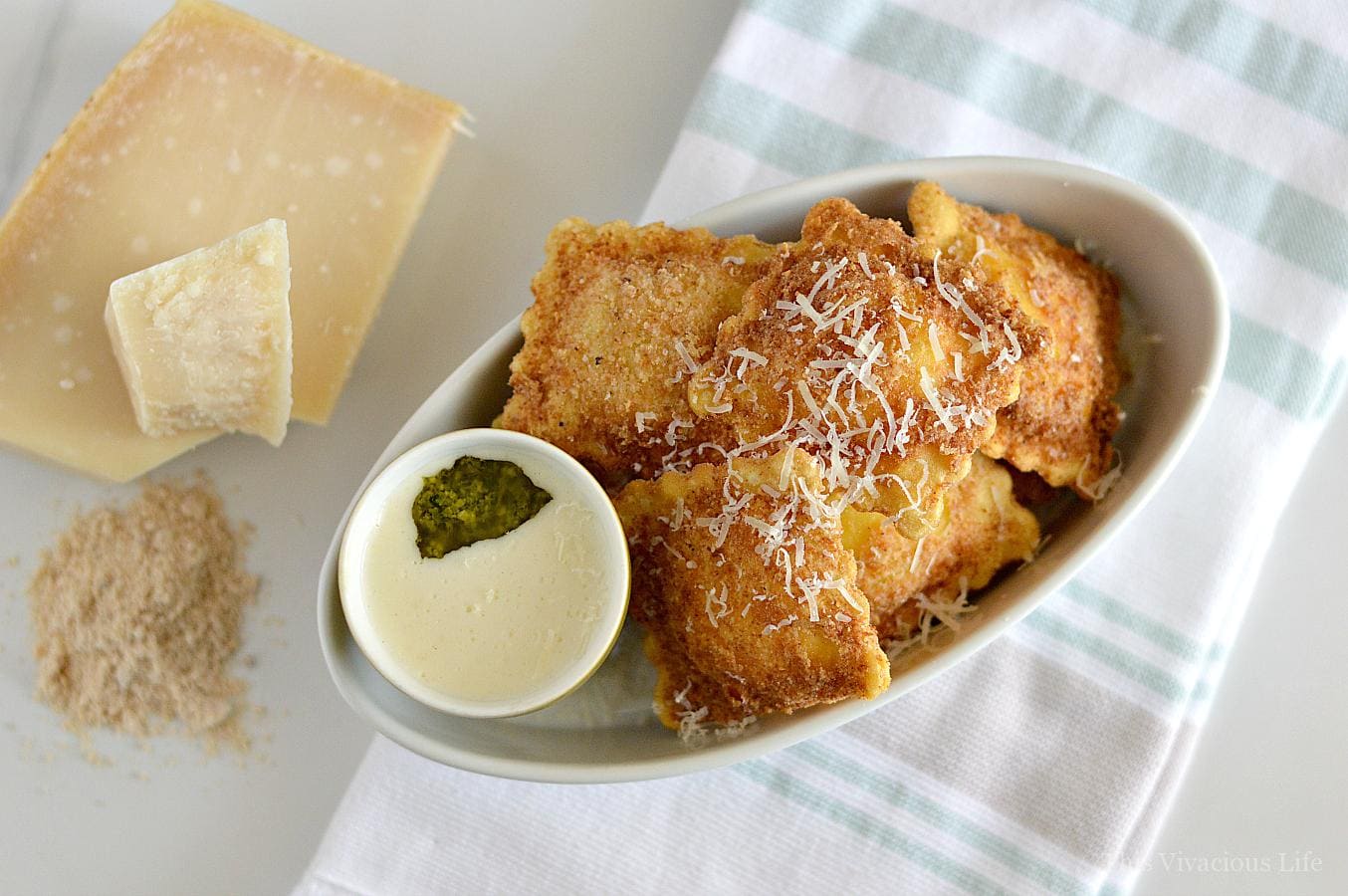 How to make fried ravioli
This gluten free version of fried ravioli is easier to make than you might think! Simply coat your ravioli in half-and-half, dip in your breadcrumb mixture, and fry them in a fryer or on the stove!
You can use half heavy cream and half whole milk to make your own half-and-half mixture. To make your breadcrumbs, all you have to do is combine GF crackers and a slice of old bread (gluten-free) together in a small bowl until your desired consistency is formed. After that, mix in your flour and you're done!
Fry your ravioli for 3 minutes making sure to flip halfway through! Place your ravioli on a paper towel after they're done to soak up any excess oil. Cook time may vary depending on different shapes or sizes of ravioli.
Pro Tip: Keep your work surface clean with paper towels and paper plates! Using paper towels and paper plates makes for easy clean up and less dishes when frying!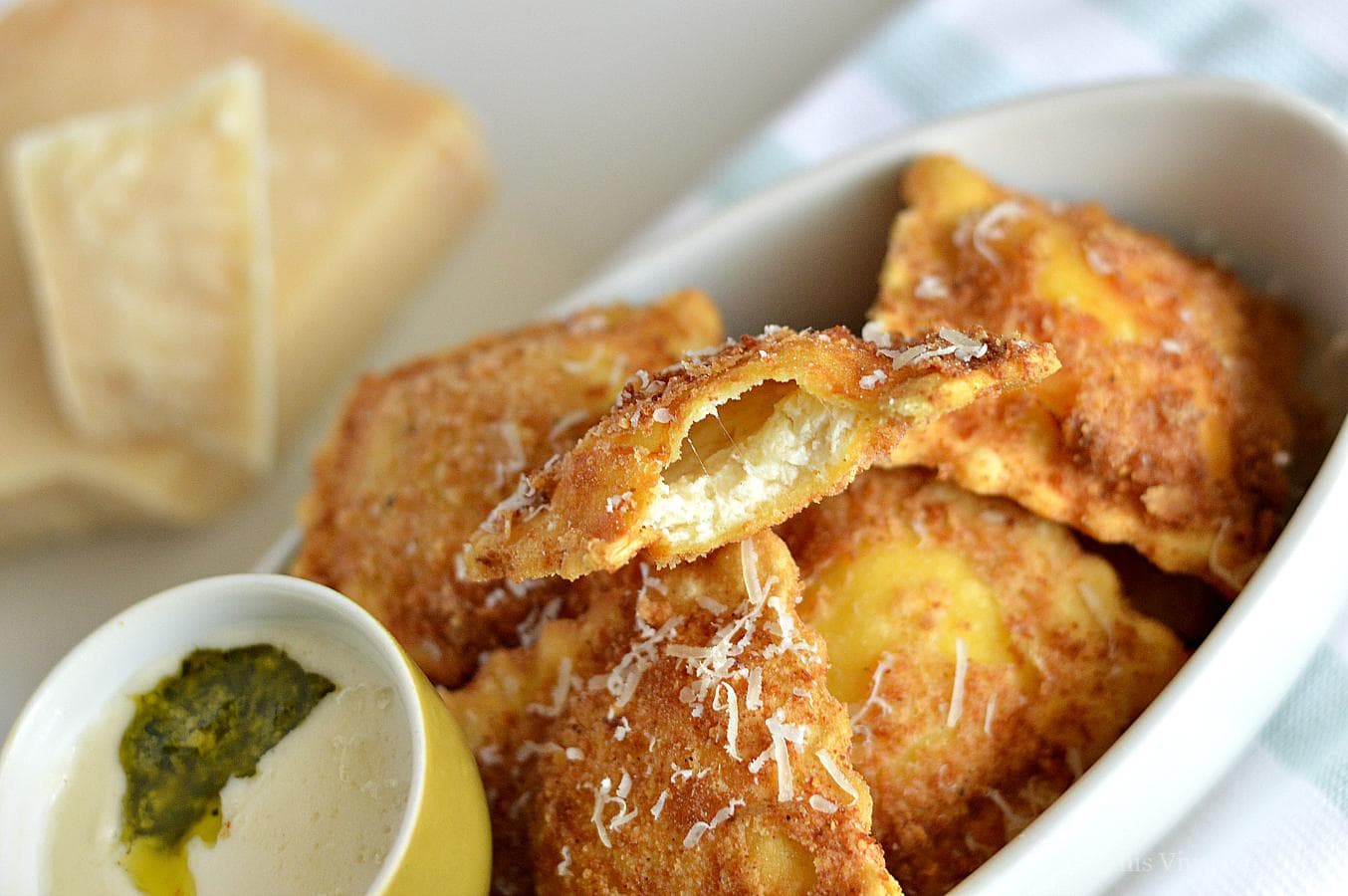 More gluten-free recipes
Gluten-free recipes are my speciality because you can't even tell they're gluten-free! Homemade pasta cooked to al dente, delicious breakfast recipes, and instant pot recipes have been on repeat lately! Here are a few of my favorite gluten-free recipes…
When you make gluten-free recipes right, there is not a significant difference between gluten-free and traditional! It's all about the right ingredients!
NEED MORE GOODNESS? Follow me on Facebook, Instagram, Pinterest, and Twitter for great recipes, entertaining ideas and more!
Fried Gluten-Free Ravioli (Amazing!)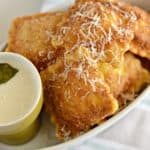 What, a fried gluten-free ravioli? Yes! This 30 minute dish is going to be your new favorite appetizer to serve to family and friends.
Ingredients
16

ounces

gluten-free ravioli

2/3

cup

half-and-half

or 1/3 cup whole milk combined with 1/3 cup heavy cream

1/3

cup

gluten-free all-purpose flour

1

slice

day old gluten-free bread

8

gluten-free table or butter crackers

1/2

teaspoon

salt

1/4

teaspoon

black pepper

Freshly grated Parmesan

1

qt.

coconut oil
Instructions
*I used the deep fryer for this recipe because it works so well. So if you have a deep fryer turn that on and get it heated. If not, heat your oil in a 3 inch deep pan over medium heat

In one bowl, please the half-and-half or milk combined with heavy cream

In a food processor, combine the day-old GF bread with the gluten-free crackers to make a course breadcrumb

In a large bowl, combine the GF all-purpose flour with the prepared breadcrumbs and salt and pepper

Prepare a baking sheet lined with paper towels

Individually dip the ravioli into the milk mixture and toss in the breadcrumbs

Place them on a plate or baking sheet until you've done five or six

Please all five or six ravioli in the oil and cook for three minutes making sure to turn over halfway through

Let the grease drain off of each ravioli by removing them from the oil with a slotted spoon and placing them on the paper towel lined baking sheet

Once all the ravioli have been cooked, place them on your serving tray and grate fresh Parmesan over top
Nutrition
Serving:
1
serving
|
Calories:
253
kcal
|
Carbohydrates:
31
g
|
Protein:
10
g
|
Fat:
10
g
|
Saturated Fat:
4
g
|
Polyunsaturated Fat:
1
g
|
Monounsaturated Fat:
1
g
|
Cholesterol:
39
mg
|
Sodium:
537
mg
|
Potassium:
27
mg
|
Fiber:
2
g
|
Sugar:
2
g
|
Vitamin A:
81
IU
|
Vitamin C:
1
mg
|
Calcium:
41
mg
|
Iron:
6
mg
This post was originally published on February 5, 2017 but has since been updated with more helpful information.