this post may contain affiliate links
The best gluten-free chicken parmesan is truly this one! You won't want to miss this authentic Italian dinner that will have the whole family asking for more.
If you are looking for a new recipe for delicious GF comfort food, look no further! This gluten free chicken parmesan is a great, cheesy dish the whole family will love. Especially when served with our 3-ingredient gluten free egg noodles.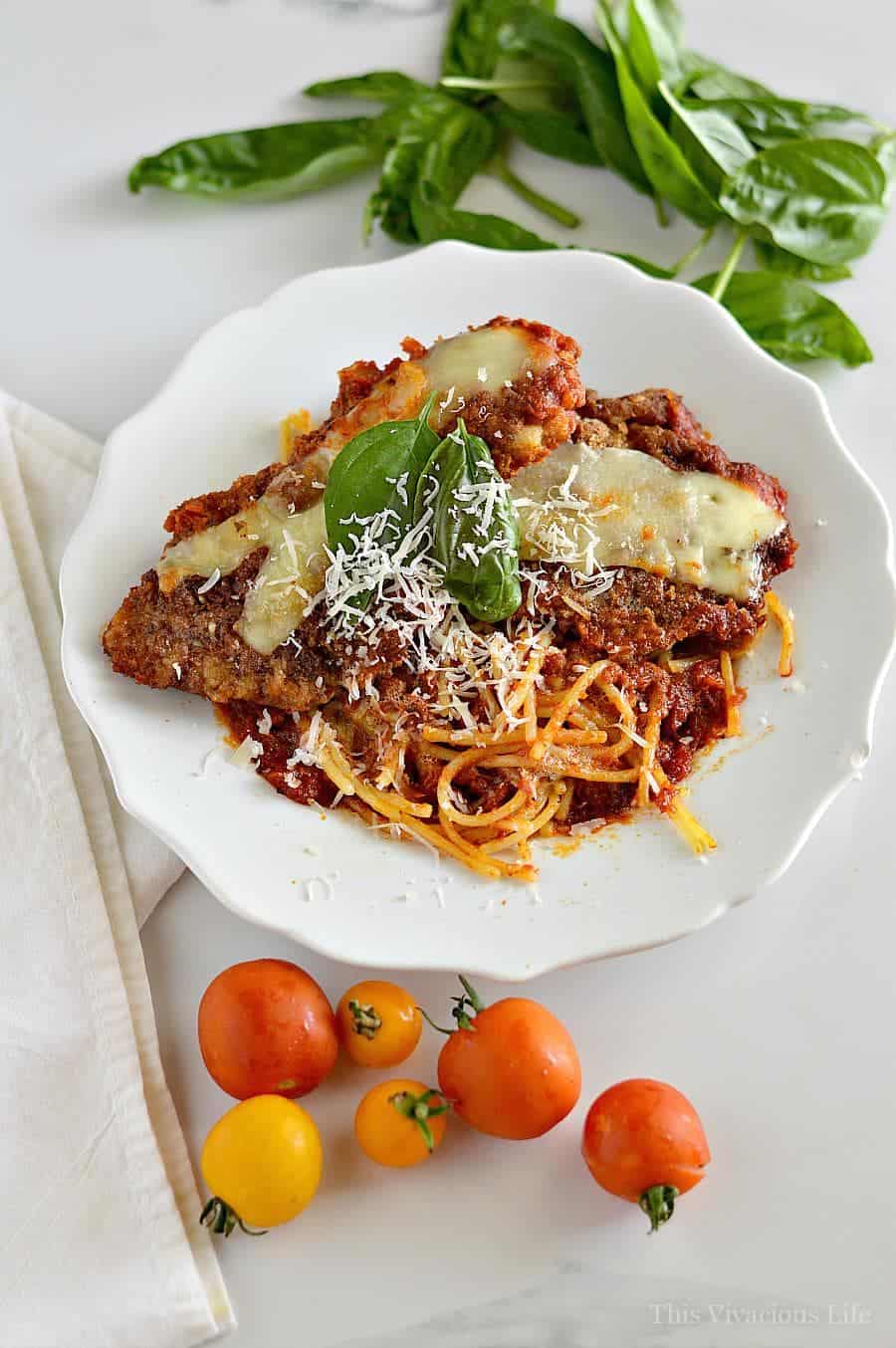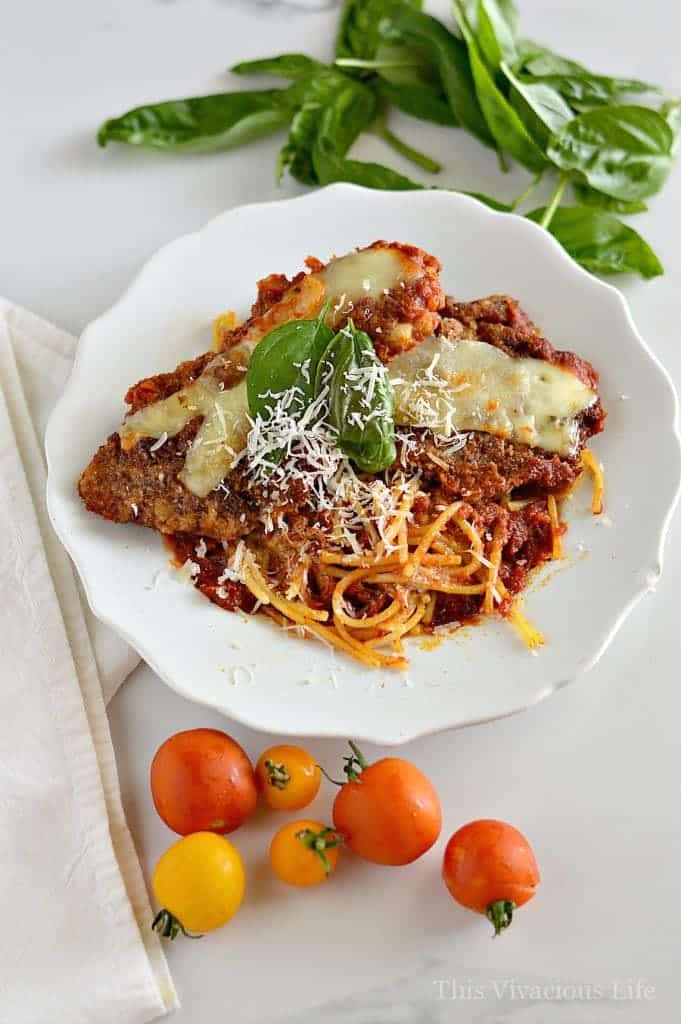 When it comes to one tasty dinner, this recipe is the best gluten-free chicken parmigiana you will ever make.
The best part is that nobody will ever know it is gluten-free because the crust is so authentic and delicious. With a little bit of crunch and lots of yummy breading, everyone will be coming back for more chicken parmesan!
My husband is the most incredible cook. He has made lots of recipes that have been featured here including his 15-minute dinner hash or as we like to call it, Jash.
Subscribe to This Vivacious Life
Receive a free e-book of Instant Pot recipes!
His easy bruschetta chicken is also another easy dinner that is a huge hit. So it really shouldn't have come as any surprise to me that he knocked it out of the park with the best gluten-free chicken parmigiana too.
When my hubby makes a meal, he doesn't cut corners. The breading alone on this chicken parmesan shows exactly how much he thinks about his dishes.
With a perfect combination of homemade gluten-free bread crumbs and flour, he makes a crust that has just the right amount of crunch and breading.
Does chicken parmesan always use breaded chicken?
Typically, chicken parmesan includes breaded chicken. Those with Celiacs or who have a gluten intolerance would have to stay away from the dish, as it was breaded, but with this recipe, GF eaters can enjoy the tasty Italian dish as well!
One could use grilled chicken cutlets instead of breaded chicken, but it is personal preference. Historically chicken parmesan is breaded though.
What is best served with chicken parmesan?
Pasta is the go-to when it comes to chicken parmesan, which can be tricky for gluten-free eaters! You can always go with a GF pasta, which is what I recommend for this recipe, but there are other pasta choices as well (zucchini noodles).
Chicken parmesan can also be paired with a nice salad, vegetables, or whichever side you prefer. I have recipe for gluten-free crescent rolls that could also make a great side!
What does parmigiana mean?
Parmigiana means to be covered with or made with parmesan cheese. Chicken parmigiana is just using the Italian meaning for parmesan. It is a delicious recipe with a lot of parmesan cheese, marinara sauce, and breaded chicken.
So, if you are feeling fancy and want to impress your friends, tell them this dish is named chicken parmigiana!
What I need to make this recipe
Chicken parmesan has a mixture of parmesan cheese and a melted mozzarella cheese layer on top. Here are some other important, yet simple, ingredients in my gluten free chicken parmesan recipe.
Gluten-Free Bread
For this recipe, there will be a little bit of planning ahead. You will need slices of day old air dried gluten-free bread to make the bread crumbs. When the bread is dry, it will make better, crunchier bread crumbs.
Any GF bread will do, but I really like Canyon Bakehouse heritage style. They make my favorite gluten free bread.
Gluten-Free Flour
For the breading, you will need gluten-free flour. The breading is what makes the pieces of chicken so crispy.
It can be tricky to find a good GF flour, so I did the research and wrote a whole post about everything you need to know about GF flour.
This easy recipe mixes all of the spices, such as oregano, cilantro, and basil, with the GF flour for the best taste.
Gluten-Free Marinara Sauce
Something that is important to note for those with Celiac Disease or a gluten intolerance is that some things have gluten in them, even if you think they wouldn't! That is the case with marinara sauce.
Marinara is a tomato sauce that is a very important piece to my gluten free chicken parmesan.
For this recipe, you will want to find a high quality GF marinara sauce. In my Instant Pot Meatballs recipe, I go into more detail about my favorite GF marinara sauces.
How to make it
Below is a step-by-step process of how to make my GF chicken parmigiana with pictures. I always find pictures to be helpful when it comes to cooking.
Prepare the three bowls for your breading. One will have the bread crumb mixture, one will have the flour mixture, and one will have the eggs.
Pro tip: To keep a clean kitchen, do not use a shallow bowl for the bread crumbs, eggs, and flour.
Place a piece of chicken in the flour mixture, then in the eggs.
Then you will coat the piece of chicken in the gluten free bread crumb mixture. Make sure it is fully covered.
Place the chicken cutlet in the frying pan with the hot coconut oil and cook for 2-3 minutes on each side until golden brown.
Meanwhile, pour the bottle of marinara sauce in a 9×13 baking dish and place cooked, breaded tenderloins over the marinara sauce and top each with half a mozzarella string cheese stick.
Adaptations
For picky eaters in the family, there are ways to adjust the recipe. As mentioned above, you can have a salad instead of pasta with the dish. You can also do grilled chicken rather than breaded chicken.
A recipe that is similar to this easy recipe for gluten free chicken parmesan is my Instant Pot Spaghetti recipe, which could be an easy way to adapt this recipe.
You can always remove the chicken and just have the pasta and marinara sauce as well.
How to store
To store, place the chicken parmesan into an airtight container for up to three to four days. If there is anything better than this chicken parmesan, it is the leftovers!
You can also freeze the leftovers and use them for another time! Sometimes I will make a double batch so I can freeze half for when we need dinner in a pinch.
NEED MORE GOODNESS? Follow me on Facebook, Instagram, Pinterest, and Twitter for great recipes, entertaining ideas and more!
The BEST Gluten-Free Chicken Parmigiana
This is the best gluten-free chicken parmigiana you will ever make.


Ingredients
9

chicken tenderloins

4

eggs

4

large slices day old air dried gluten-free bread

we like Canyon Bakehouse heritage style

1/2

cup

coconut oil

24

ounces

gluten-free marinara

5

mozzarella string cheese sticks

1/4

cup

parmesan cheese
GF Flour Mixture
1/2

teaspoon

oregano

1/2

teaspoon

basil

1/2

teaspoon

cilantro

1/2

teaspoon

thyme

1/8

teaspoon

red pepper

1/2

teaspoon

salt

1/2

teaspoon

black pepper
Instructions
Preheat oven to 350 degrees

Pound each tenderloin flat between two sheets of wax paper

In a bowl combine flour, basil, thyme, oregano, cilantro, salt, red pepper & black pepper and in another bowl, beat eggs

Pulse 4 slices of stale gluten-free bread in blender or food processor until crumbs form then place in another bowl *If you didn't have time to leave your bread on the counter overnight, bake it at 300 degrees for 10 minutes

In a large frying pan and place each tenderloin in flour mixture then eggs and end with bread crumbs

Pro tip: To not make much of a mess, do not use a shallow bowl for the breadcrumbs, eggs, and flour.

Heat coconut oil in medium frying pan and then place tenderloins in hot coconut oil and cook for 2-3 minutes on each side

Once cooked, remove and place on a paper towel to wait until all tenderloins have been cooked

Meanwhile, pour bottle of marinara sauce in a 9×13 baking dish and place cooked, breaded tenderloins over the marinara sauce and top each with half a mozzarella string cheese stick cut lengthwise

Sprinkle parmesan cheese over everything and bake for 15-20 minutes

Meanwhile, cook gluten-free pasta then serve the chicken parmigiana over hot pasta and top with fresh basil
Nutrition
Calories:
538
kcal
|
Carbohydrates:
34
g
|
Protein:
31
g
|
Fat:
32
g
|
Saturated Fat:
21
g
|
Cholesterol:
178
mg
|
Sodium:
1038
mg
|
Potassium:
568
mg
|
Fiber:
4
g
|
Sugar:
6
g
|
Vitamin A:
675
IU
|
Vitamin C:
6.8
mg
|
Calcium:
151
mg
|
Iron:
2.7
mg