We love making homemade teacher appreciation gifts every year as a way to thank our educators for all their hard work. Homemade teacher appreciation gifts don't need to be anything too complicated. Just a simple gesture of kindness means so much.
These homemade teacher appreciation gifts are super easy to make. They are themed and oh-so-cute to deliver to your favorite teacher. The first is a simple mini cake stand of donuts. You can easily attach this, "We DONUT know what we would have done without you" printable from Happiness is Homemade. You can always make up some homemade gluten-free fried cake donuts like ours or you could just buy your favorite brand at the store.
Next is a basket of apple themed goodies. Attach it with the "You are the apple of my eye" printable from A little Claireification for an extra apple touch. Be sure to get a weaved apple basket so that it looks really in keeping with your theme. Then put in some brown crinkle cut paper to give the basket height inside. Next, just place in your apple treats.
We chose an apple lotion from Bath and Body works and a caramel apple cake mix. If your teacher is gluten-free, make our caramel apple cider cupcake mix and put it in a bag inside the basket with instructions on baking them up. Next we added some Treetop dried apple snacks and of course, a fresh, juicy red apple.
Here are some other great homemade teacher appreciation gift ideas:
Berry basket with berry goodies instead of apple and this cute strawberry printable from Tater Tots and Jello
Candy bar gram on poster board
Gift cards with cheeky little notes attached
Movie night in basket with their favorite movie, boxed candy and microwave popcorn
Cookie baking kit with mix, sprinkles frosting and more
Box of their favorite cookies with the if you give a teacher a cookie printable
Apple goodie mason jar
Chalkboard signs
School supplies
Ice cream sundaes in a box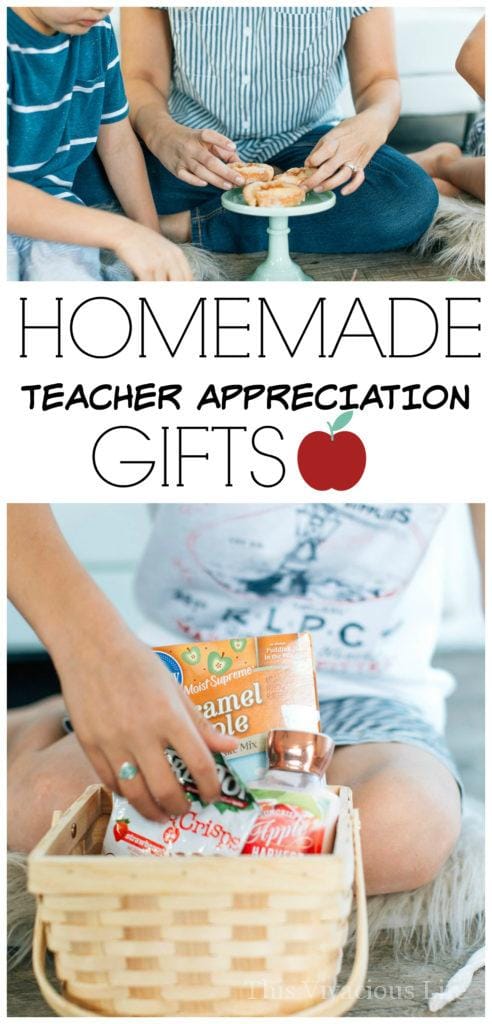 Photos by Amie Pendle