this post may contain affiliate links
This white Christmas dinner party is bright and beautiful for this holiday seasons next gathering.
You guys are going to love this white Christmas dinner party! From the menu to the decor we kept it simple and sleek.
I've always wanted to host a white Christmas dinner party from the very first pin I pinned on Pinterest back in probably about 2010. It was a collection of white snowflake sugar cookies and other white Christmas dessert items. I just love how beautiful freshly fallen snow looks and a white Christmas dinner party reminds me of just that.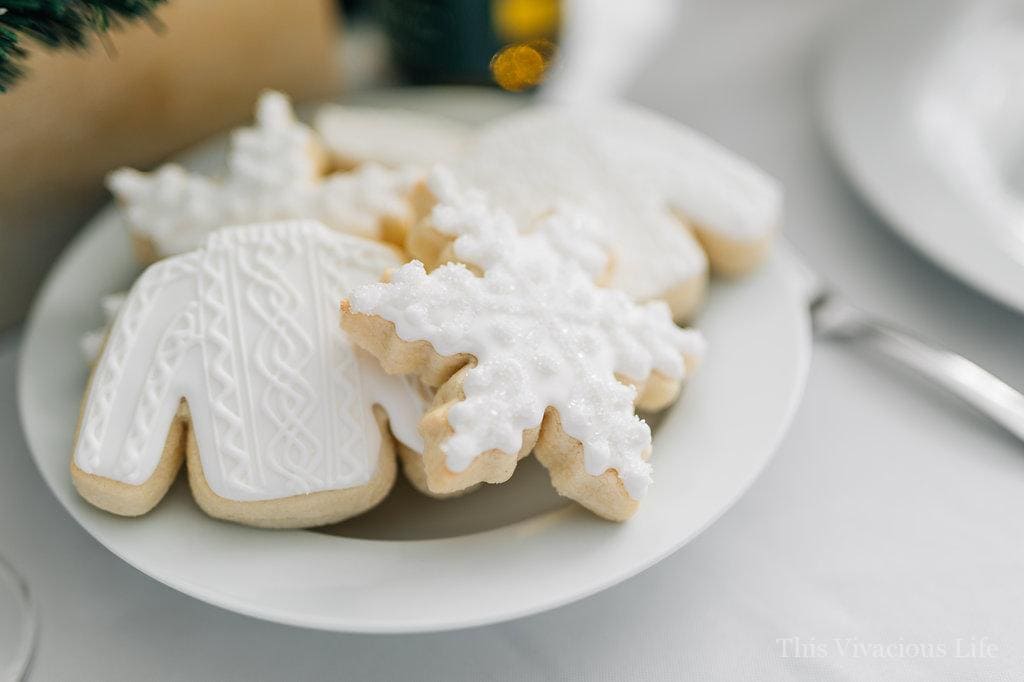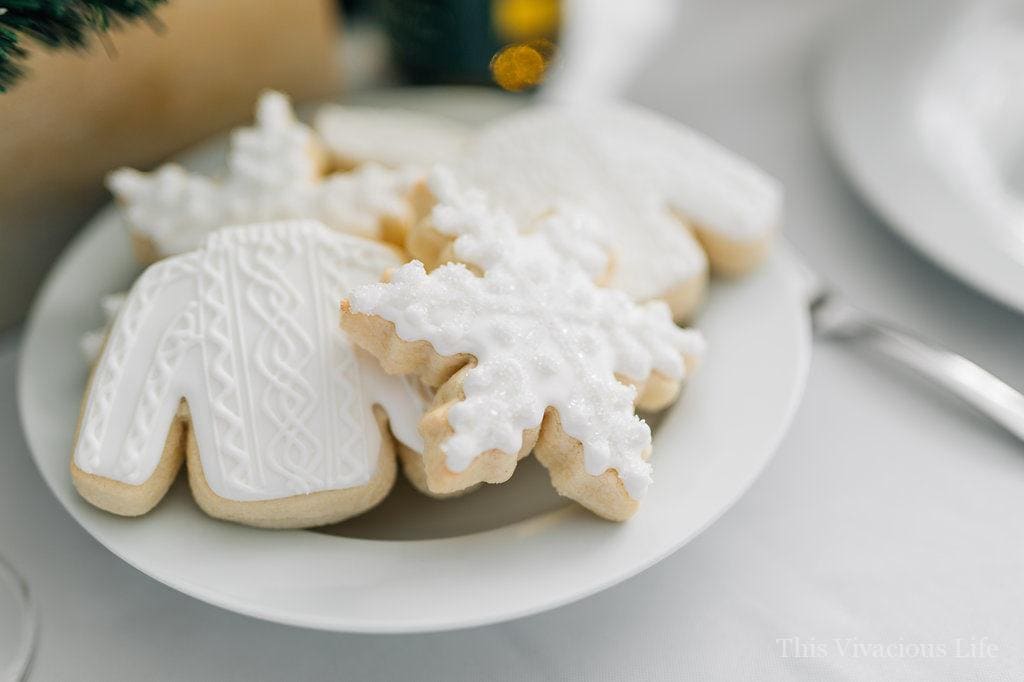 First, I knew I wanted to keep the food simple with the delicious gluten-free menu. We began with a light, white charcuterie and cheese board. There were a few different cheeses including a delicious cheese ball, crackers and bagel crisps as well as sliced Granny Smith apples and prosciutto. We also included some fresh pistachios picked right from the tree in our front yard. I served it all up on a marble white pedestal to keep that light theme going. For dinner, we served a simple and creamy fettuccine Alfredo.
The dessert was the crowning moment and I presented it as beautifully as I could think possible. I made a gluten-free eggnog cake using the Namaste Foods organic yellow cake mix. I love this cake mix because there's only a few ingredients and it's so easy to serve as is or transform into a new flavor. The texture and taste are so great that nobody would ever know it's gluten-free! This cake mix is also free of the top 8 allergens (before anything is that added), moist, fluffy and so delicious. It can be made into cupcakes, cake or a layer cake like we did here.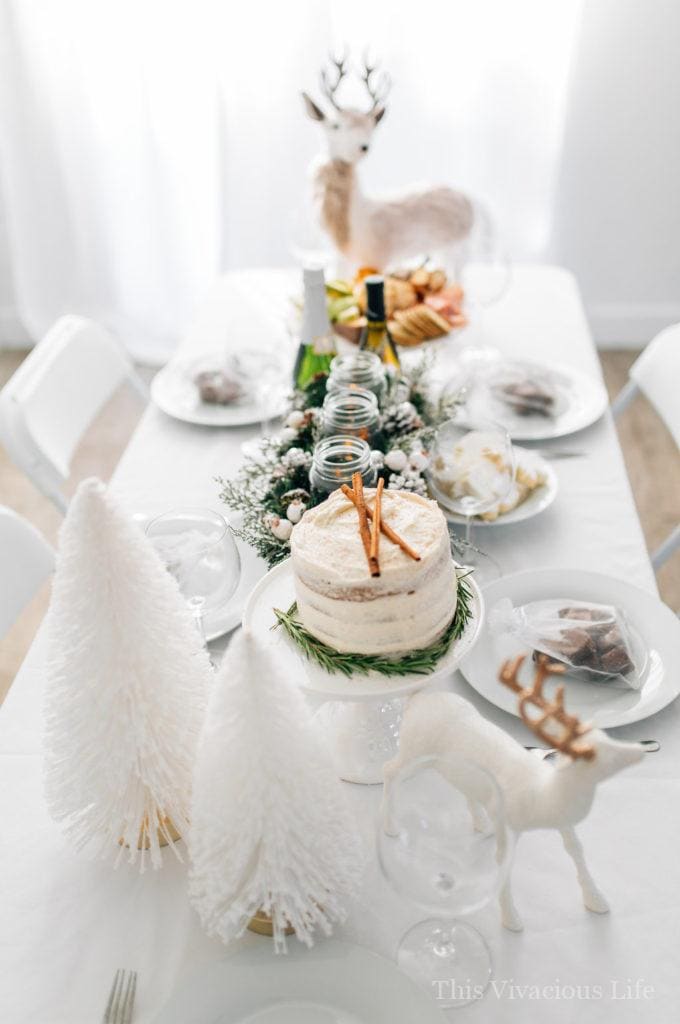 Subscribe to This Vivacious Life
Receive a free e-book of Instant Pot recipes!
Since I don't consider myself a baker, it was a big success that the cake both turned out beautiful and delicious. I used the Wilton easy layers 6 inch five piece cake pans set. They make it so easy to create a gorgeous layer cake.
After frosting in between each layer and creating a naked cake frosting look on the outside, I wrapped fresh rosemary on the bottom to mimic a holiday wreath. I then placed whole cinnamon sticks on top for the final touch. While I used traditional, organic eggnog you could also use a dairy-free version.
I have been using Namaste Foods products since I was first diagnosed with celiac disease back in 2008. They really have some of the best products out there. Some of their new ones I'm loving are the organic devil's food cake mix, organic quick bread and muffin mix, organic dark chocolate brownie mix and organic perfect flour blend. This new line especially is a step above the rest available on the market.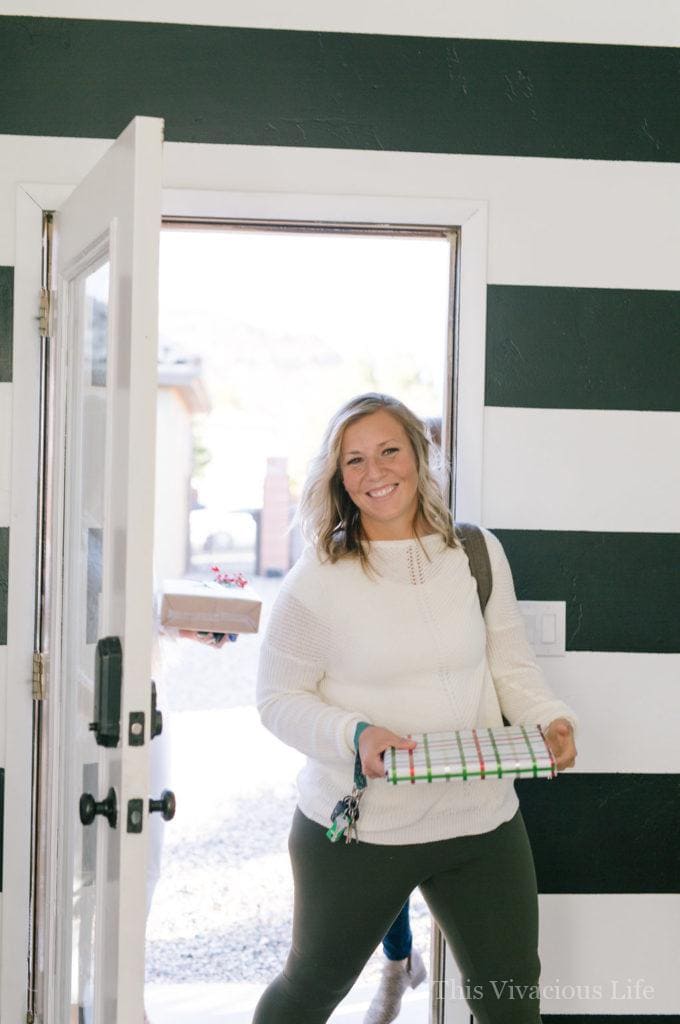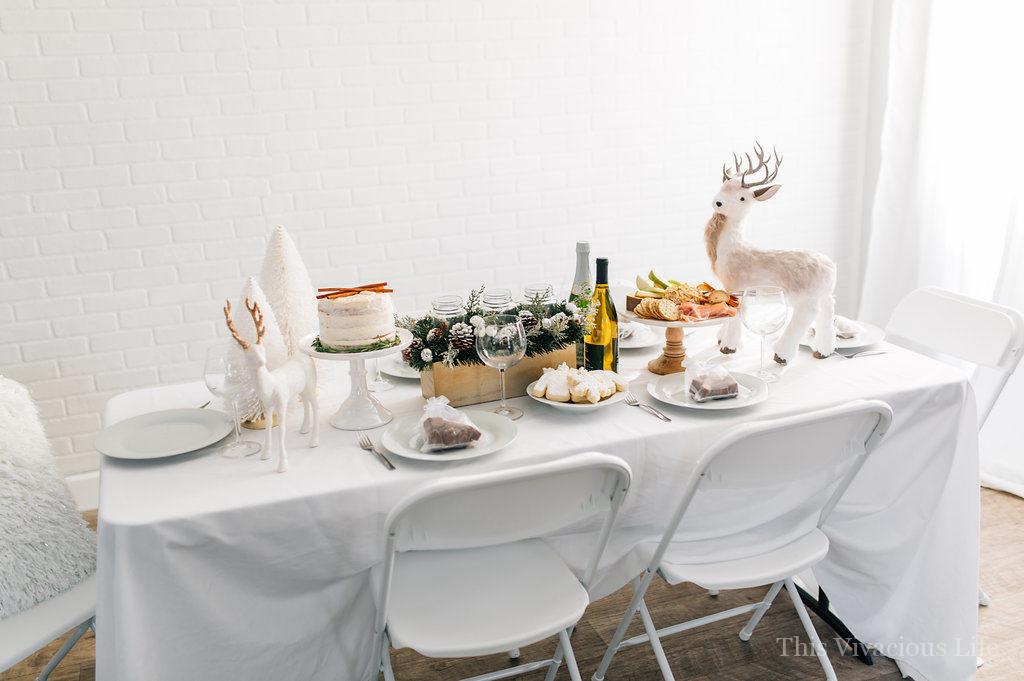 In addition to our pasta, eggnog cake and white charcuterie and cheese board, I also had my girl Shanan from Enchanted Cookie Boutique make these gorgeous white sweater and snowflake sugar cookies. They look beautiful but they also taste fantastic! I also had Mrs Cal's sea salt chocolate covered caramels in little white bags waiting for each girl in her spot.
In keeping with the white Christmas dinner party theme, I asked guests to bring white elephant gifts that we could exchange. It was so funny to see what people came up with. The decor was simple with crisp white linens, white chairs and plates. I found some gorgeous white bottlebrush trees and white deer that fit perfectly as well. The centerpiece was a flocked green arrangement with candles inside mason jars.
The best part about a white Christmas dinner party is that the sleek, crisp mood makes it easy to decorate and decide on a menu. Nothing is meant to be overboard but rather, modern, simple and beautiful.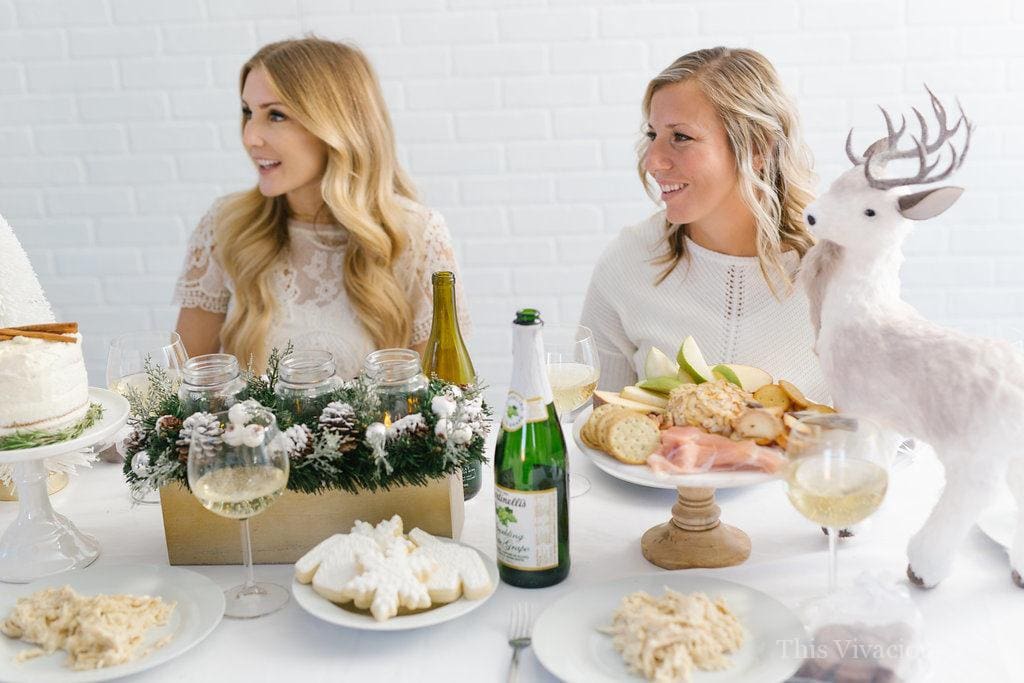 If you like this post and you're definitely going to love our other holiday parties including…
Flannel and flapjacks holiday party
Photos by Amie Pendle