This 2 Fast 2 Furious birthday party was perfect for our little Vin! The race car cake, decorated sugar cookies and tuna on white no crust made for delicious party food while blow up tires and grandpas garage made the perfect backdrop for this unforgettable party!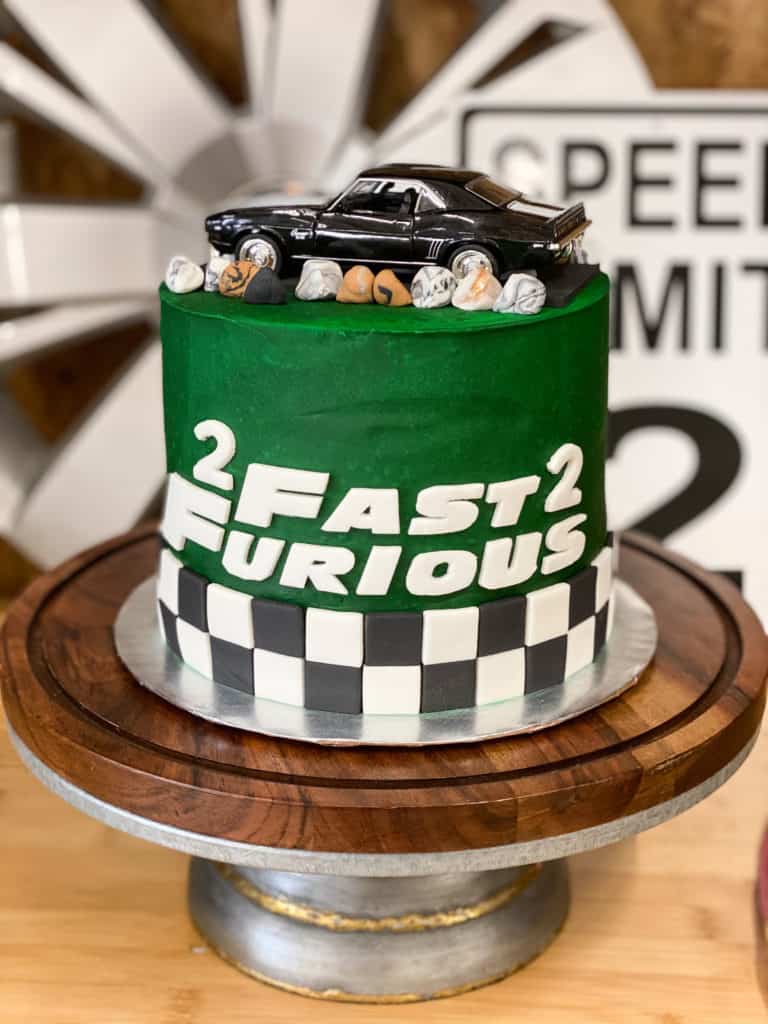 Ever since the day we named our little guy Vin, I knew I would do a Fast & Furious themed party for his second birthday. This little guy is so spunky and fun. He was so excited for a whole day themed around cars!
Like our little girls two legit to quit birthday party or pretty in Paris themed party, we had so much fun going all out! From food and decor to attire, it's a blast to put it all together.
For this party, I knew grandpas house with his motorized green cars and big shop was the perfect place to do it. We had so much fun all day watching the kids race and play.
Subscribe to This Vivacious Life
Receive a free e-book of Instant Pot recipes!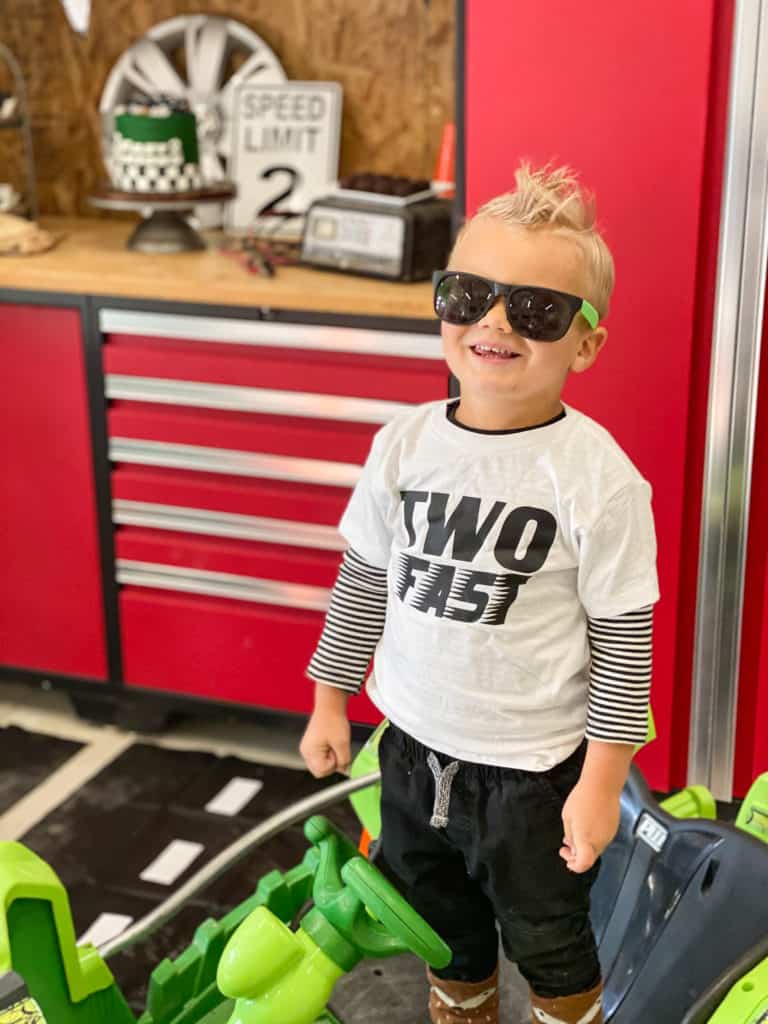 But before the party, I wanted to set the mood with a themed invitation. I found this cute one on Etsy and loved how easy it was to customize. Everyone loved getting their invite and we remembered to tell them to come in their best Fast and Furious attire.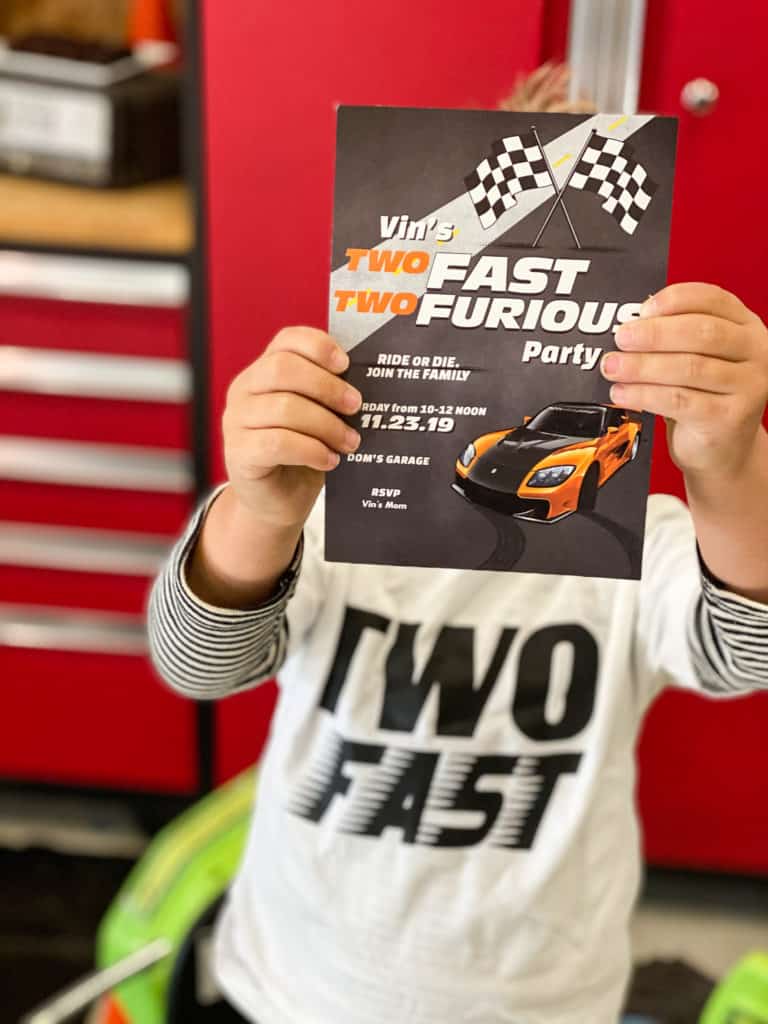 Cars Party Food
My friend Shanan makes cookies for us whenever we have a party. The decorated sugar cookies she made for our Christmas in July ideas or mermaid baby shower turned out so cute!
I knew she could knock it out of the park with these cookies as well and boy did she. Aren't they darling?!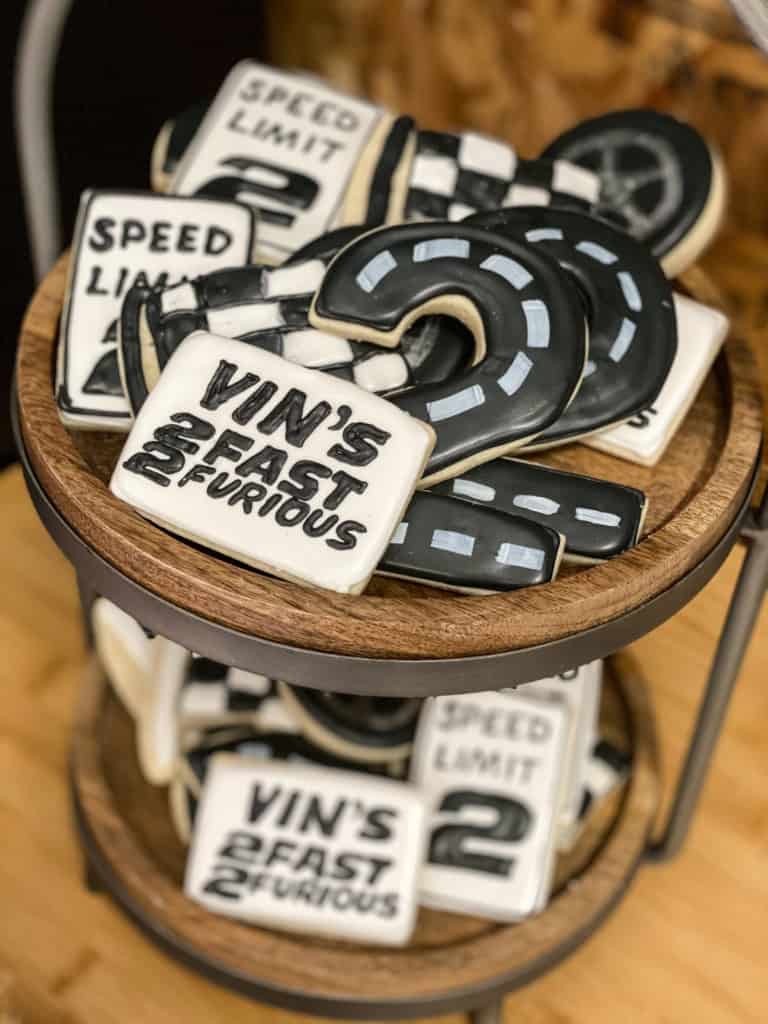 In addition to cookies, I wanted to do another little treat so we put out these pre-made gluten-free brownie bites from Canyon Bakehouse. Nobody even knew they were gluten-free. I just put them on a plate and set the atop a battery charger for a really authentic looking set up.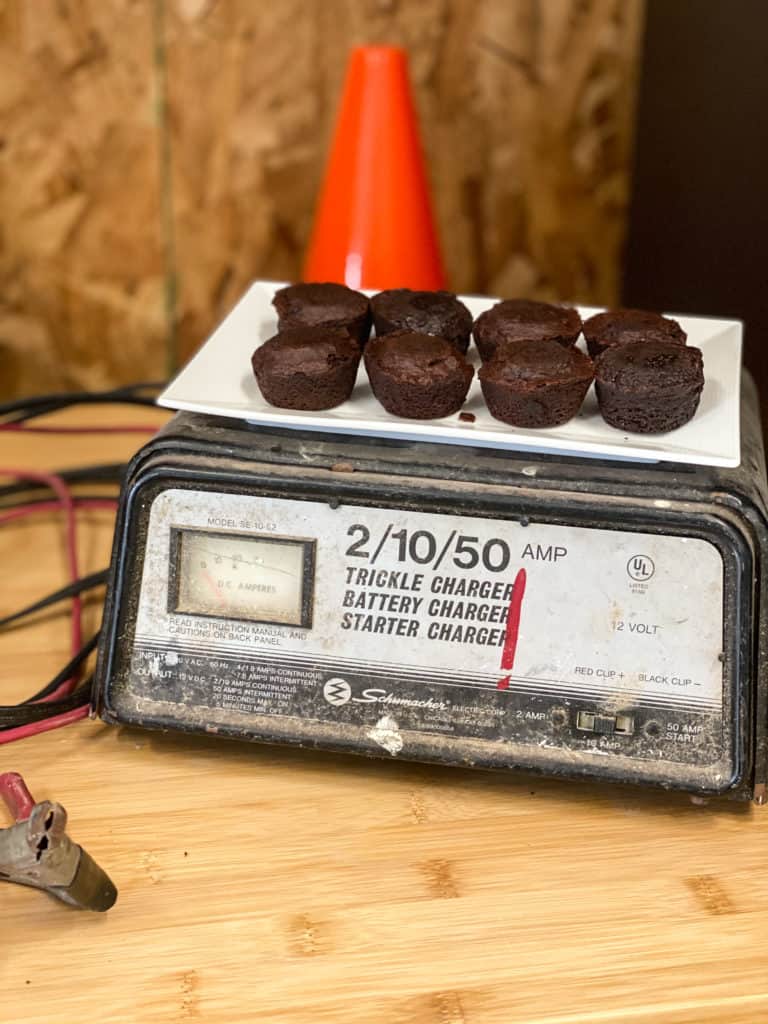 If you've seen the first Fast and Furious movie, then you know this reference of tuna on white, no crust. It is so iconic and was the perfect savory dish to add to our food lineup. This tuna no crust sticker made the perfect sign.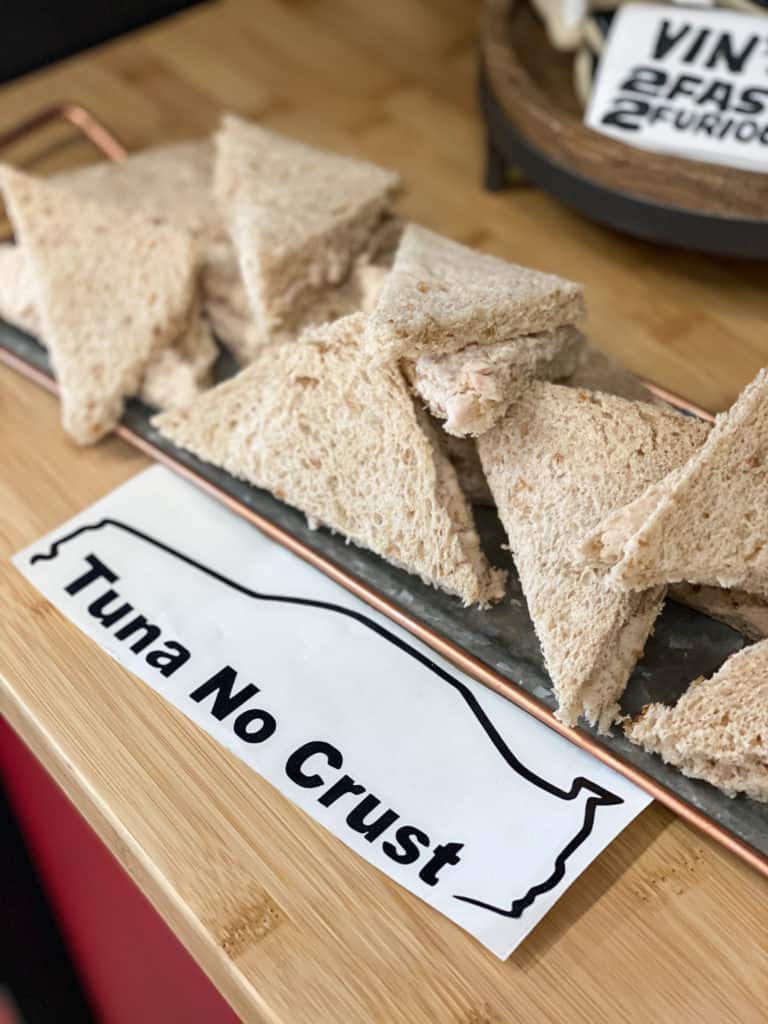 Of course the cake was the shining star of the table and party food. My friend Julie from Cupcakes by Julie made this darling cake complete with edible rocks and fondant race tracks.
We just purchased this black car to put on top and it made the BEST birthday cake!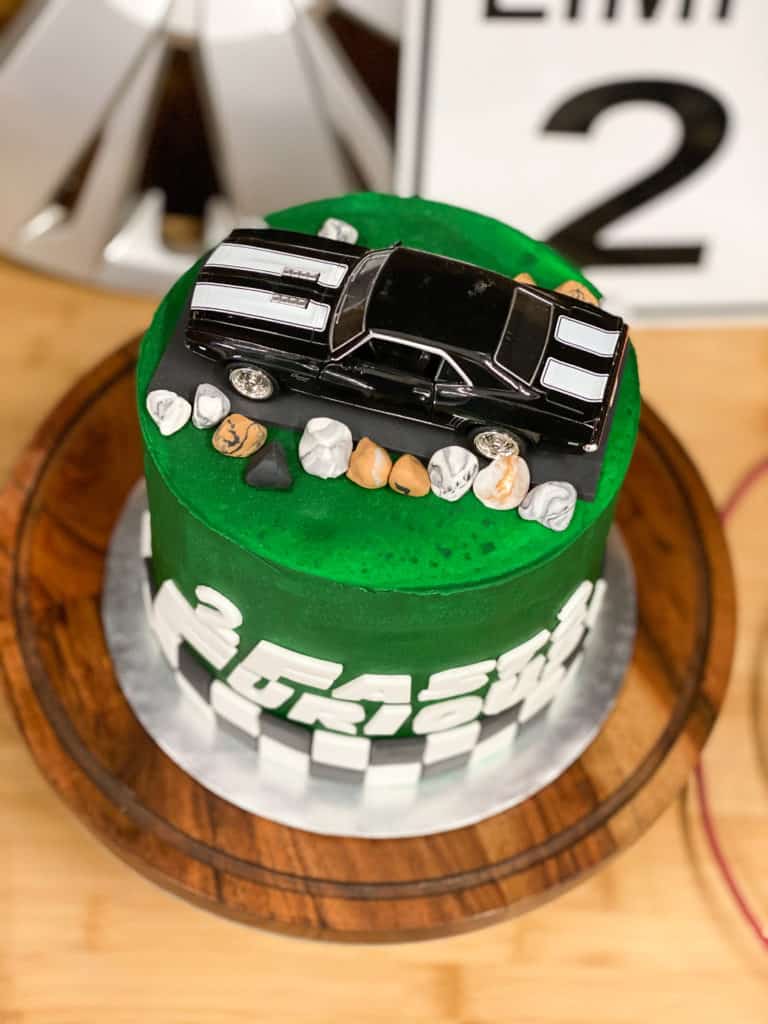 Racing Birthday Decorations
Decorations were pretty simple thanks to grandpas garage. He has these amazing red built ins that were the perfect backdrop to our party. These HUGE race track finish line flags were great for draping above the shelves and across the garage.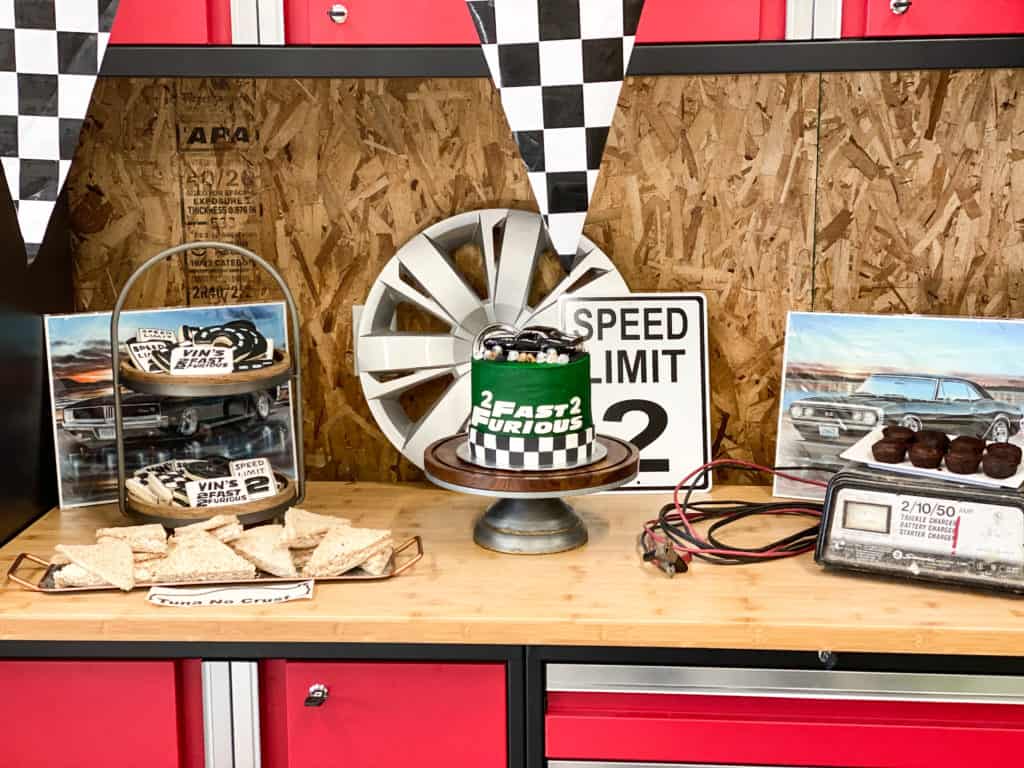 My dad had some awesome pictures of muscle cars and we used some of his stuff like the battery charger for the brownie bites to sit on.
We also put up orange cones that I got from Target in the dollar spot months before. That is key, be looking for decorations long before the party.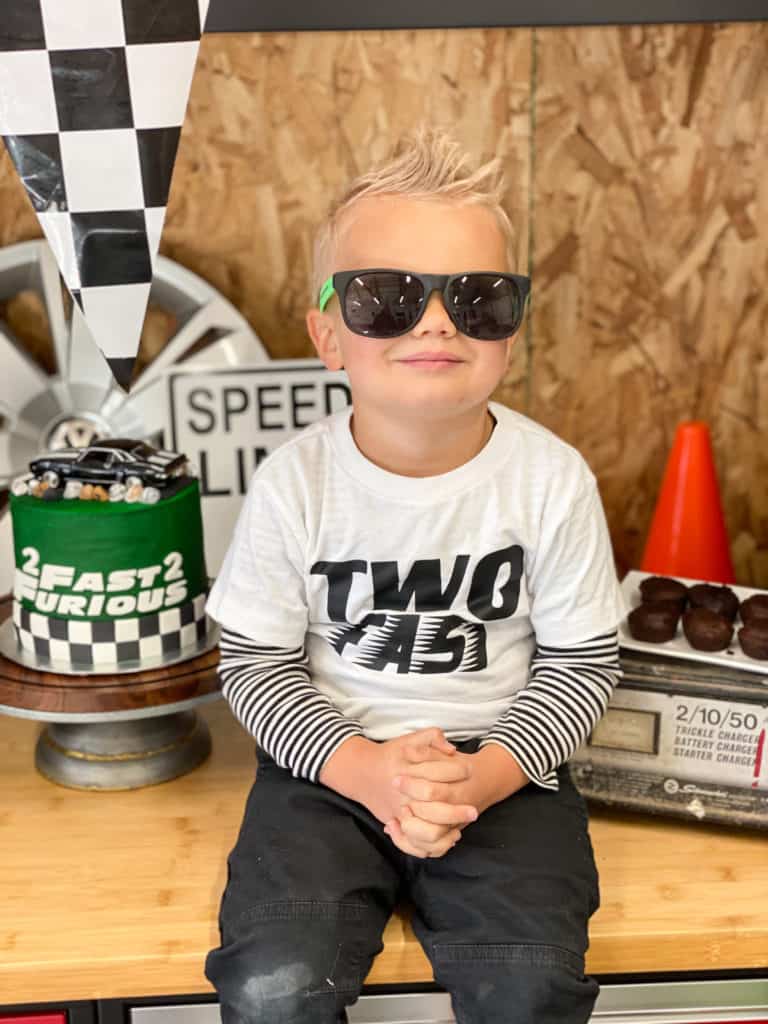 The 10 ft. long racetrack runners were so fun to lead to the dessert and food table. They definitely pulled it all together rather than just having bare floors.
Grandpa's green race cars couldn't have been a more perfect addition! They were parked on either side of the runners and the kids absolutely loved playing on them.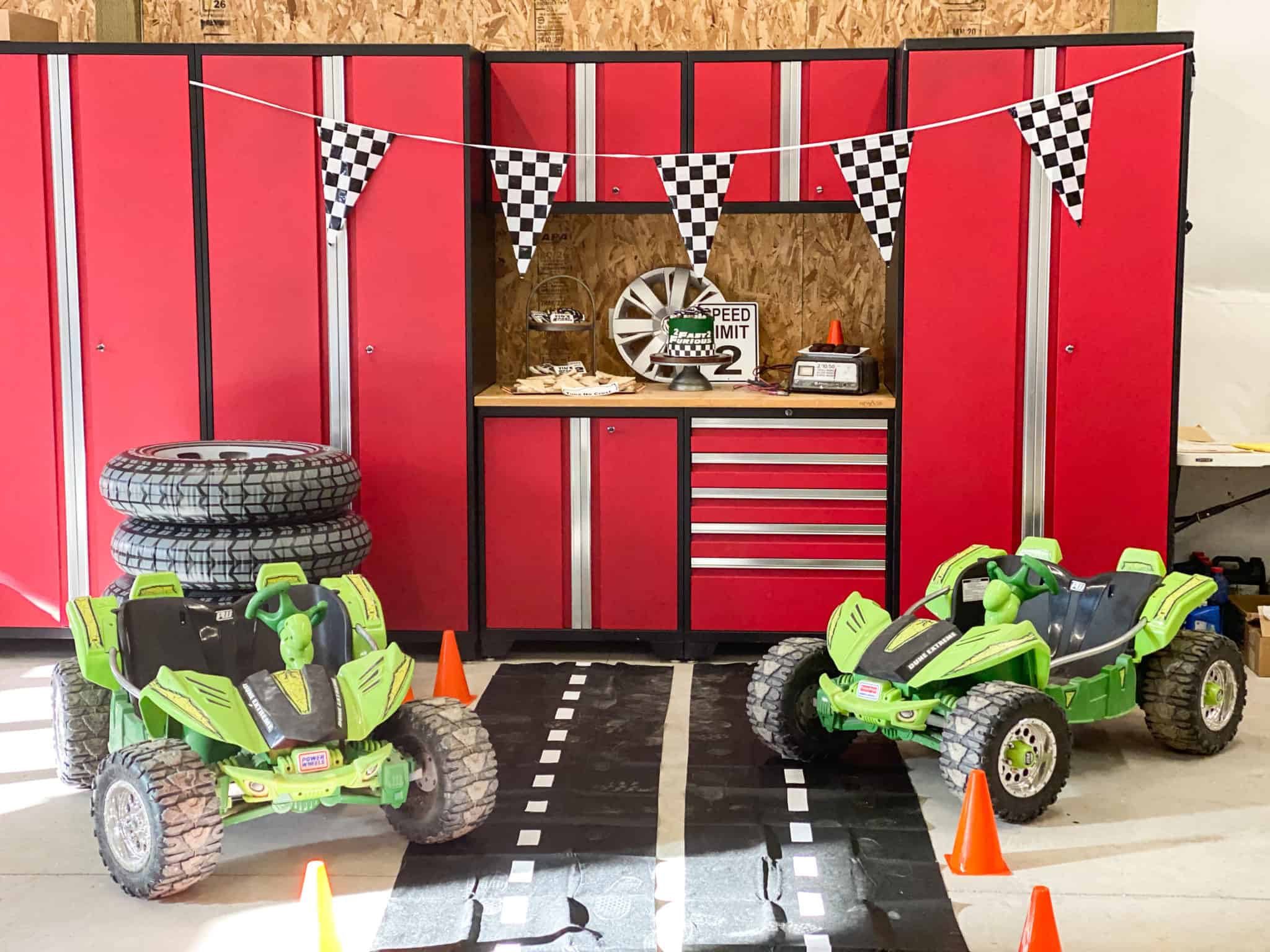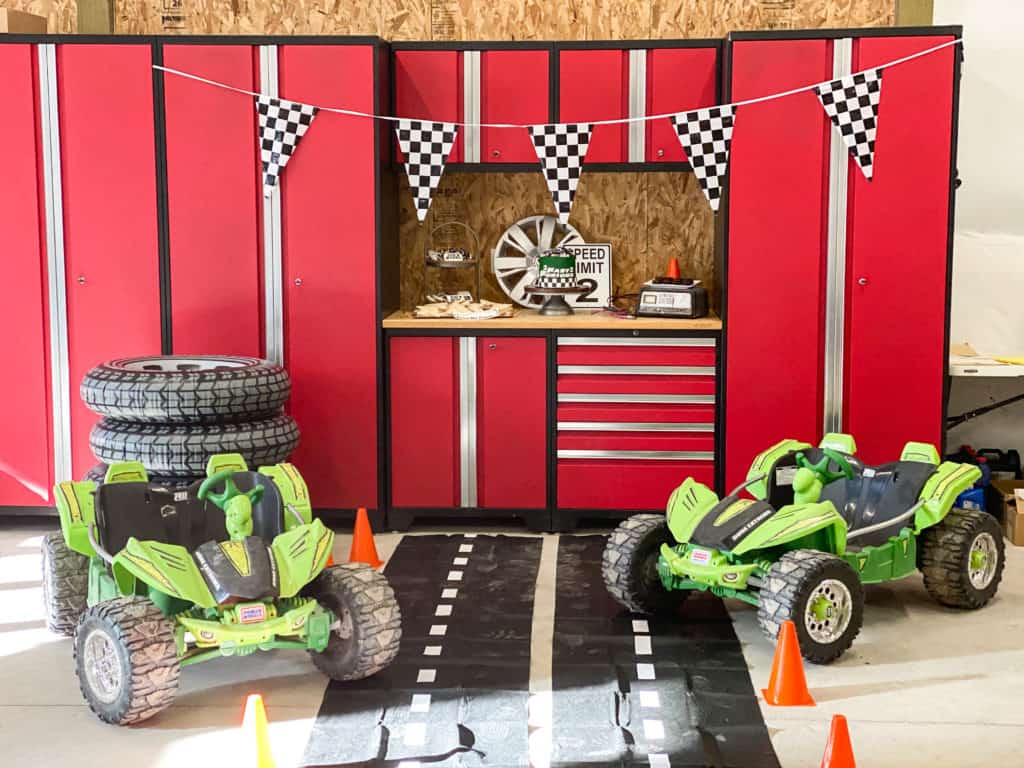 I actually found this rim on the side of the road somewhere and grabbed it for the party. I bought this speed 2 sign to put next to it and loved how they both looked.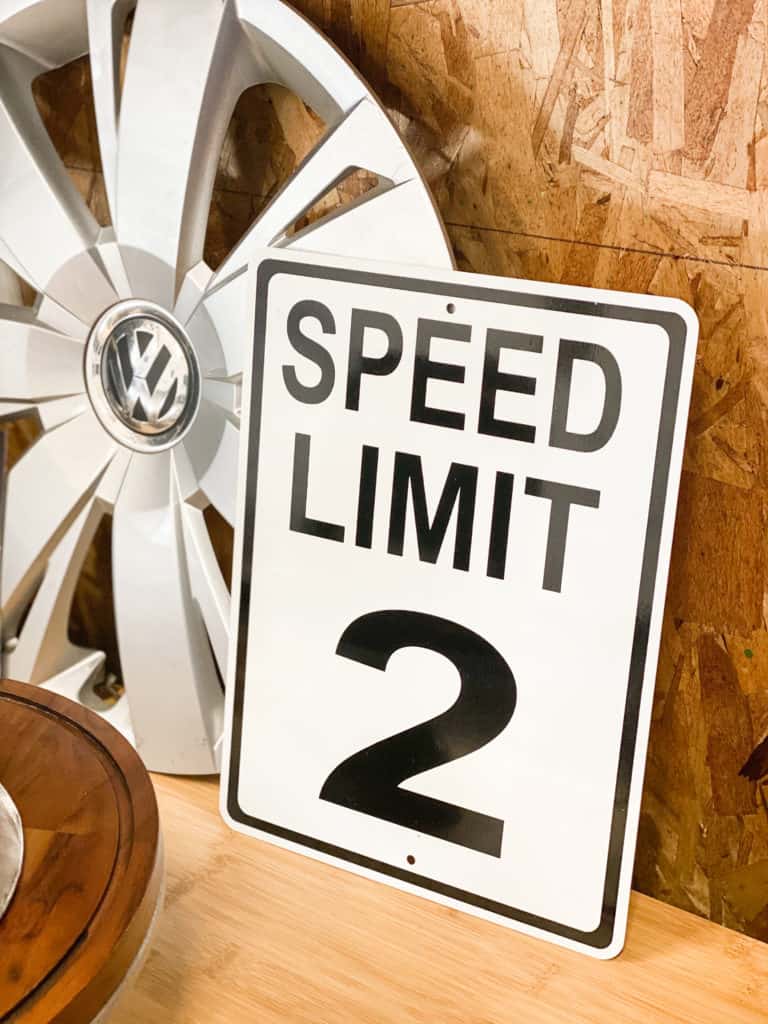 I knew a stack of tires would be a WOW factor and using inflatable tire tubes was so much easier and cheaper. Plus, they make a great party favor for guests!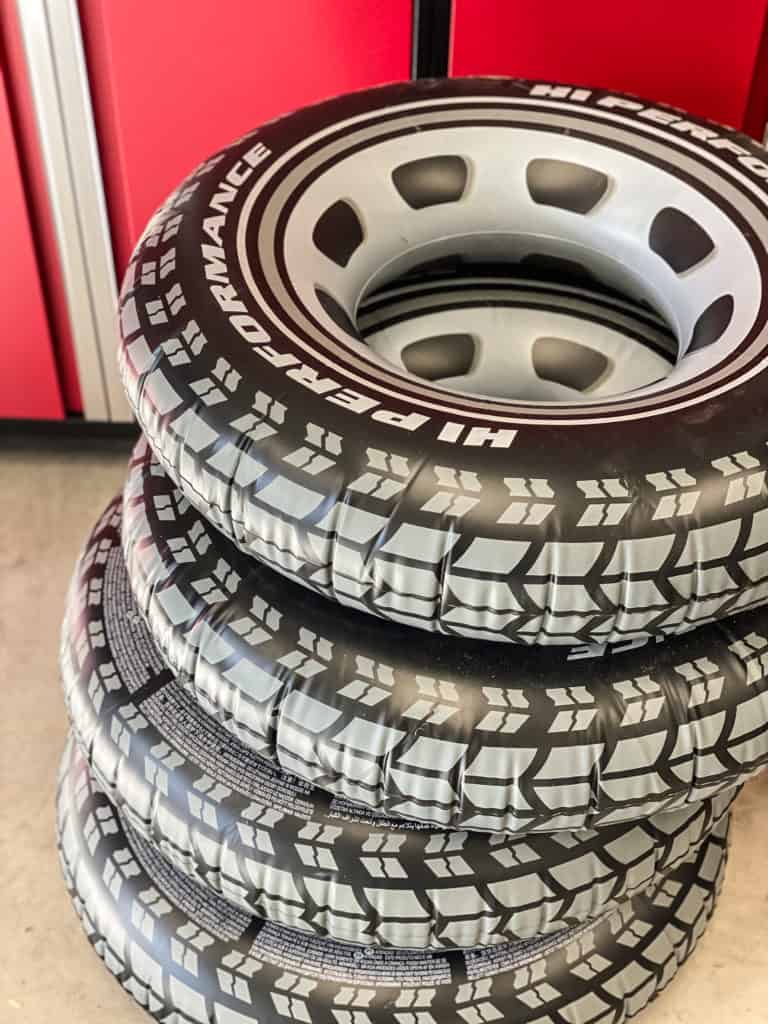 Two Fast Two Furious Attire
When I saw this two fast kids shirt I just had to get it! Like the one we got him for his one love birthday party, this one was so fitting with his birthday theme.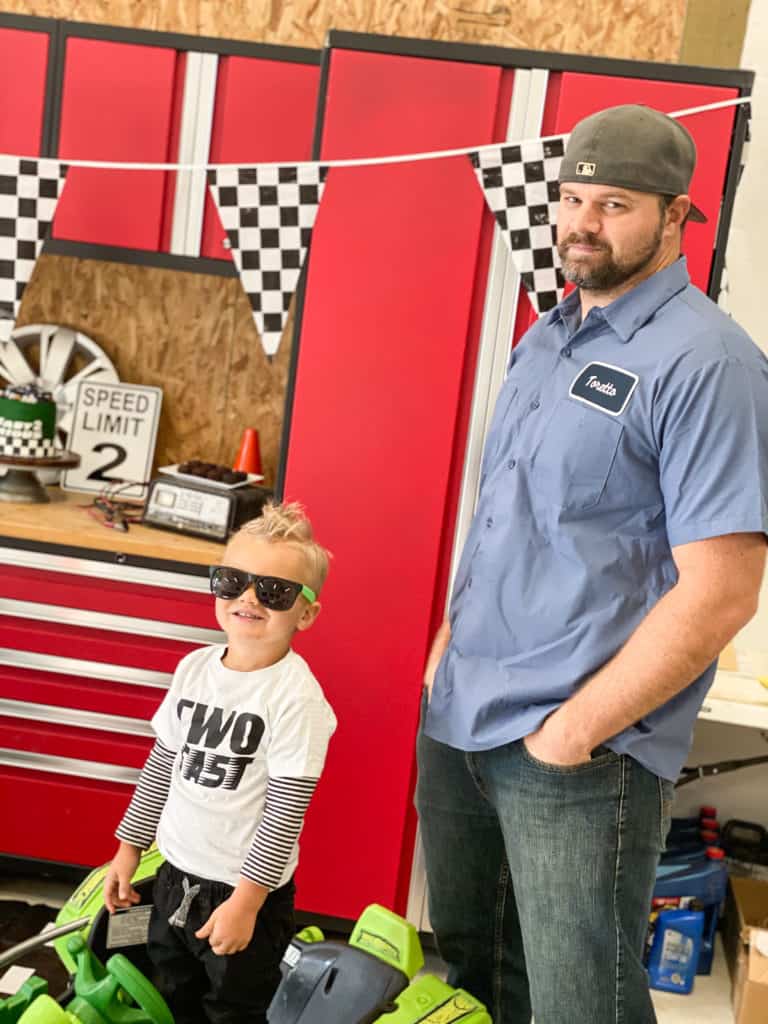 Dad and mama needed fun shirts too so I got my hubby this Toretto mechanic shirt and me this black shirt. We all got into character and had so much fun!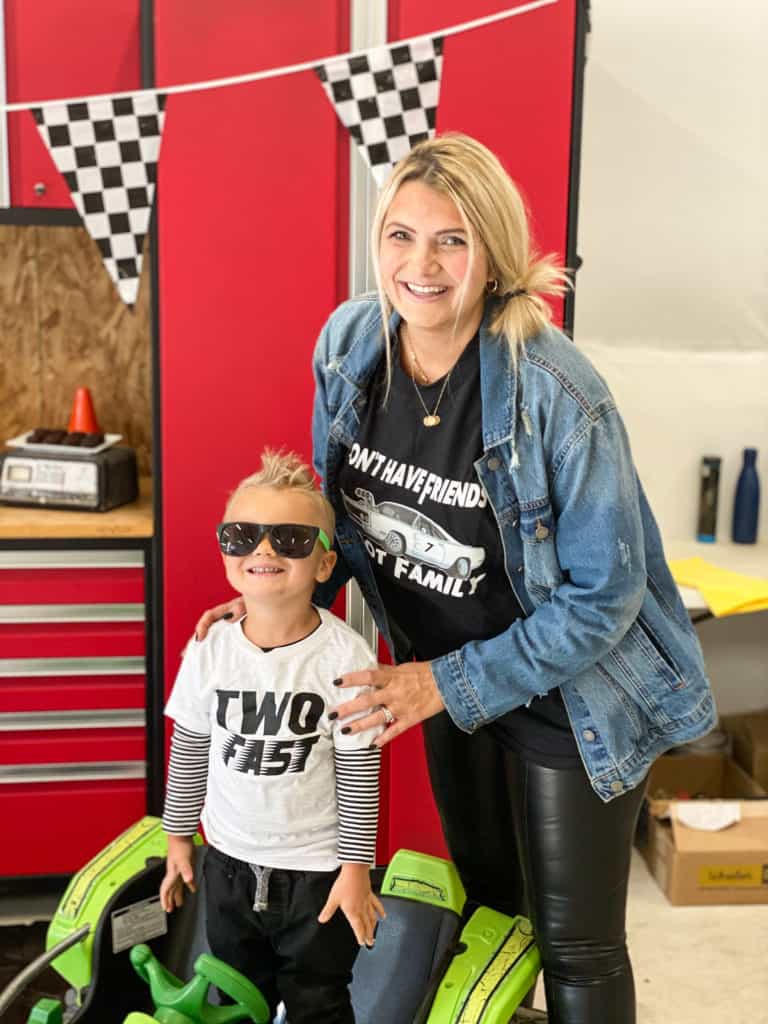 Even his uncles came all dressed up with ripped sleeve mechanic shirts. We joked that while some kids get princesses or clowns, our boy gets these guys!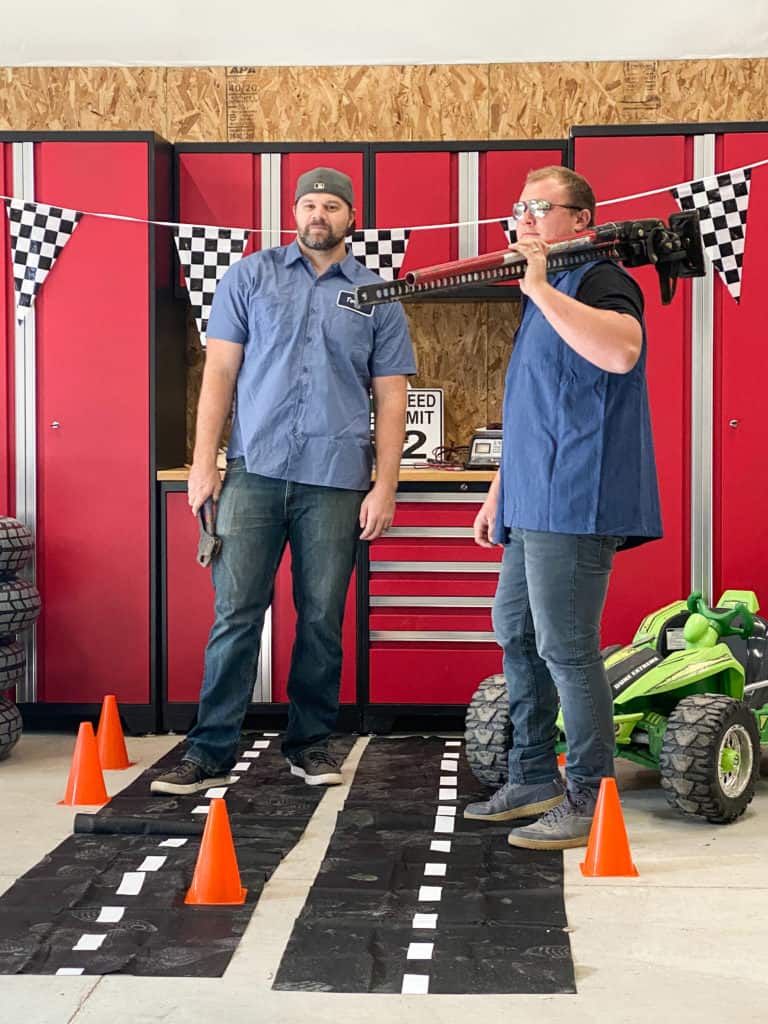 There were so many smiles, laughs and lots of fun had all around. It was very casual and that's just the way I like it. Serve up a few mocktails and you will have drinks covered as well.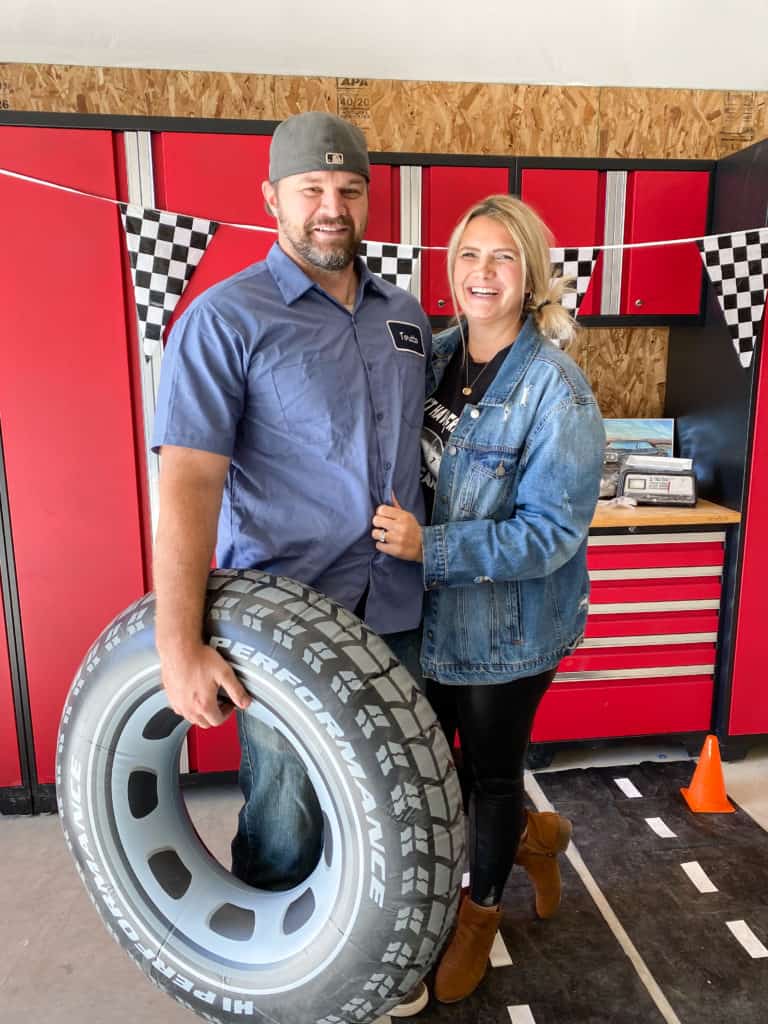 Cars Party Activities
My sweet sister in law saw a huge group for Ferraris driving around our home town on the day of the party. She stopped them to make a surprise appearance at our boys birthday party. Boy was he surprised!
I don't know if his dad, his aunt and cousin or he was more excited! They were kind enough to give a few little rides around the neighborhood and everyone got to oogle over the cars. We found out they are part of a local club for people who own Ferraris so I bet many of you could find a local one as well.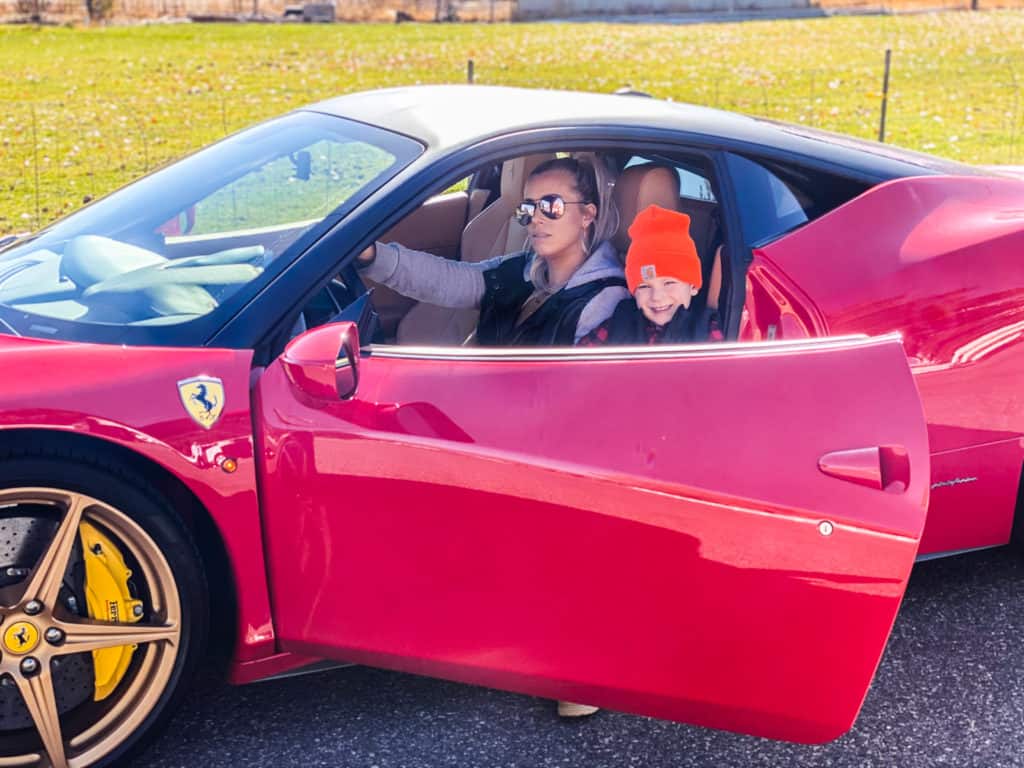 Whether enjoying the themed treats, playing around on little motorized cars or taking a ride in the real sports car, everyone at the 2 fast 2 furious birthday party had fun. Especially our sweet birthday boy VIN!