Ok, if you know me then you know that beautifully decorated sugar cookies are a part of nearly every gathering I host. You can keep icing decor simple or you can go elaborate like many you see here, thanks to Enchanted Cookie Boutiques talents!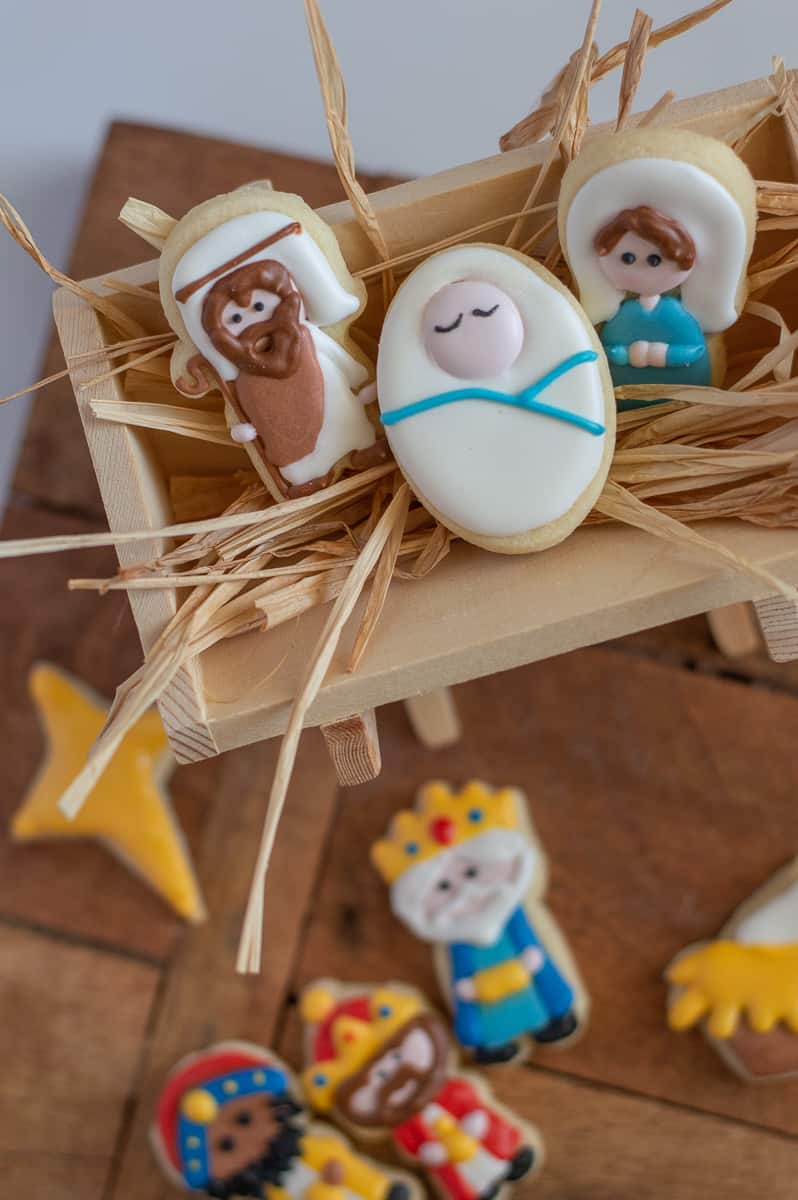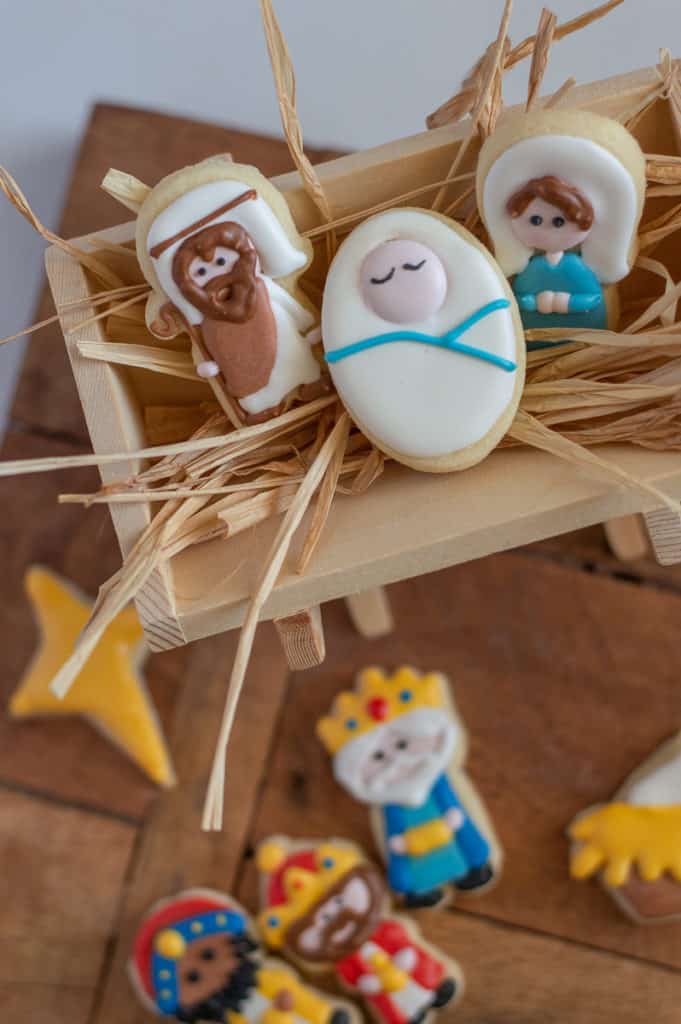 Decorated Sugar Cookies for Christmas and New Years
You guys know I love a beautiful themed sugar cookies at any party I host. So I figured we couldn't go wrong with these gingerbread boys and houses at little ladies gingerbread decorating party. 
My friend Shanan over at Enchanted Cookie Boutique couldn't have created my vision more beautifully. Just look at all that detail!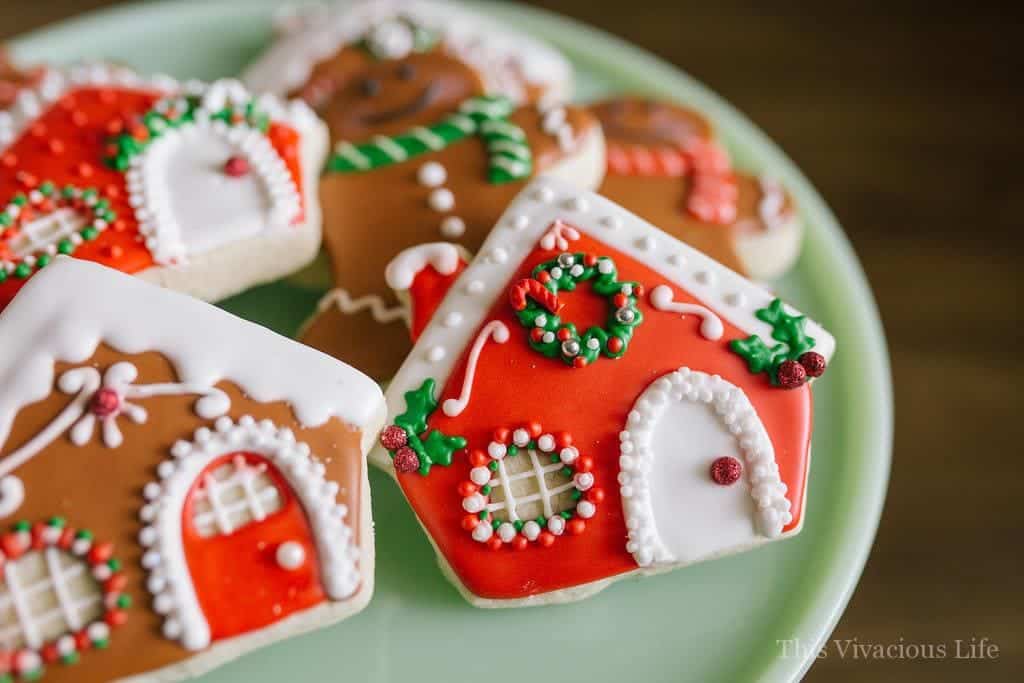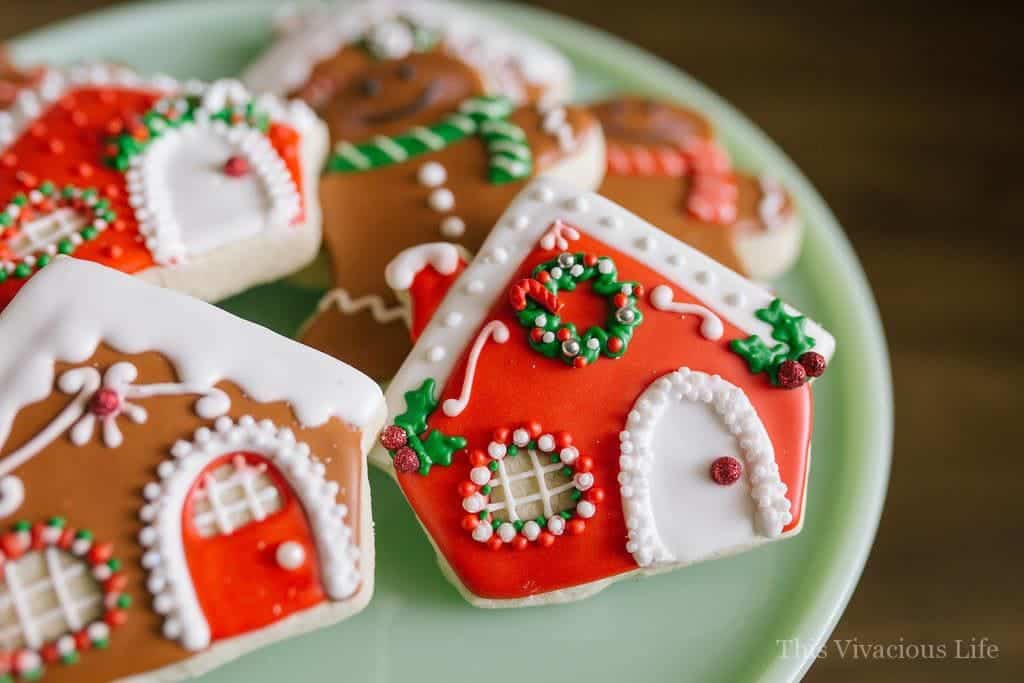 I've always wanted to host a white Christmas dinner party from the very first pin I pinned on Pinterest back in probably about 2010. It was a collection of white snowflake sugar cookies and other white Christmas dessert items.
Subscribe to This Vivacious Life
Receive a free e-book of Instant Pot recipes!
I just love how beautiful freshly fallen snow looks and a white Christmas dinner party reminds me of just that. These gorgeous white sweater and snowflake sugar cookies that Shanan made were the perfect party addition. They not only look beautiful but they also taste fantastic!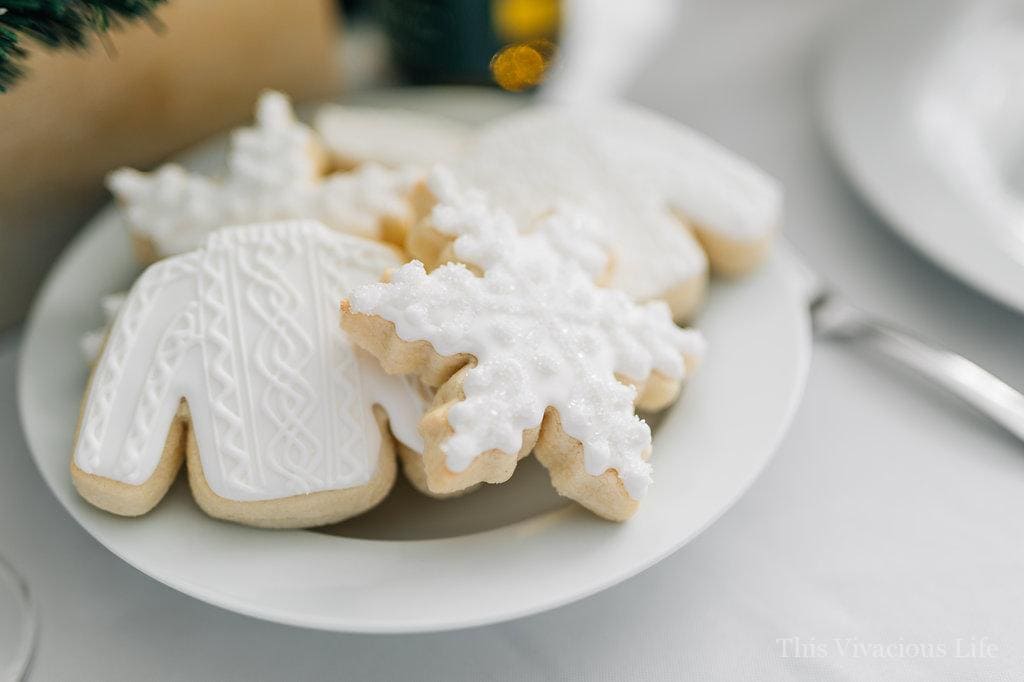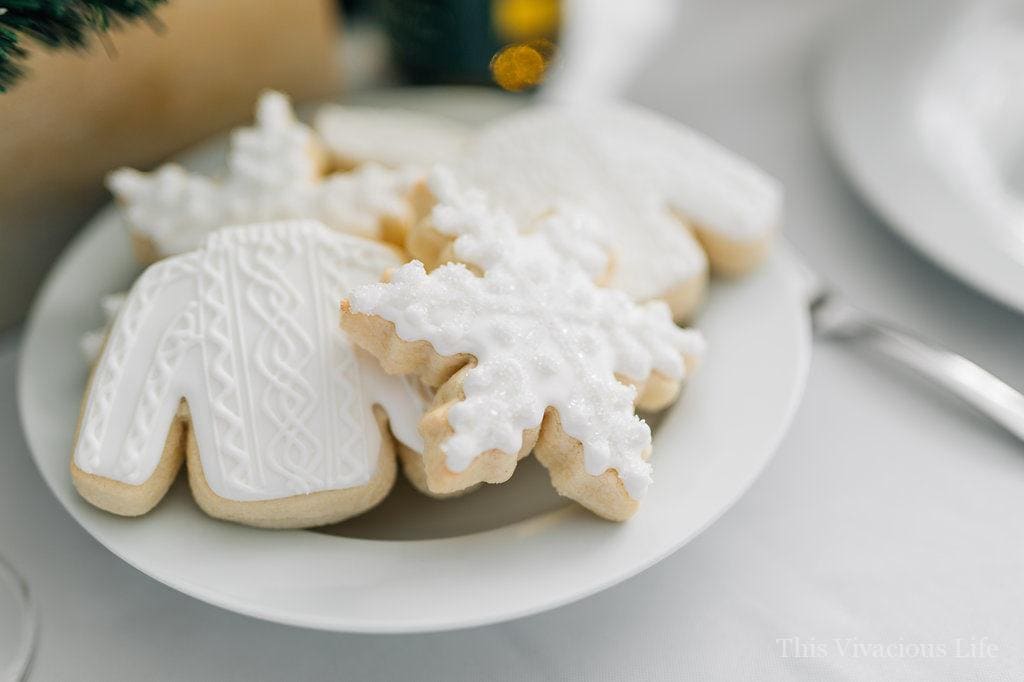 Ok and these nativity cookies are more than just cookies…they are a Christmas countdown edible nativity! Each day there is a linen bag with a number on it and a cookie inside that has a coordinating scripture.
Seriously, how fun would kids think that nativity was?! It is interactive yet gets their attention so maybe, just maybe they will be even more interested in the message given through that days scripture.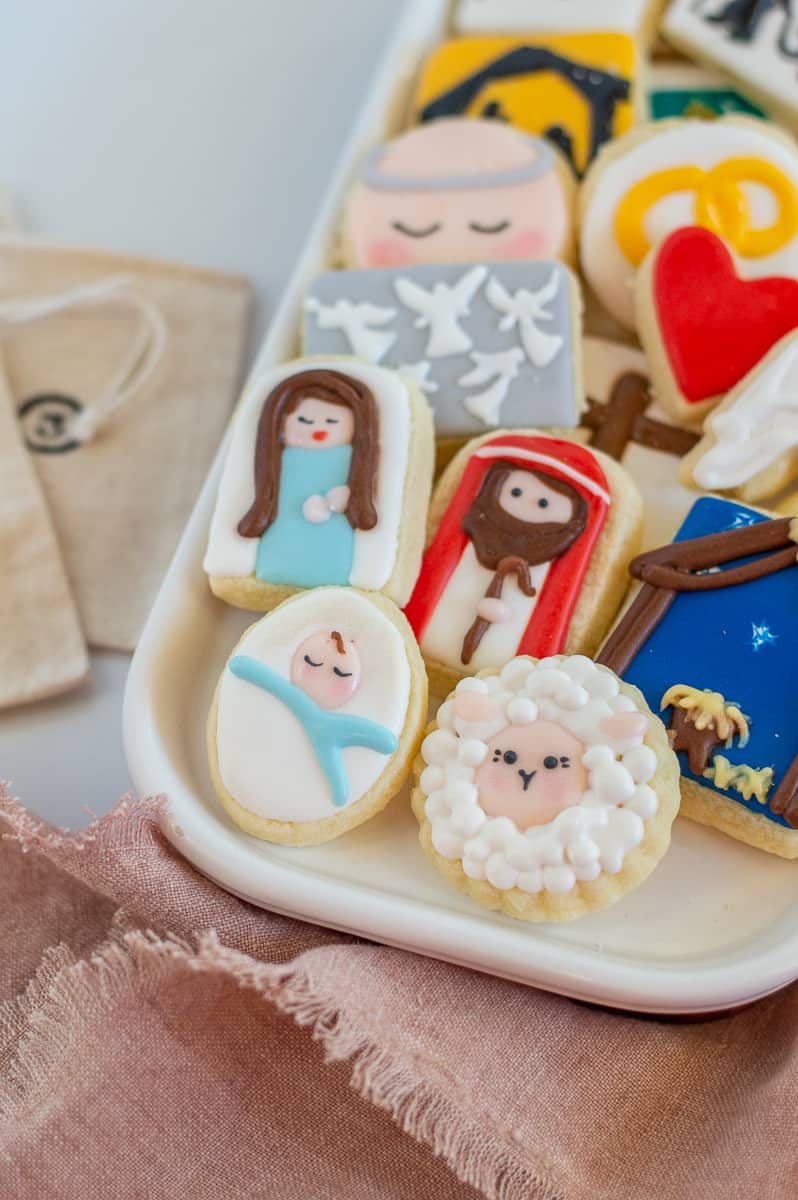 Since we did a DIY bubbly tower using Dry Sparkling soda at our glam new years eve party, I knew I needed to mimic the theme with little bubbly drink sugar cookies from our friend Shanan. I love that she even offers gluten-free cookies so I never have to miss out on the sweet side of the party!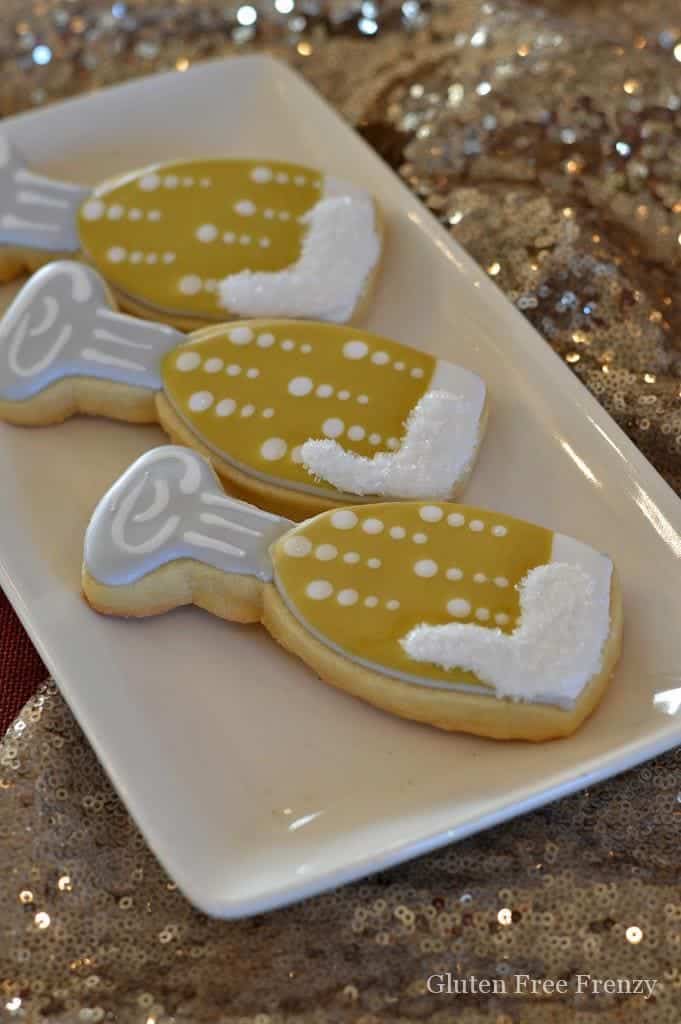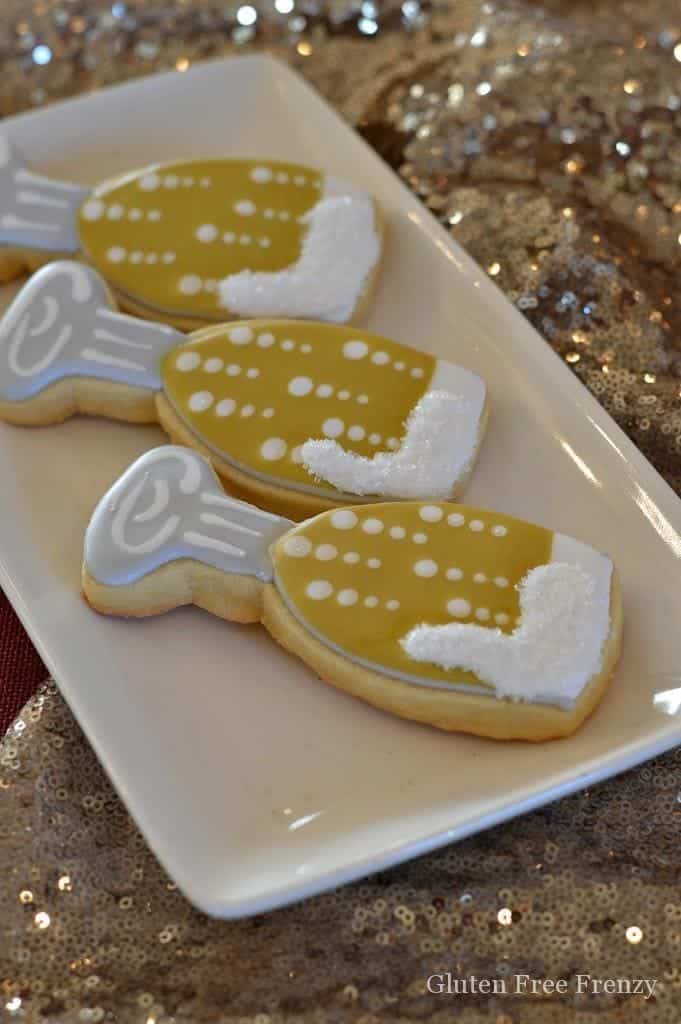 Thanksgiving, Halloween and Fall Sugar Cookies
Thanksgiving cookies are the NEW dessert to serve! They look beautiful and taste great too. Plus, no heavy baking on your part like with traditional pies…
These delicious, decorated sugar cookies are just a quick phone call or email away… Shanan at Enchanted Cookie Boutique does all the baking, decorating and ships them right to your front door!
I love this because it gives you more time in the kitchen to cook that gluten-free turkey, gluten-free green bean casserole with homemade fried onions and delicious sausage and apple gluten-free stuffing.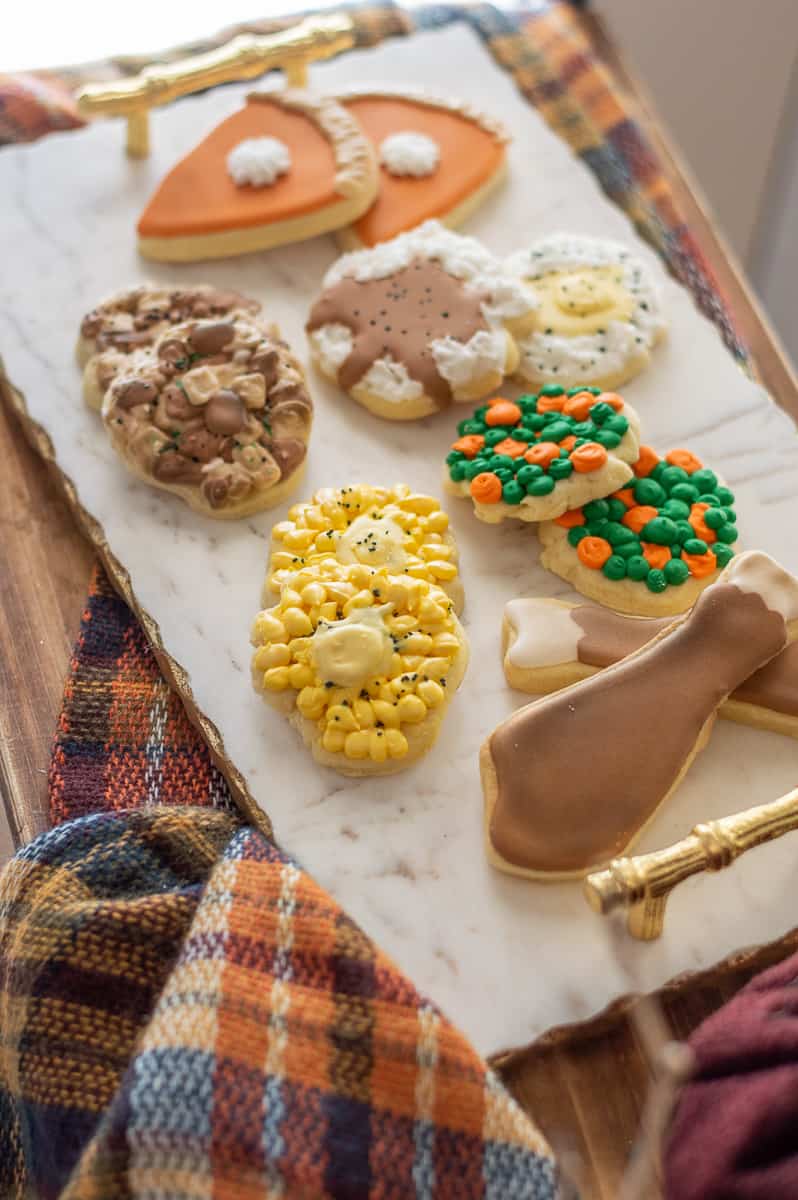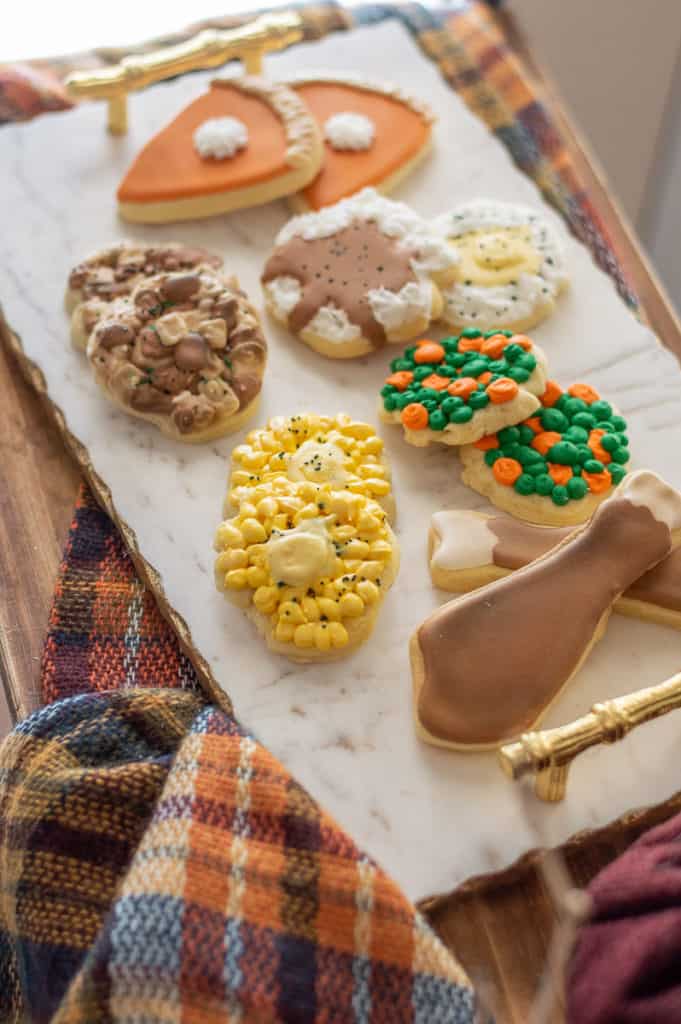 Our witches night out Halloween party was full of spooky fun! You can easily re-create it for your favorite girlfriends for a memorable night. 
Choose one themed treat that will really POP! These vintage looking pumpkins as well as old Halloween prints on edible paper were so cute and absolutely delicious! I love that Shanan can get even more creative with cookies by using a rice paper printer.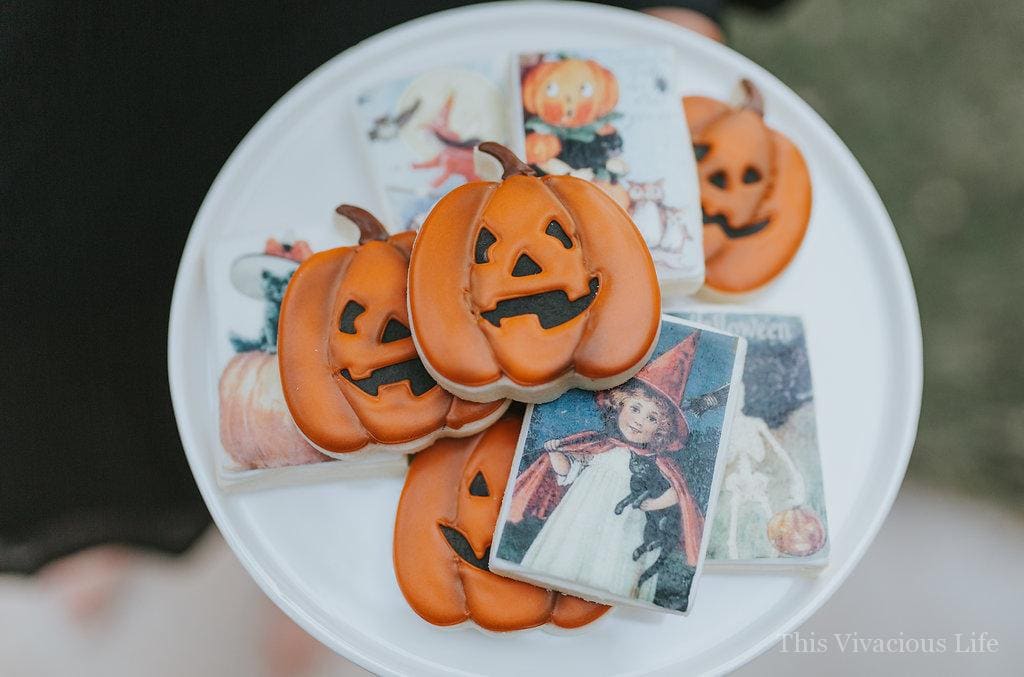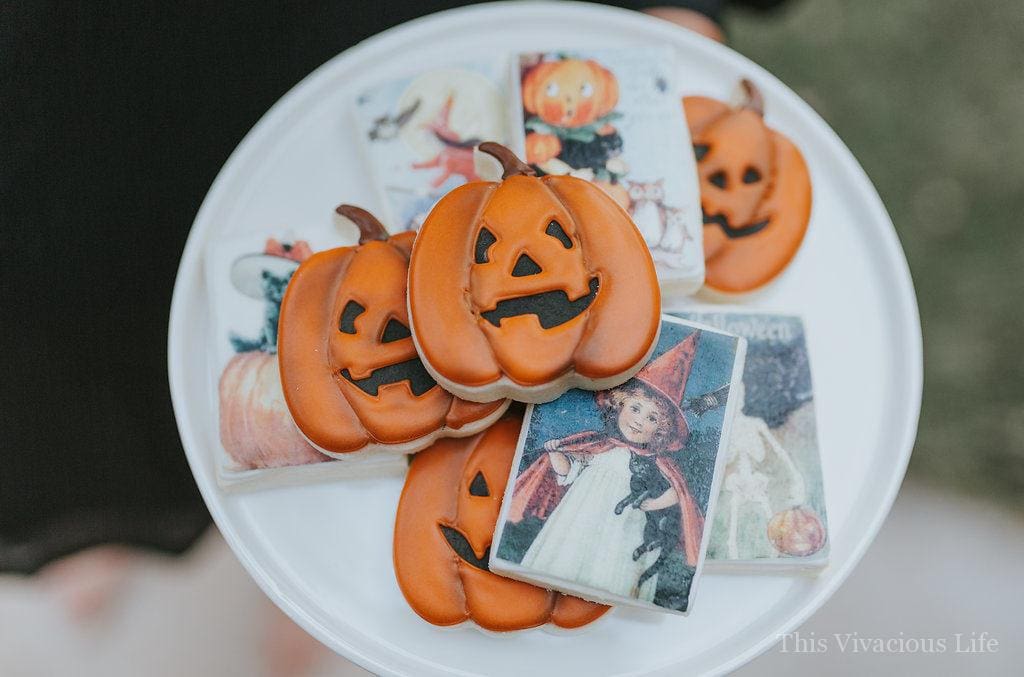 This ladies night football party is sure to be a hit with your sporty friends (and might just make their husbands a little jealous too). To me, the football & stadium gluten free cookies from enchanted cookie boutique were definitely the star of the table!
I love having her do such beautiful creations at my celebrations. We also whipped up a batch of gluten-free brownies. I simply baked them in a pan then cut them into football shapes and topped them with frosting laces.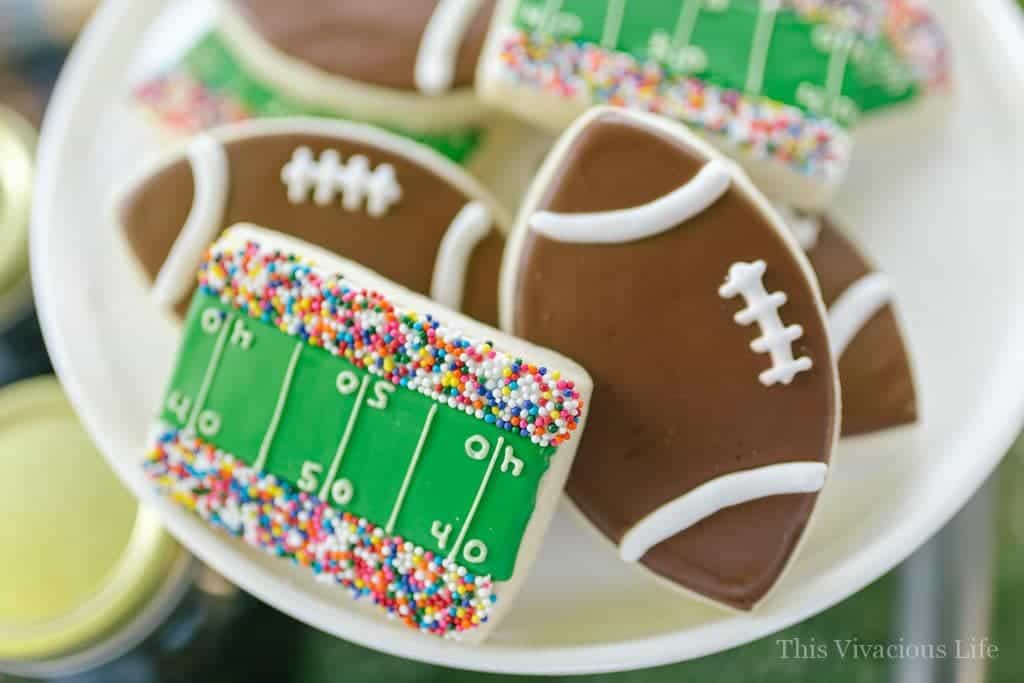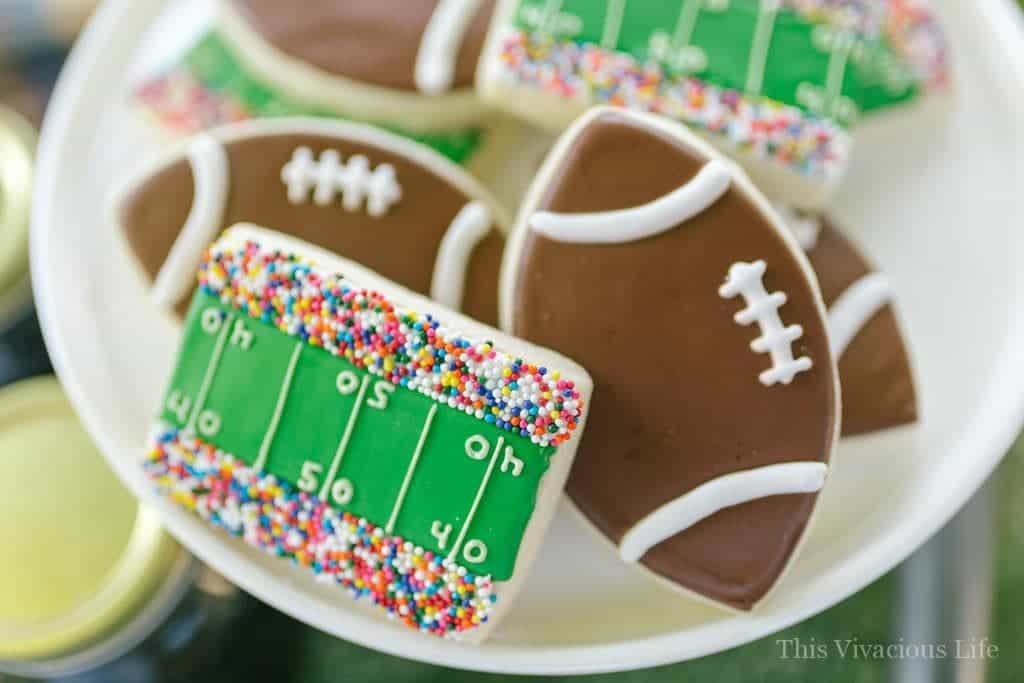 Valentines Sugar Cookies
A galentine's party are so much fun because they are a beautiful but laid back way to get your gal pals together in February.
There were also chocolates on a heart plate which looked so festive. We also did lipstick and chocolate dipped strawberry sugar cookies from my friend Shanan at Enchanted Cookie Boutique.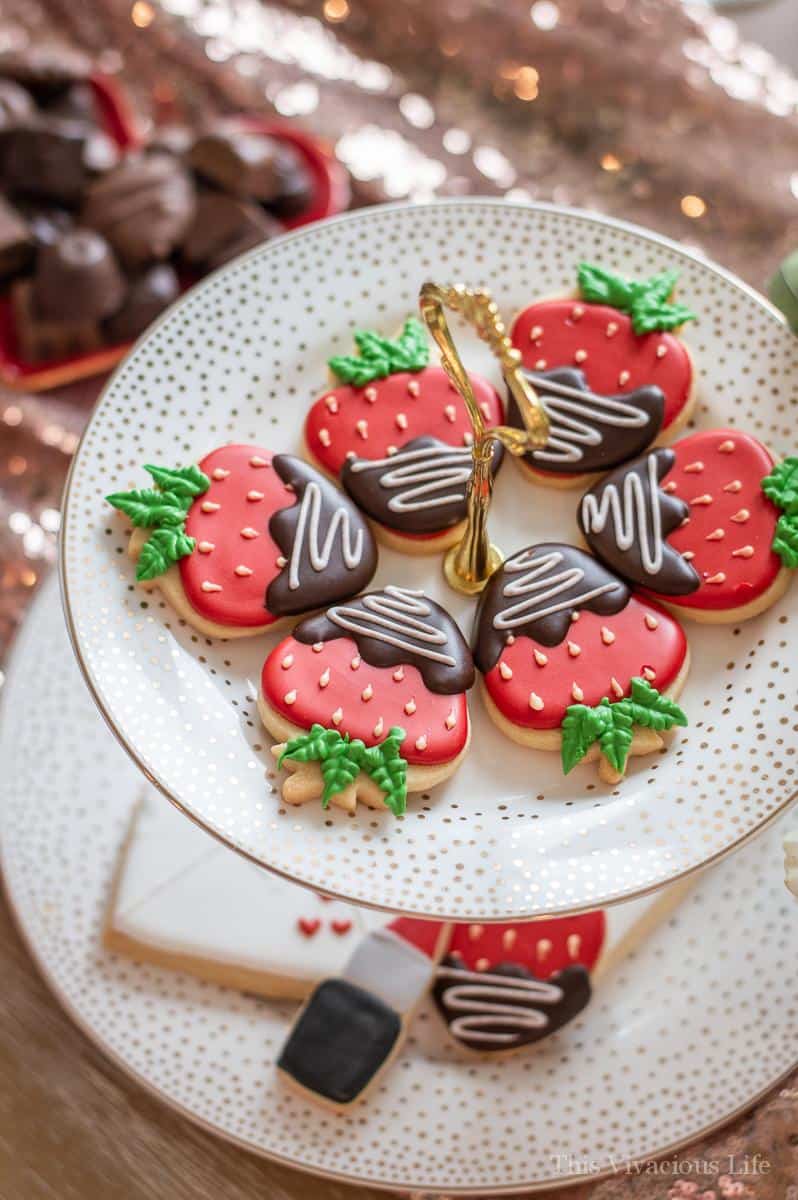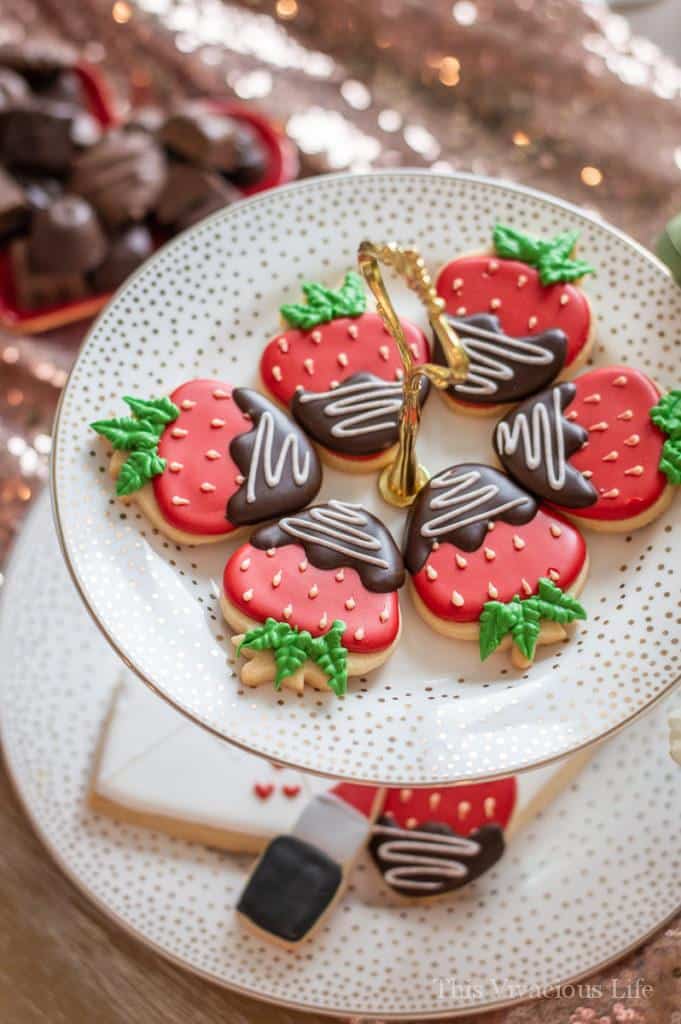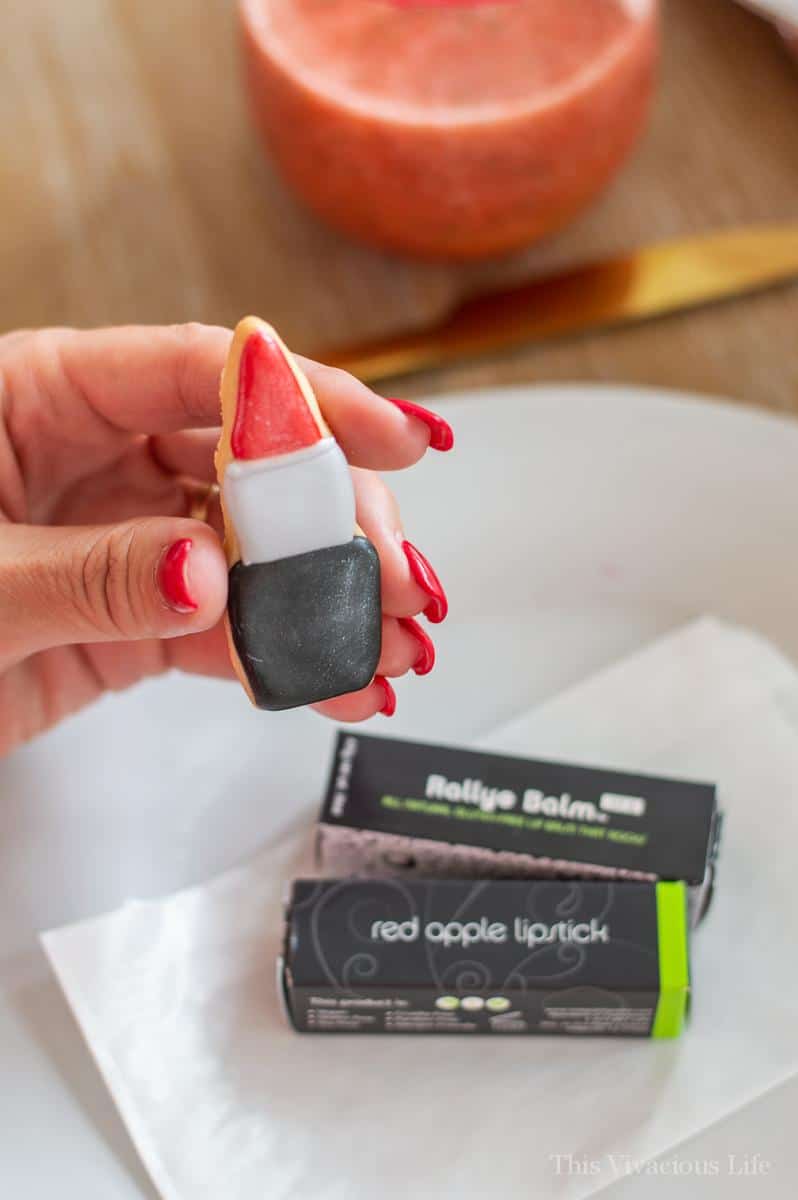 If you are not a big fan of the traditional Valentines chocolate box, then you are going to SWOON over these Valentine's Day sugar cookies in a chocolate box!
A small 2 oz. heart box holds three to four candy cups with mini Valentines day sugar cookies. The large 1 lb. heart box holds roughly twelve to fourteen.
I got my brown paper cups on Amazon. A 200 pack was only $4 so definitely a good deal. The white candy cups were a bit more for less but either work great.
The last of the three things you are going to need are Valentine's Day sugar cookies! For this DIY project, you are going to want mini cookies, not full size.
I love getting mine from my dear friend Shanan at Enchanted Cookie Boutique. They are always absolutely gorgeous AND so delicious! She ships nationwide so you can place your order and get them delivered right to your front door.
Food Decorated Sugar Cookies
With my talented friend Shanan over at Enchanted Cookie Boutique, I've enjoyed lots of food cookies. These charcuterie and cheeseboard cookies were my favorite!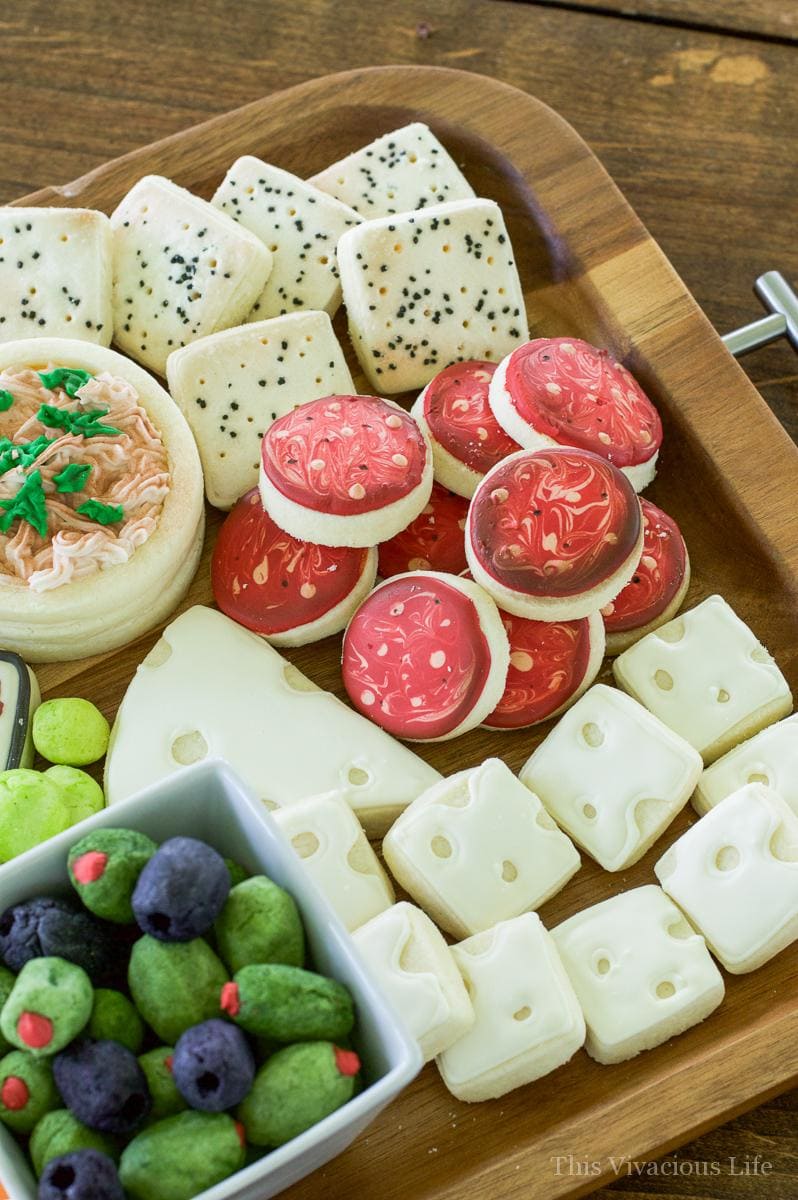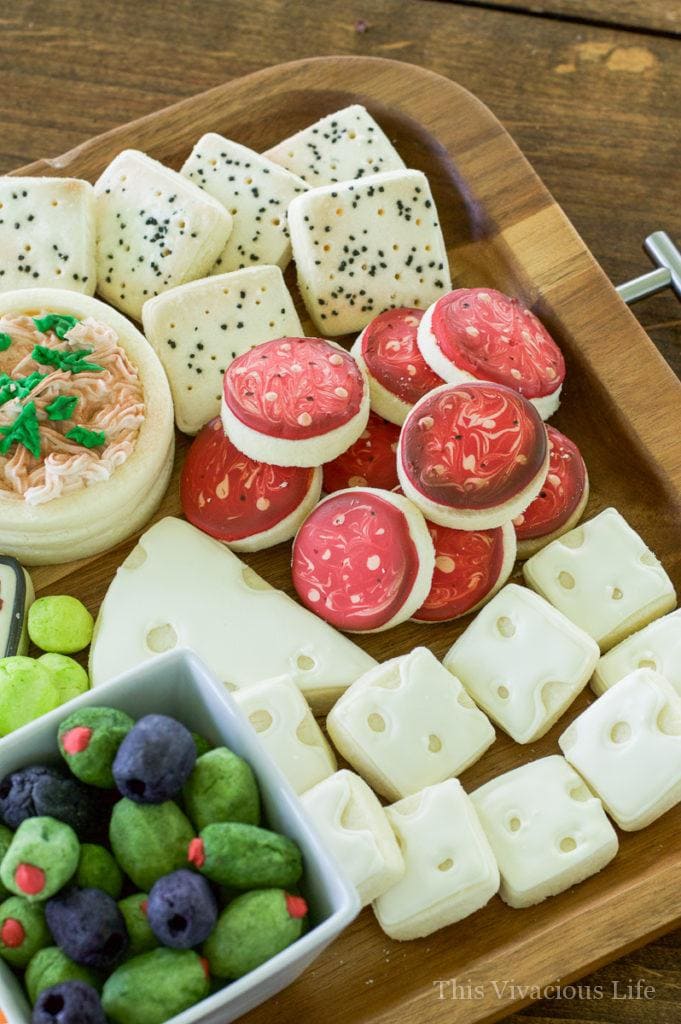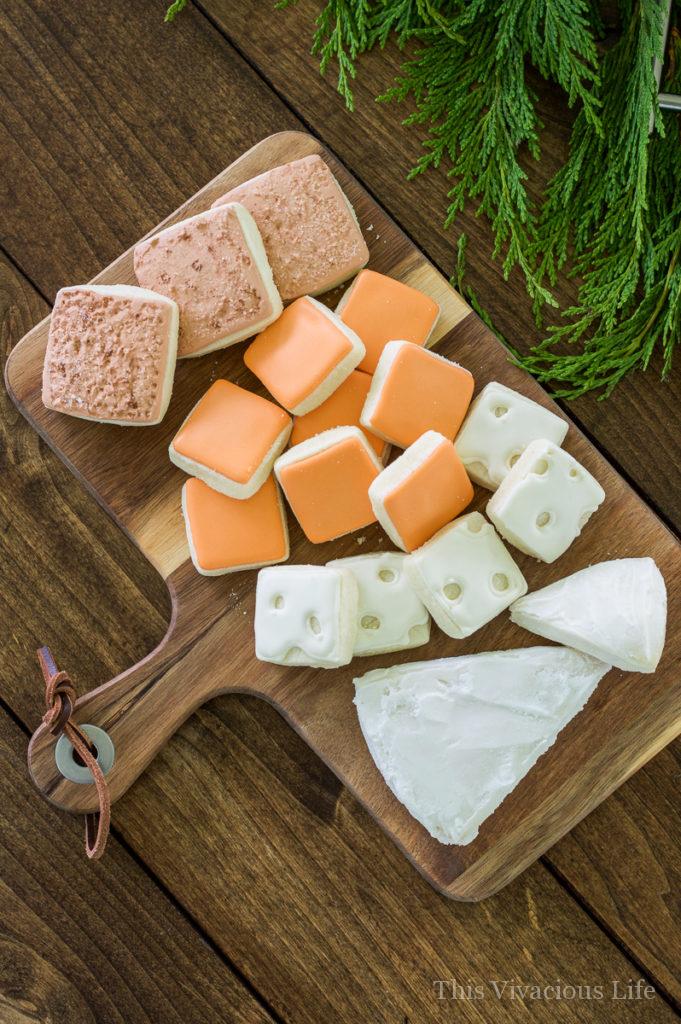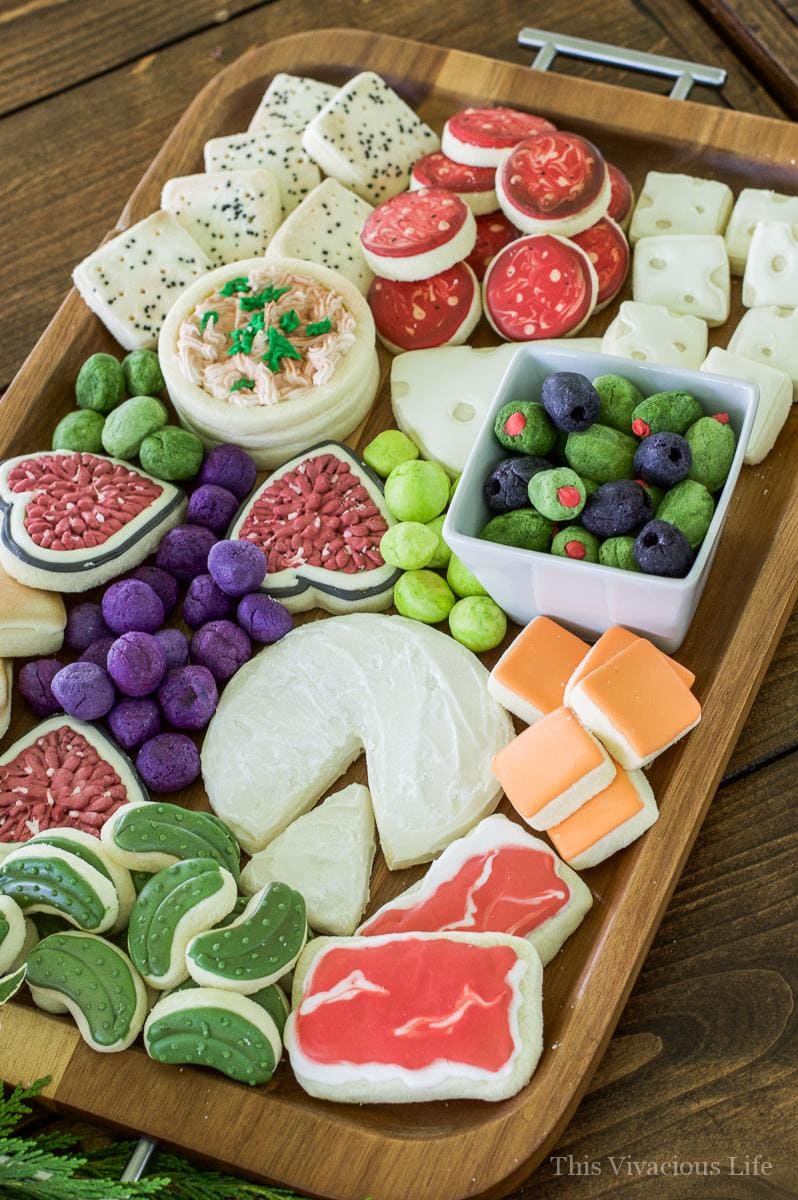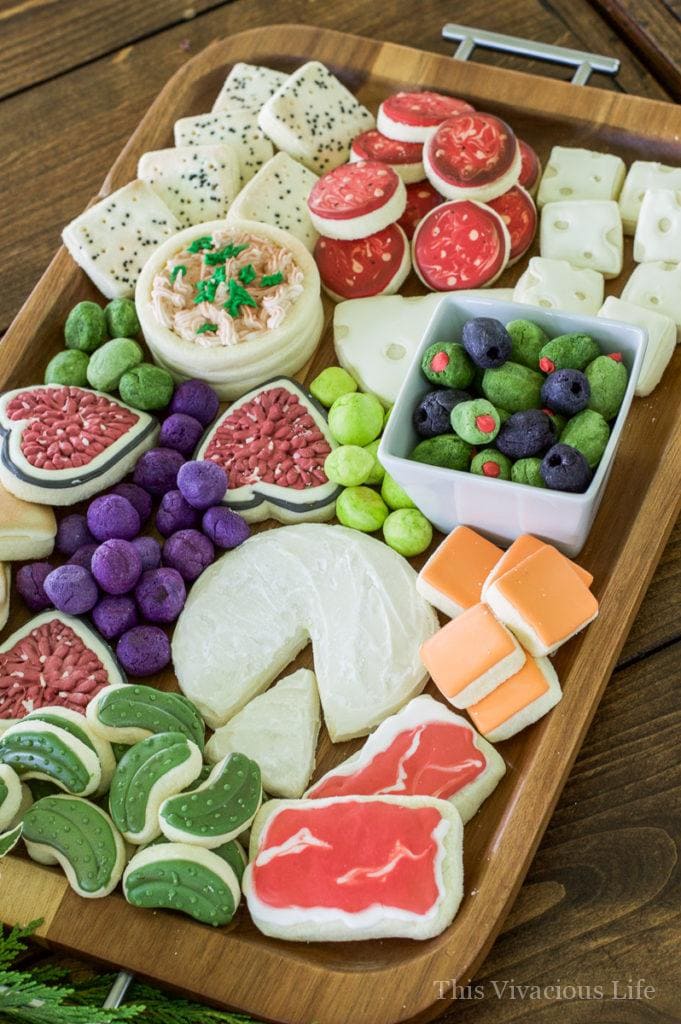 This cute little veggie platter at our farm to table dinner could not have turned out cuter! We has broccoli, sliced radishes, baby carrots, cauliflower, cucumber slices, cherry tomatoes and a 3D veggie dip cookie to put in the center. 
We've also done lobsters and lemons for our lobster boil party and milk glasses for a cookies and milk party. Our 4th of July backyard bash even featured edible cookie snow cones. The kids loved those…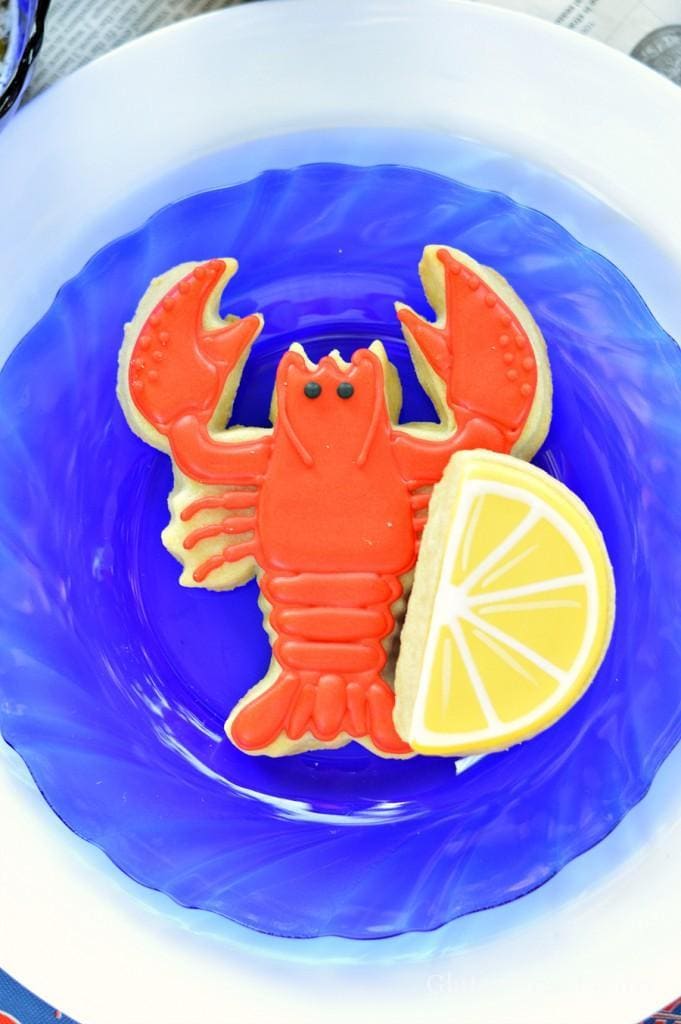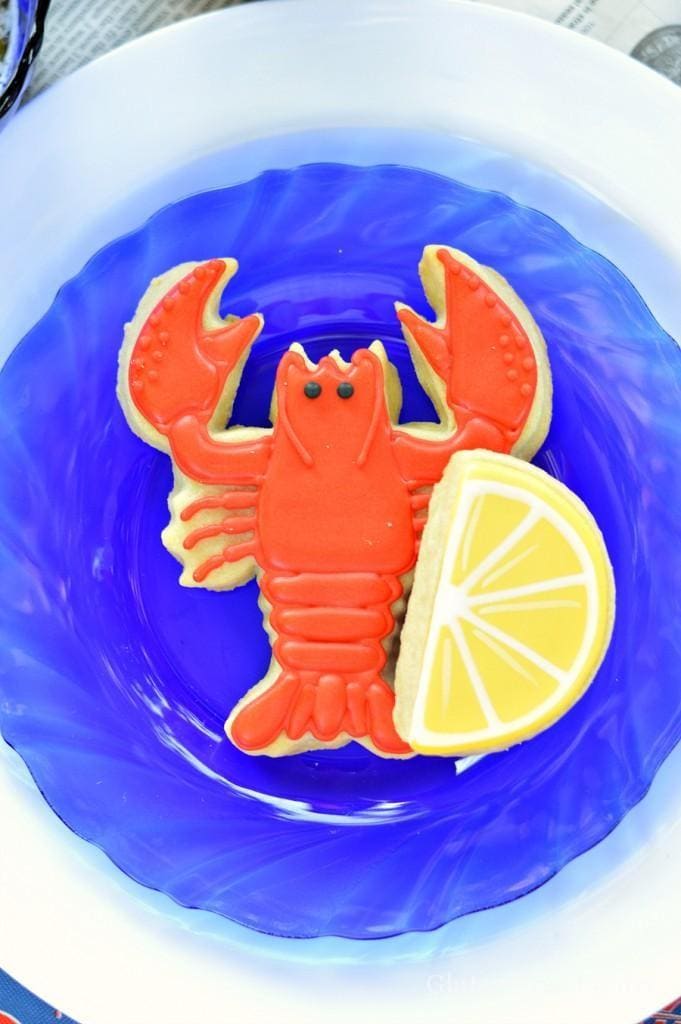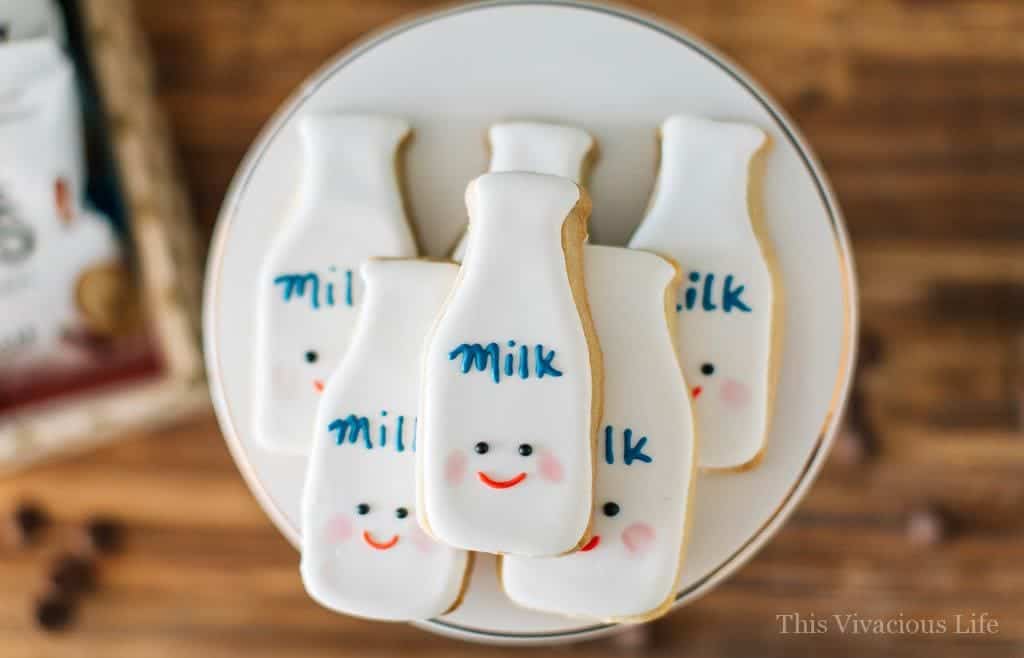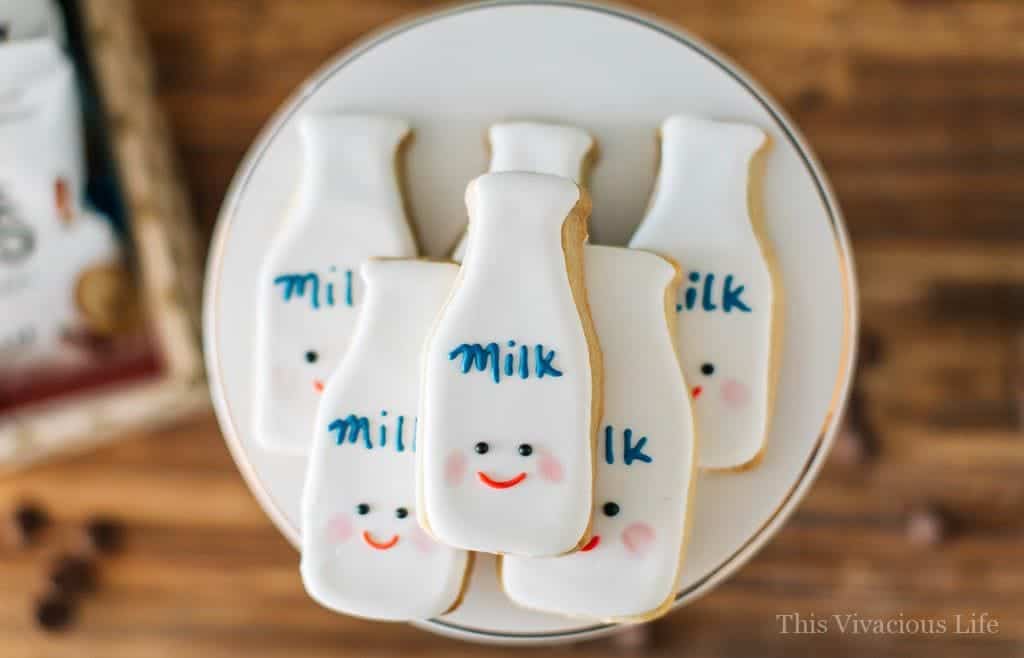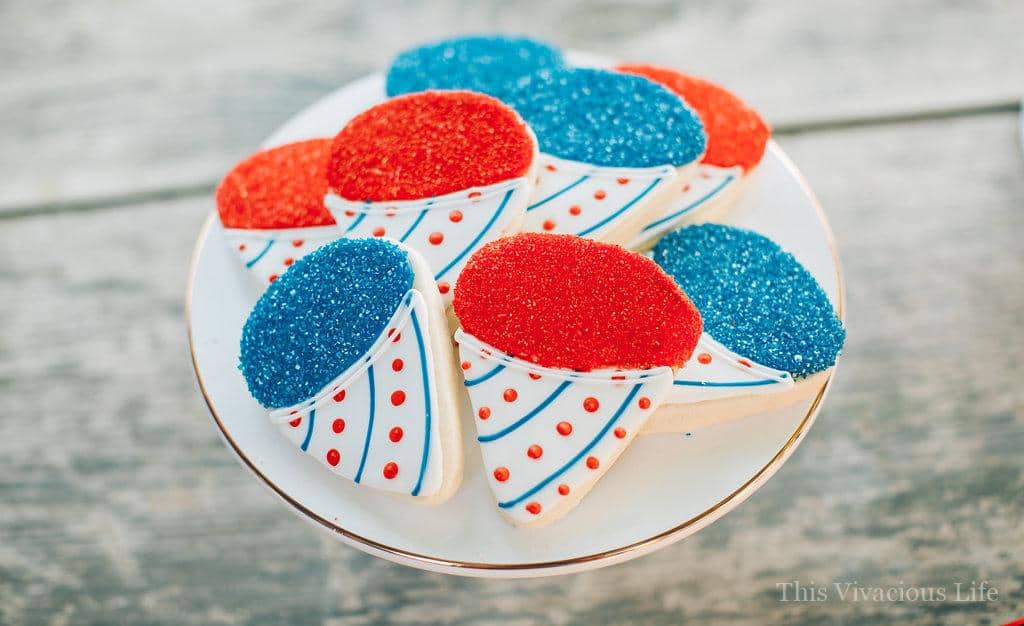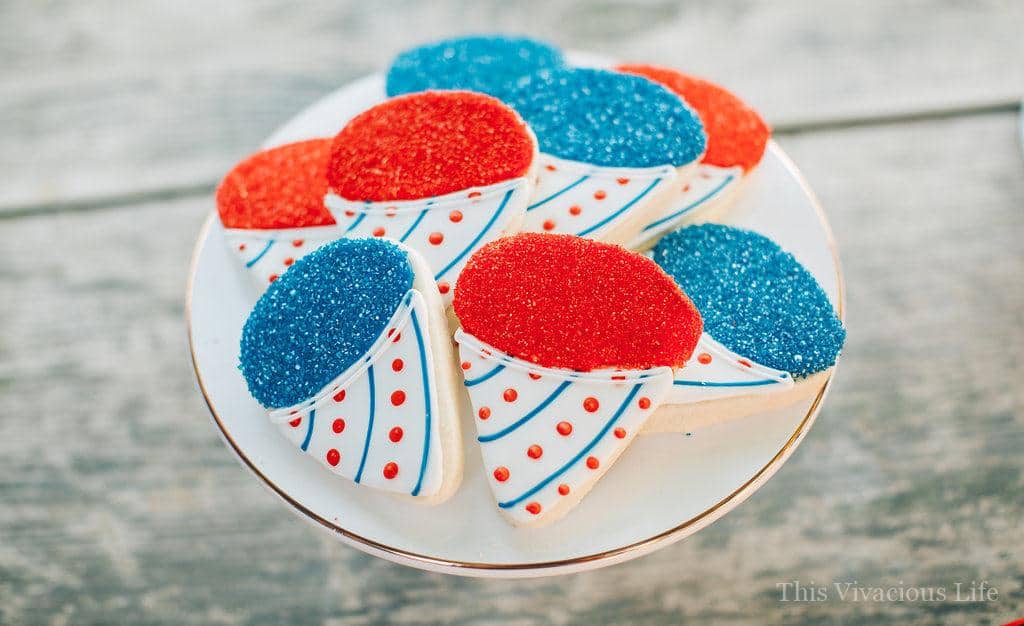 These caramel dipped red and green apple cookies with sprinkles were very whimsical and fun. They were perfect for our fall art of hand lettering workshop.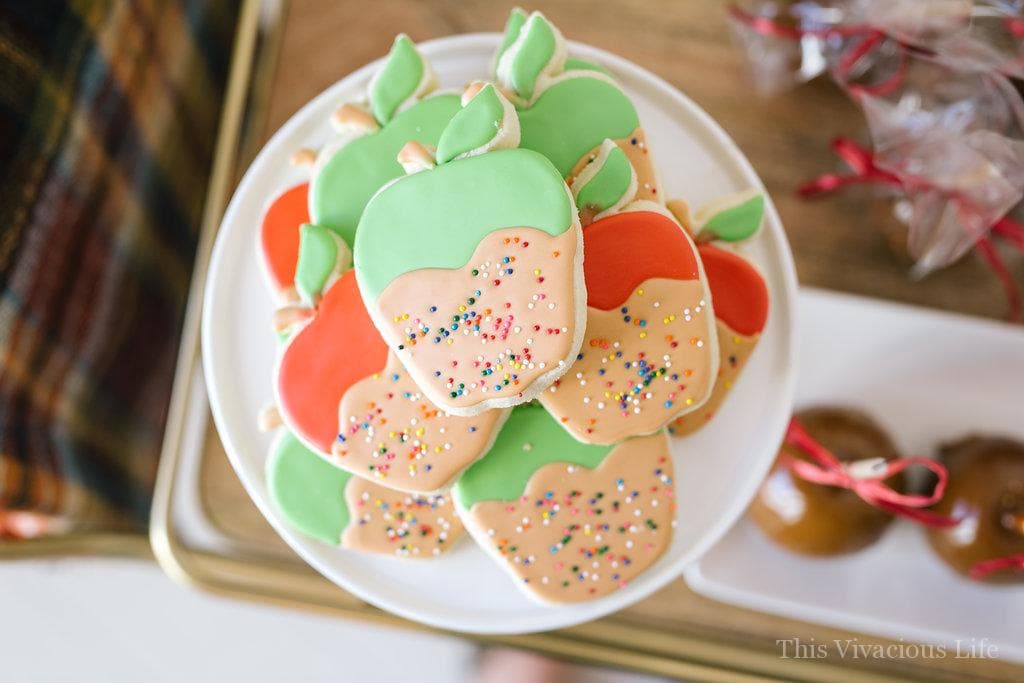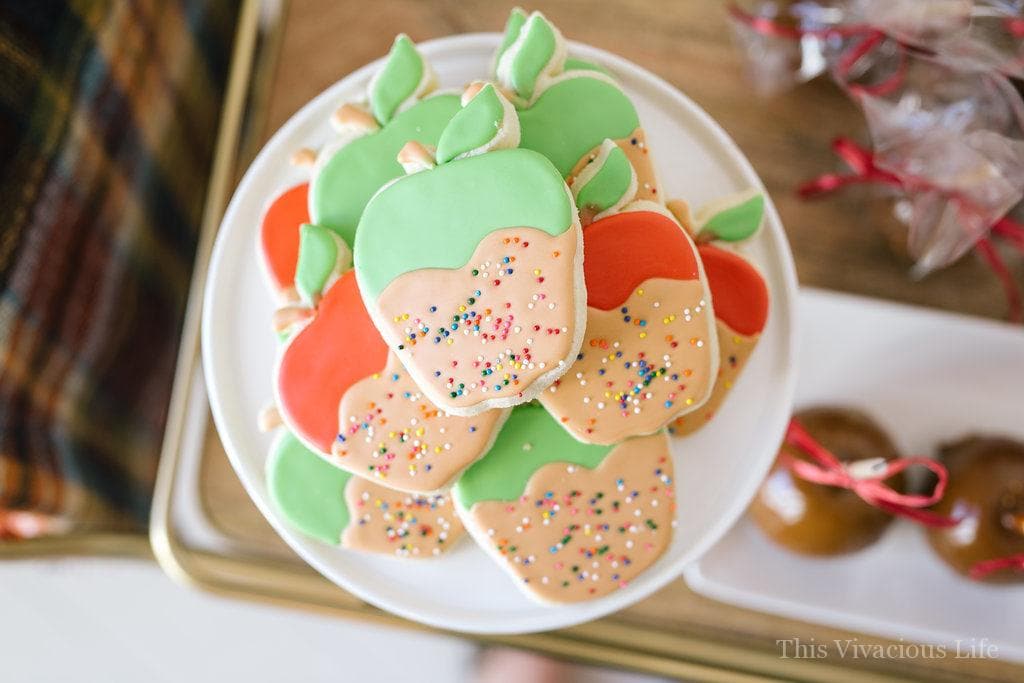 Birthday and Baby Shower Decorated Sugar Cookies
If you are looking for a fresh, modern look, this cactus succulent baby shower is definitely going to please. Our dessert table featured these cactus and baby onesie cookies from our friend Shanan.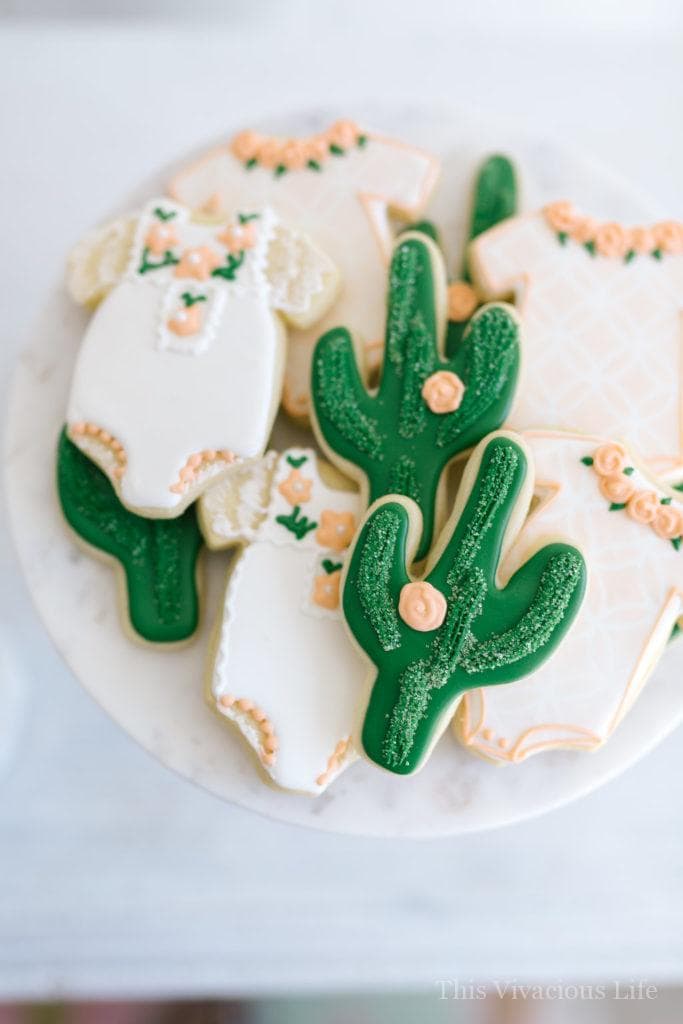 This two legit to quit 90's hip hop birthday party was one of my favorite celebrations to both plan and be present for. It was full of carefree fun and the food was all treats and in theme with the party. 
Shanan made us these Two Legit to Quit cookies that still get orders for her every month from people seeing them here and reaching out. We displayed vanilla sandwich cookies with edible Wilton Gold Color Mist, edible gold leaf flaked brownies, gold sprinkled cupcakes and grape juice filled baby bottles with gold lids.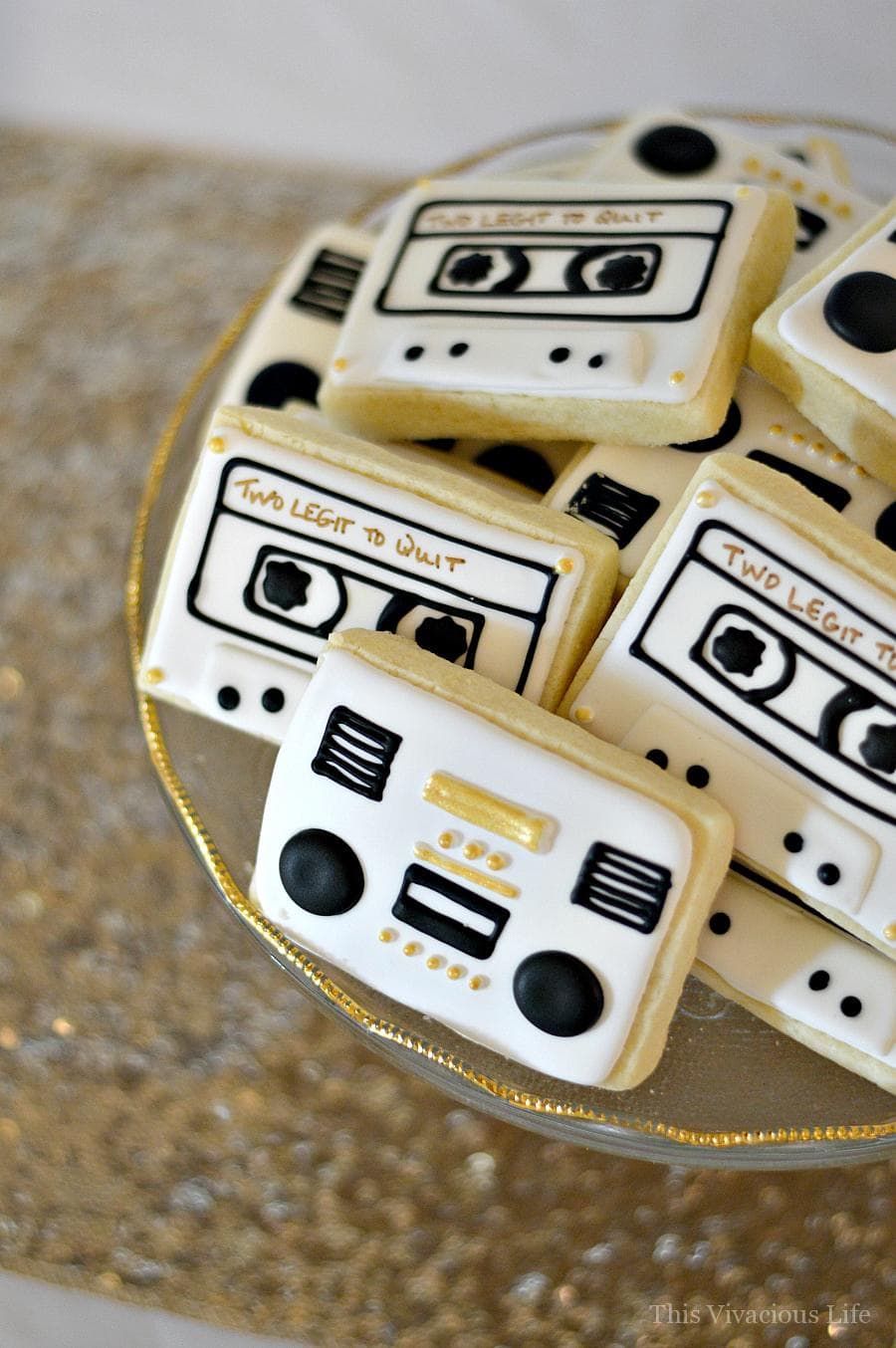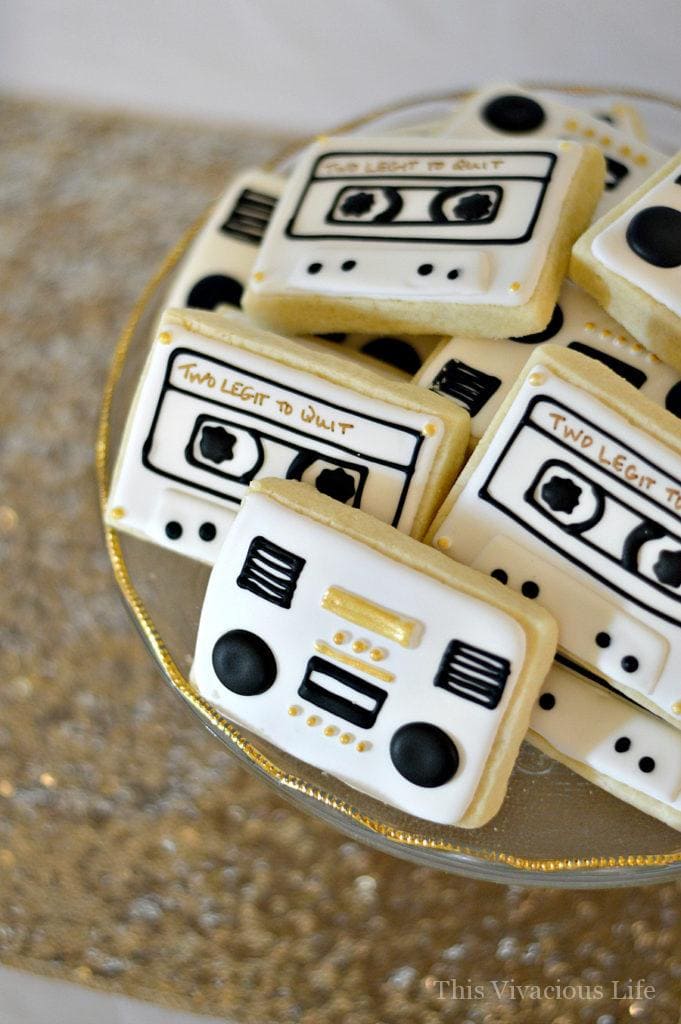 We did an American Girl bday party for little lady last year. We kept it pretty simple and low key just letting the girls play dolls but of course, I had to have a themed cookie.
These doll box cookies were soooo fun! I love that Shanan was able to use rice paper to print out actual American Girl doll faces for an extra authentic look. She also did stars since that is kind of AG's thing. Our gal was so excited when she saw them!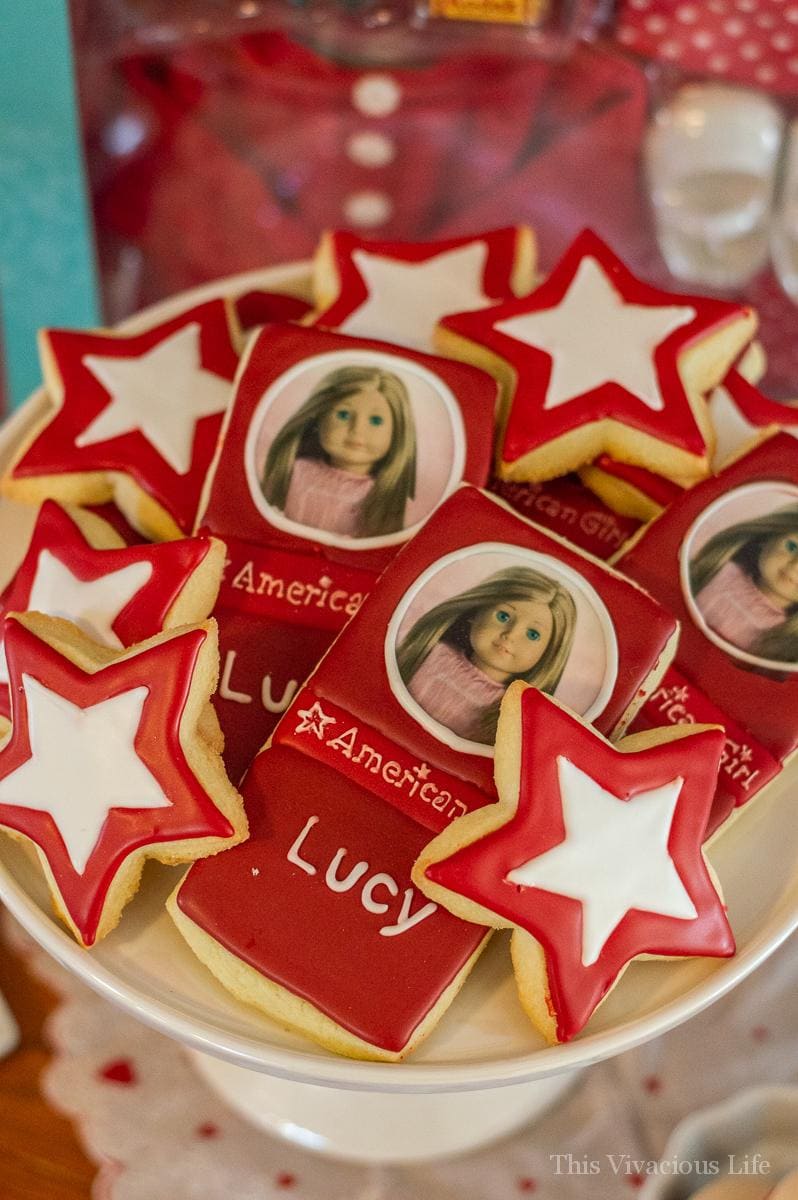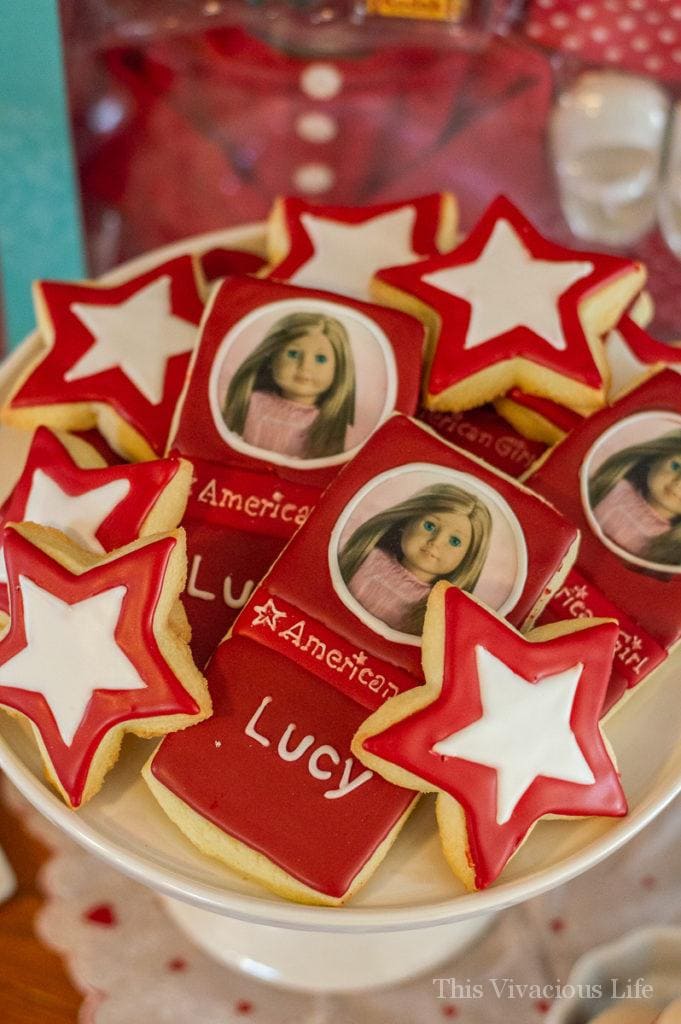 I knew I had to create a "Hatchy Birthday" Hatchimals birthday party for my little guy who absolutely loves these furry little creatures to make his day even more amazing!
To make this Hatchimals party amazing, try to keep things along the theme. For our snacks, we decided to have our friend Shanan of Enchanted Cookie Boutique make these Hatchimal eggs and creatures.
At first when I called her to ask to make them for us, she said, "Um, what is a Hatchimal." I sent her some pictures and she quickly got to it. I loved that she could make them more blue and green for boys or pink and purple for girls too!
She never disappoints so I wasn't worried one bit about how they would turn out. Shanan is truly so talented!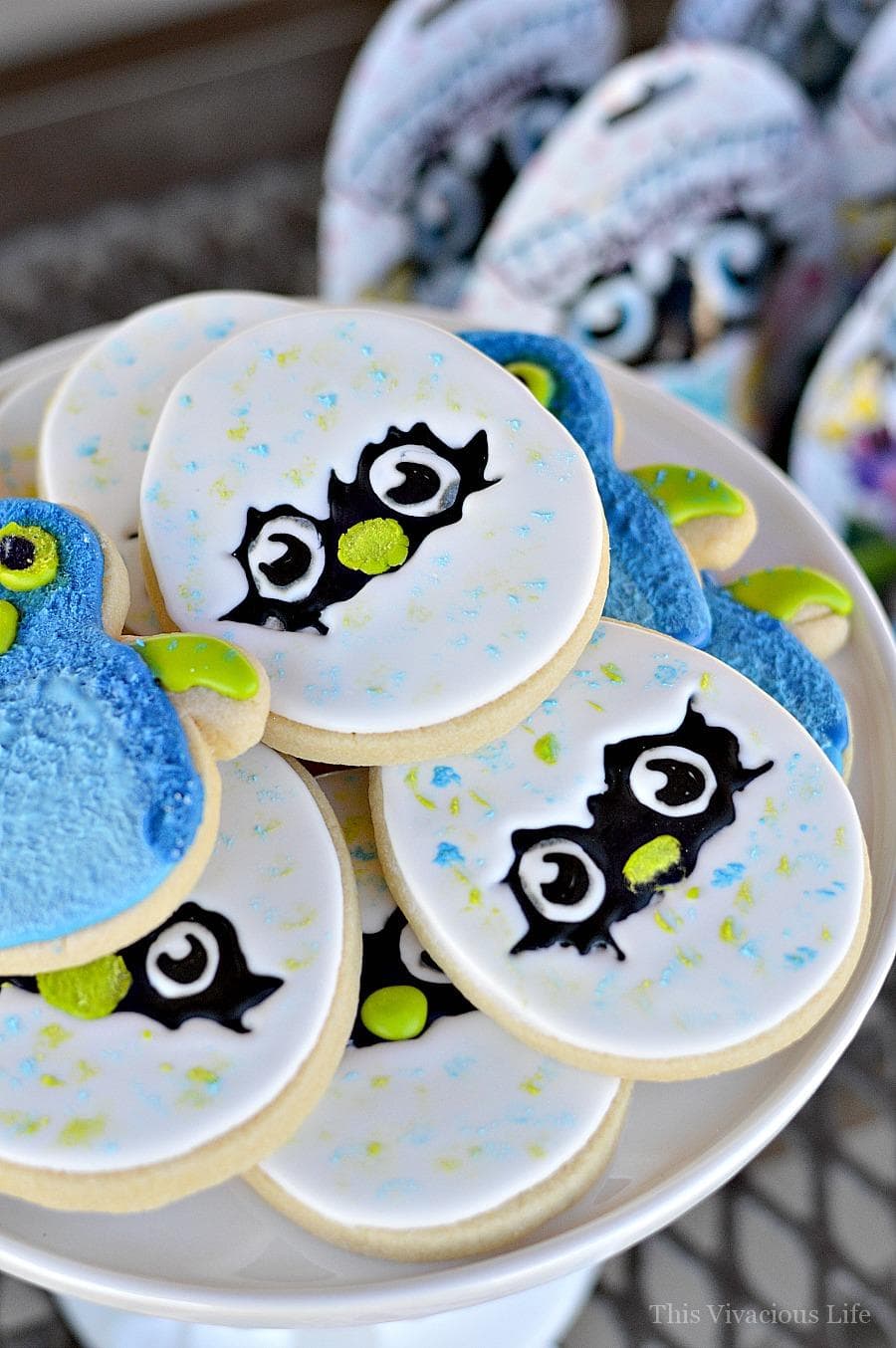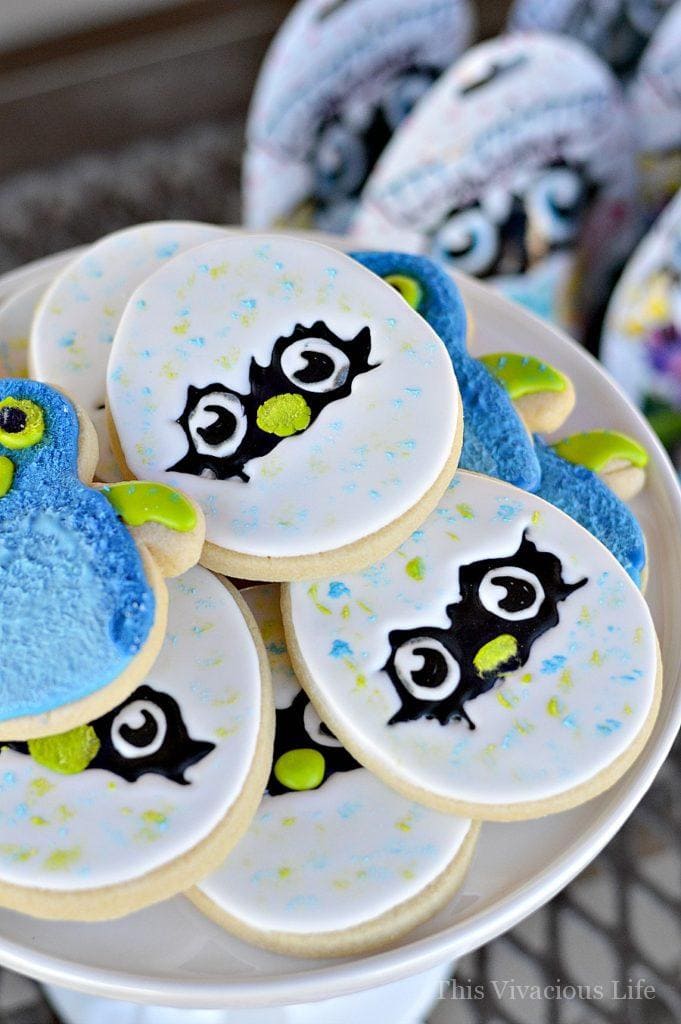 I love styling al fresco dinner parties. They are always such a fun party to dream up! For this one, I kept it earthy with these geode cookies.
I am simply amazed with the owner Shanan & the fact that I can give her an idea of what I want, and she can execute it perfectly every time. Her talent is incredible!
The good news for all of you is that she ships nationwide AND she makes gluten-free cookies. Isn't that so awesome? So dream of your wishlist cookie design and give her a call.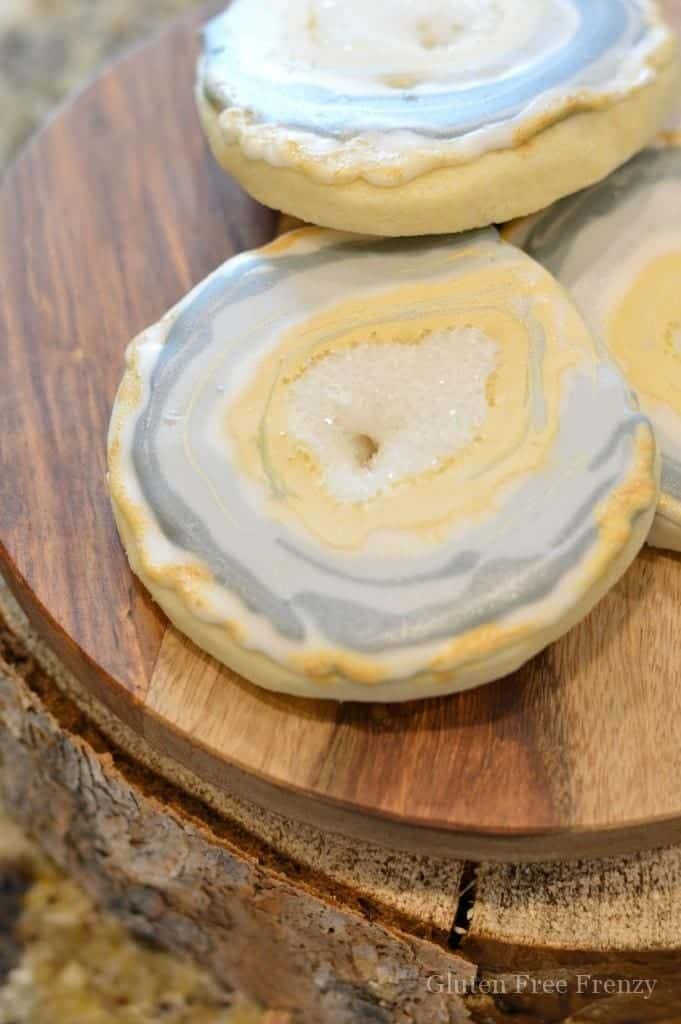 I did a fun little mermaid baby shower for my friend and it was so fun! We kept the food sweet with two varieties of cookies, cupcakes and "mermaid milk" which was really just milk with blue candy beads for "bubbles".
Our pearl cookies were SUPER easy to make. I just bought some pistachio flavored macaroons and opened them very gently. I then stuck in an edible pearl candy and placed them on the cake stand. The gorgeous mermaid and mermaid tail cookies were created by my ever talented friend Shanan.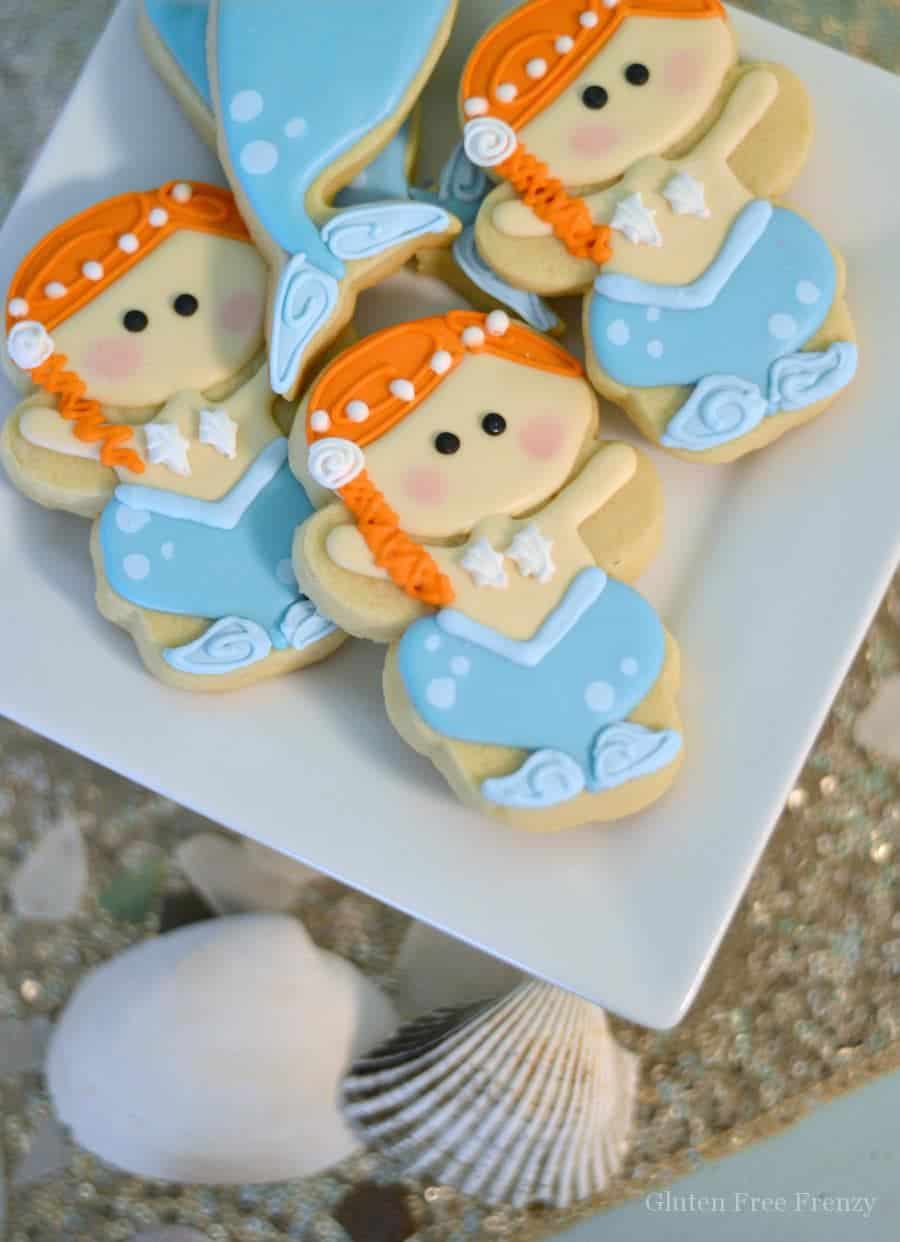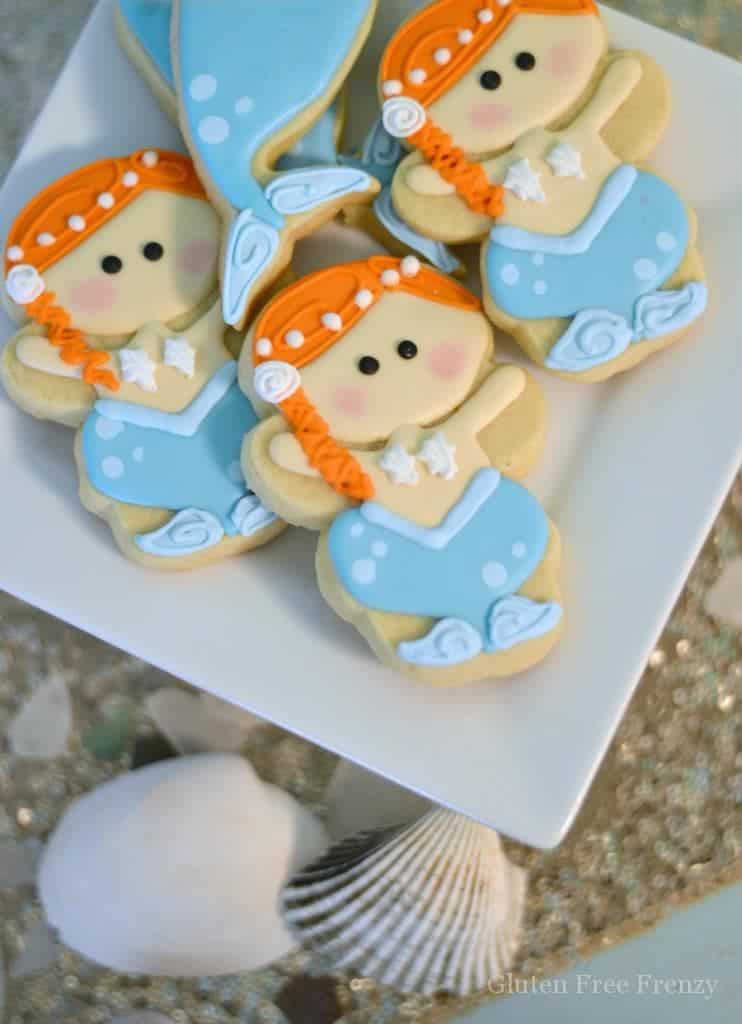 Ok so I am sharing a recipe for my favorite sugar cookies below if you want to get creative and make any of these yourself. However, I HIGHLY recommend just ordering right from Shanan over at Enchanted Cookie Boutique (she does nationwide shipping…woot, woot) and she can do regular or gluten-free cookies!
She literally can just create anything you can dream up! Her willingness to get creative and dream big with you as a customer is one of the things I love most. PLUS, her cookies are SO delicious!
Other festive holiday recipes
BEST Gluten-Free Chocolate Chip Cookies
NEED MORE GOODNESS? Follow me on Facebook, Instagram, Pinterest, and Twitter for great recipes, entertaining ideas and more!
Decorated Sugar Cookies
These sugar cookies are both gluten-free and so delicious! Everyone will love how buttery and soft they are and nobody will EVER know they are gluten-free!
Instructions
Preheat oven to 350 degrees

In a stand mixer, beat butter and sugar until light and fluffy

Add vanilla and almond extracts

In another bowl, combine remaining ingredients

Slowly add dry ingredients to wet ingredients and mix until well combined

Refrigerate dough for 1 hour

Heavily flour your work surface with white rice flour

Place half the dough on to surface and top with more white rice flour

Roll out dough and cut out shapes with cookie cutters

Gently place cookies on a greased or silicone mat lined baking sheet (I use a spatula)

Bake at 350 degrees for 8-9 minutes or until slightly golden brown

Cool on pan 3-5 minutes then transfer to a wire rack

Continue with the other half of the dough

Frost the cookies with your favorite royal or decorating icing recipe once they are completely cooled
Nutrition
Calories:
156
kcal
|
Carbohydrates:
23
g
|
Protein:
1
g
|
Fat:
7
g
|
Saturated Fat:
4
g
|
Cholesterol:
18
mg
|
Sodium:
130
mg
|
Potassium:
86
mg
|
Fiber:
1
g
|
Sugar:
9
g
|
Vitamin A:
210
IU
|
Vitamin C:
1
mg
|
Calcium:
16
mg
|
Iron:
1
mg