this post may contain affiliate links
These fun Christmas in July ideas give you an excuse to throw in some holiday spirit during the middle of summer. It is one of my FAVORITE summer fun traditions!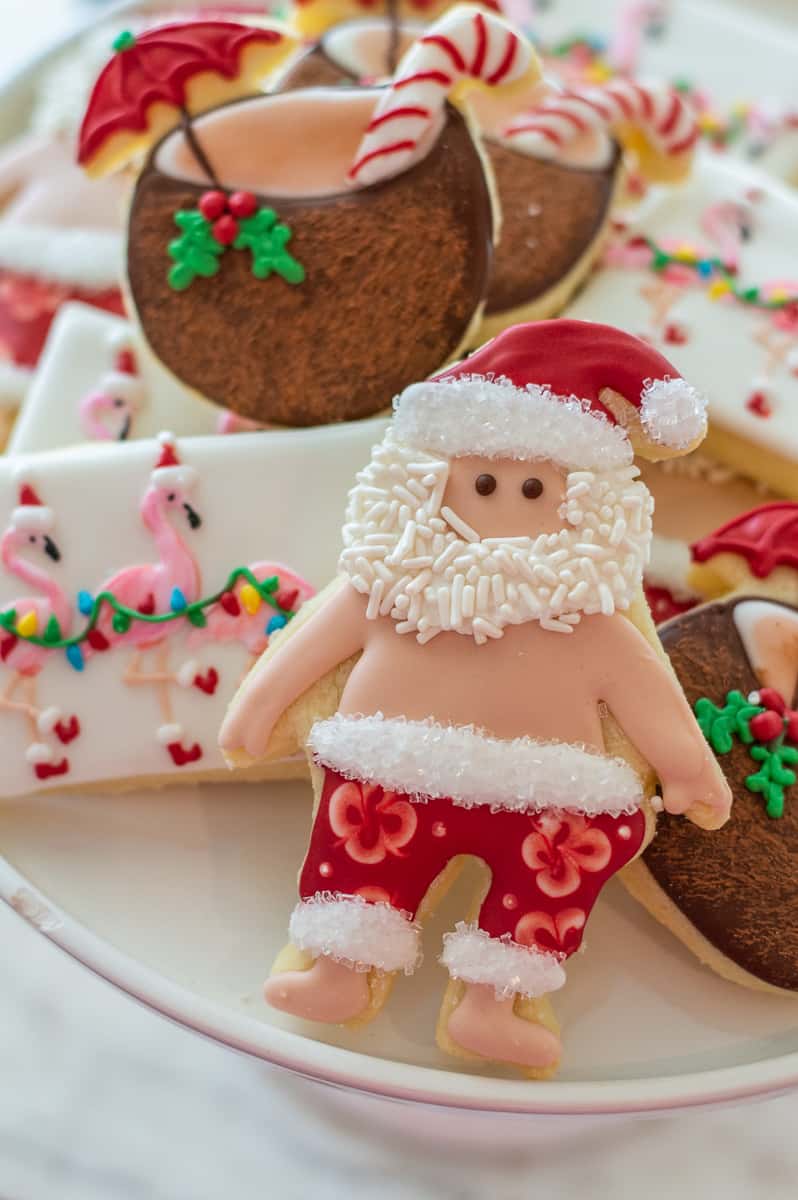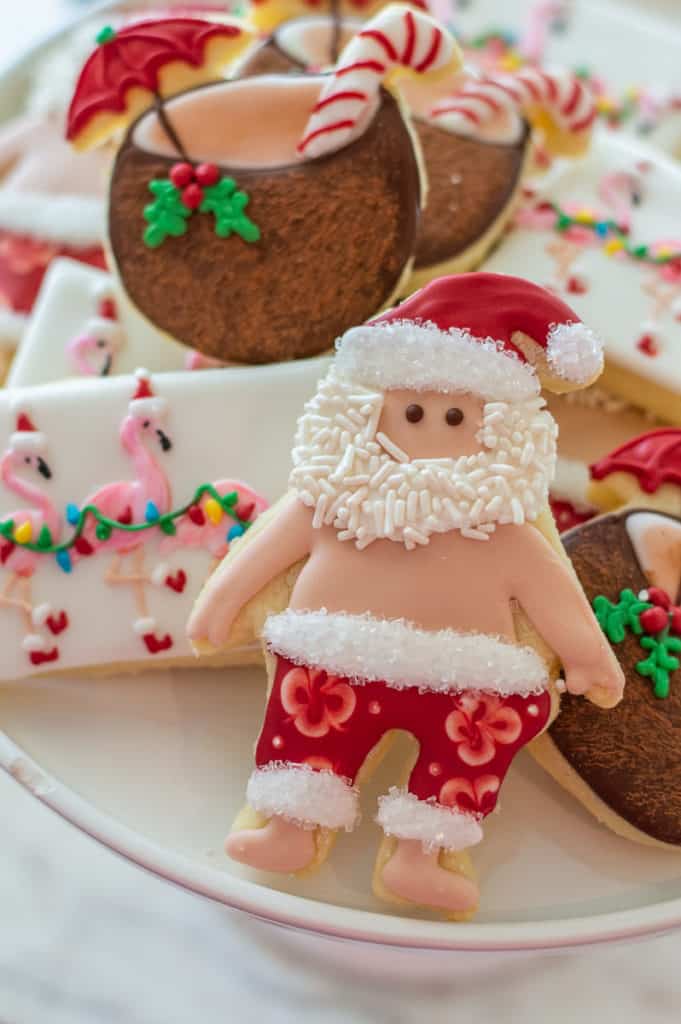 Christmas in July Ideas
You may be thinking to yourself, "What the heck is Christmas in July?". I get it, most people don't do this tradition but I reeeeeally think more people should because it is so fun! It doesn't need to be overcomplicated. In fact, just choose a few of your favorite holiday things (that if you are like me, can't wait 12 months between enjoyment)to mash up in one awesome day.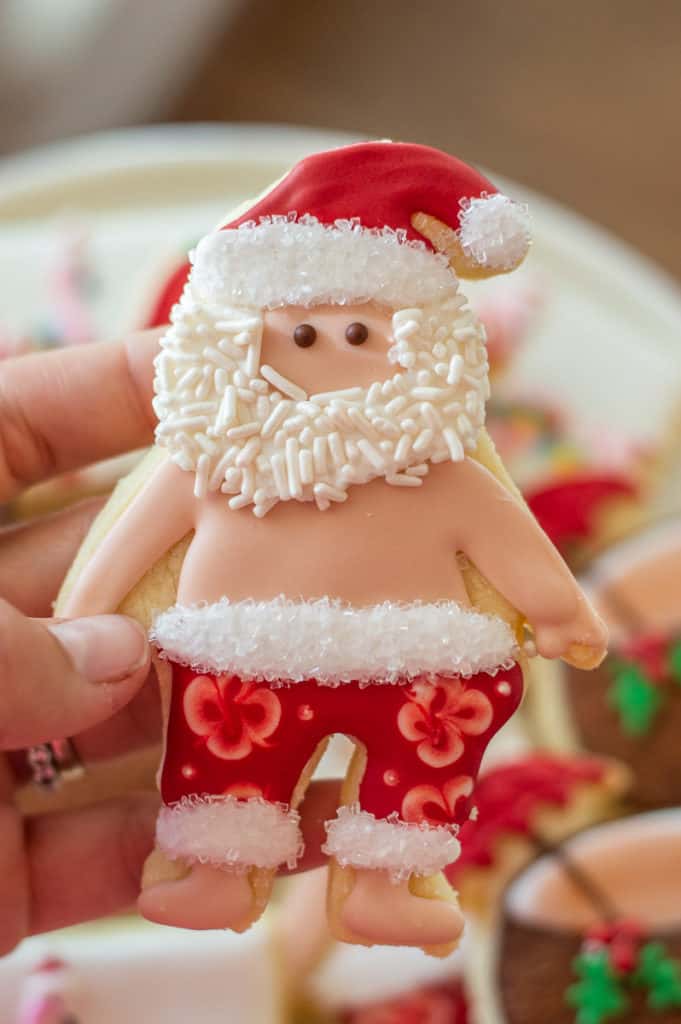 We include everything from favorite December food and treats, like these darling cookies from Enchanted Cookie Boutique, to little activities and just a bit of decor. Of course, a great Christmas music playlist is a must as well. We've shared some fun ideas about Christmas in July before but here we are sharing even more great ideas.

Subscribe to This Vivacious Life
Receive a free e-book of Instant Pot recipes!
I love that I can always count on Shanan to make the cutest decorated sugar cookies for us! These were some of my favorites and the kids sure loved them too. 
We decided on Santa in his swimming suit, a coconut drink and holiday lit flamingos to surprise the kids with when they woke up to their Christmas in July celebration. They did not disappoint!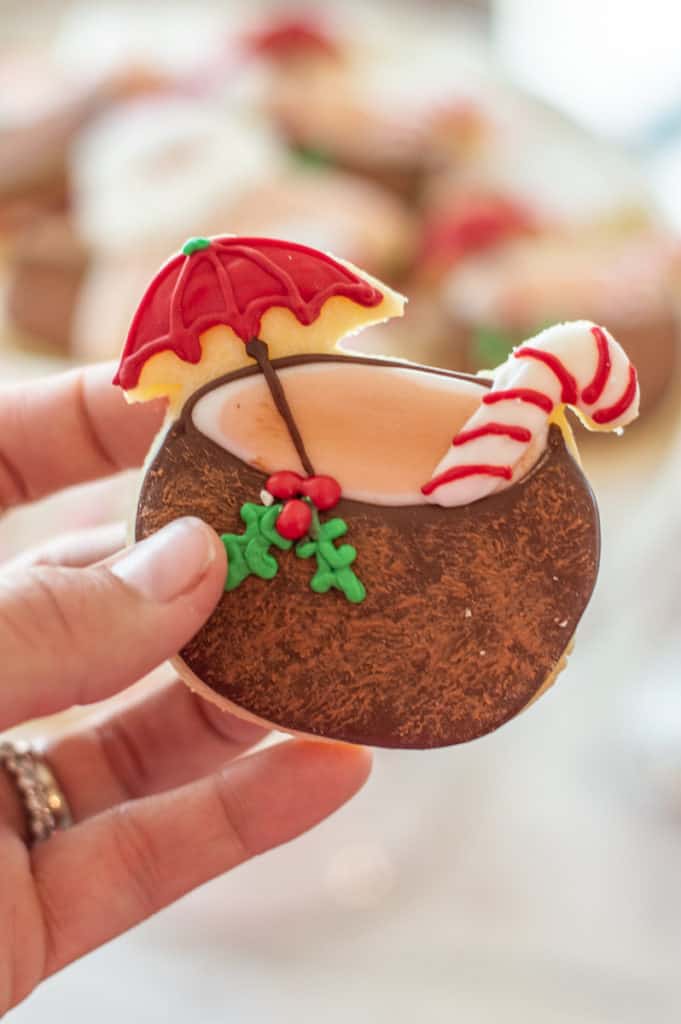 So how does it work?
I have always loved the Christmas season. Waiting 365 days or even 300 days before I get to celebrate it from year to year is just too much for me. That's when I knew we had to create this unofficial holiday and celebrate Christmas time throughout the year!
There's no official date for these Christmas in July activities, so one evening in July after the kids go to bed put out a couple of Christmas decorations for the kids to wake up to. They love the surprise when they wake up and never knowing which day in July it will happen!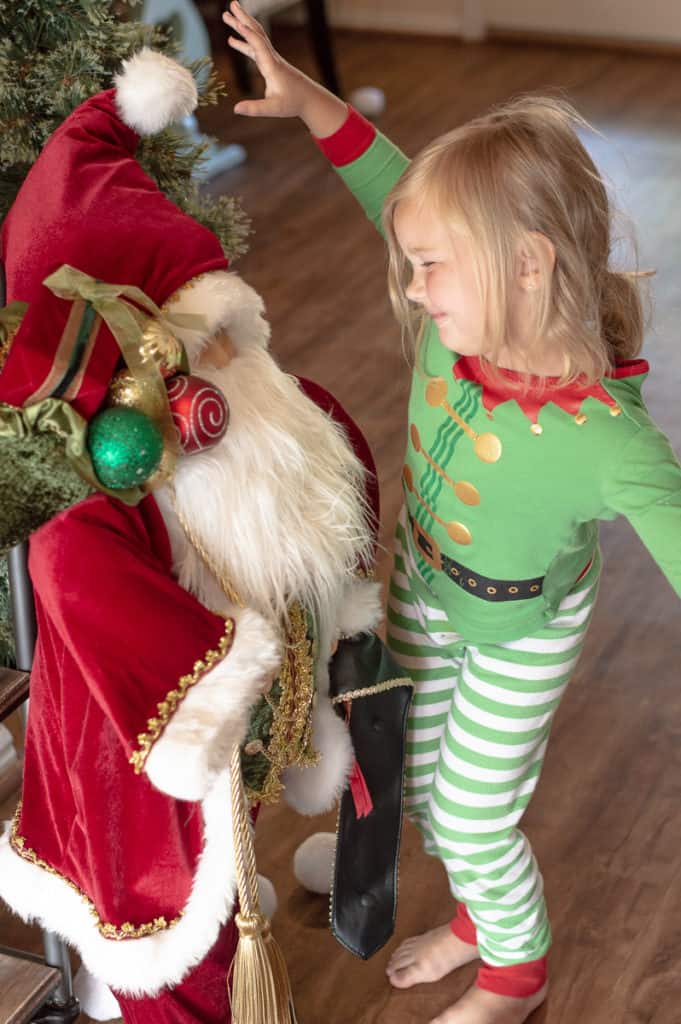 I like using our giant Santa because he is so easy to put out and makes a big statement. A simple tablecloth and a wreath work great though. If you want to really amp up the Christmas cheer, try putting up some Christmas lights around the living room. I try to think of this when I put decorations away in December. Put together one tote for your Christmas in July decorations that's easy to grab for your July day.
A fun way to get the kids in the Christmas spirit when they wake up is by letting them help decorate a pineapple with mini bulbs and decorations. Some sunglasses will complete the look.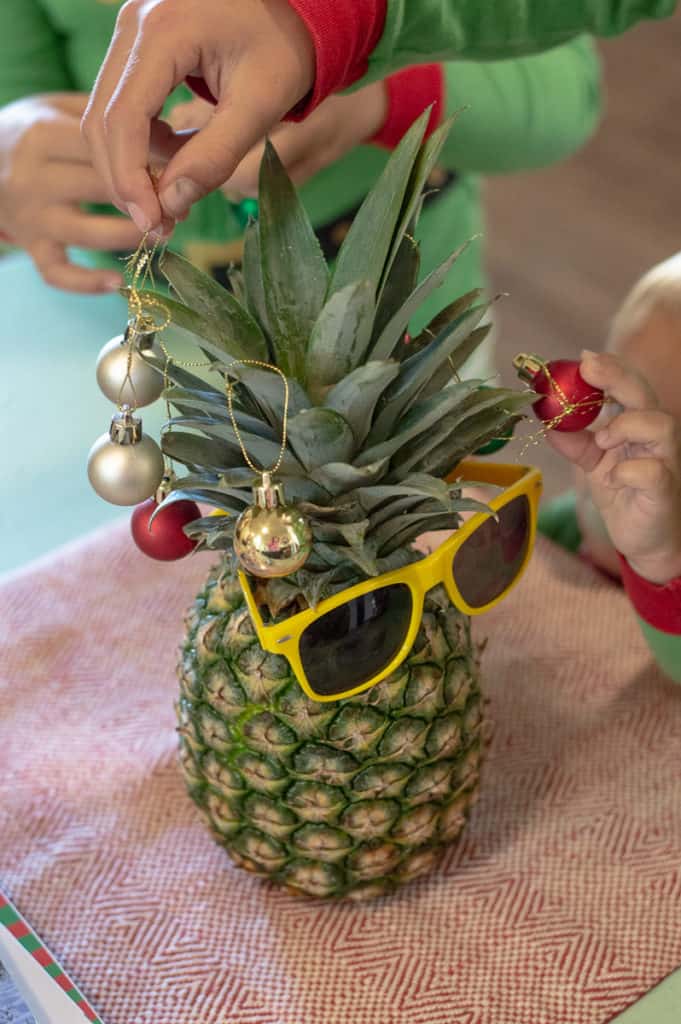 Christmas Playlist
Set the tone for the perfect Christmas in July with your playlist. From the moment you wake up until bedtime, Christmas music should be playing…or as long as you can handle it. 😉 Here are a few of my musts though that you don't want to miss out on. Or just make it simple and tell Alexa to play Christmas Classics or Holiday Favorites. 
Jingle Bells
White Christmas
Holly Jolly Christmas
The Christmas Song
Silent Night
Here Comes Santa Claus
Frosty The Snowman
I'll Be Home For Christmas
All I Want For Christmas Is You
Baby It's Cold Outside
Santa Claus ls Coming To Town
Christmas Pajamas
Once you set the tone of your home with the awesome holiday decorations they can wake up to, and you've got the playlist ready, next up is to make sure everyone is in their Christmas pajamas.
If you guys are like us, then you get a new pair each year and this is a another fun time to wear them. If you don't have Christmas jammies, another great option is to just get everyone in red and green for the day. That's perfectly festive enough. Be sure you as the parent get dressed festive as well!
Christmas Breakfast
We start off our Christmas in July morning with a themed breakfast like these reindeer pancakes. You could also make gingerbread pancakes. Our eggnog cake with eggnog frosting is another great idea that could pass as just a sweet breakfast. If you are like us, we love gluten-free cinnamon rolls on Christmas morning. They are more work but so fun to enjoy in July as well!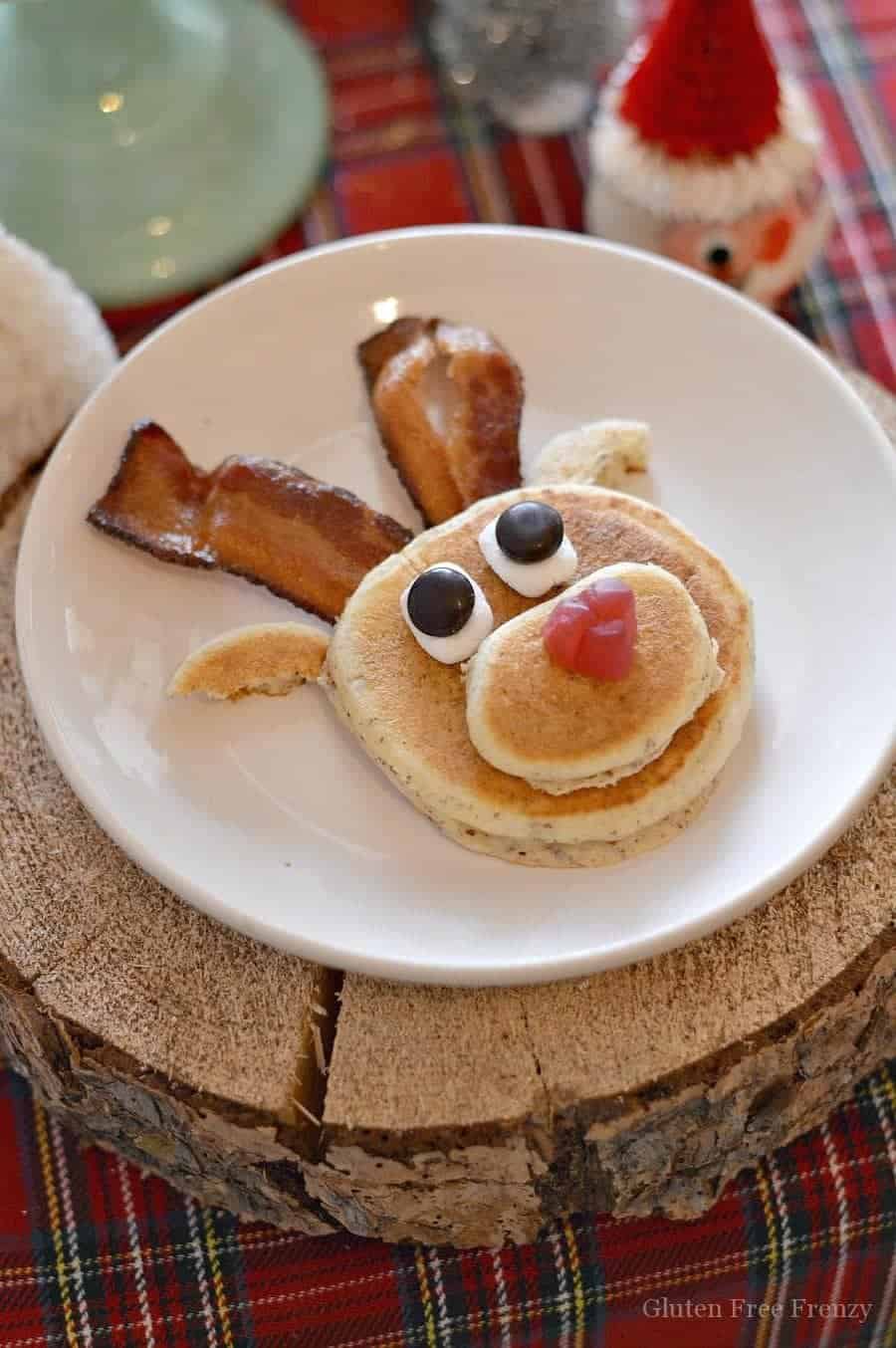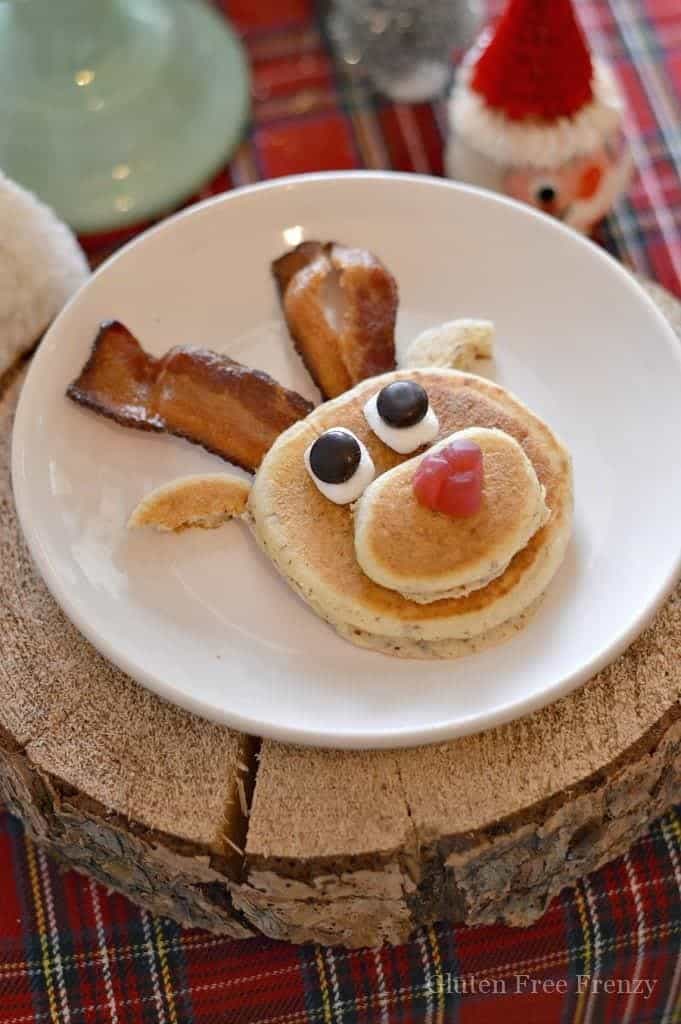 You might even make breakfast us extra special with a cup of hot cocoa for everybody. Or go all out with themed food and make our easy gingerbread martini mocktail or one of our 15+ Christmas mocktails. 
Serve everything up on Christmas plates that you can get for a dollar each at Target. I also like to use my table as the place I set up just a few holiday decor items like a themed tablecloth and some pipe cleaner trees. The kids will love waking up to this!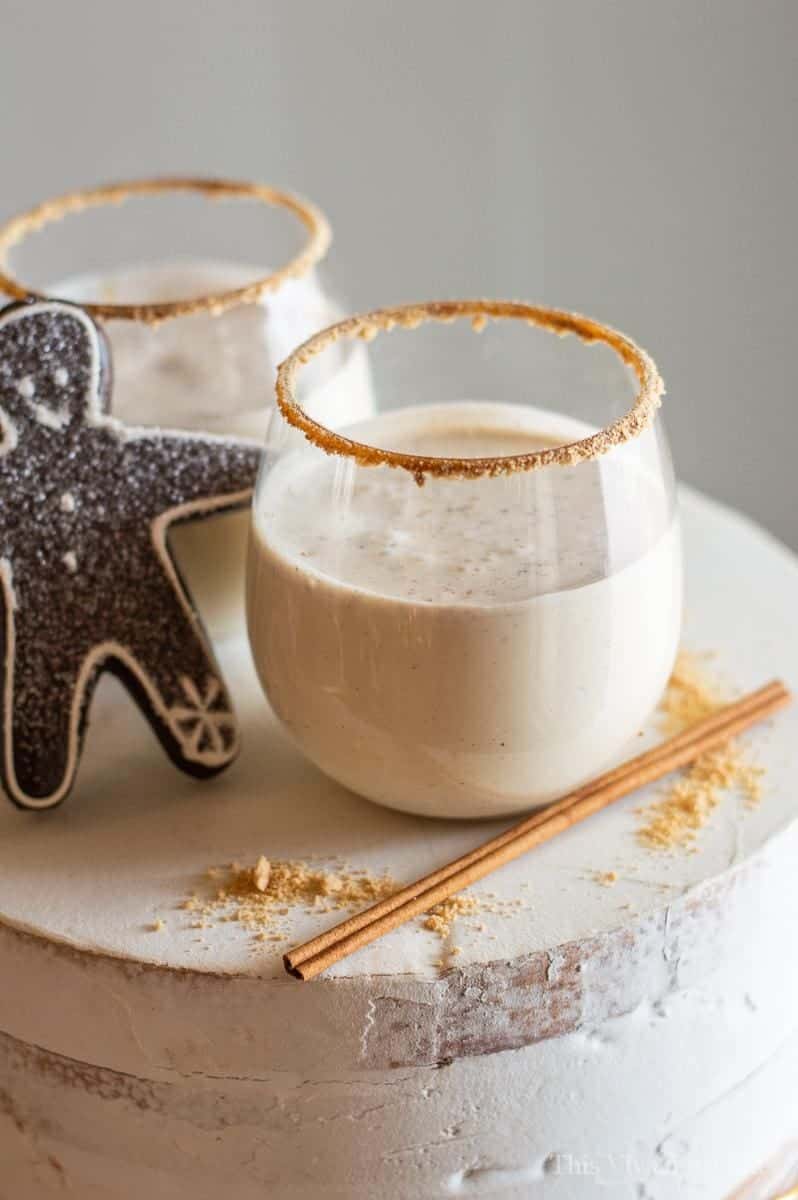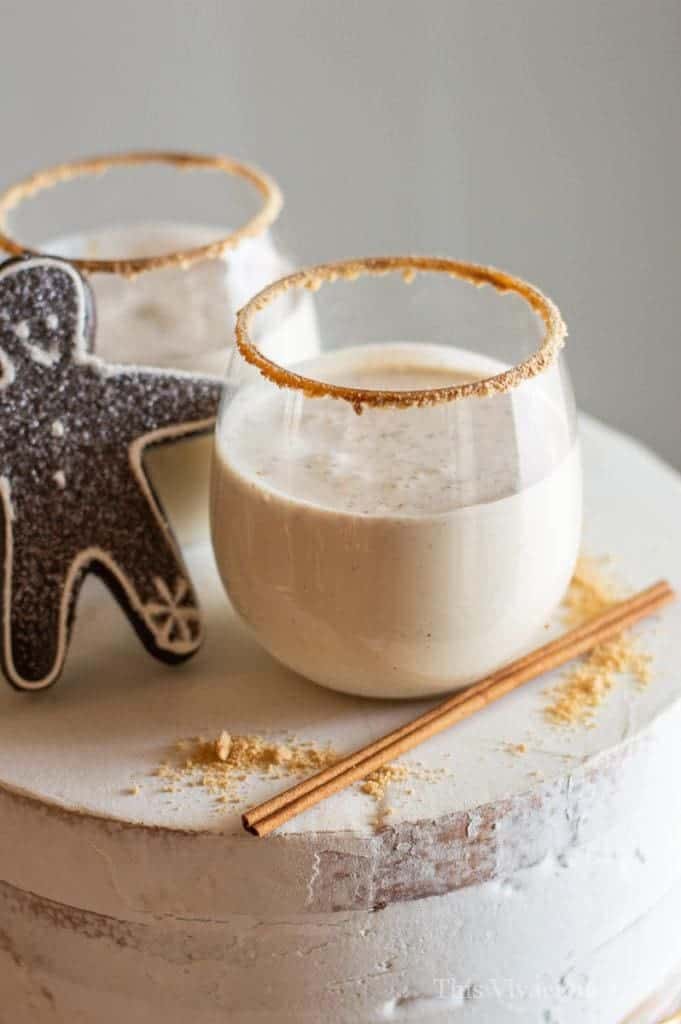 Once breakfast is cleaned up, it's time for some fun games. Why not whip up a batch of fake snow? It couldn't be easier and the kids will love this interactive activity. Get out some matchbox cars or other little toys they can play with and they will have fun for a long time. At least long enough for you to do breakfast dishes anyway.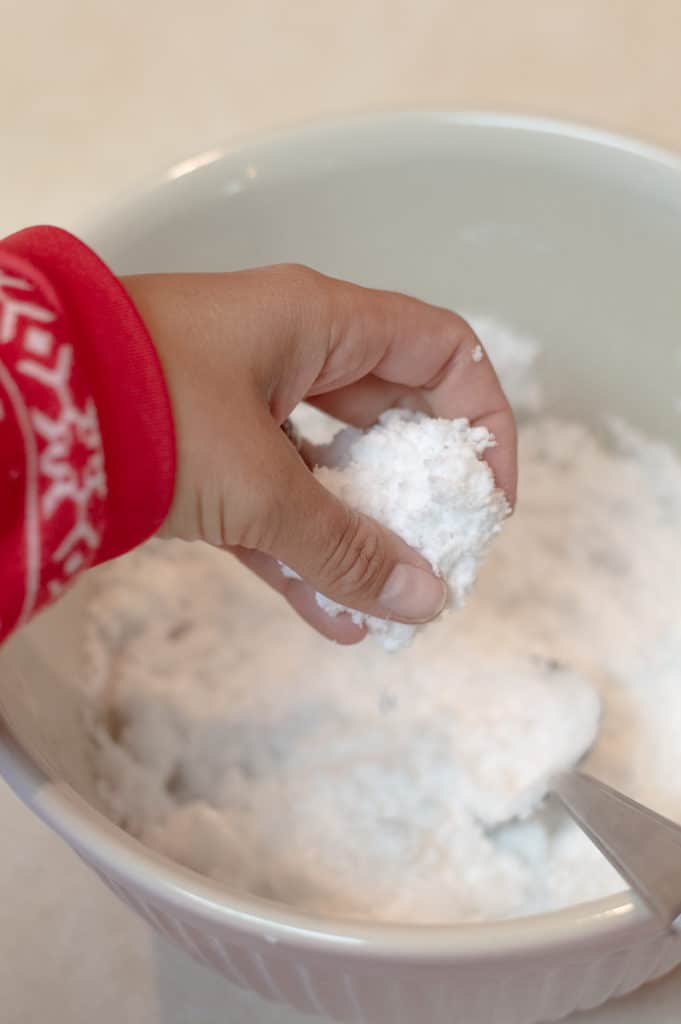 To make the play snow simply mix 3 cups of baking soda with 1/2 cup conditioner. If you use coconut conditioner you will have a summery smelling snow.
We love to have an indoor snowball fight with these soft cotton snowballs, they are so fun! Plus, there is absolutely no clean up except picking them and putting them away. 
We keep with the snow theme for snacks and have little gluten-free donuts made into powdered balls. You can add some red and green sprinkles on top for an even more holiday look to them.
Melted snowman (water) drink is festive too! Just put a black hat on top of the water container, a black scarf around the bottom and a big carrot nose next to it.
For a savory snack, put together a Christmas tree charcuterie. We used rosemary as the branches in between pepperoni, salami and olives. Cut out a star from cheese to top it with.
Afternoon is another perfect time to get in the kitchen and roll out some delicious gluten-free sugar cookies. The kids will have a blast making them and even more fun decorating them. Cut them out in shapes like gingerbread men, snowflakes or Christmas trees. 
Or our gluten-free ginger molasses cookies are always a hit too!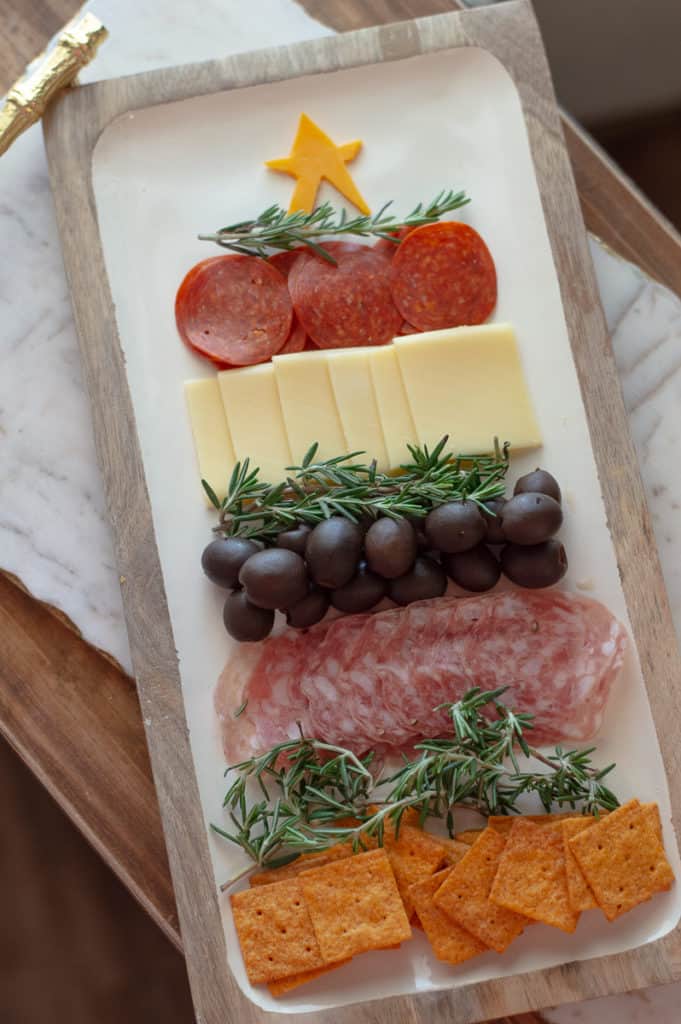 Get out those Christmas coloring books and Christmas books for an easy themed quiet time. You can even print off Christmas coloring sheets online if you don't have a book of your own.
During this time you could even have your kids write up a little Christmas wish list. That way you can be on the lookout between now and December just in case something goes on sale that they really want. Just keep in mind that lists may significantly change between now and then!
When I gets just too hot to handle, pull out the frozen ice block treasure you created days before just for today. I like this tutorial on how to make ice block treasure. This is a great way to beat that summer heat!
Give your kid spoons and let them chip away trying to get their toys back out. Make sure they where sunglasses or goggles though since ice can puncture the eyes.
For your evening activity, it's only fitting to choose one of your favorite Christmas movies that you need to enjoy more than once a year and turn it on. If you have your party on the weekend a movie marathon is also really fun. Right before bed be sure to read a few Christmas stories. This will create one last beautiful memory of the day and have your little ones dreaming of sugarplums in bed…
https://www.thisvivaciouslife.com/foodie-gift-guide/
*This post was originally posted on July 11, 2017 but has since been updated with new photos and festive ideas.