this post may contain affiliate links
This warm red bacon cabbage salad takes only 15 minutes to make and has been a family favorite recipe of ours for over 15 years. I am excited to share it with all of you!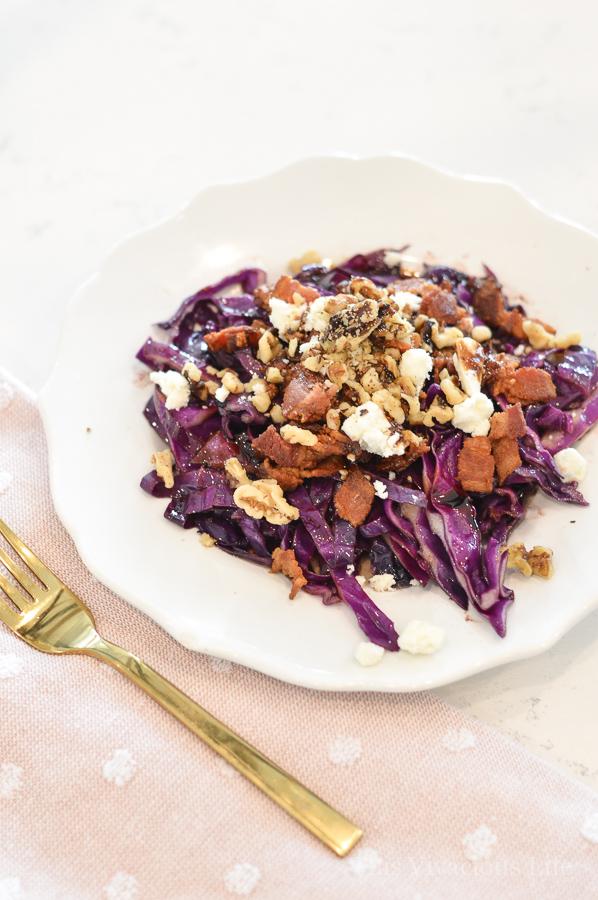 Red Cabbage Salad
There is nothing quite like this warm cabbage salad with our Instant Pot bacon. It is so full of incredible flavors and topped with yummies like walnuts, feta and balsamic. My mom has been making for our family for over 15 years. It is surprisingly easy to make yet it comes out seeming so fancy.
Now I am sure some of you are saying, "But I am not a huge cabbage fan." That's ok, this salad will likely make a cabbage fan of you. I know a few people will tell you that it did for them!
While many salads are not, this one is hearty enough for those with big appetites with the crumbled bacon, rich feta and walnuts. It is robust enough to stand on it's own and in my mind, isn't considered just a side. I personally love to serve it up on our salad bar for a pop of color.
Although, it does make a great side dish, kind of like our fluffy buttermilk biscuits, it is also yummy when served with Evolving Tables chicken lettuce wraps, egg roll in a bowl with chicken or gluten-free pan fried fish too! For dessert, I recommend Vegetarian Mammas mixed berry fruit salad.
Subscribe to This Vivacious Life
Receive a free e-book of Instant Pot recipes!
I know when my mom first made this for my dad, he was a little skeptical. However, he soon came to love it as much as she did.
For me, this salad is nostalgic. My mom and I would eat it while sitting down together to watch an episode of Law and Order. We didn't get along very well in highschool but food was always one thing we could agree on.
Since those school days, we are very close now. I still love going home to my moms house where I can enjoy this bacon cabbage salad as I once used to.
Warm Red Cabbage Salad Ingredients:
Red Cabbage
Bacon (I like thick cut Beelers brand)
Feta
Walnuts
Salt and Pepper
Aged Balsamic Vinegar
What aged balsamic is best?
Choose aged balsamic that is thick and delicious. You want one that has been aged longer and comes out like a syrup more than a vinegar.
I like Napa Valley Naturals Grand Reserve aged balsamic. The flavor is rich and slightly sweet. It works great with sweet and savory dishes. 
How to make red cabbage salad:
Step one: In a large pan cook bacon until crisp then transfer bacon to a plate to cool
Step two: Chop cabbage into thin strips
Step three: Remove HALF, only HALF of the bacon grease from the pan then add cabbage to the bacon grease along with 2 T aged balsamic vinegar
Step four: Cook until slightly tender
Pro Tip: The cabbage should still be a bright purple. If you overcook it you will lose the vibrant color and be left with an almost black cabbage.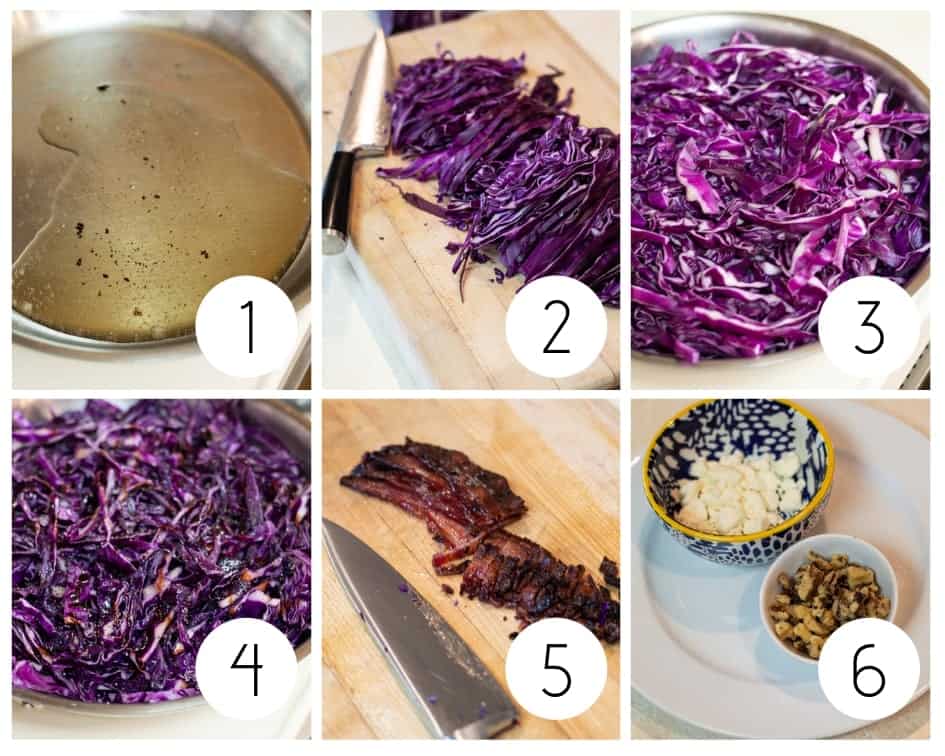 Step five: Chop the cooled bacon
Step six: Transfer cabbage to a serving plate and top with Feta cheese, salt to taste, aged balsamic vinegar, chopped bacon and as many walnuts as you prefer
Bacon Cabbage Salad Notes:
Don't be afraid to use the bacon grease for cooking the cabbage, it will give this salad so much flavor!
Make sure to cook the cabbage only a few minutes, you want it to still be a vibrant purple color
Be sure to toss the cabbage and get the yummy bacon morsels off the bottom of the pan when cooking
How do you store this salad:
This salad is best served warm and fresh. You can store the cooked cabbage and bacon in an airtight container in the fridge and reheat it the next day.
Just wait to add the toppings of feta, nuts and additional balsamic drizzle, until you've reheated it.
I don't recommend freezing this salad.
If you like this recipe, be sure to check these out…
Golden Beet Salad with Watermelon
Instant Pot Gluten-Free Mac and Cheese

NEED MORE GOODNESS? Follow me on Facebook, Instagram, Pinterest, and Twitter for great recipes, entertaining ideas and more!
Bacon Cabbage Salad
I love sharing new recipes with you guys and this bacon cabbage salad is one you are going to love! It is a salad that my mom has been making for our family for over 15 years. It is surprisingly easy to make yet it comes out seeming so fancy. This was one of the recipes of my moms I was most excited to learn how to make.
Ingredients
1

16 oz. package of nitrate-free, gluten-free bacon (I like Beelers)

1

head purple cabbage

chopped into thin strips

1/2

C

Feta cheese

1/2

C

raw walnuts

chopped

3

Tbls.

gluten-free balsamic vinegar

Real Salt and pepper to taste
Instructions
In a large pan cook bacon until crisp

Transfer bacon to a plate to cool

Remove HALF, only HALF of the bacon grease from the pan

Add cabbage to the bacon grease and cook until slightly tender (It should still be a bright purple. If you overcook it you will lose the vibrant color and be left with a purple cabbage)

Add balsamic vinegar, chopped bacon and as many walnuts as you prefer and toss lightly

Transfer to a serving plate and top with Feta cheese and Real Salt to taste
Nutrition
Calories:
81
kcal
|
Carbohydrates:
7
g
|
Protein:
3
g
|
Fat:
5
g
|
Saturated Fat:
1
g
|
Cholesterol:
7
mg
|
Sodium:
126
mg
|
Potassium:
203
mg
|
Fiber:
2
g
|
Sugar:
4
g
|
Vitamin A:
805
IU
|
Vitamin C:
39.8
mg
|
Calcium:
68
mg
|
Iron:
0.8
mg
This recipe was first posted on my old blog back in 2011. Since then we have added new photos, instructions and information but the recipe is the same. Here is a peek at the old photo…