this post may contain affiliate links
If you're looking for a quick and satisfying meal to curve your pasta cravings, look no further than these sourdough gluten free egg noodles. They're easy to make and have a soft and silky texture that will have everyone reaching for seconds.
Going gluten free does not mean you have to give up delicious pasta recipes. These egg noodles pair with a variety of dishes and sauces so you won't feel like you're missing out.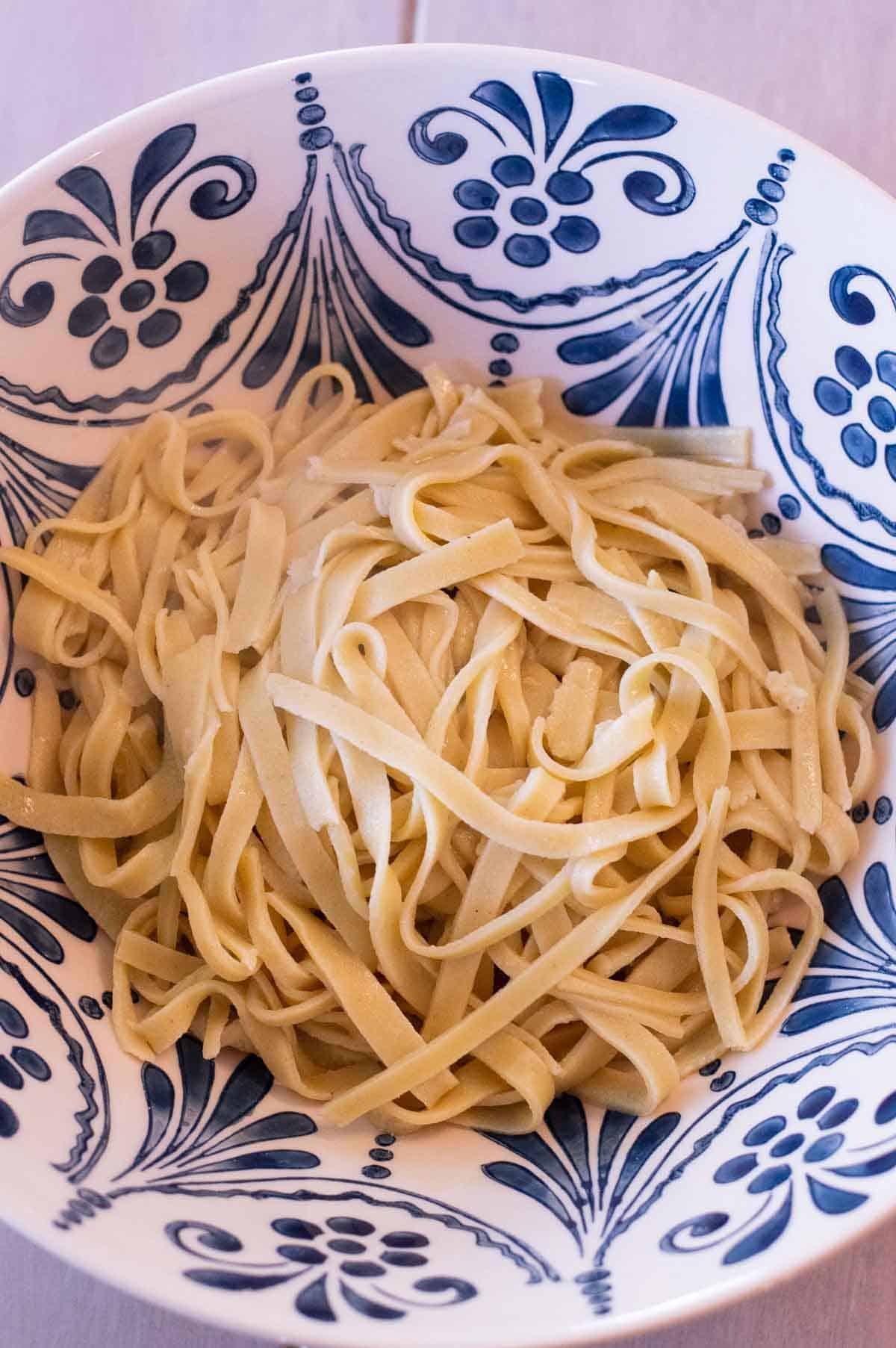 With only a few simple ingredients and a little bit of elbow grease, you can make a batch of these noodles in no time. And, the best part is, you can store them for later!
Whether you're serving them marinara sauce or adding them to a stir-fry, these gluten free egg noodles are sure to become a staple in your recipe arsenal.
When my family and I are craving a comforting, and carb-loaded meal, Instant Pot pasta paired with gluten free meatballs or Instant Pot Lasagna are our go-to's. Nothing beats a family dinner that's delicious and celiac friendly.
Subscribe to This Vivacious Life
Receive a free e-book of Instant Pot recipes!
My sweet friends at Mamma Mangia first created this gluten free egg pasta recipe. After they did, they asked me to be their tester with my multiple gluten free flours to make sure it was perfect.
I used a few different gluten free all purpose flours and found that my favorite was King Arthur gluten free flour. I know the gals at Mamma Mangia prefer Bob's Red Mill measure for measure GF flour.
We both loved the final result and agree that there are a few different flours that work for their recipe. I then decided it would be great to try it with my gluten free sourdough starter. The result ended up being a delicious result!
My friends and I at Mamma Mangia went on to work together on a gluten free Italian bread recipe as well. If you want more great authentic Italian recipes, you should definitely check out their site.
They have the BEST Italian recipes as well as the cutest ideas for Holy Week. I mean, just look how cute this mom and daughter duo are!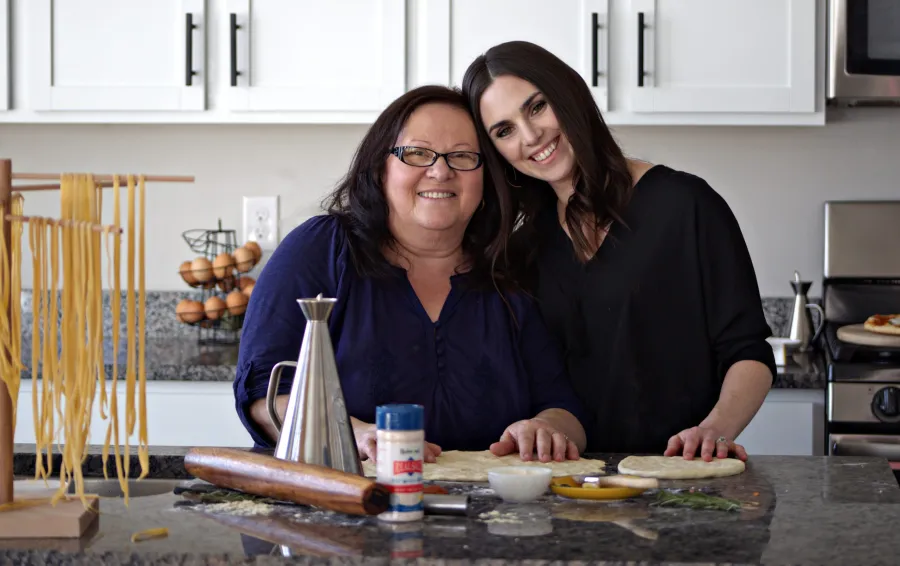 Why you'll love these egg noodles
They're so good, you wont even know they're gluten-free!
Store them in an airtight container in the fridge or freezer, making them a perfect quick meal for busy weeknights.
Much better than noodles from the grocery store and no special equipment required.
Best of all, gluten-free noodles provide a comforting and satisfying dinner option for those following a gluten-free lifestyle.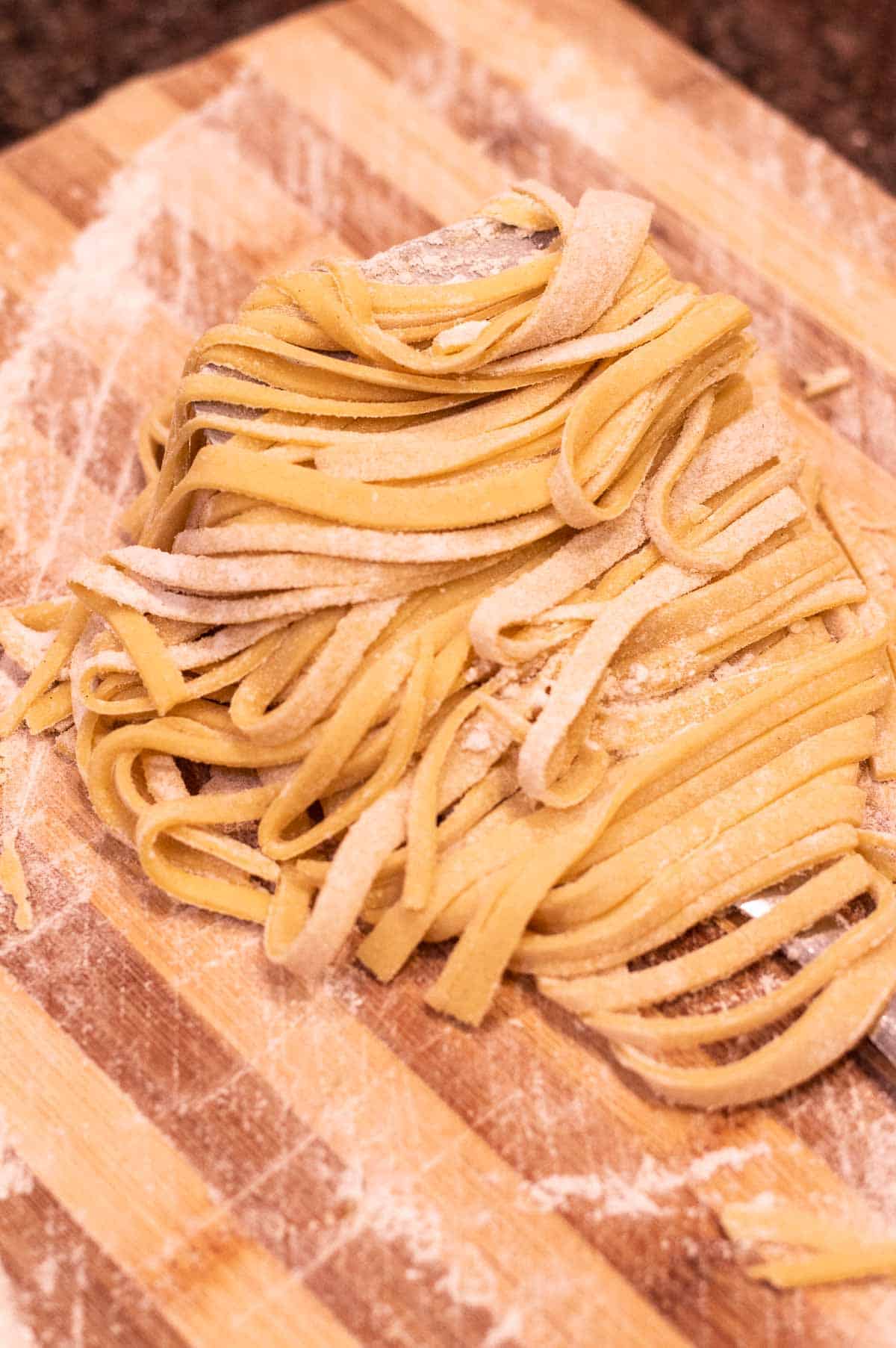 What goes well with noodles?
If you need something super quick, you can always add some Alfredo, marinara, or butter garlic sauce to these homemade gluten free noodles. Although it's not the most complete meal, it's great if you're in a time crunch or have picky eaters at home.
For something more filling, pair with garlic stuffed chicken, or another source of protein, and stir fried vegetables.
If you're in the mood for something easy, serve these noodles with a soup or salad. They would make a great addition to this homemade gluten free chicken noodle soup served with a salad bar.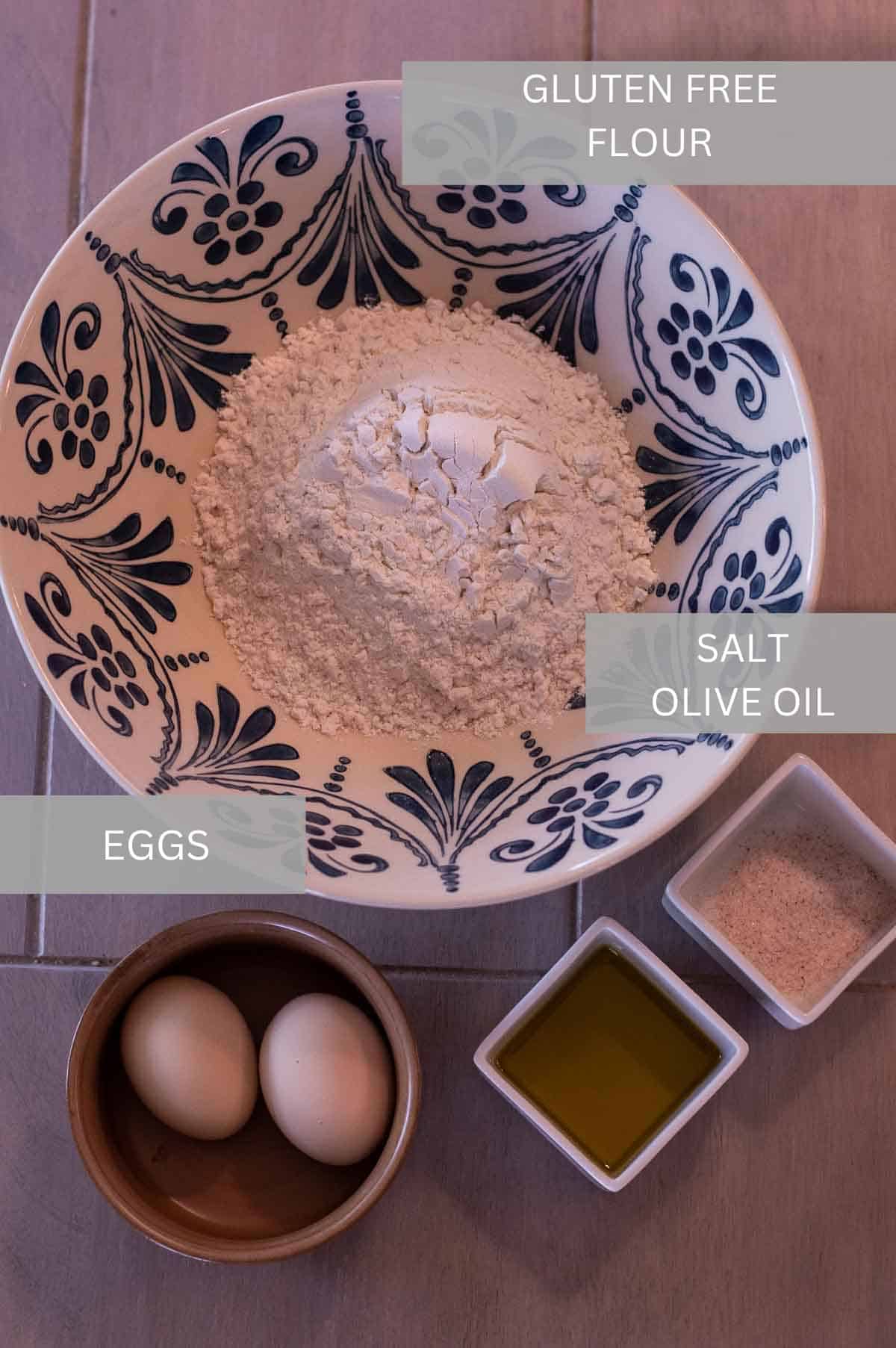 What you'll need
Gluten free flour – I like using King Authors gluten-free flour blend because it cooks well and has xanthan gum in it. Some gluten free flours don't have xanthan gum, so you'll need to add 1/2 a teaspoon.
Eggs – The good news is that you don't have to separate the yolks out.
Olive oil – A high quality olive oil is a great, and easy, way to elevate these homemade noodles.
Salt
What gluten free flour works best?
I like using a high quality flour like Bob's Red Mill or King Authors flour. A blend of rice flour, whole grain brown rice flour, whole sorghum flour, tapioca starch, and potato starch creates the perfect texture.
You can also make your own blend of gluten free flour if you do a lot of gluten free cooking.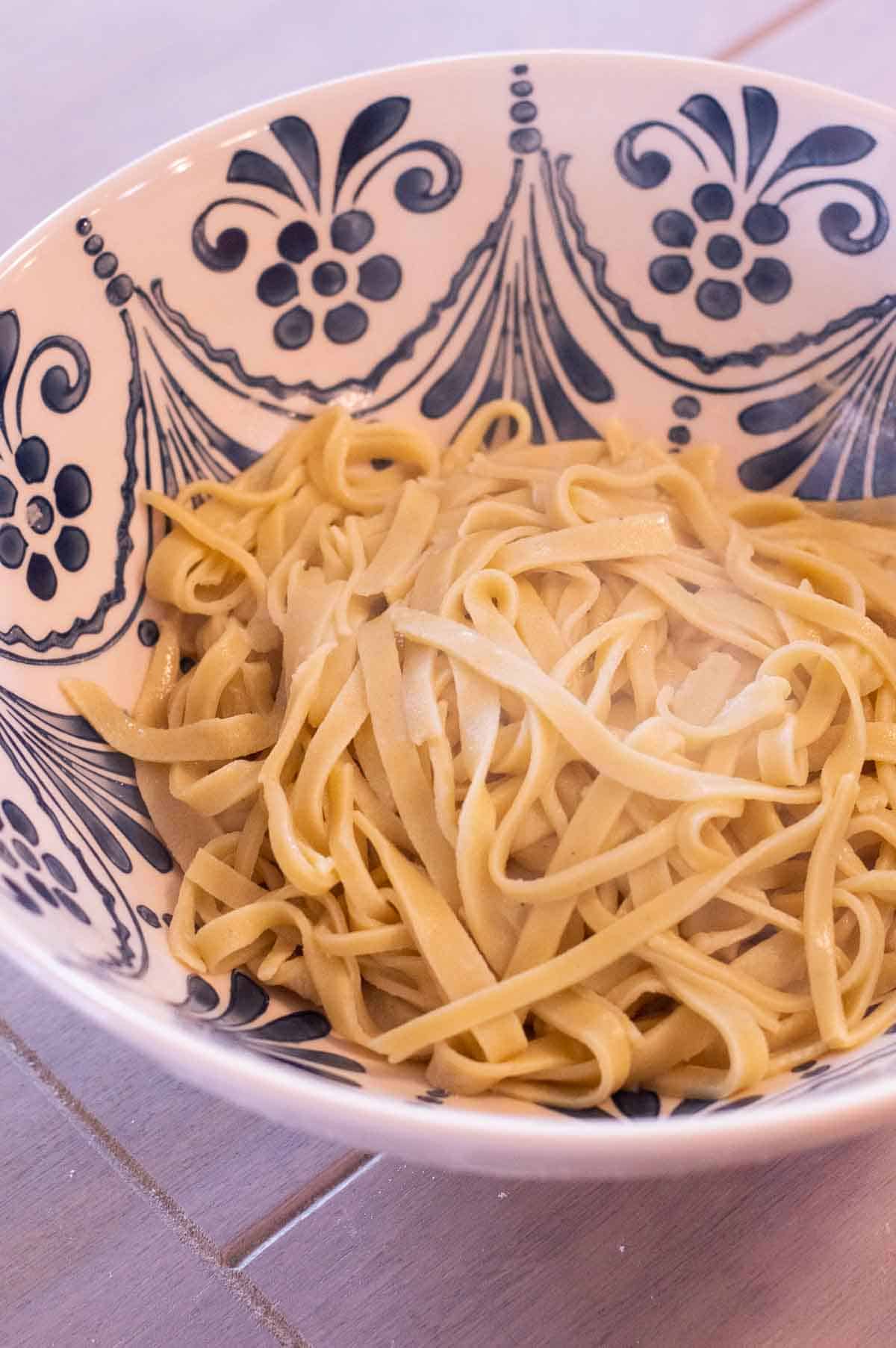 How to make gluten free egg noodles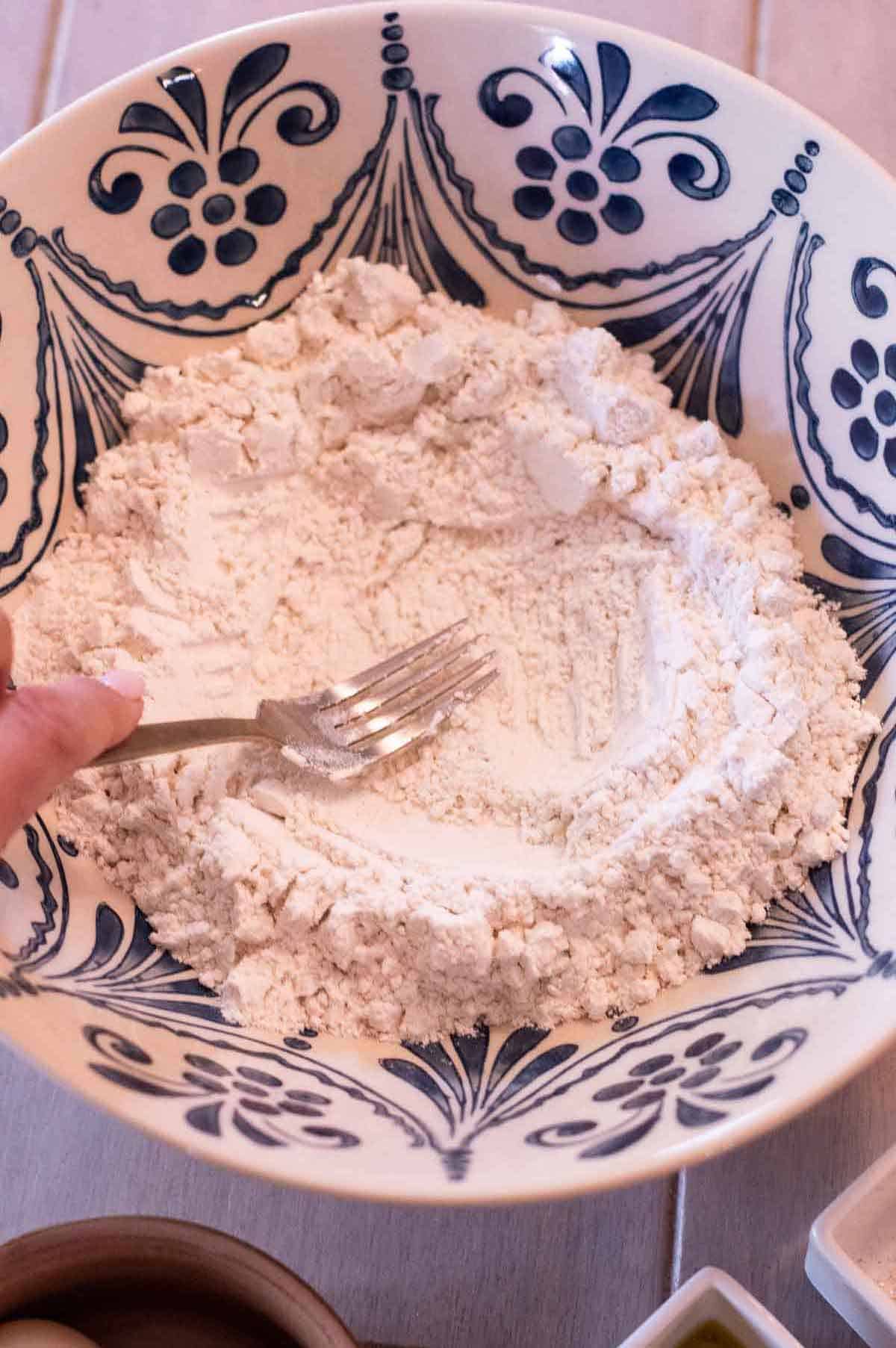 Step 1: Prepare the dough
In a large bowl or on the table, place flour in a pile with a well in the center. Mix in the eggs, salt, and oil. You do not have to separate the egg yolks from the egg whites for this recipe.
Add gluten free sourdough starter at this point. It gives the pasta great nutrients but isn't absolutely necessary if you don't have one.
Step 2: Rest
Once the dough can be kneaded, wrap it in plastic wrap and store it in the fridge for at least 10 minutes.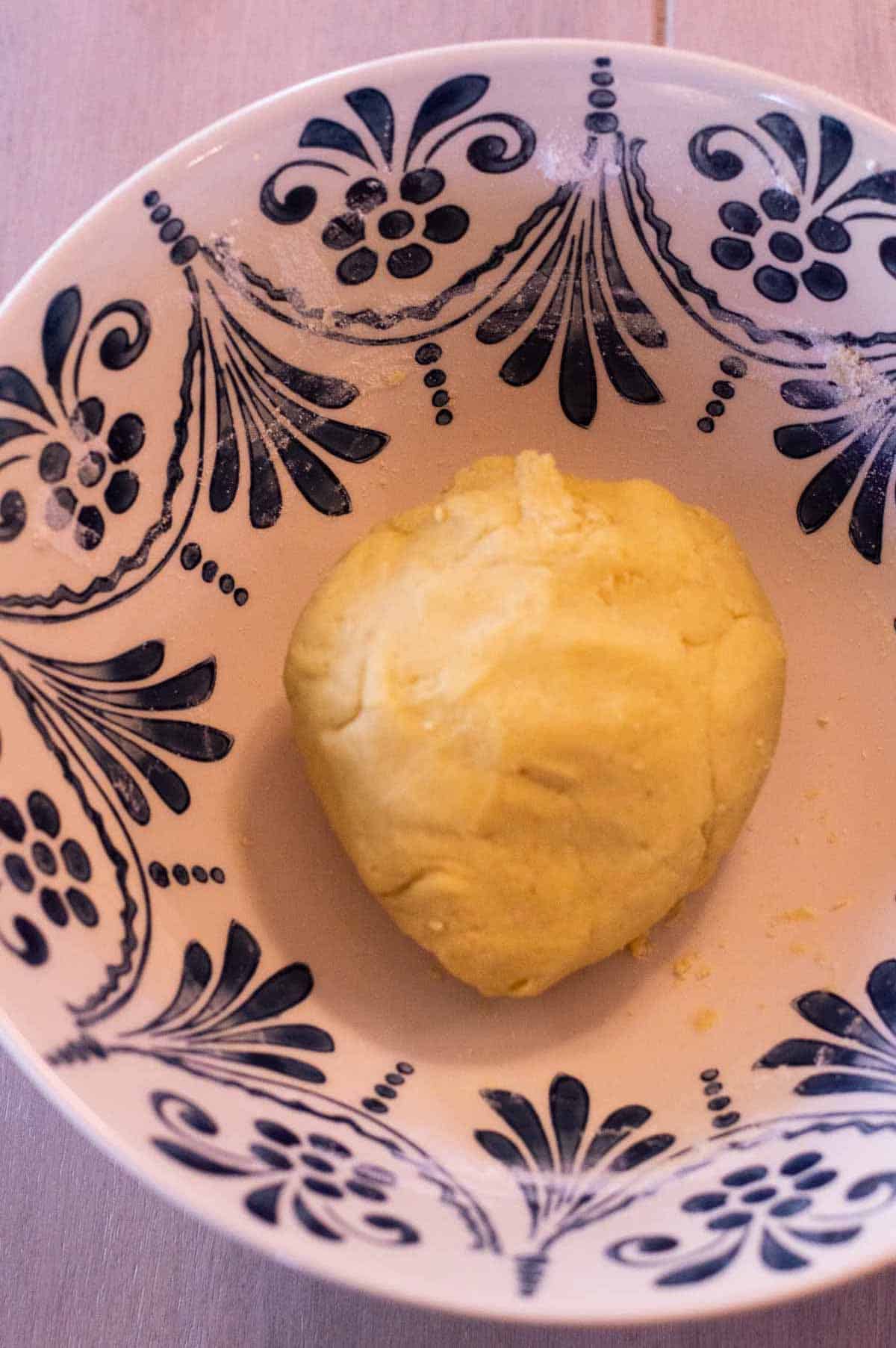 Step 3: Roll
Divide the dough then roll it out until flat.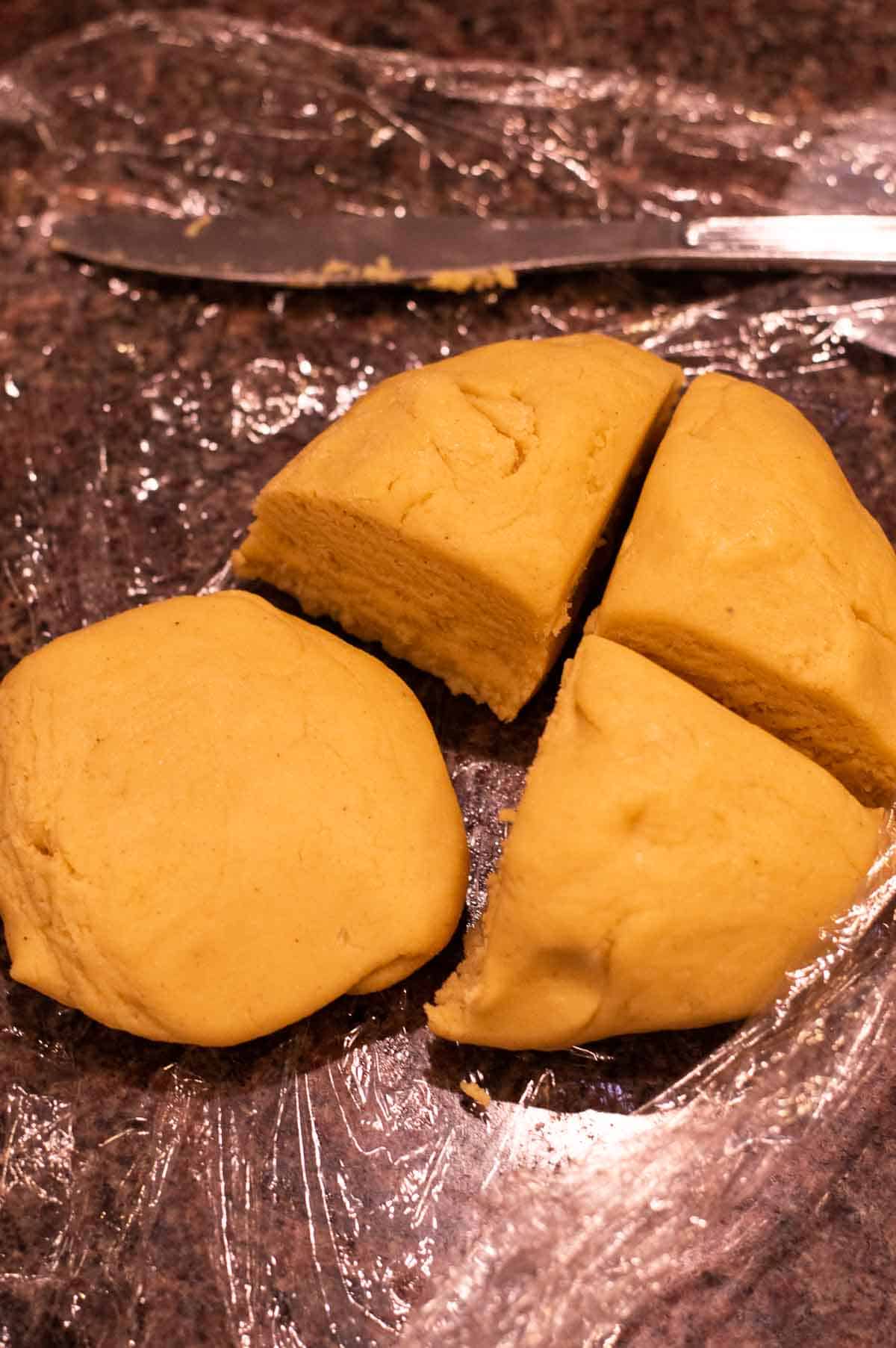 Step 4: Snip Snip!
Cut into desired length and shape using a sharp knife or pizza cutter. A pasta maker works too.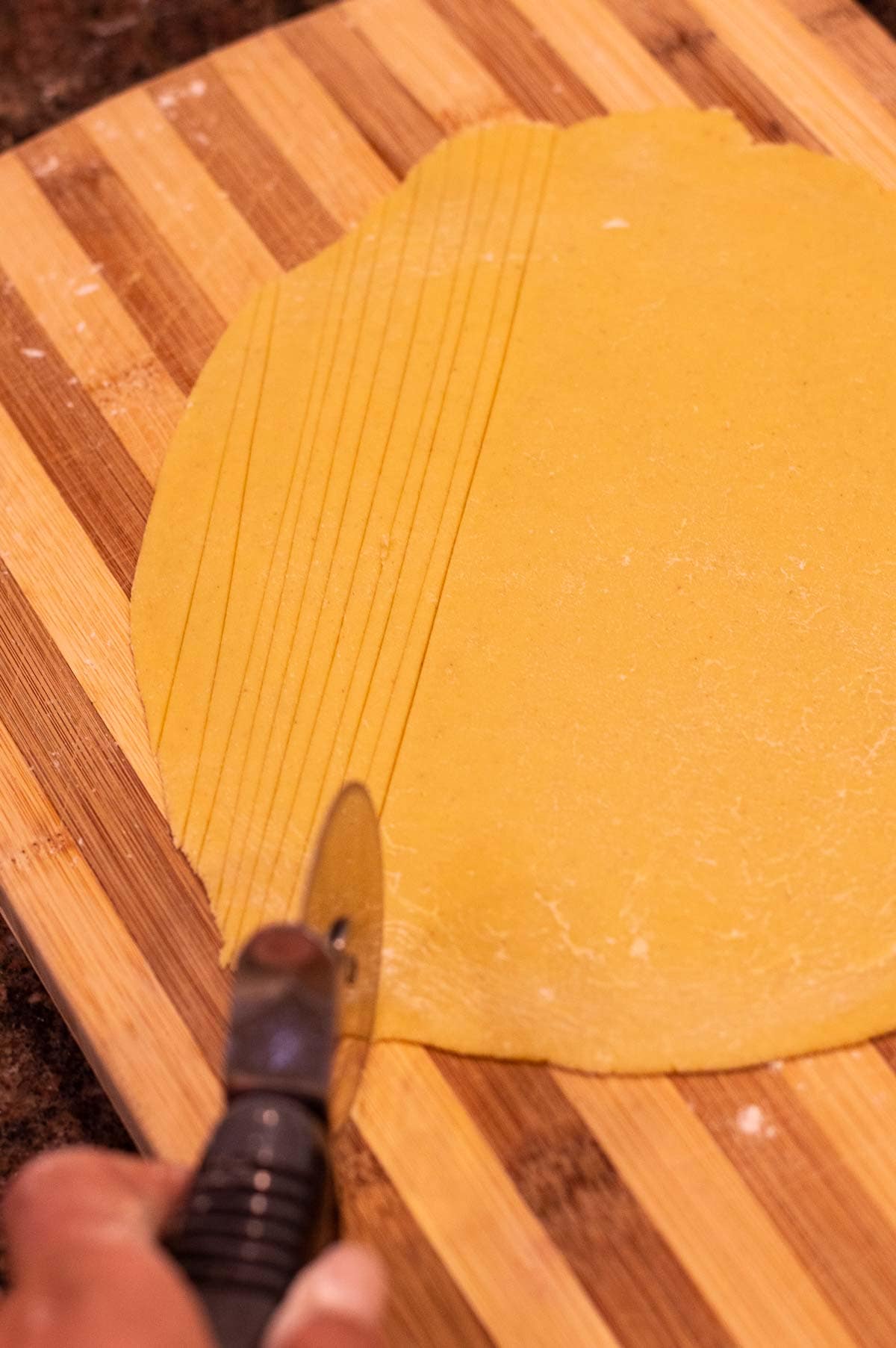 Step 5: Cook
Cook the noodles in boiling water for 5 minutes. Serve immediately.
Pro tip: Flour the counter or work surface and the rolling pin with white rice flour to prevent the dough from sticking.
Expert tips
Don't overcook – Watch your noodles closely as it can be easy to overcook. Overcooked noodles will fall apart and have a gritty texture.
Let the noodles dry – Letting the fresh noodles dry for 15 minutes to one hour will help them hold their shape while cooking. This is optional, but will yield best results.
Don't overwork the dough – Overworking the dough is a common mistake that will lead to stiff dough and chewy noodles. Mix the dough until just combined, then stop.
Go overboard with salt – Adding a heaping tablespoon of salt to the cold water before boiling will help the noodles retain more flavor.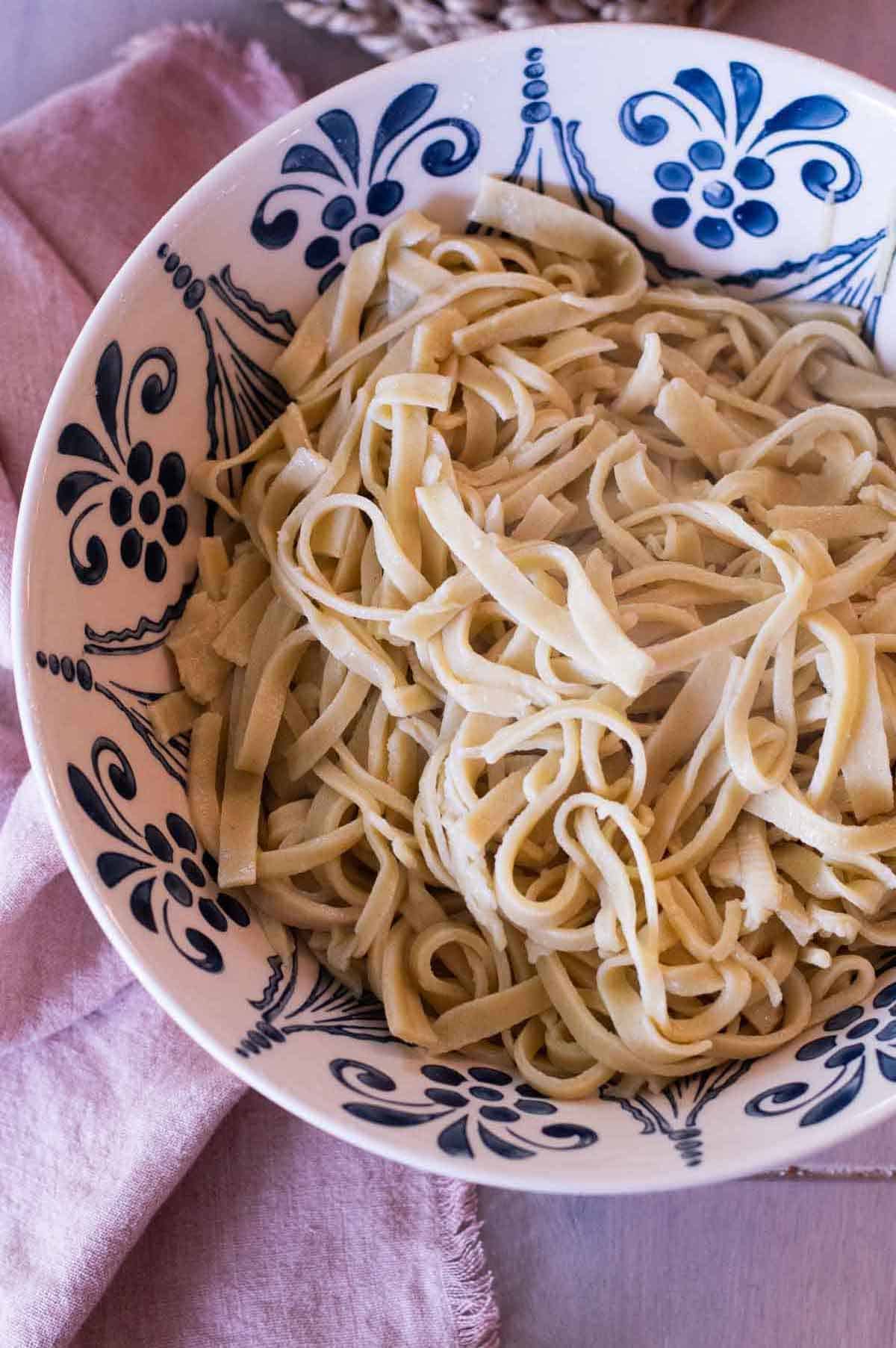 Storage
Storing – Store this homemade pasta in an airtight container in the fridge for up to 3 days. Although fresh pasta is best, it makes and easy lunch or dinner when reheated in the microwave.
Freezing – Freeze the gluten free pasta dough or cooked noodles for up to 4 months. Make sure the dough or noodles are in an airtight container or freezer safe baggie before storing. Let thaw in the fridge overnight before cooking.
NEED MORE GOODNESS? Follow me on Facebook, Instagram, Pinterest, and Twitter for great recipes, entertaining ideas and more!
Sourdough Gluten Free Egg Noodles
If you're looking for a quick and satisfying meal to curve your pasta cravings, look no further than these sourdough gluten free egg noodles. They're easy to make and have a soft and silky texture that will have everyone reaching for seconds.
Instructions
Fill a large stock pot half way with water and 1-2 tablespoons water and place over high heat

Place flour in a bowl or a heap on a table or board

Make a well in the center and add eggs, salt and oil (this is the time to also add the gluten free sourdough starter if you are using it)

Whisk/mix with a fork or hands until it can be gathered into a ball

If it is still dry, sprinkle with a little water until it holds together, if it gets sticky, add a bit of GF flour as you knead the dough

Wrap in plastic and let rest for 10 minutes

Divide dough into 4 balls and roll out flat until 1" thick then using a rolling pin, roll it until thin, dusting with flour as you roll so it doesn't stick to the table or rolling pin

Cut into desired length and shape (you can also use a pasta machine rolling dough on counter until 1-1/2" thick before rolling through the pasta machine)

To avoid sticking dust your rolled pasta sheets with flour before cutting into strips

Cook pasta in boiling water for 3-5 minutes (depending on thickness) then remove immediately and serve however you desire
Nutrition
Serving:
1
serving
|
Calories:
162
kcal
|
Carbohydrates:
22
g
|
Protein:
6
g
|
Fat:
7
g
|
Saturated Fat:
1
g
|
Polyunsaturated Fat:
1
g
|
Monounsaturated Fat:
4
g
|
Trans Fat:
0.01
g
|
Cholesterol:
82
mg
|
Sodium:
613
mg
|
Potassium:
31
mg
|
Fiber:
3
g
|
Sugar:
1
g
|
Vitamin A:
119
IU
|
Calcium:
33
mg
|
Iron:
1
mg