this post may contain affiliate links
What if I told you you can enjoy this big, buff & cheesy gluten-free sandwich while also providing a noble charity with $10,000 in the process?
This big, buff & cheesy gluten-free sandwich is filling and delicious. It will definitely give you the energy you need to continue fighting for great things like the people behind Operation Underground Railroad do every day.
You guys, this big, buff & cheesy gluten-free sandwich came right out of my dreams…literally. When I was thinking about the sandwich I would create for Canyon Bakehouse's annual #
SammieSmackdown. I
 fell asleep dreaming about this sandwich. When I woke up I knew I just had to re-create it! I mean, there was $10,000 on the line…
VOTE FOR OUR SANDWICH NOW
The reason for sandwich dreams all started after I was chosen to be one of four awesome bloggers competing for $10,000 on behalf of a charity of our choice.
That's right, Canyon Bakehouse is giving $10,000 to the charity of choosing by the blogger with the winning sandwich!
You may remember but I was the sammie building queen at the Canyon Bakehouse booth at Expo West this year. Three other bloggers and I competed in a challenge to see who could build the tallest gluten-free sandwich with their new wide heritage loaves the fastest. So when it came time for their annual Sammie SmackDown they wanted to see what I could do with their loves this time around. I couldn't disappoint…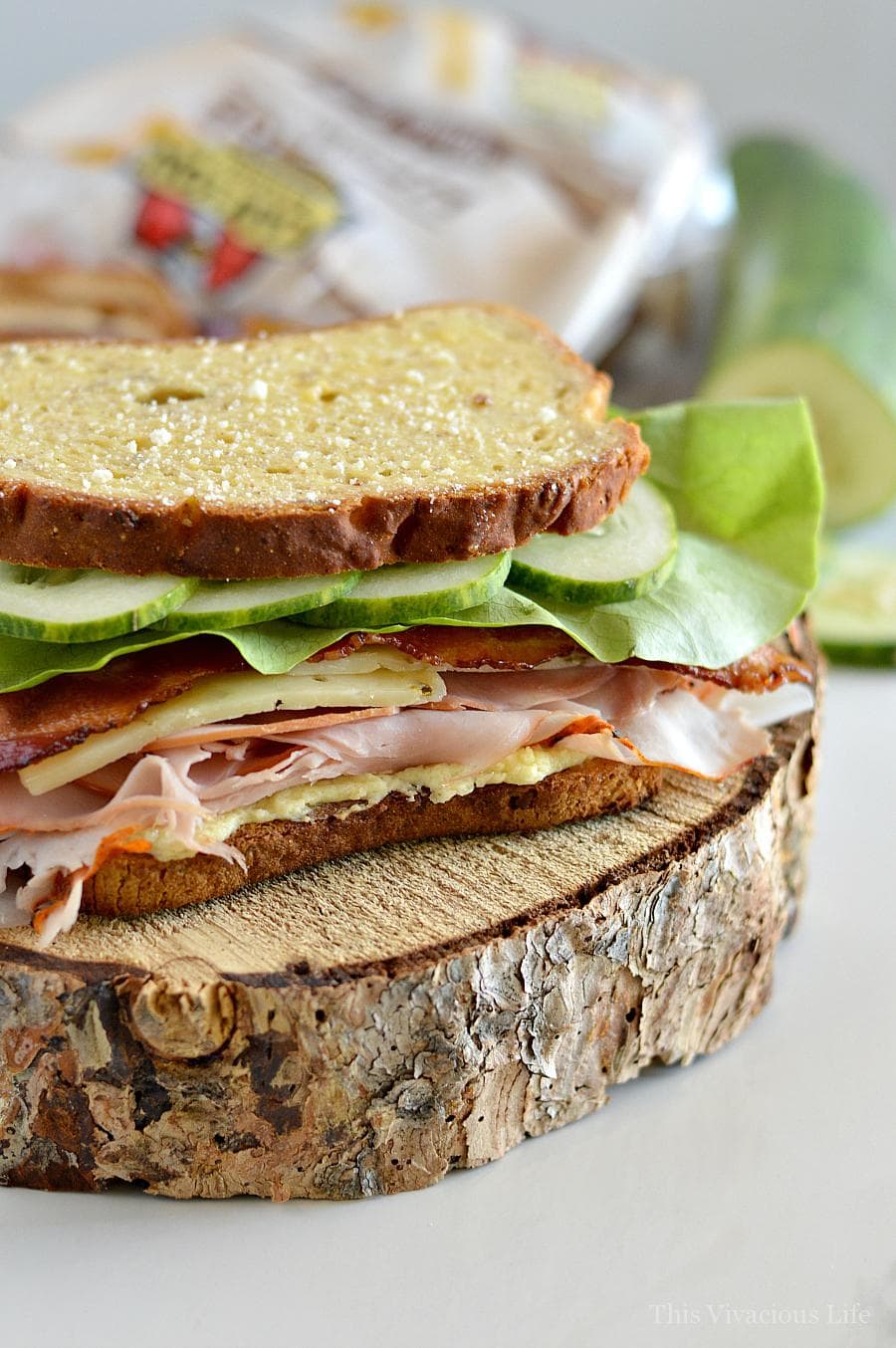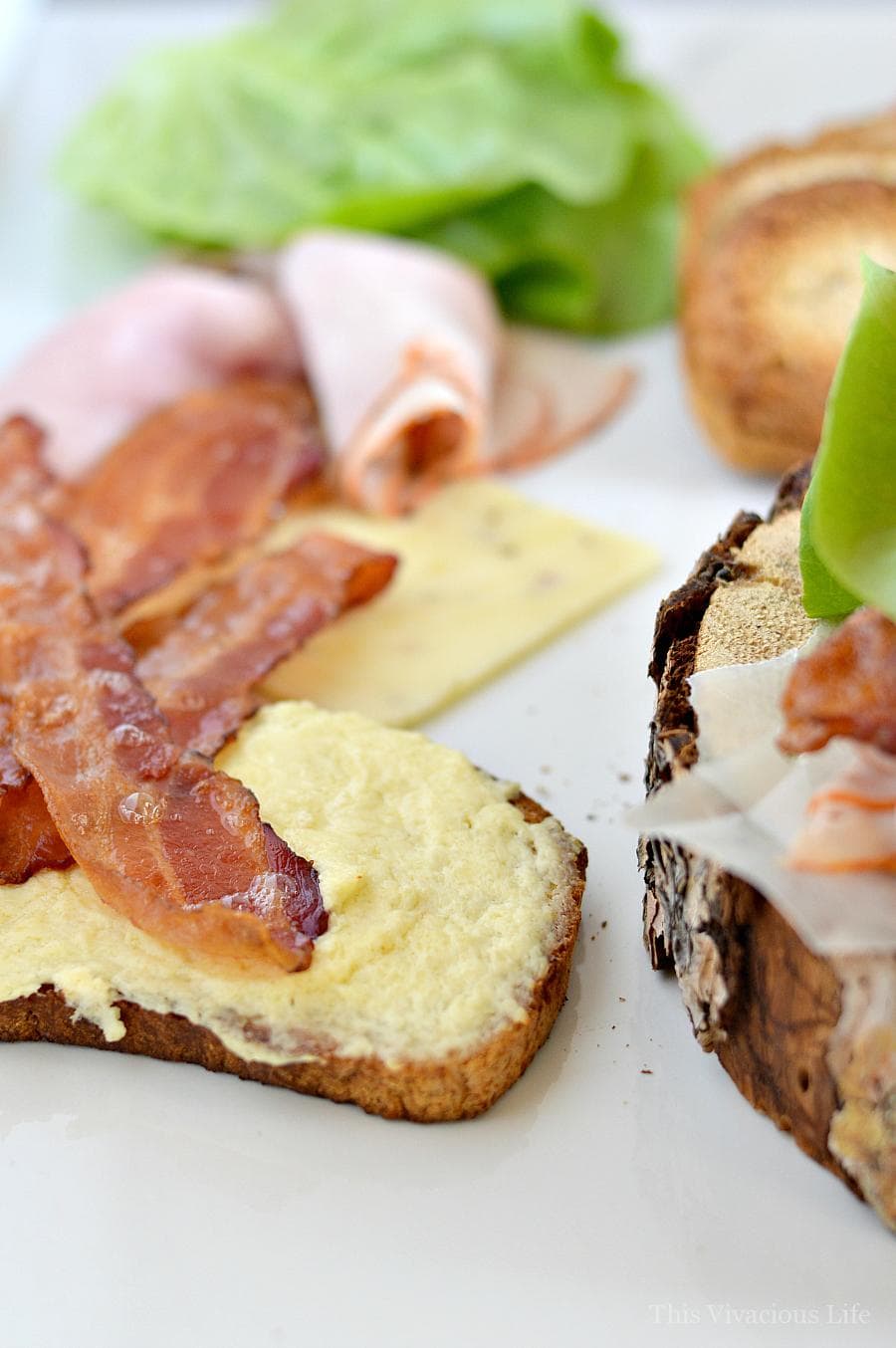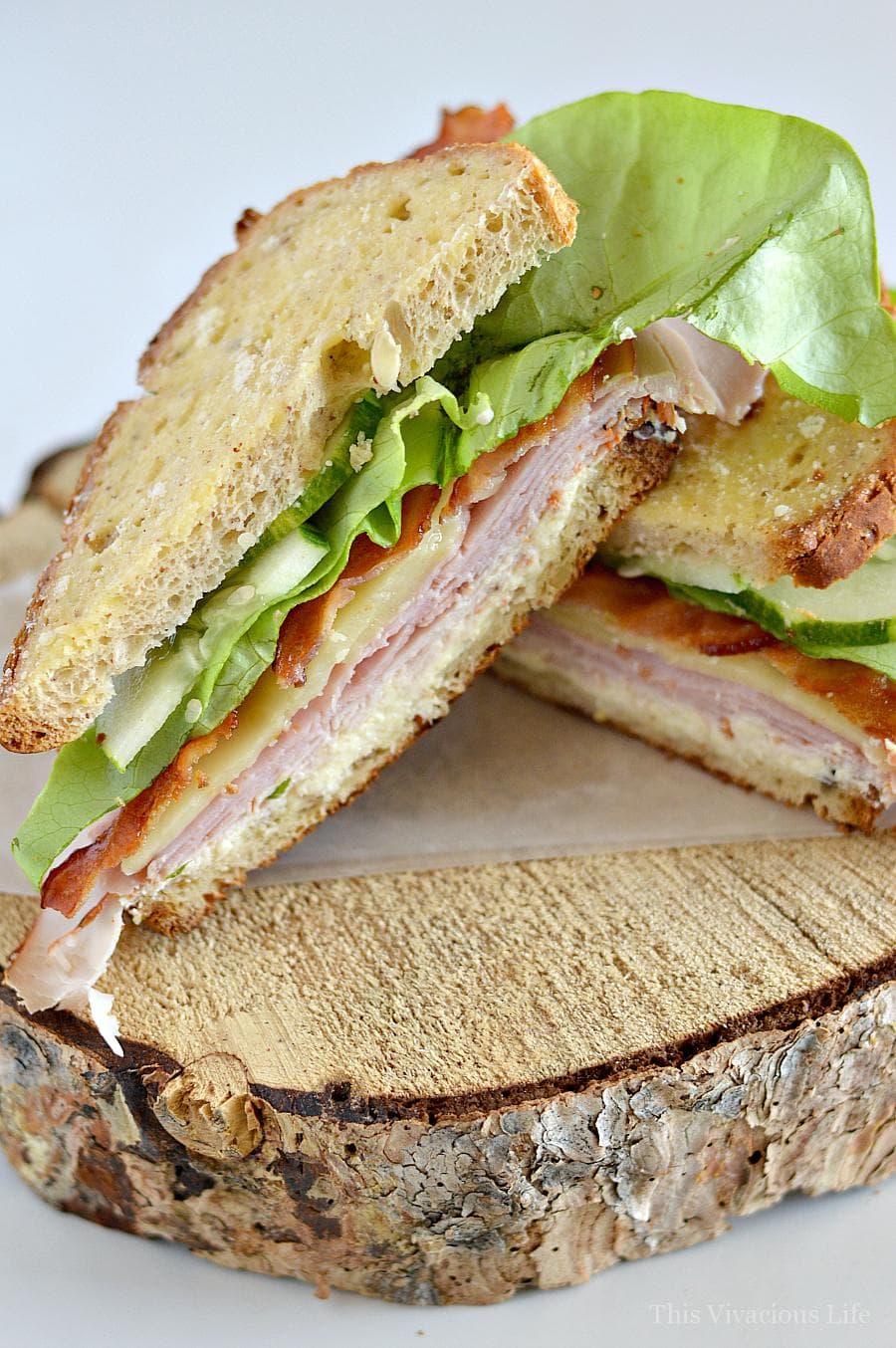 This pregnancy my number one craving has been sandwiches. I just can't get enough of their deliciousness and have one almost every single day for lunch. I change it up between using the Canyon Bakehouse wide heritage loaves bread or there gluten-free everything bagel. Both make fantastic sandwiches! Mine are always loaded high with lots of delicious meat so it seemed only fitting that I add those to my sandwich creation. And what goes better with meat than cheese right?
This sandwich is loaded with three of my favorite meats, peppermill turkey, ham and of course bacon. All are gluten-free and so loaded with flavor. With three meats on this sandwich, I knew I needed to balance it with three cheeses. We chose Parmesan, cream cheese and pepperjack for just a touch of heat. For those of you who don't like heat, don't worry though it's not that hot.
To balance the meat and cheeses with some freshness, I chose thinly sliced fresh cucumbers and delicate butter lettuce. Toasting the sandwich is definitely the key and I will say that my very picky husband said this was one of the best things we've ever made…yay! 
Now a little bit more about the charity I chose.
Operation Underground Railroad
is a non-profit organization that exists to rescue children from sex trafficking.
Since being founded in December 2013, we've gathered the world's experts in extraction operations and in anti-child trafficking efforts to bring an end to child slavery. O.U.R.'s Underground Jump Team consists of former CIA, Navy SEALs, and Special Ops operatives that lead coordinated identification and extraction efforts. These operations are always in conjunction with law enforcement throughout the world.
Once victims are rescued, a comprehensive process involving justice for the perpetrators and recovery and rehabilitation for the survivors begins.
After seeing their movie, The Abolitionists, I knew I have to do something to make a difference and help them in their courageous mission.
I cried as I heard them say that little ones as young as 10-years old were forced into this lifestyle. Not only were they forced into it, some were even pregnant because of it. As a mom of three little ones myself this was appalling. I couldn't imagine such darkness in the world. However, I was I am so grateful for the men and women who fight every day to bring them home and help rehabilitate them.
The men and women involved in extracting these children, risk their lives to save the lives of others everyday. Because Operation Underground Railroad is smaller, they don't receive the national funds like many of the larger charities do. But that doesn't stop them, they continue to fight for their cause every day. I can't imagine a more deserving charity than this one…
NEED MORE GOODNESS? Follow me on Facebook, Instagram, Pinterest, and Twitter for great recipes, entertaining ideas and more!
Big, Buff & Cheesy Gluten-Free Sandwich
Packed with flavor this is one big sandwich!
Ingredients
6

slices

Canyon Bakehouse Heritage Style Whole Grain bread

4

oz.

cream cheese

4

T

butter

divided

3

T

parmesan

plus more for sprinkling

1/2

tsp.

garlic salt

9

slices

Boars Head cracked pepper mill smoked turkey breast

9

slices

Boars Head beechwood smoked black forrest ham

9

slices

of bacon

3

slices

pepper jack cheese

12

slices

thinly cut cucumbers

6

leaves

of butter lettuce
Instructions
Preheat oven to 400 degrees

Place bacon on a baking sheet and cook 12-15 minutes or until cooked through and slightly crispy

Meanwhile, in a small saucepan, combine cream cheese, 2 T butter, 3 T parmesan and 1/4 tsp. garlic salt and cook over low to medium heat until soft and spreadable

Make sure to stir it often while it is cooking

Spread the cream cheese mixture over 3 slices of Canyon Bakehouse Heritage Style Whole Grain bread

Bake at 400 degrees for 5 minutes

Remove from the oven and immediately top each cream cheese toast with 3 slices of each turkey & ham then one slice of pepperjack cheese

Place 3 slices of hot bacon on top of the pepperjack cheese

Top the bacon with 4 slices of cucumber and 2 leaves of butter lettuce

Place the last three slices of bread on the top of each sandwich

Heat remaining 2 T of butter in the microwave and brush on the top slices of bread

Sprinkle with parmesan and garlic salt and enjoy sandwich hot
Nutrition
Calories:
807
kcal
|
Carbohydrates:
35
g
|
Protein:
41
g
|
Fat:
68
g
|
Saturated Fat:
32
g
|
Cholesterol:
201
mg
|
Sodium:
2411
mg
|
Potassium:
657
mg
|
Fiber:
3
g
|
Sugar:
8
g
|
Vitamin A:
2275
IU
|
Vitamin C:
2
mg
|
Calcium:
401
mg
|
Iron:
4.1
mg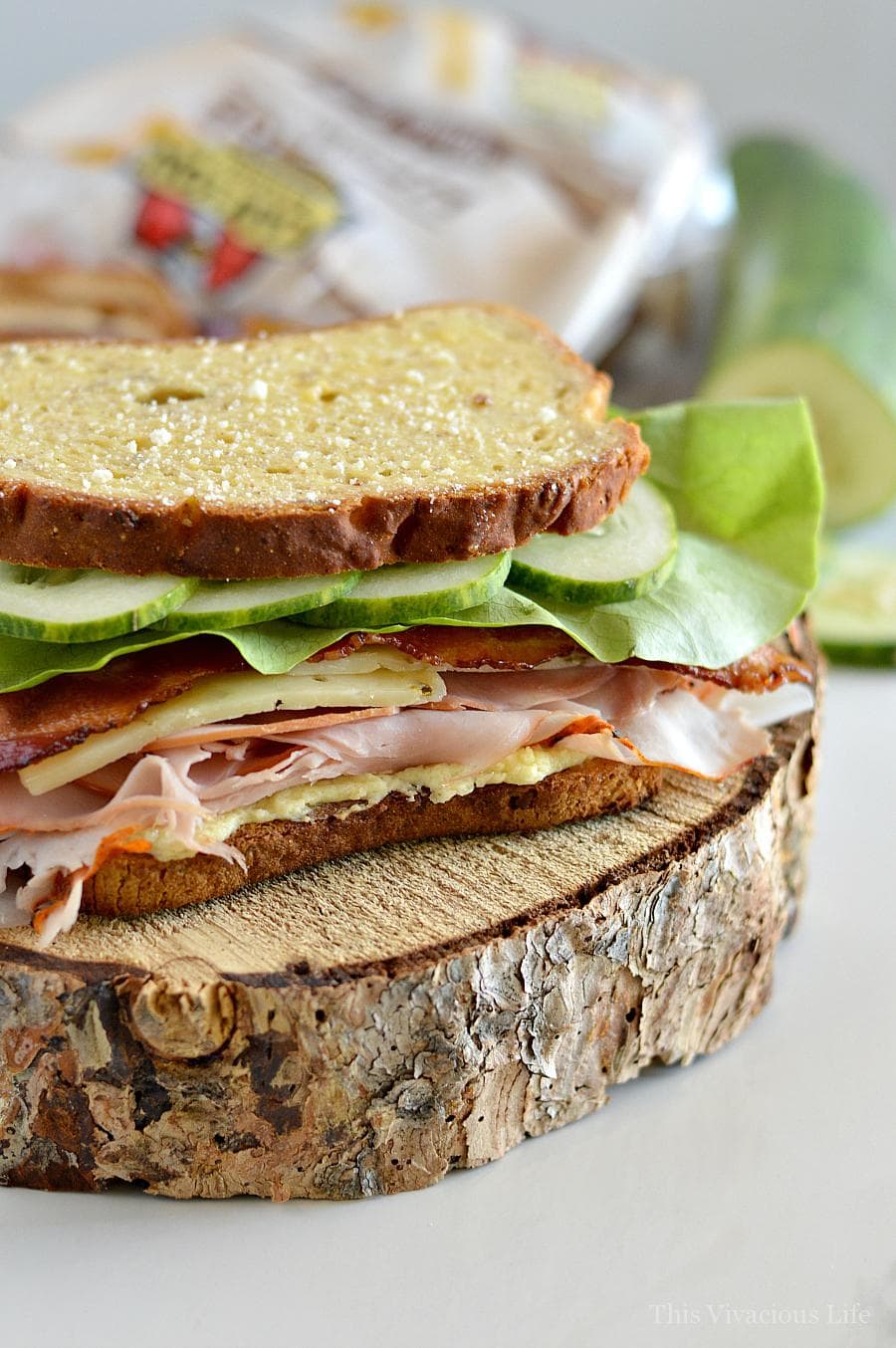 Be sure to check out our
turkey…gluten-free sandwich
, our
spider sandwiches
and a fantastic
Starbucks gluten-free sandwich
.
*Thank you to Canyon Bakehouse for sponsoring this post. I was provided with monetary and product compensation. All opinions are my own.