this post may contain affiliate links
Hosting a girls brunch is so easy! We are showing you just how to do it without breaking the bank. Our roasted balsamic potatoes recipe will WOW everyone and have them all asking for seconds.
Thanks to BRIANNAS for sponsoring this post.
Girls Brunch
Putting together a memorable girls brunch is simpler than you think. Delicious food, cozy jammies and a simple mocktail only take a bit of preparation and a lot of joy with your favorite gal pals!
Whenever host friends for a meal, I like to give as much time as possible to just visit. I don't want too many activities planned that take up our time and make things feel rushed or busy. Some of my favorite memories with my friends are when we linger a little longer around a delicious meal and talk.
So I recommend having as much done ahead of time as you can. Have your mocktails waiting near the entrance point and start with a simple toast.
Next, give each gal a pair of matching pajamas to change into. This really encourages everyone to feel cozy in your home and relax. I also gave the girls a bottle of BRIANNAS New American Creamy Balsamic dressing that I used in the roasted balsamic potatoes recipe because I KNEW once they tasted it, they'd want to replicate at home!
Subscribe to This Vivacious Life
Receive a free e-book of Instant Pot recipes!
Once everyone is changed, head into the kitchen for a delicious meal that is already set up and prepared so you as the host, can sit down and relax too. To achieve this, I recommend one pan dishes that can easily be put out and everyone can serve themselves.
Some of my favorite dishes to serve are gluten-free eggs Benedict casserole and ham n' cheese potato casserole. No matter what you serve, just sit back and relax so your guests feel they can do the same.
Roasted Balsamic Potatoes Recipe
As a girl, my mom always made the BEST garlic red roasted potatoes! They are a one pan dish and are great with dinner or as a brunch dish.
I love this BRIANNAS New American Balsamic dressing so I thought, "What the heck? Let's add it to my favorite potato dish and make it even more flavorful!" You know what? It absolutely elevated it!
All the girls loved this dish which is exactly why I sent them each home with a bottle of dressing. Isn't it so fun to recreate something you loved at someone else home in your own? I think so!
A dish of these prepared roasted balsamic potatoes with a bottle of dressing tied with a ribbon also make a great gift to a friend in need of a thoughtful act of kindness. See where you can get a bottle closest to you HERE.
Individual Charcuterie Boards
It is so easy to put together the BEST charcuterie board. even in individual form. Choose a great cheese & meat then add accompaniments. Display them on a gorgeous little marble or wood boards. Here are a few of our favorite things to include…
Hard cheeses like BellaVitano merlot and smoked gouda

Soft cheese like Boursin

Marinated artichokes

Cornichons

Black and green olives

Hard salami

Simple Mills gluten-free crackers
Modern Table Settings
For our modern table setting, we used natural elements like wood chargers, marble cake stands and cheeseboards, and rattan wrapped glass cups. We also used linen napkins, that were locally tie dyed. I love supporting local artisans and this was such a fun element to include while doing so!
Most of the pieces on this table are from a local home decor shop. It is the cutest! I recommend finding some pieces at your local shops as well.
Girls Brunch Gifts
As mentioned, I gave each girl a pair of matching pajamas to change into. It made for some darling pictures but I also made sure to choose some that the girls could enjoy forever.
The dressing was another easy and inexpensive gift that meant something to each girl since they could recreate a dish with it that we had enjoyed together.
Here are some other great gifts to give at a girls brunch…
Candle
Tea towel
Your favorite cheese tied with twine
Pretty dish
Bottle of the non-alcoholic sparkling wine you use in the mimosa mocktail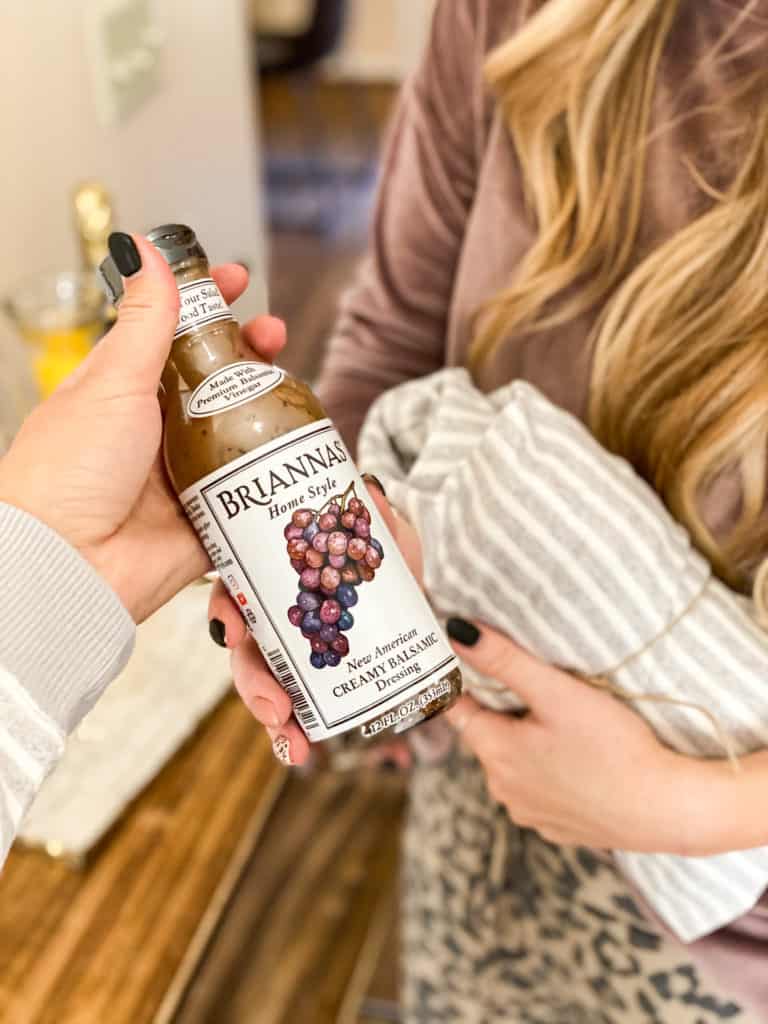 Mimosa Mocktail
Making a mimosa mocktail couldn't be easier! With just two delicious ingredients and less than two minutes, you are off to a great start to your morning or girls brunch.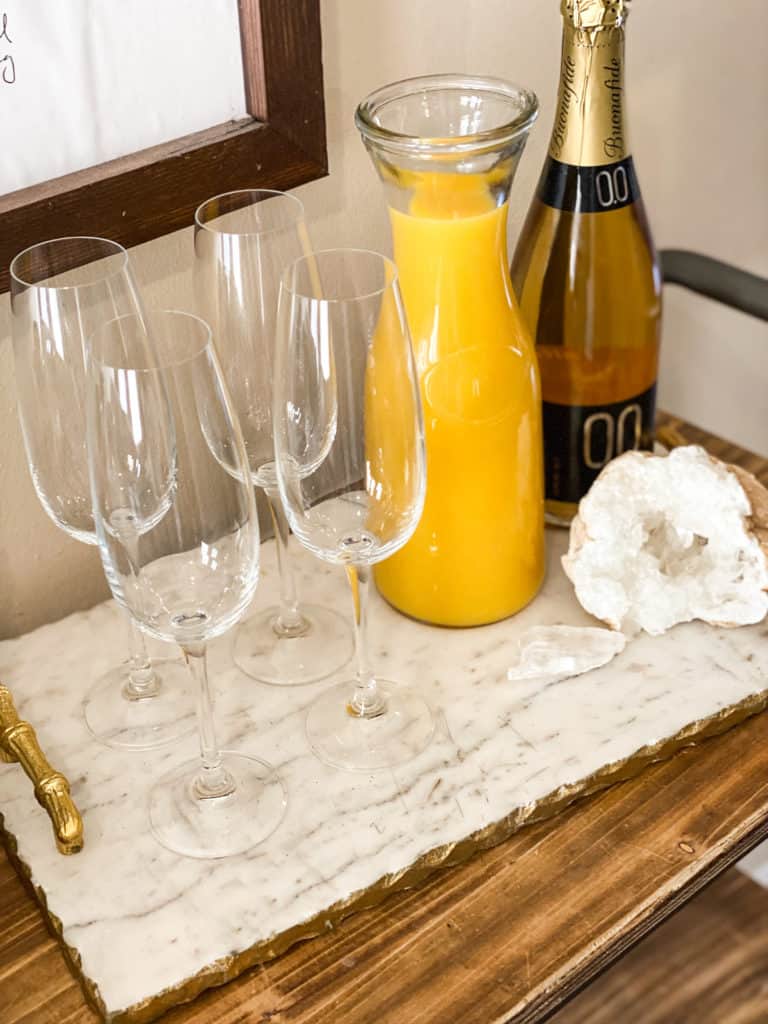 Some people have made non-alcoholic mimosas with club soda or sparkling fruit juice but this is just not close enough to the real thing for me. The key to the BEST mimosa mocktail is using non-alcoholic champagne. Honestly, you won't be able to tell the difference other than how great you still feel after a few.
Other Girls Brunch Ideas
Holiday themed
Potluck
Build your own pancake bar
Giant breakfast charcuterie
Biscuit bar (or basically any other breakfast themed food bar)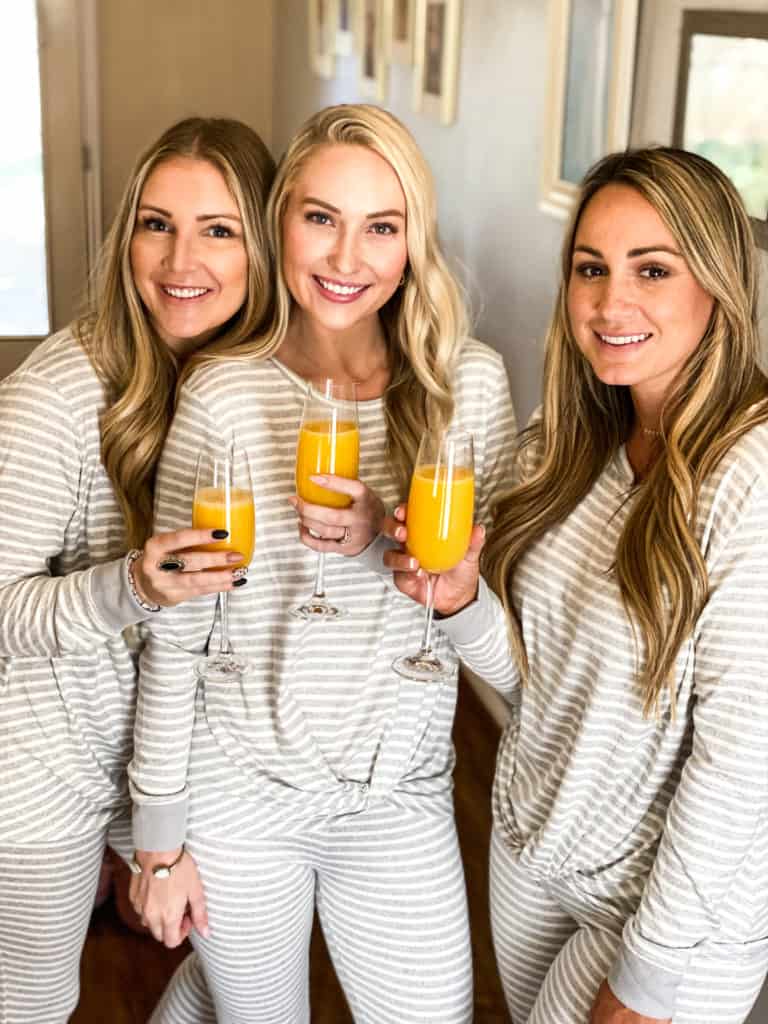 Gluten-Free Brunch Menu
I kept our menu simple yet delicious! Here is what I served…
Roasted balsamic potatoes with parmesan and fresh thyme
Fresh sliced grapefruit
GF blinis (mini pancakes) served with creme fraiche and caviar from The Caviar Company
Cinnamon sliced apples
Individual charcuterie boards

Fresh fruit water with blueberries and lemon
Mimosa mocktails
Fresh pecans
Fresh pistachios
Modern Table Decor
Using natural elements really gives any table that modern feel. We added in some driftwood to the bar cart that is made from metal and wood.
We also used gold silverware that contrasted beautifully with the marble cheeseboards and wood chargers.
Brunch Bar Cart
For the bar cart, we kept it simple with a fruit water, some natural decor and pretty jars of nuts for snacking. While you don't have to include snacks, I love this raw, healthy addition.
How to make roasted balsamic potatoes
I am telling you, these are the BEST roasted potatoes you will ever have! Plus, they are so simple and only require a few steps so you will enjoy making them as well.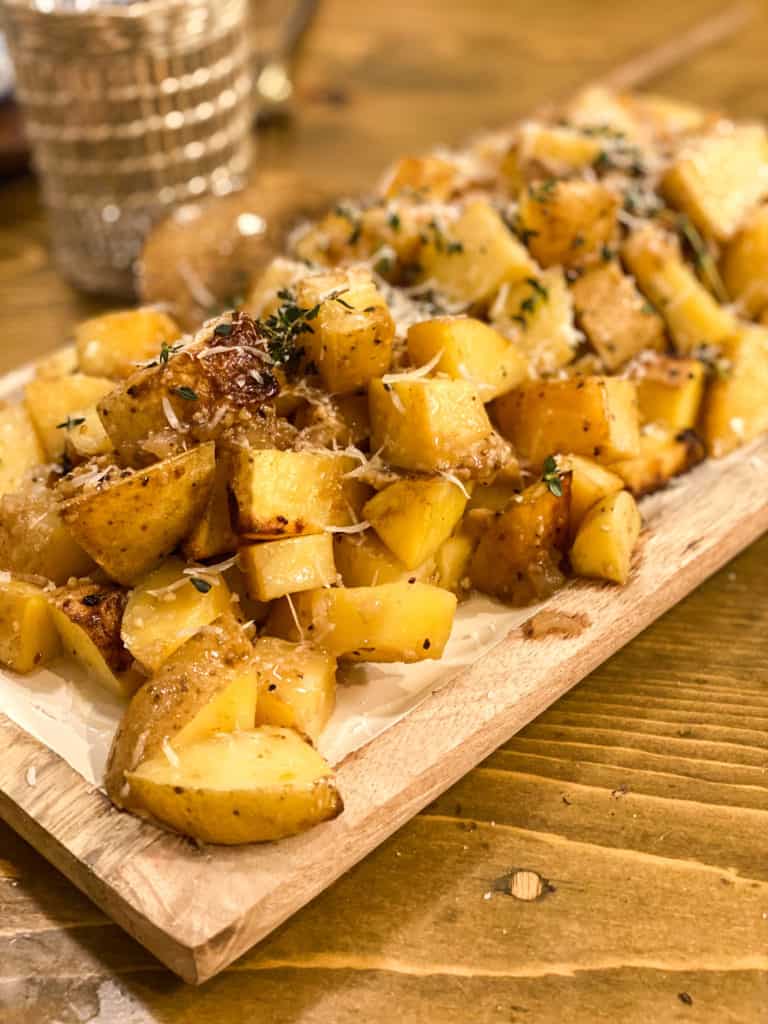 Wash and cube your potatoes and place in an 8×8 or 9×13 inch dish
Dice shallot and add the to the pan with potatoes
Add a heaping tablespoon of garlic
Pro Tip: Keep the skins on the potatoes, they add great flavor!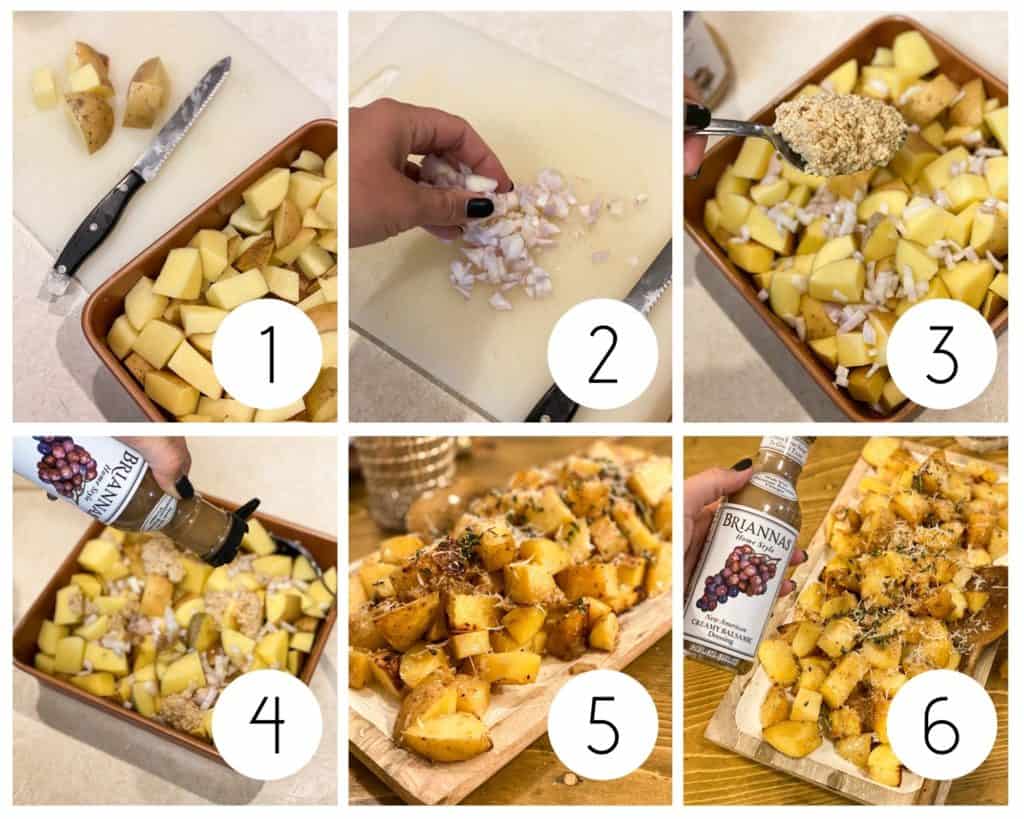 Evenly drizzle with BRIANNAS Creamy New American Balsamic dressing
Bake at 400 degrees for 45 minutes or until fork tender and crispy
Plate then add fresh grated parmesan, thyme and more dressing if you desire
NEED MORE GOODNESS? Follow me on Facebook, Instagram, Pinterest, and Twitter for great recipes, entertaining ideas and more!
Roasted Balsamic Potato Recipe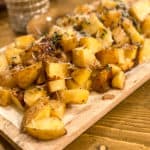 Ingredients
4-5

large potatoes

1

shallot, diced

1

tbsp

minced garlic

1

bottle BRIANNAS New American Creamy Balsamic dressing

fresh parmesan, finishing salt and thyme
Instructions
Wash and cube your potatoes (keep the skins on, they add great flavor) and place in an 8x8 or 9x13 inch dish

Dice shallot and add the to the pan with potatoes

Add a heaping tablespoon of garlic

Bake at 400 degrees for 45 minutes or until fork tender and crispy

Plate then add fresh grated parmesan, thyme and more dressing if you desire
Notes
Pro Tip: Keep the skins on the potatoes, they add great flavor!
Nutrition
Serving:
8
servings
|
Calories:
86
kcal
|
Carbohydrates:
19
g
|
Protein:
2
g
|
Fat:
1
g
|
Saturated Fat:
1
g
|
Sodium:
8
mg
|
Potassium:
459
mg
|
Fiber:
2
g
|
Sugar:
1
g
|
Vitamin C:
22
mg
|
Calcium:
15
mg
|
Iron:
1
mg